No one should actually take a day trip to Saparua Island. Of course I didn't realize this until later and I had no choice at the time either way. As the water taxi sputtered its way across the scenic waters of the Banda Sea, my mind had already envisioned a requisite media style picnic on a secluded beach and the playing of some sort of ball game. But as it turned out, this was no ordinary island hopping day trip, nor was it an ordinary island, this was Saparua Island. One of the legendary 'Spice Islands' of Maluku, Indonesia.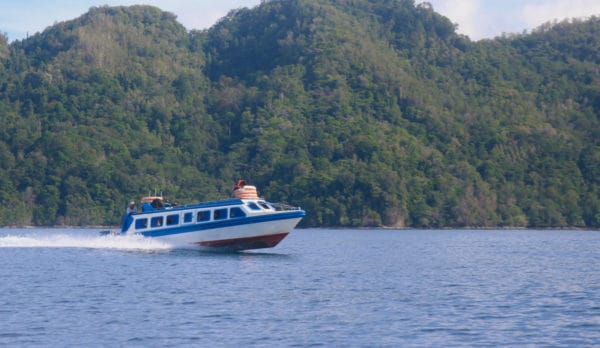 Saparua Island isn't just another tourist laden tropical island. It's a lively sustainable community which holds an important spot in the history books as well as a reaffirmation of Indonesia's rich culture. Sapurua is definitely not day trip material, it's a unique destination that, if possible, deserves much more of one's time. But if a day is all you have? Here are a few of the highlights from my day trip to Saparua Island and what I learned.
Arrival at Haria Harbor
Arriving at the jetty in Haria Village, the harbor waters were a gleaming turquoise with colorful miniature speed boats bobbing on their moorings. I was traveling with a media group and our island escorts were waiting in a stream of black luxury cars; a stark comparison against the rustic wooden dock and new seaside buildings at their various stages of construction. Mostly men were sauntering about, either to casually inspect new arrivals or waiting for parcels and goods from the mainland. A few quick hellos here and there and we were soon driving through the narrow streets of Haria Village to tour the island.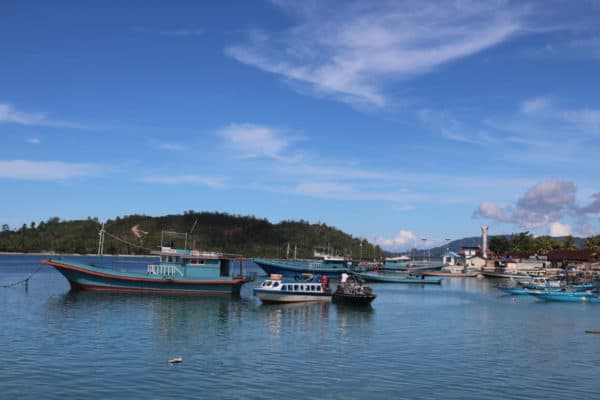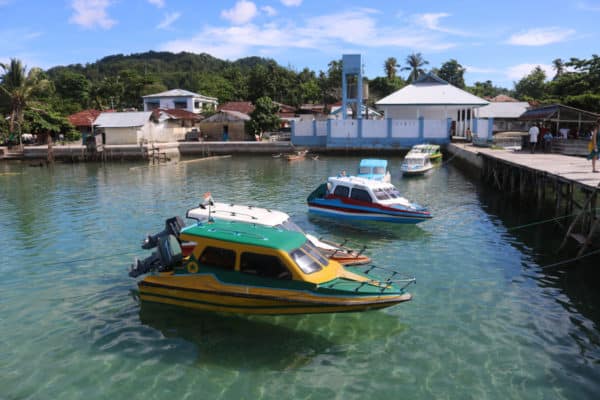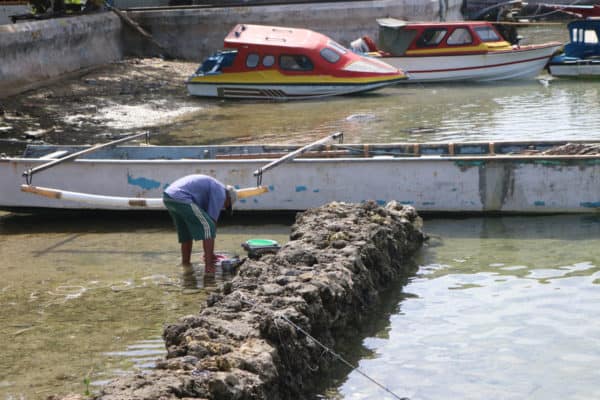 Saparua History and Fort Duurstede
I use to love forts when I was a kid, but as an adult I'm more aware of them as markers of tremulous times which often involved outsiders fighting over parcels of land around the world. Indonesia alone has numerous forts left as reminders of the greed of mankind. And one can only imagine where the sources of labor came from. Imagine fishing one day and laying endless amounts of massive stones the next…  that would be a hard sell on any island.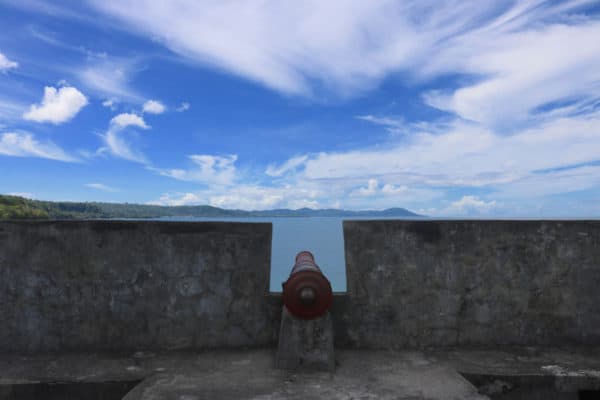 Such is the case of Fort Duurstede , a 17th-century Dutch fort originally built to 'protect' Saparua Island. It's a very complicated story that spans centuries and standing atop the massive fort I could only think about the fierce 'white men' who landed on the Saparua shores at the command of a king in a land far away.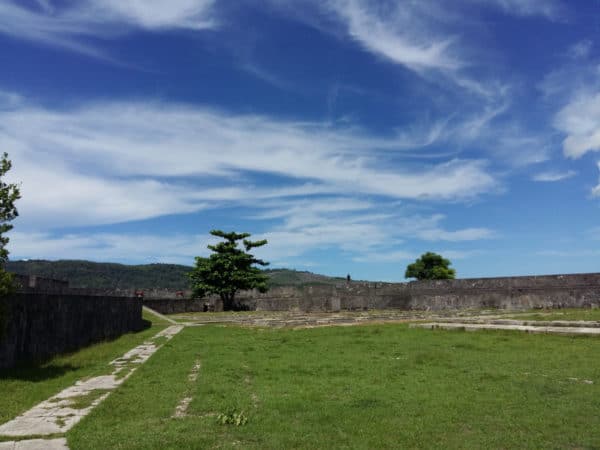 Certainly there must have to been island elders who had the final say so in matters. Or a respected local who could convince a small community that laying bricks in the hot sun was in their best interest? (this is just my theory of course). It's difficult to even image that the massive cannons pointing seaward were ever even put to use on such a tranquil and picturesque island. But Fort Duurstede did indeed see bloodshed, when the people of Saparua had finally had enough.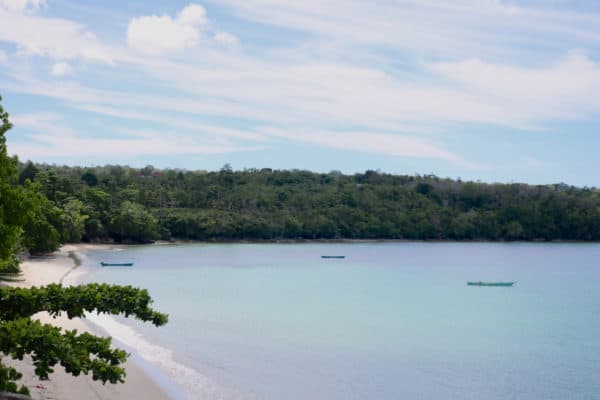 A Saparua local named Thomas Matulessi (Kapitan Pattimura) was chosen by the Saparua people to lead an island revolt against the Dutch. He had actually joined the British armed forces after they took the Maluku islands from the Dutch colonials in the year 1810. Imagine his dismay when the islands were returned to the Dutch four years later and he was dismissed from the army. As I said, it's a complicated story.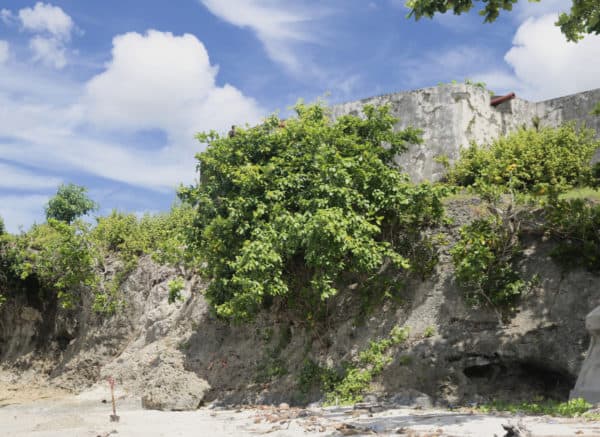 On May 16, 1817, Kapitan Pattimura and his newly formed group of rebels captured Fort Duurstede, killing 19 Dutch soldiers in addition to killing the newly arrived Resident Johannes Van den Berg and his family (including 3 children and their governess). The original fort has since been minimally restored to its present day appearance. An ugly yet important reminder of the historic significance of Saparua Island and the role it played in Indonesia's history.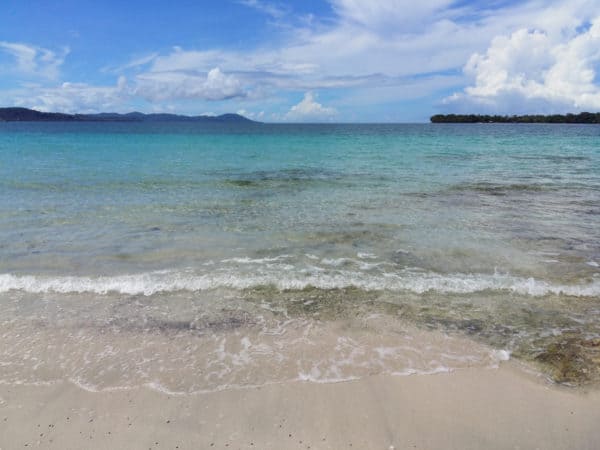 A Dim Look at History in the Fort Duurstede Museum
Next to Fort Duurstede is a small museum with a number of dioramas and old photographs housed within a remodeled colonial style house. An enthusiastic attempt to show the various timelines of Saparua's participation in the fight against Dutch colonialism. And to add insult to injury the museum is possibly remodeled from the original Van den Berg house, which was once located on the fortress' grounds. It's a bit dimly lit inside so it doesn't have the visual impact it could have, but it's worth a look either way. And it's a story that should definitely be remembered.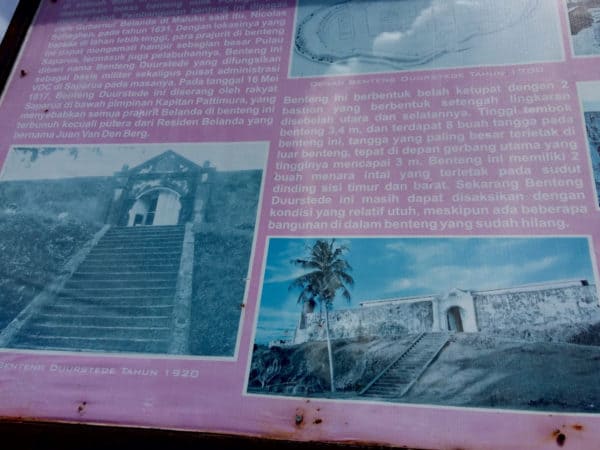 Buried Treasure on Saparua Beach
As I peered over the walls of Fort Duurstede, I saw the translucent water, the traditional skiffs dotting the white sand and then a red spot with three men clustered around it. I felt curious and a bit hesitant but I knew I had to meet these men and see what they were up to. A shovel stood next to a deep dug hole where the men were cutting up a large sea creature. Upon closer inspection, I realized it was a massive sting ray.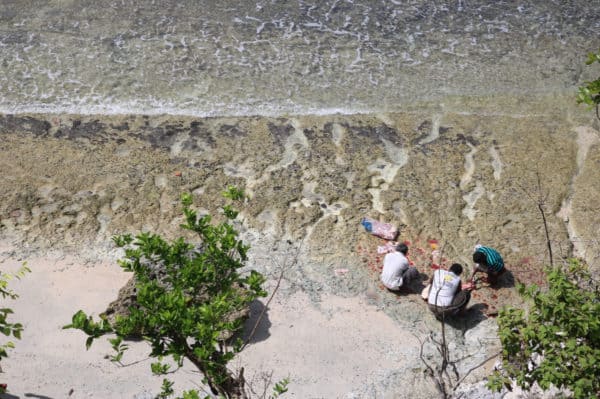 But what I wanted to know was why they were burying the entrails. I had expected the evil eye from these men, as I had a small suspicion this might be something considered  illegal. But they couldn't have cared less who I was or why a lone 'white woman' was standing there with her camera. "Gambar boleh?", I asked. The nonchalant nods were agreeable.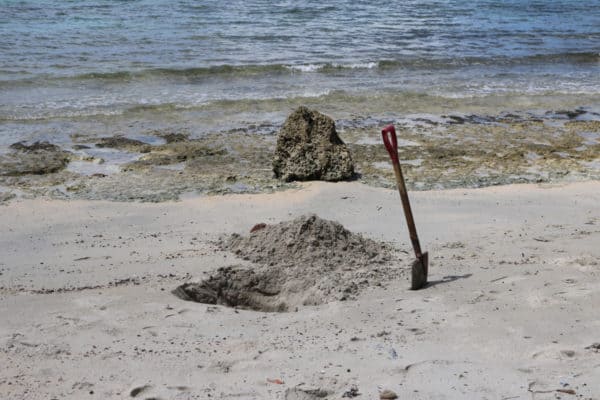 I watched the sting ray sliced up into enough chunks of meat to feed quite a few people with nothing wasted. I watched a man walk home swinging his share. I watched the blood seep from the entrails waiting patiently to be buried. I watched men providing for their families with a lucky catch of the day.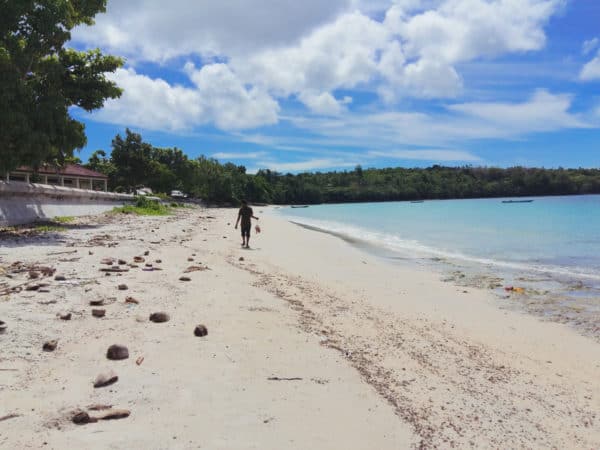 Saparua Village and Sago
A short walk across the grassy lawn of Fort Duurstede is the Saparua 'township' made up of a smattering of businesses on either side of a busy little main road. This small street gets surprisingly congested with cars and motorcycles all jockeying for the best position. The street is also lined with villagers selling their various goods. Island goods and produce, not 'I Love Saparua' T-shirts and key chains. A good sign in my opinion.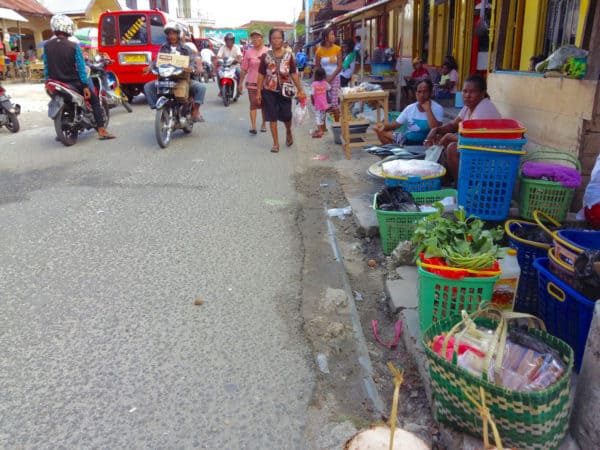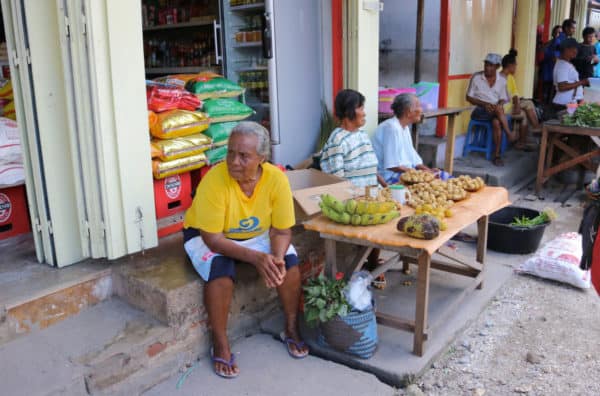 I could recognize the more obvious produce, such as fish, bananas and chilies, but it was the sago that really intrigued me. I had never seen sago before and to see the bucket-shaped woven rattan containers filled to the brim with 'white stuff', made it look very inviting. I wanted to plunge my finger into it, but before I had a chance my eyes caught sight of small brown bricks for sale.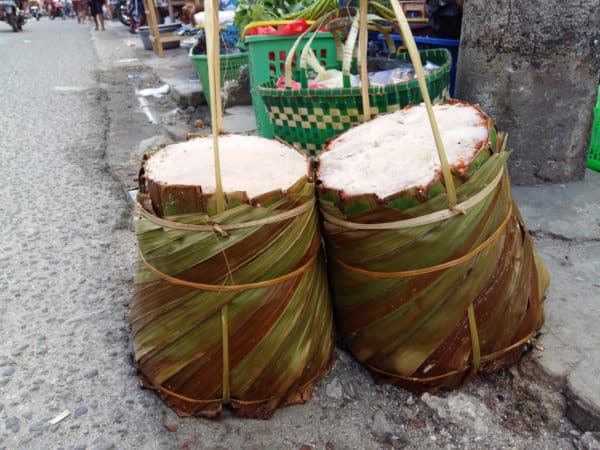 I was told it was also sago, so I bought several pieces. With my own private stash to molest I tried to nibble a piece off, but instead managed to bite off a non graceful chunk. Hard as a rock and no way to politely spit it out I continued to pulverize it with my back molars. The blandness soon gave way to a flavorful coconut after taste, but it still seemed an odd street food. Especially for people with 'older' teeth. But this mysterious snack, I was later told, is called sagu lempeng and a popular food to dunk (soften) in coffee. Which would most likely be a more graceful as well as traditional way of eating it, in lieu of gnawing on it by the roadside.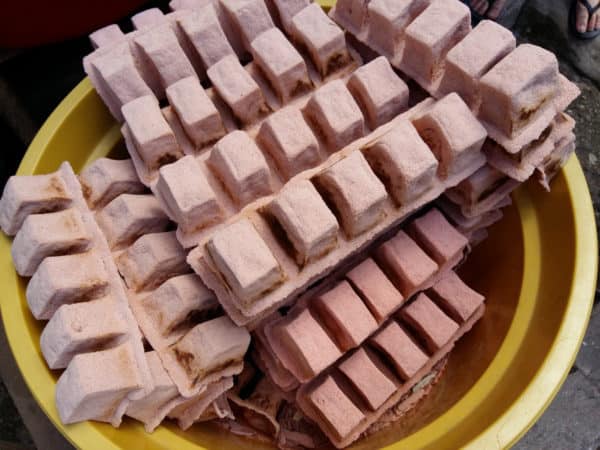 Sago starch comes from the center of the sago palm tree and was once known as the 'hidden white pearl' for its importance as one of Indonesia's staple foods. Today, sago is big business in Indonesia and Saparua takes full advantage of this cash crop. Not only with the selling of fresh sago and sago baked goods, but also sago 'fire' wood, which we later passed drying along the shoreline.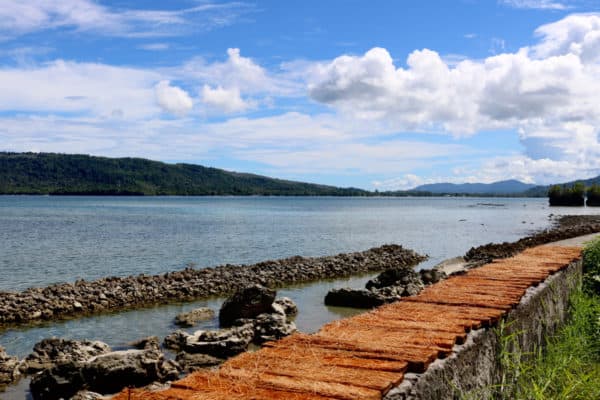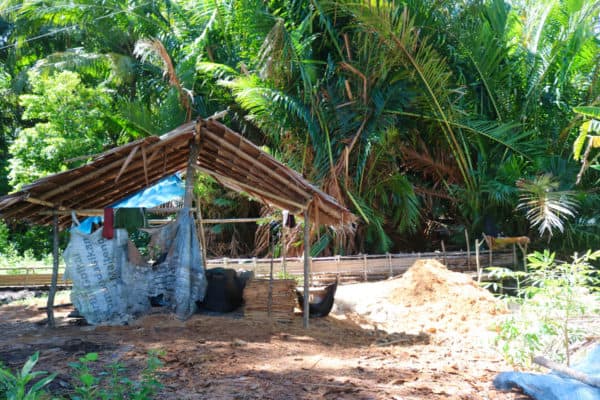 Quiet Sirisori Village Speaks Volumes
Down the southeastern coastal road, a short picturesque drive away is the Sirisori Village, which is divided into Christian and Muslim sections; Sirisori Kristen and Islam. Once considered primarily a Muslim village, seeing a large Christian church as well as a mosque on the same village street, says a lot about the politics of Saparua Island.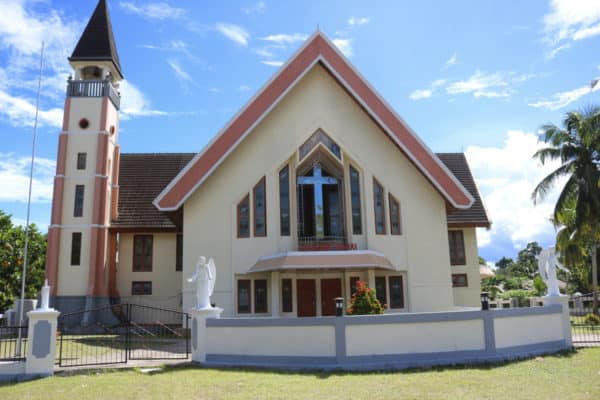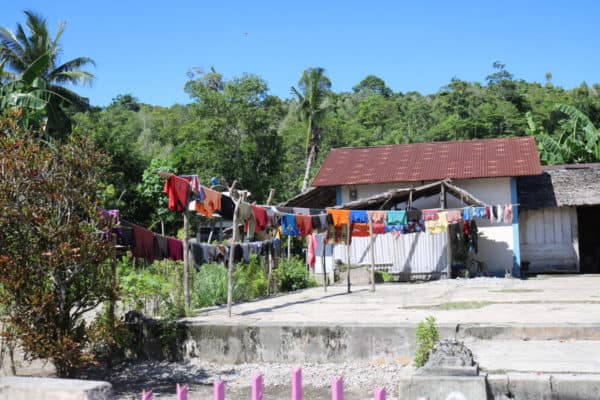 The paved and curbed 'main' street that runs through Sirisori reflects not only a quiet peaceful community, it also reflects an odd dichotomy of imagery and it's difficult to pinpoint which fraction of the community gets credit for what. Between the massive Christian church and the equally massive mosque I noted a traditional funeral house, a small bunker full of future army men, a load of well-worn laundry flapping in the breeze, and a traditional town hall of sorts. This of course adds to the cultural charm and mystique of the Saparua Island community.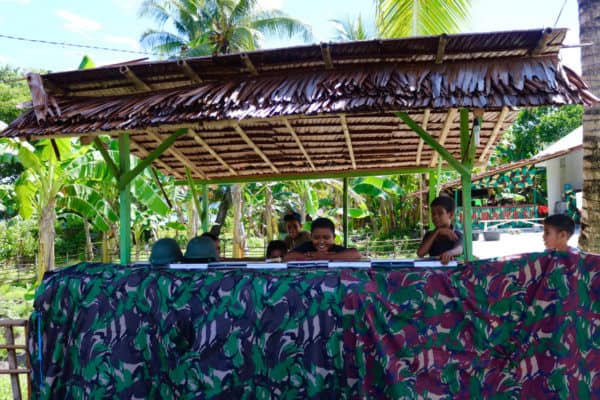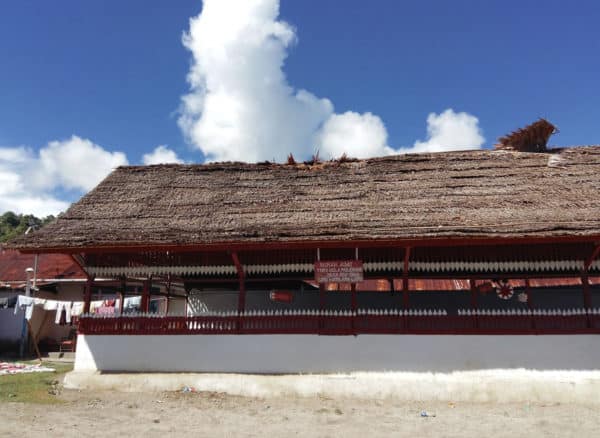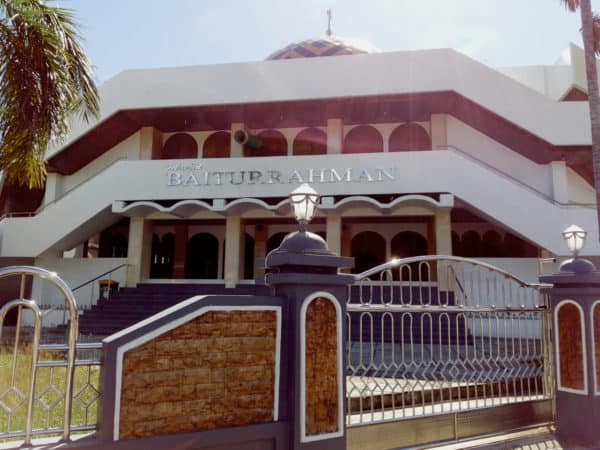 The Legacy of Thomas Mattulesi (aka Kapitan Pattimura)
Wrapping up the day, our tour group was dropped near the house of the Kapitan Pattimura, who changed history on that fateful day in May 1817. Thomas Mattulessi's personal battle victory was short lived as he was sentenced to death by hanging seven months later at the age of 34. But his memory lives on with memorabilia and personal items of Pattimura's respectfully and proudly on displayed and open for public viewing at his Haria Village home. No trip to Saparua would be complete without paying homage the famous islander and National Hero of Indonesia.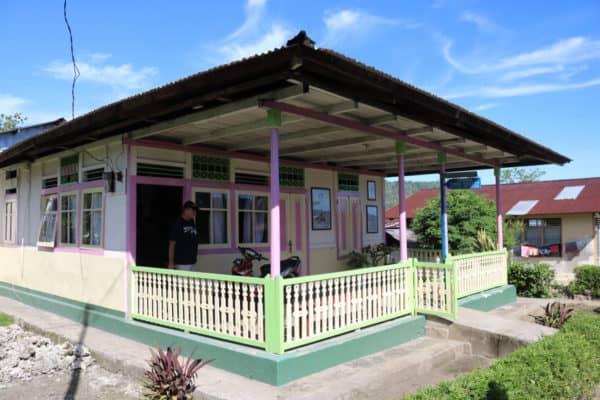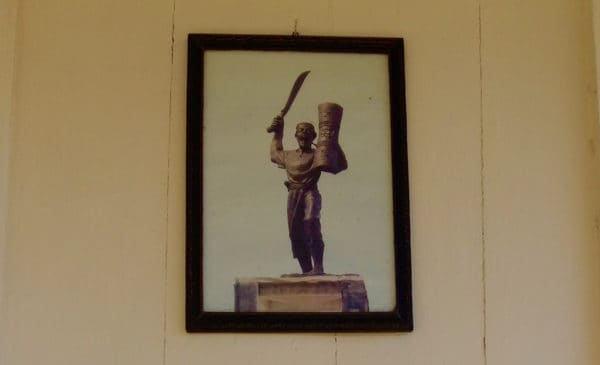 The People of Saparua Island
The people of Saparua are very photogenic and their faces warm and expressive. It also took great restraint not to shove my camera in everyone's lovely faces. In many aspects, media trips are basically like private tours, with locals usually being on their best behavior with warm welcoming smiles and friendly banter. But the vibe in Saparua? All are welcome with or without an entourage.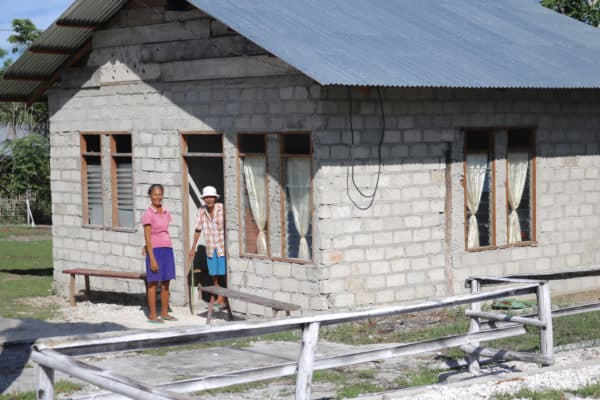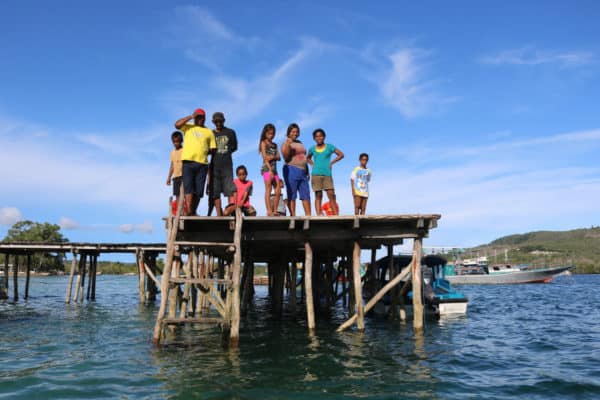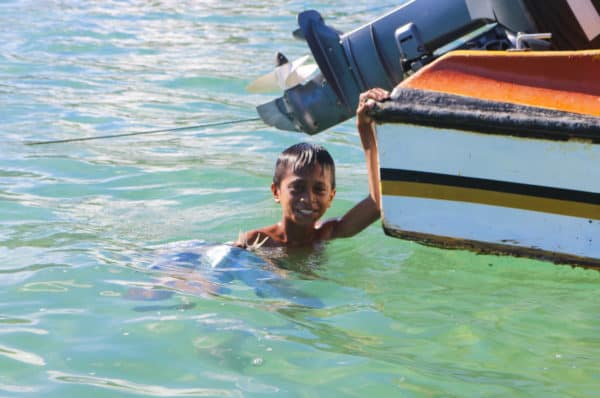 Saparua Island is about 40 kilometers from Ambon, Maluku and day trips can be arranged through iLMi Tour. We took the water taxi directly from the shores of our seaside accommodation at the Natsepa Resort & Conference Center. If you prefer a longer stay on the island, there are a few accommodations as well as restaurants in the Saparua Town area. The cheery Perdana Hotel is an excellent choice and for some tasty traditional Indonesian food, just across the street is Dulang Radji Restaurant (which you can't miss because they have a big table outside made from an outrigger).
There is quite a lot to see and do in Saparua Island and my group's short tour with iLMi Tour barely scratched the surface. But it still made for one heck of an interesting day trip! Although I would recommend a minimal three-day stay or longer, because Saparua Island isn't just another tropical island in Indonesia. Saparua Island is an Indonesian experience.
For more information on Saparua, Maluku travel:
Indonesia.Travel:  [email protected]
Dream Tours:  [email protected]
or iLMi TOUR guide Haical Abas Binthahir:  [email protected]