Think you know Indonesia? I did. Yes, of course I've been to Bali, hasn't everyone? But Indonesian travel goes well beyond the Balinese dream vacation, as I recently found out. And what better introduction to 'off the beaten path' Indonesia than a trip to Sulawesi!? The name itself sounds exotic and full of promise, and Sulawesi delivers the goods. North Sulawesi is just the tip (literally) of the K-shaped island travel iceberg, as the region is filled with endless travel possibilities. And for newbies to intrepid travel, it's a great place to get an introduction to some of the lesser known parts of Indonesia.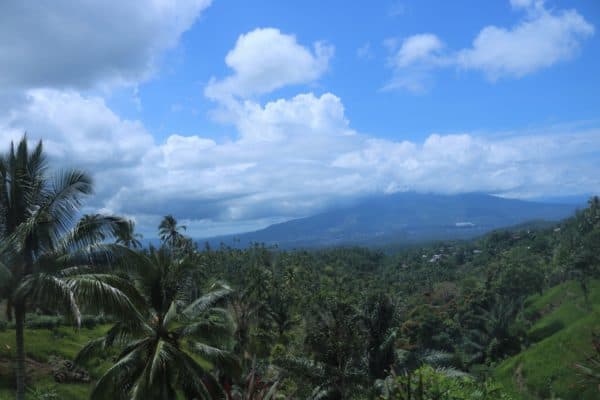 As the eleventh largest island in the world, cultural diversity is just one of many reasons to visit Sulawesi, Indonesia. Here's a look at some of my experiences from a 2-day jam packed North Sulawesi itinerary. An itinerary that would have been a more comfortable itinerary of three to five days (or longer), but never the less, some excellent reasons to visit Sulawesi!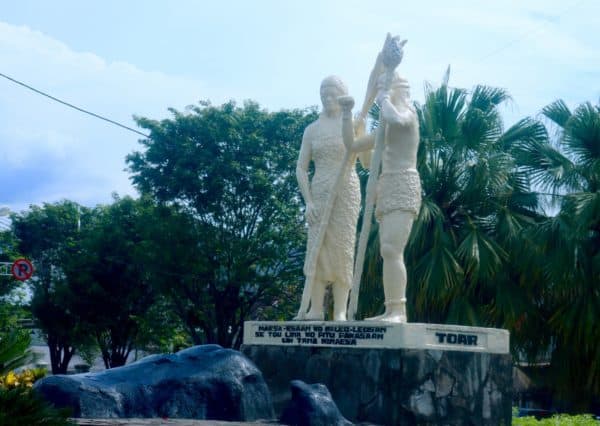 Manado, North Sulawesi
My first impression of the capitol city of Manado was its odd familiarity. Not in a creepy past life way, but seeing houses painted the bright hues of the Caribbean and the numerous churches along the roadway brought past travels to mind (as well as my childhood spent in the bible-belt of the United States). There is something almost a bit cult-ish about a landscape amass with the glories of Christianity. Or any religion for that matter. Was I suddenly in the land of reformed sinners? Not likely, but they certainly had a 'Love thy neighbor (and visiting tourists) vibe. Manado feels comfortable, the people are friendly and it makes for a great North Sulawesi base camp.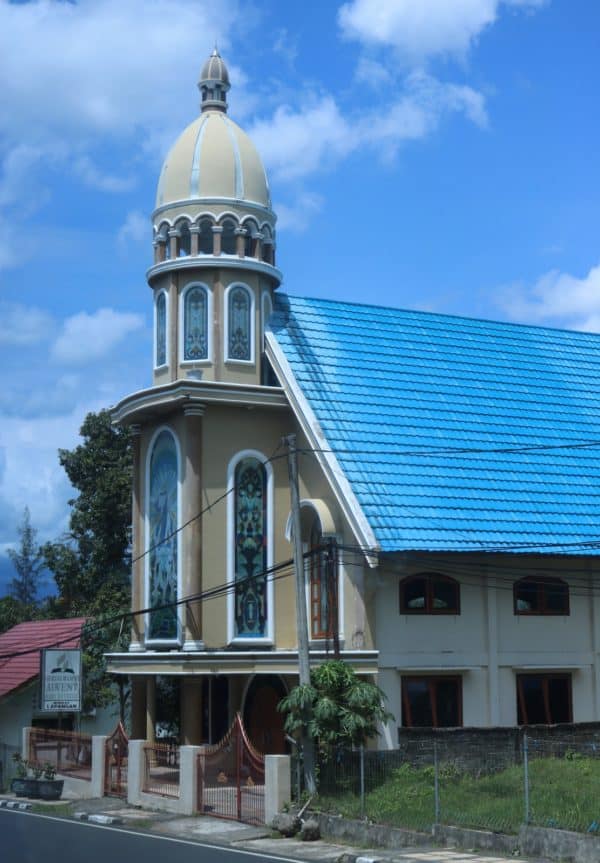 Dutch missionaries are credited with introducing Christianity to the area somewhere around the 15th century. All I can say is that they must have been very convincing, because churches are abundant in North Sulawesi. They are quite elaborate as well.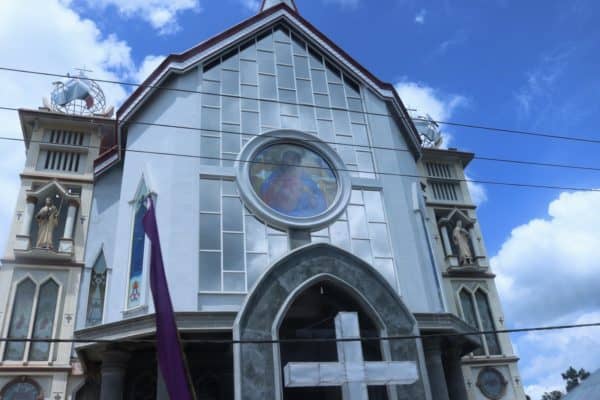 Waruga Archeological Park
The Sawangan Village is about 40-kilometers from Monado. Under the guise of a sleepy little village lies the Sulawesi historic landmark of the Waruga Archeological Park. Warugas are above ground tombs, once used by the Minahasa tribe. They look like miniature stone houses. Each Waruga is identified with a chiseled, almost childlike imagery of the tomb's occupant. More specifically, what the deceaseds' trade or special skill was.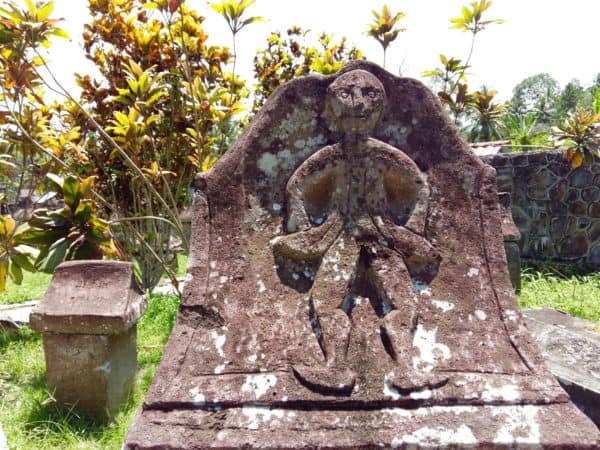 From the collection at the Waruga Park a similar style in artistic flair might suggest that a select few, designated craftsmen spent their lifetimes chiseling tombs. An onsite relief tells a simple story of the tomb carving and burial process. A process that must have been quite labor intensive, but speaks volumes of the proud Minahasa people.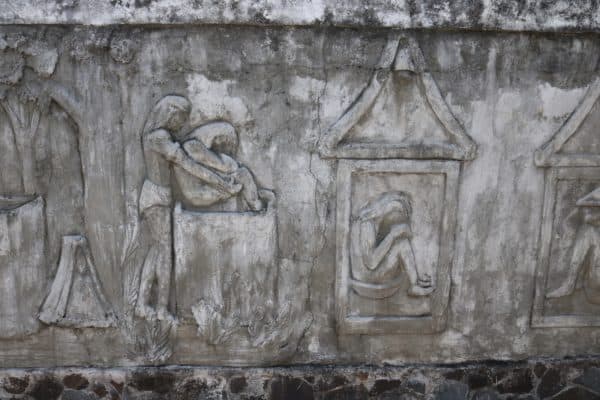 According to the park's onsite expert, the dead were wrapped in fan palm leaves (called Woka) and placed in the small tombs in a squatting position. The bodies and tombs were all originally facing north, as the Minahasa people believed that they had originally migrated from that direction. Unfortunately, years of tomb looting and removal of bodies for community health reasons have now left some of the historic tombs facing several directions.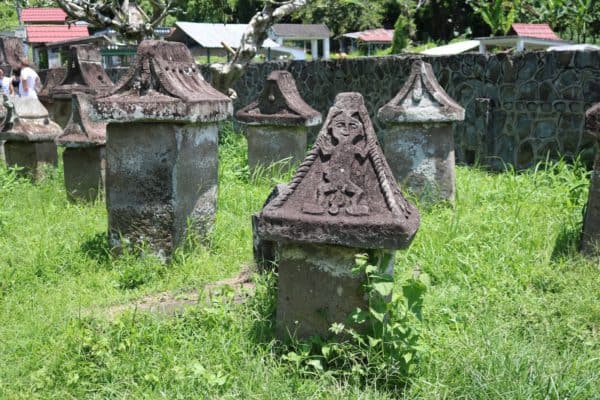 This Minahasa burial tradition dates back to the 1600s, but was banned by the Dutch in 1828 for 'fear of disease' plus the encouragement towards a more Christian way of doing things. Traditional (buried) coffins and headstones are also included in the Waruga Park cemetery making for a unique community timeline that history and heritage buffs are sure to appreciate.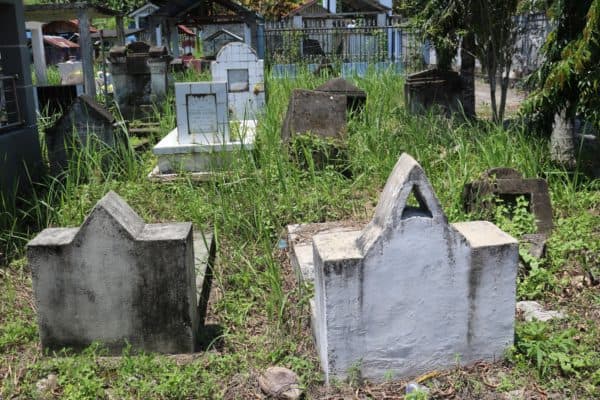 Minahasa Highlands and Tondano Lake
Lake Tondano is about 30-kilometers from Monado and 600 meters above sea level. The drive to get there is through the incredibly picturesque Minahasa Highlands with enough visuals to play like a feature length panoramic movie (especially through a tour bus window). The landscape is dotted with quaint, colorful houses and surrounding ponds that beg you to stop and say hello. And if possible, you should!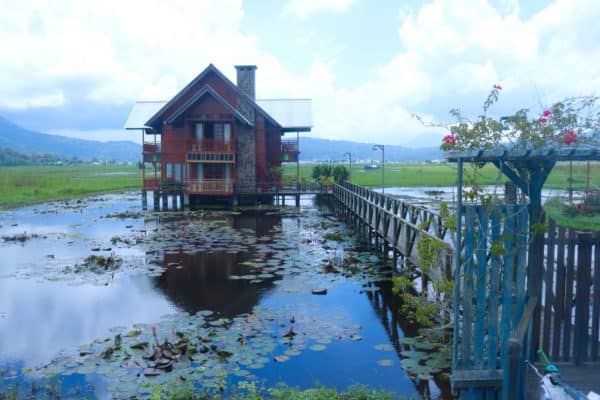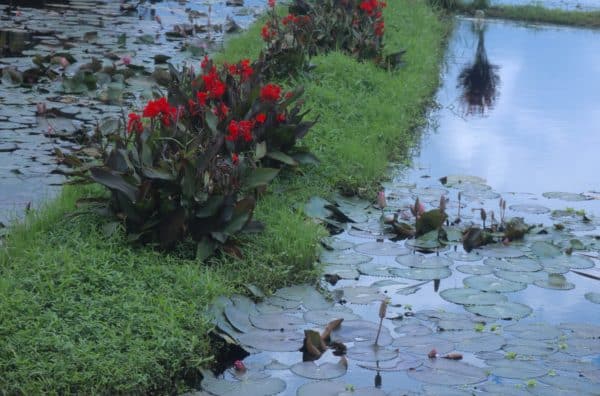 Tondano Lake itself is massive and covers over 4,000 hectacres (so you can't possibly miss it). When I heard 'goldfish farms' were a special feature to the area I got rather excited, but when I heard that was what we were having for lunch my mind did a complete 360. But alas, carp and 'goldfish' are often the fish-of-the-day and no visit to Tondano Lake would be complete without a stop at the lakeside Astomi Restaurant. Yes, they have a 'goldfish farm' and they serve up some of the best Ikan Bakar I have ever tasted. Fresh carp and Indonesian sambal can't be beat!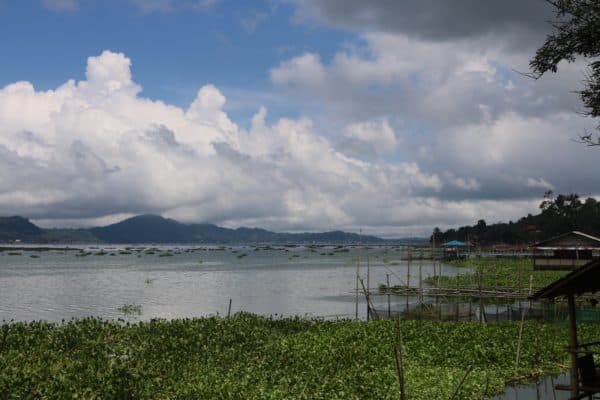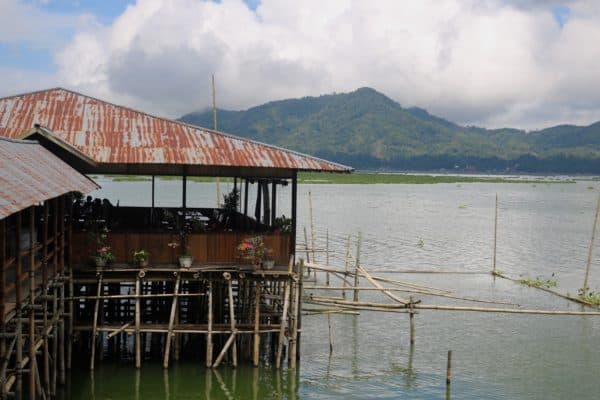 Bukit Kasih or the 'Hill of Love'
An interesting concept to have a spiritual center, where all religions are welcome to gather at a misty jungle-clad hill, but for the uninformed western traveler, like myself, I found the Hill of Love odd. Something akin to a David Lynch scene. It's definitely beautiful and the area has an air of otherworldly magic, but I was unfortunately put off by the slew of touts wielding tethered owls for photo ops. I immediately went into tree-hugger mode and wanted to get the heck out of there. But! I regret not climbing those 2435 steps to see the amazing (non-tethered, birds-eye view) Hill of Love's vista in addition to the reward of "I did it!" bragging rights.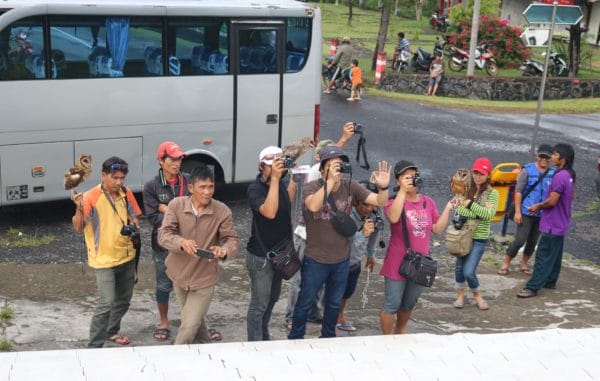 Historically, Bukit Kasih, which was built in 2002, is known as the original homestead of Toar and Lumimuut, the legendary original ancestors of the Minahasa tribe. In addition to a larger than life statue of the well-revered couple, their likenesses are creatively carved on the hillside beneath the second mountain peak. A 2435 step u-shaped staircase leads to the top of the mountain.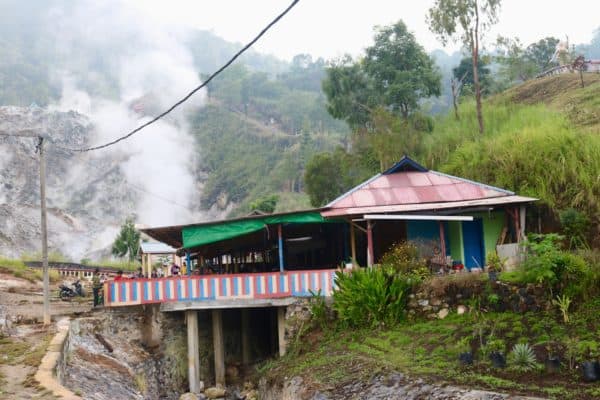 Is the unusual venue worth the lengthy two-hour journey from Manado? Absolutely! Aside from dodging touts, there are some interesting ground level painted murals to admire. Five houses of worship are also represented at Bukit Kasih in addition to a very prominent 53-meter white cross, and the surrounding scenery is simply stunning.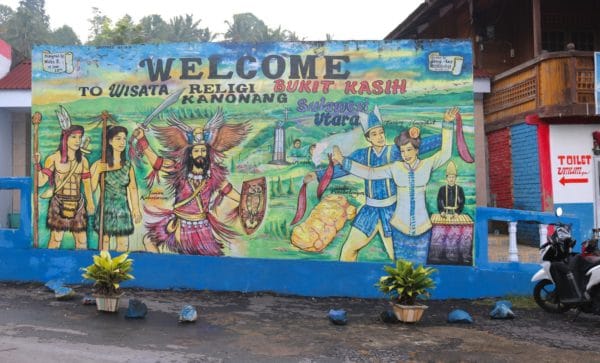 Bunaken Marine Park
Seen one marine park you've seen them all? The Bunaken Marine Park completely raises the bar on the Southeast Asia marine park experience. While I was there for just a short snorkel trip, I have not personally seen such an alive reef in years!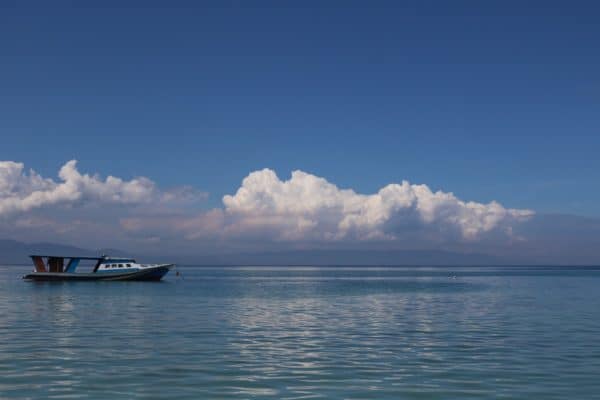 With crystal clear (rubbish-free) water and a colorful 360-degree view of exotic fish within a manageable 5 to 8-meter depth (my estimation), the 75-square-kilometer Bunaken Marine Park brings a world class diving experience to all levels of divers and snorkelers.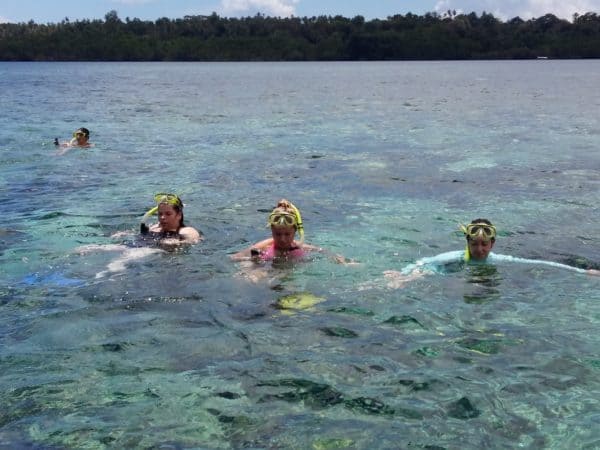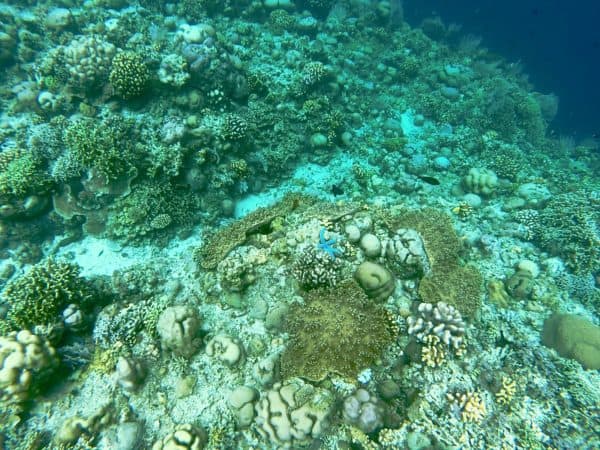 Photo courtesy of Kayla Manoe:  Kelana By Kayla 
Coral reefs around the park's four major islands drop to a 40-meter shelf before plunging to impressive depths of more than 200-meters, so plenty of challenging exploration for more advanced divers.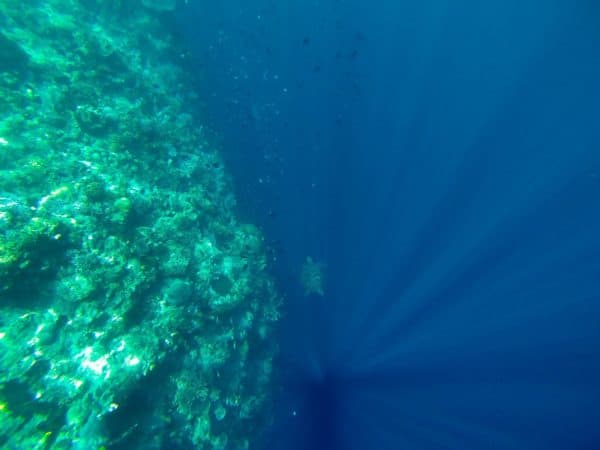 Photo courtesy of Aga Koźmic:  A Matter of Taste
Bunaken Marine Park can be reached via Dermaga Marina Plaza in Manado. It takes about 40-minutes by boat to get to Bunaken Island, where you can rent snorkel or dive equipment or arrange for a boat ride to the offshore reefs. May to August is the recommended time of year to visit for the best weather and marine conditions. There is also a 25,000 rupiah per person per visit entry fee that is obviously being well spent as the park's maintenance is being managed well.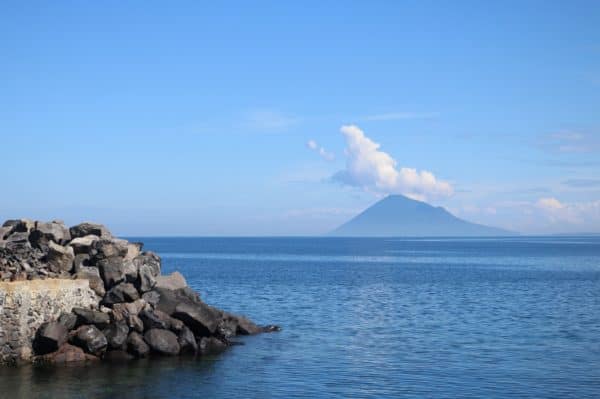 Tangkoko Nature Reserve
The somewhat precarious mountain road to Tangkoko Nature Reserve seems like an endless climb into the unknown. Traveling by bus and having an outward window seat (like I did) can be intimidating to say the least. The reward for this harrowing skyward journey was a glimpse of two of Indonesia's prized populous: black macaques and tarsiers. Birds such as the maleo and hornbills also reside in the reserve, but our group's arrival was a bit late in the day for bird watching.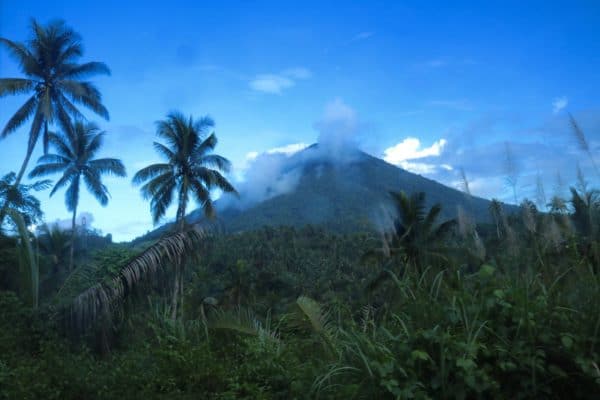 Tangkoko Nature Reserve is an impressive 3,000 plus hectares that includes three additional conservation areas within its realms. Batuputih Nature Park, Batuangus Nature Reserve and the Duasaudara Nature Reserve. It well deserves a minimum full day visit to truly enjoy its vast beauty.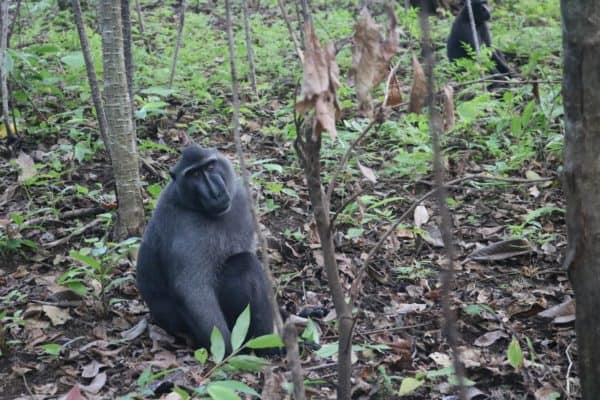 But after the shaking-in-my-boots bus ride and a short walk through the jungle I did indeed come face to face (and other monkey body parts) with the regal looking black macaques. My personal experience with monkeys is that they can be predictably unpredictable, so suddenly standing within five feet of a monkey love-in was a catch-my-breath moment.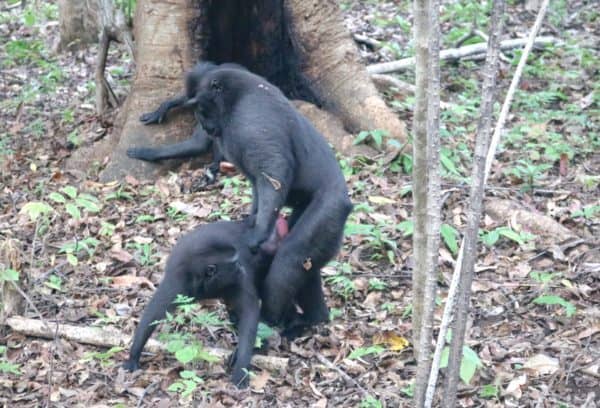 Black macaques are not shy in the passion department and the more prudish visitor may well be in for a shock, so I'll be more blunt about it. Black macaques can be very sexual. In fact, getting a G-rated photo was a challenge!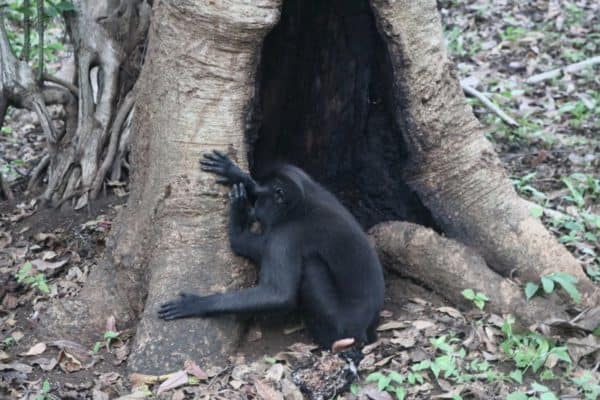 The less demonstrative tarsiers are apparently the smallest primates in the world. I of course didn't previously know this animal fact. They are also only found in Sulawesi! This tiny creature is also nocturnal, so getting a photo may unfortunately require flashing a light in their sensitive eyes. We were able to spot one at dusk, but he didn't seem too surprised to see us or our camera flashes illuminating his tree house. It would certainly be a challenged to find one without a knowledgeable local guide!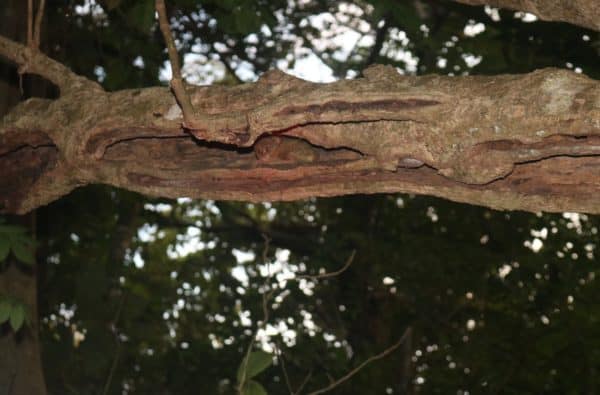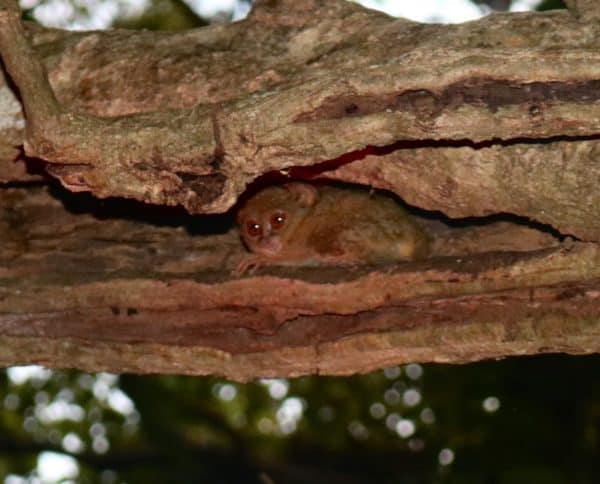 As you can see there is much exploring to do in North Sulawesi in addition to eating a variety of wonderful local cuisine. In fact, every new Indonesian food I tried I found delicious (and I'm really picky about food). I even became a sambal fan along the way! And for places to stay? The Mercure Manado Tateli Beach Resort offers a superb accommodation choice, and the staff go above and beyond to ensure guest comfort. I highly recommend this resort for anyone heading to Manado!
I've always been one to at least do some research of a location before my arrival, but this particular adventure was a generous last minute invite from the Indonesia Tourism Board which had me suddenly heading to the beautiful unknown. First impression introductions say a lot about a destination, especially if there are no predetermined expectations from research, glossy brochures or romantic travel videos. The black and white of nay or yay, if you will. But Sulawesi had me from the get go. What can I say, it's just that cool. A fascinating destination which offers something for everyone.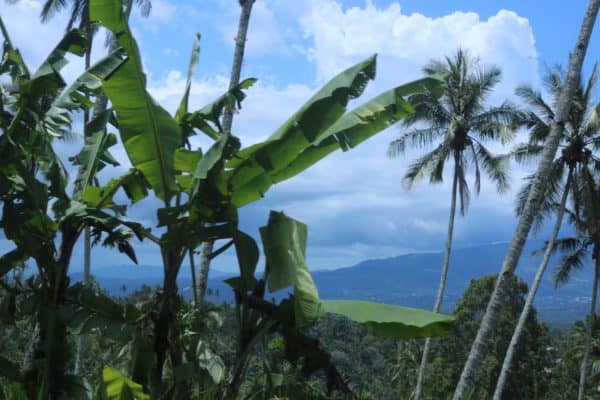 I was a guest of the Department of Indonesian Tourism  and Dream Tours and Incentive Management, so I was traveling with a group and transportation arraignments were conveniently made ahead of time. There is much terrain to cover in Sulawesi and your best bet is to hire a private guide, join a small tour group or rent your own transportation, especially if adventures in public transportation are not your cup of tea. You will save time and definitely get more from your visit to this part of Wonderful Indonesia.
For more information on North Sulawesi travel:
Indonesia.Travel:  [email protected]
Dream Tours:  [email protected]
or (our awesome) Manado guide Steven Menthol:  [email protected]