One of the options of getting from Langkawi to Phuket, in one day, is by high-speed ferry. This window of opportunity is only available from about late October-early November to late April-mid May, due to seasonal winds and waves. I'd seen the service advertised but couldn't quite source the precise information, so I  dropped into a local travel/tour agency hoping to fill in the gaps.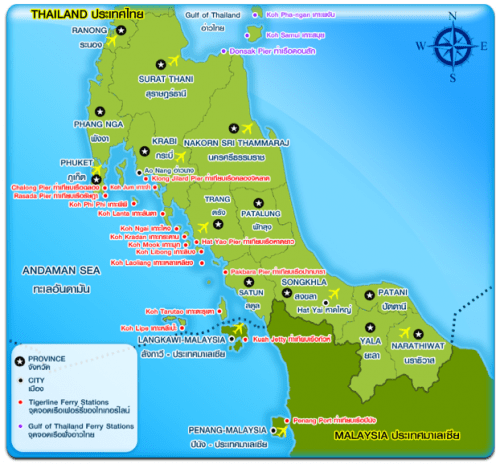 I didn't just walk into any old travel agency, I hit pay dirt and landed unknowingly into Global Steps Holidays and the office of Andaman Cruise in Pantai Cenang, the Langkawi representative for Tigerline Travel. I'd heard from others' experiences that the long distant island hops weren't always pleasant, so I had to explore this option for myself. My goal was to go to round-trip from Langkawi to Koh Lanta and write about the experience. So here's how it works…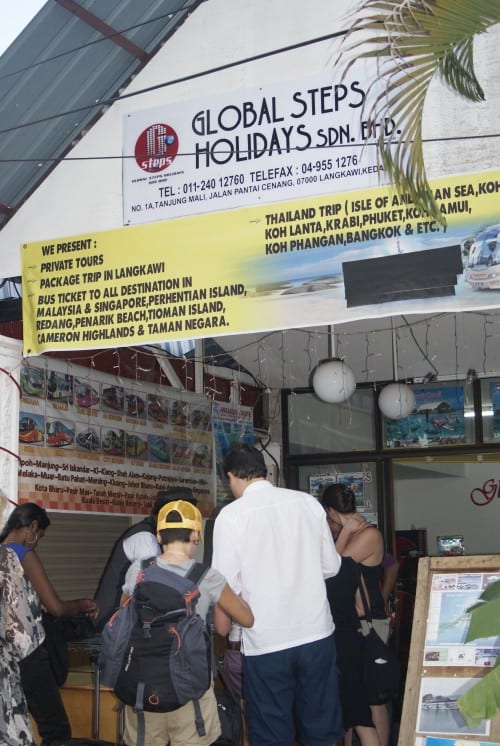 You can book a ticket online for pick up from any island point from Langkawi to Phuket, but booking a Langkawi outward bound  speed boat to high-speed ferry sojourn can also be done in person one-day prior to departure. Sure, you can save a little money by booking on-line, but if you'd rather be spontaneous and come face-to-face with real people? Let it be known that this option is available at Global Steps Holiday / Andaman Cruise.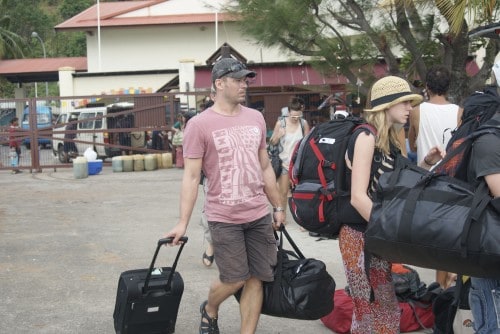 There are some inclusives in this arraignment and some non-inclusives, so please take note. Hotel pick up at the beginning of your journey is included, but not included for incoming (arrivals to Langkawi). It won't cost you an arm and a leg, it'll simply be the taxi-van fare share from Langkawi immigration's office to where ever you choose.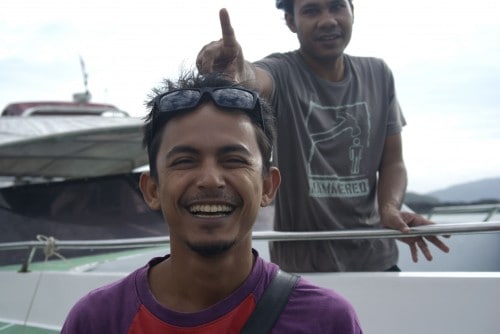 Any long-tail pick-ups en-route from ferry to shore will be 50-baht, payable to the local talent. It's also wise to change some ringgit into baht prior to departures to Thailand or baht into ringgit for arrivals into Malaysia. Why? For food purchases along the way or taxi rides when hitting land. Expect to deal in appropriate currency and don't expect to meet a new 'friend' on shore who will give-you-a-better-exchange-rate-because-you–live-a-charmed-life. Do expect, the unexpected.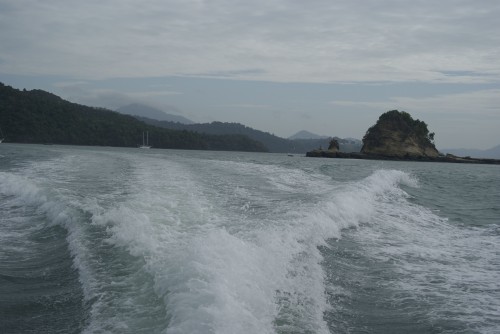 Ok, enough about that.  Check in time for a Langkawi departure is 8:30am sharp, before heading to immigration. Transportation will be arraigned for you ahead of time and is included. After immigration you're taken to Porto Awana, the luggage is loaded, and you'll be outward bound by 9:30am-ish.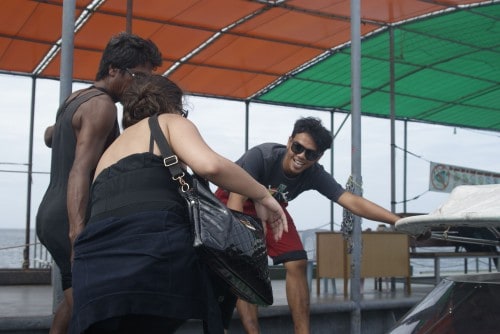 Occasionally winds and currents can alter precise time schedules, so keep that in mind and try not to moan, "We're late!" And try not to check your watch every three minutes; you're on holiday so enjoy the trip. Thailand is also an hour behind Langkawi, so you're going to gain an hour. Or lose an hour depending on your travel destination. It's at this point I should recommend you give yourself plenty of time to catch pre-booked flights, etc. Even if some kind soul told you, "Oh, you'll have plenty of time!" expect the unexpected.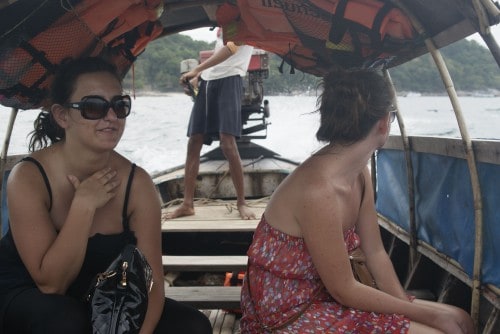 There's a quick immigration stop in Koh Lipe for official Thailand entry, if you're heading onward and for Koh Lipe drop offs and pick-ups as well. By 10:30am (Thai time) and a quick transfer to the Tigerline Travel's high-speed ferry, you'll be on your way heading north for a very scenic journey of the Andaman Islands.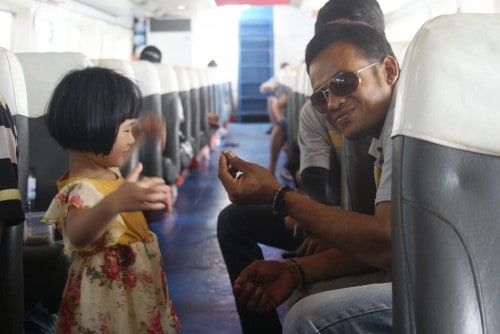 Here's where I need to forewarn you again. There may be some small athletic maneuvers required when going from speedboat to docks or long-tail boats and a potential to get wet (or drenched), so practical shoes and waterproofing would be to your advantage.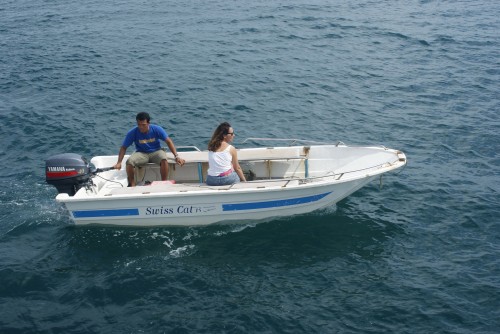 The next actual dock landings are at Had Yao Pier, Koh Lanta, Ao Nang and Phuket. Any island transfers in between will be from ferry to long-tail boat, this is where the practical shoes, waterproofing and baht-on-hand advice comes in again.  These long-tail boat taxis are arraigned ahead of time from Tigerline connections on shore, so rest assured you aren't being delivered to a 'stranger'.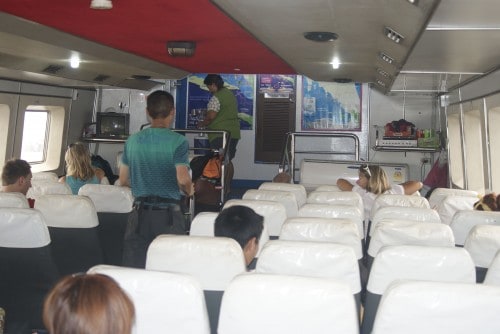 From Langkawi to the Had Yao Pier will take about 4-hours or so, and the only food available will be a few drinks and snacks for purchase (with baht) on-board the ferry. You'll be fine if you're a Pringles fan, but for something more substantial you'll be glad you have those baht on hand when the boat hits Had Yao Pier. Within seconds of docking, locals come aboard selling fresh fruit, drinks, sandwiches and a variety of homemade goodies. And remember the next dock stop and food source will be in Koh Lanta another 3-hours away.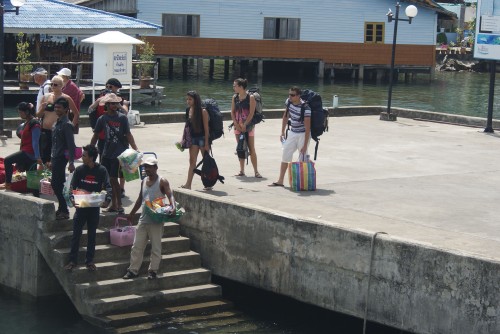 The expected 6-hour-plus journey to Koh Lanta for me was internet-free time well spent.  Arriving about 4:30pm actually was later than 'scheduled', but not a problem; my agenda was 'no agenda'.  There's also plenty of walking room and ample space on the Tigerline ferries, inside as well as the upper deck, so you won't feel claustrophobic. You could even go top-side and re-enactment the Titanic's  "I'm King of the World!" scene if you feel inspired.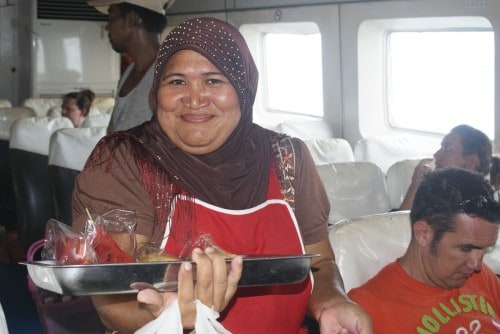 On a sunny day, the view is spectacular and the rather loud engine noises eventually become background rumblings. I personally wish I'd gone all the way to the end of the line in Phuket, but there's always next time. Or the time after that. But wait! I've got one more tip for you. If you happen to be going 'round-trip', don't let anyone keep your paper work unless they give you some sort of proof of purchase/reservation document to replace it. It could be a problem for you on the intended return trip.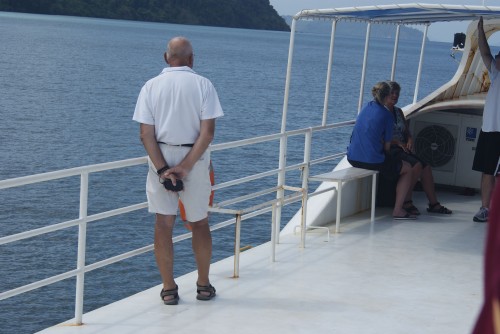 Although the window of opportunity is roughly November to mid-May there are eleven possible points of exploration  through the Andaman-Tigerline connection and a superb option for travel and adventure.  The prices will vary depending on destination points and there are occasionally on-line 'specials' to take advantage of, so keep that in mind when planning your trip.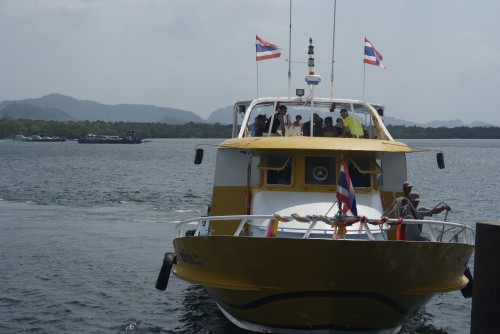 And just an added note here; although there are other Langkawi companies that can get you to Koh Lipe, the Andaman Cruise-Tigerline Travel connection is the only one whose time schedule allows you to bypass an over night Koh Lipe stay and travel onward in the same day. Bon voyage!
*This service is unfortunately no longer available: Updated October 2017