Location wise, I often find myself surrounded by water and daily life is usually filled with the sightings of boats of all sizes. From traditional Malaysian fishing boats to mega yachts to distant sailboats on the horizon. But Lili Marleen cruises is in a class all their own. Setting eyes on the Lili Marlene for the first time was, for me, truly a wow moment.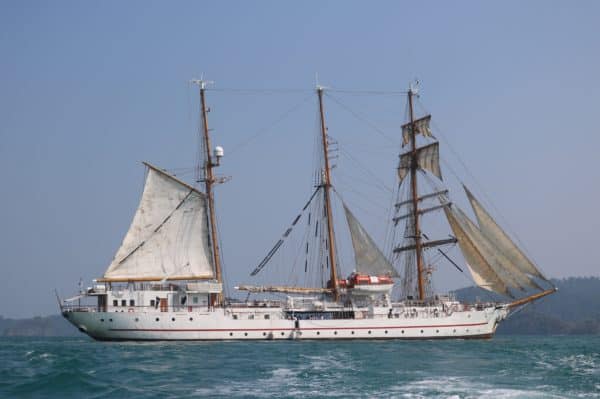 Due to weather and cost factors, a limited number of day cruises are pre-scheduled annually for the Lili Marleen and are even offered at affordable prices. A recent opportunity to spend time aboard her was an experience I wasn't going to pass up, so myself and a few other scurvy sailors signed on for a day at sea.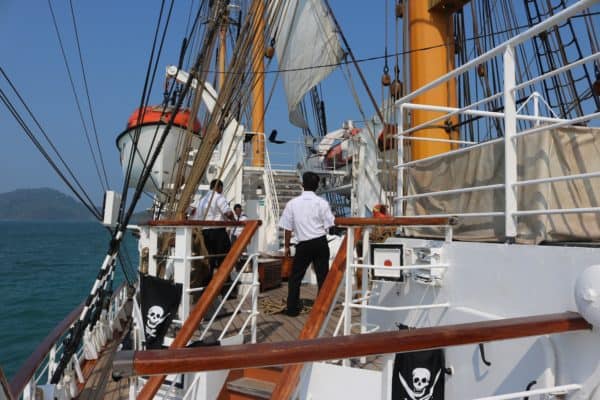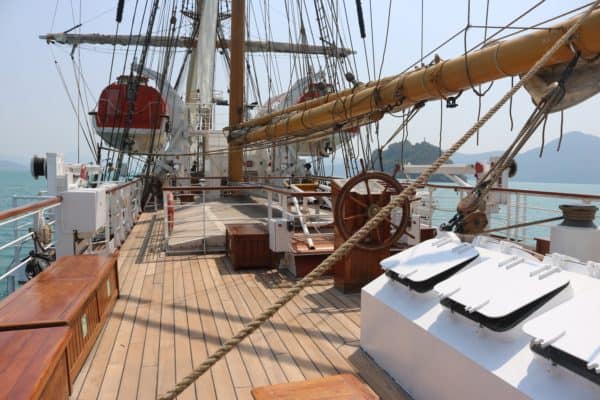 Our adventure began when we were met by the crew at Porto Awana and then ferried by motor launch to where the towering Lili Marleen lay at anchor. The Lili Marleen is a three-masted Barquentine tall ship, that looks incredibly adventurous (and romantic) against the backdrop of Langkawi's archipelago.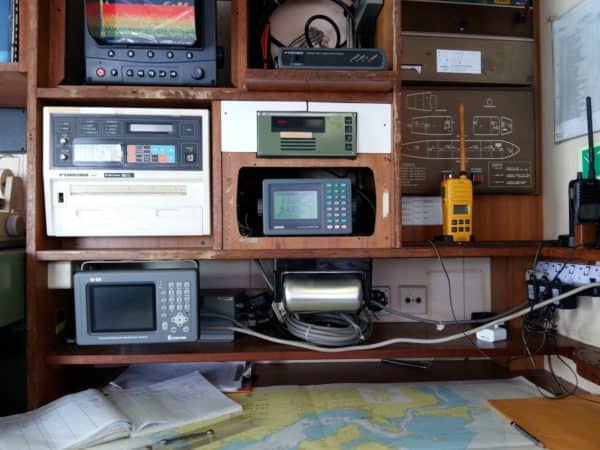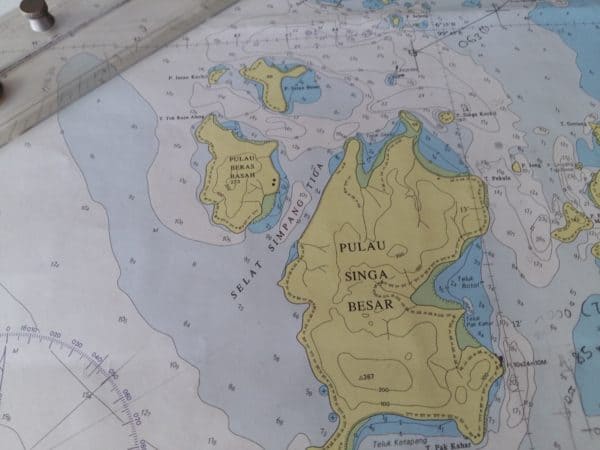 Boasting an overall length of 249-ft, the Lili Marleen is definitely not your typical island hopping yacht. Once aboard and seeing the more than ample deck space on two levels, 25 staterooms, salons and an elegant dining room, I found the possibilities of lengthy sea travel suddenly rather appealing.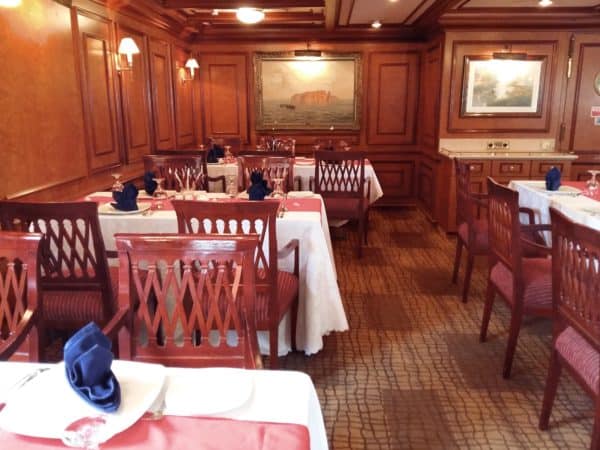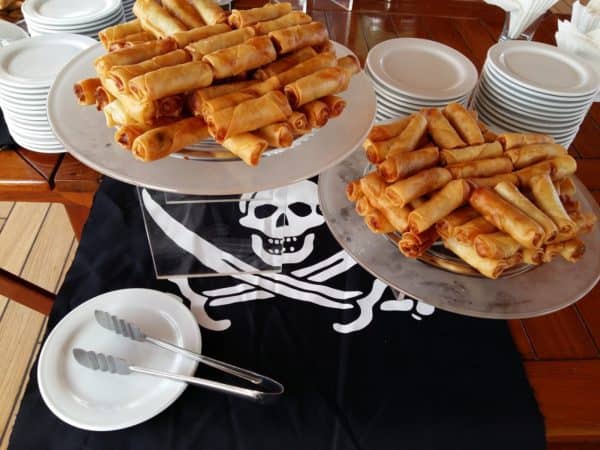 As a matter of fact, The Lili Marleen is so big that I hadn't even realized we had pulled anchor and were on our way. Certainly no bobbing up and down as we sliced through the oncoming waves and tides! The surrounding archipelago a stunning sight as the water whispered beneath the bow and the surrounding islands slipped by.
As quietly as we had departed we had once again dropped anchor and made our way by motor launch to a secluded private beach, where we discovered that a full beach barbecue had been staged by the galley crew. The menu included everything from grilled prawns to satay to salads and sides. Plenty of delicious selections for even the most finicky of eaters.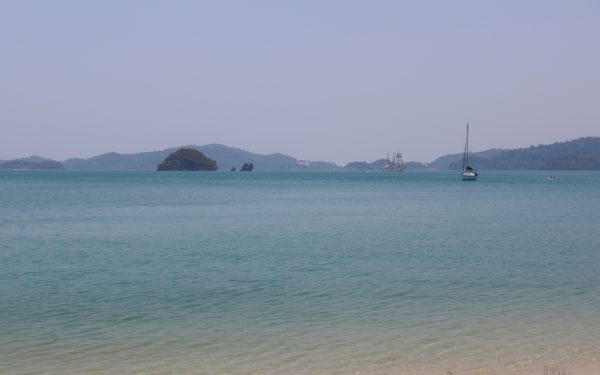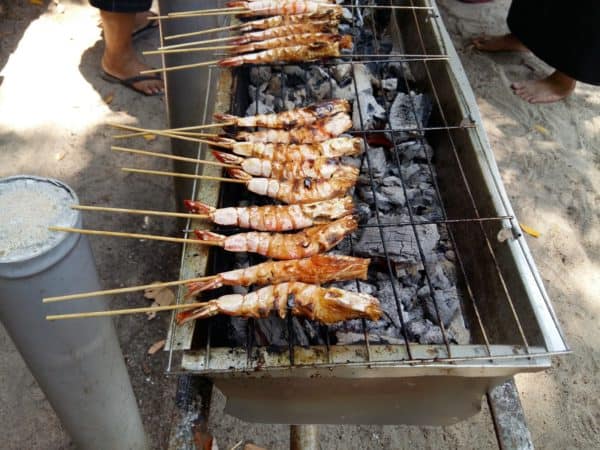 We had more than enough time to enjoy our private white sand beach as well as try out the kayaks, which the crew had on hand for our use. The clear ocean water and abundant shade trees made for a pleasant and very relaxing day for all. A perfect get away for a solo pirate wanna-be or for a family pirate adventure. I had such a great time that I will definitely do a repeat outing and I highly recommend this unique Langkawi experience!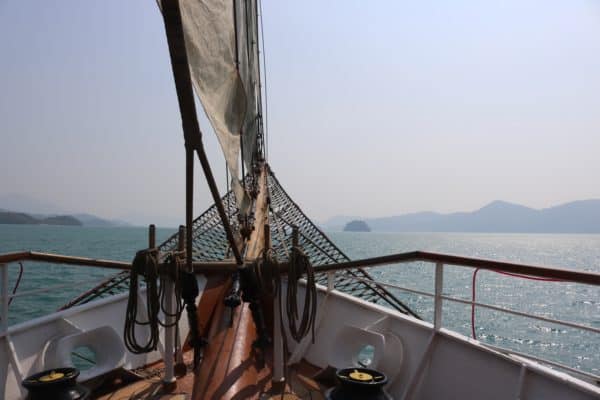 Luxuriously appointed throughout with traditional wood and brass, Lili Marleen's staterooms are spacious and allow the for extended overnight cruises in addition to day excursions around Langkawi's islands. She can also be privately chartered by the day, or longer, as well as for private events and team building. Interested in taking a Lili Marleen Cruise? Contact Serenity Lili Marleen direct for more information. https://www.facebook.com/lilimarleencruises/
Have you sailed on a tall ship before? I'd love to hear about it!