If you're looking for a Sky Mirror in Malaysia you are in luck. Because there happens to be one in the state of Selangor, near the seaside enclave of Kuala Selangor. Aptly named Sky Mirror Kuala Selangor, there is little room for error in finding your way to this popular sightseeing phenomenon. In fact, as of this writing, it's the only Sky Mirror in Malaysia. And it is located just a 30-minute boat ride from the fishing village of Jeram, Selangor; an hour or so drive from Kuala Lumpur.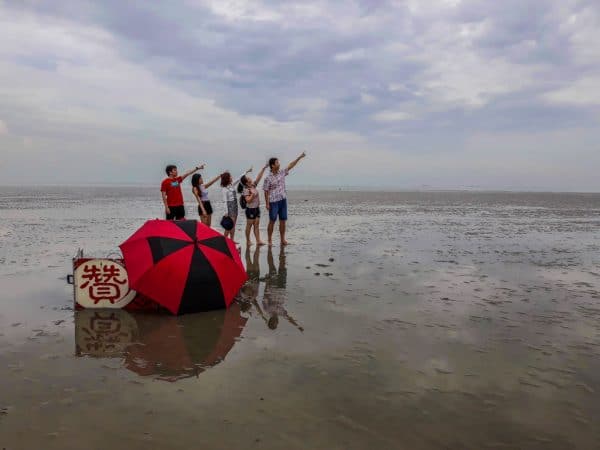 What the heck is a sky mirror?
Well if you weren't looking for a Sky Mirror in Malaysia and just happened upon this blog post, maybe I've piqued your interest. If so, read on! A sky mirror is basically a ripple-free, glassy surface that reflects the sky. Salt flats are famously known to offer such a quality; such as Bolivia's Salar De Uyuni or the five famous salt lakes in China (on a windless day).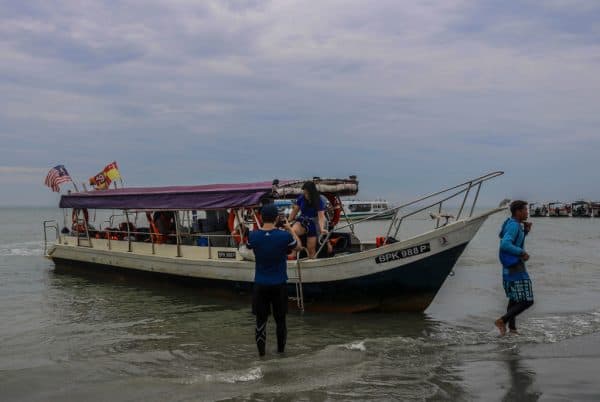 But Malaysia doesn't have any salt flats (that I know of), however, Peninsula (West) Malaysia does have a lot of surrounding sea, islets and sand bars. One such sand bar has been named Sasaran Beach, located just off the coast of Kuala Selangor in the Straits of Melaka. That's right, this sand bar is big enough to double as a beach. At extreme low tide the Sasaran Beach sand bar is rumored to be the width of 150 football fields. That sounds like an extreme guestimate to me, but never the less I'm sure it at least gives that illusion. To my own eyes it did indeed look rather massive.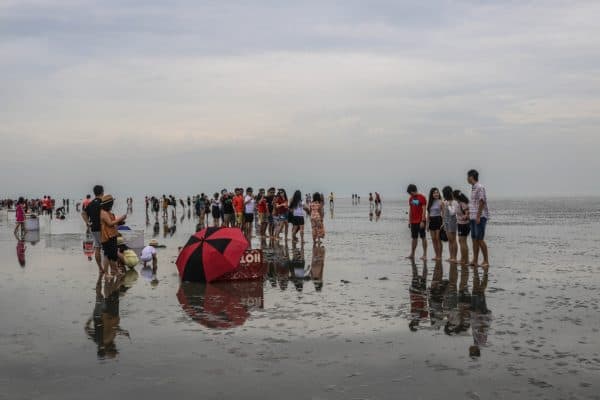 Whether the salt content of the water has anything to do with it… well, you may need to ask a scientist about that, but I don't think so. But who knows, according to Wikipedia,
'Reflection of light can be roughly categorized into two types of reflection; specular reflection is defined as light reflected from a smooth surface at a definite angle, and diffuse reflection, which is produced by rough surfaces that tend to reflect light in all directions.'
Mix a shallow, reflective water source with a huge sand bar and you've got yourself Sky Mirror Kuala Selangor; a unique tourist attraction filled with endless photographic opportunities. Even more so since the sand bar is only accessible twice a month, during the new and full moon phases of the moon.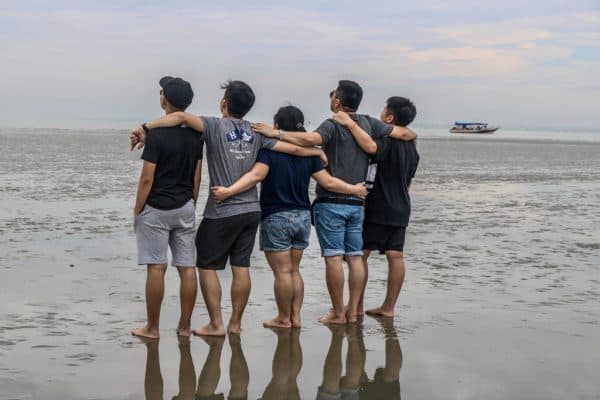 That's right, Sky Mirror Kuala Selangor can only be experienced twice a month, when the tides are low enough for 'Sasaran Beach' to be revealed. Early mornings with no water chop or wind is optimal for some very interesting family or group photos.
Selfies at the beach, is that it?
The Sky Mirror Kuala Selangor experience is more than just a few Instagram moments. Beyond the 'nature meets the digital age' aspect of things, the social aspect is fascinating to watch. Even in this rapid paced modern age, good old-fashioned family fun can be just what the doctor ordered, and people love it!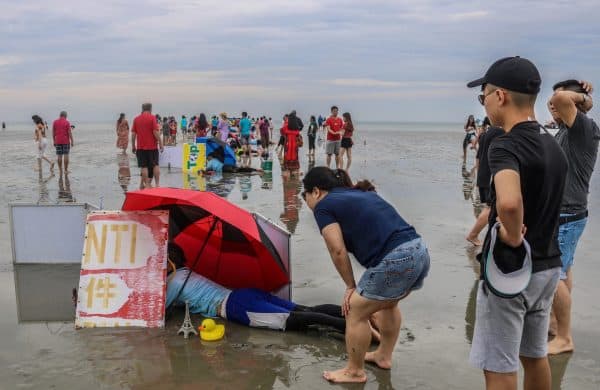 The Sky Mirror tour takes about 4 hours, including passage to and from the Jeti Pekan Lama ( jetty). Each boat tour comes with a photographer, who will assist guests with setting up a unique 'scene'. The photographer will then take photos of the guests using guests' cameras (or smart phones).
Prefer to take your own photos? No problem, but there are a few tricks of the trade the official tour photographers use to get an ultra-smooth windless surface. They are experts at specular reflection, so at least let them take a couple of shots for you. Their services are inclusive in the tour boat ticket price and everyone in your group gets to be included in the photo shoot.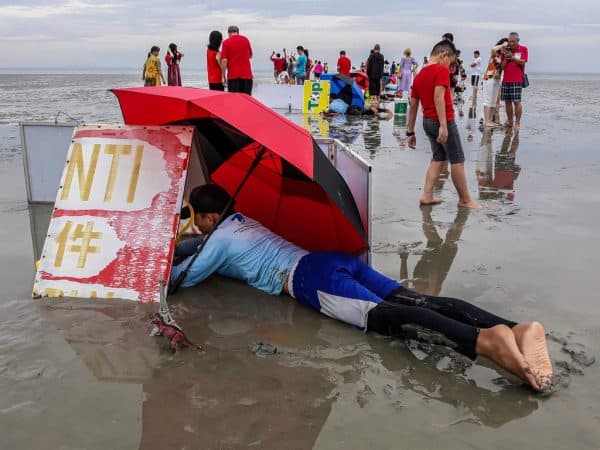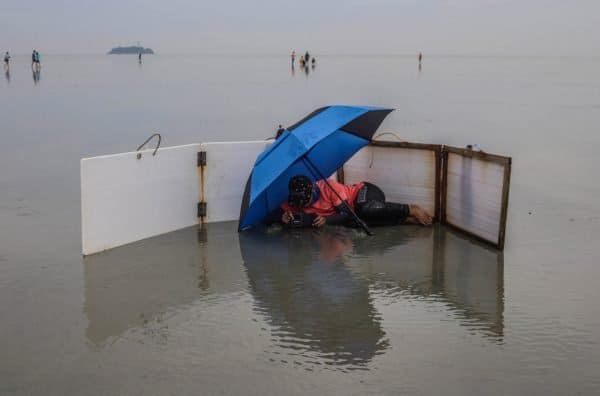 Nature lovers will also find the sand bar's various sea life interesting to watch, as there are hundreds of tiny crabs going about their typical day in crab world activities, right at your feet. So, watch your step and try not to disturb them too much.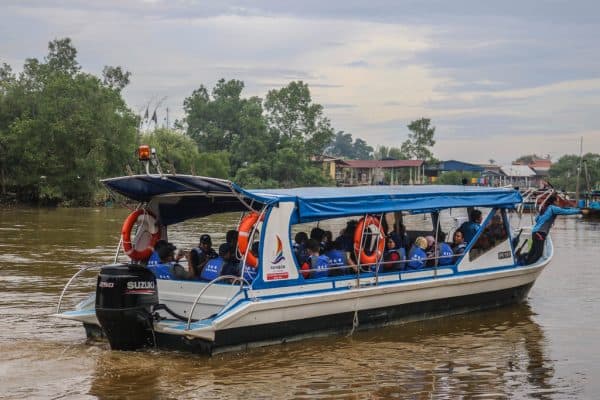 The 30-minute boat ride to and from the Sky Mirror Kuala Selangor also offers plenty of opportunity to see wildlife along the river banks; such as monkeys, estuary birds, sea otters and more. Keep your eyes open and you might even see a few dolphins on your way out to sea!
When's the best time to experience Sky Mirror Kuala Selangor?
It takes a bit of planning to have the best Sky Mirror experience as it is only available twice a month during lunar months; when the new and full moon both appear within the 30-day cycle. More specifically this would be around the first and fifteenth of the lunar months, plus 3-5 days before and 3-5 days after (give or take a day).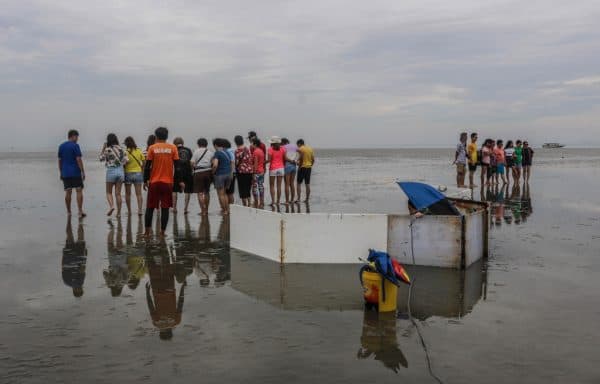 Getting there: Kuala Lumpur to Sky Mirror Kuala Selangor
By car: Take Lebuhraya Utara – Selatan/ E1 and Lebuhraya Kuala Lumpur-Kuala Selangor/ E25, then take the 54 exit from Latar/ E25. Directions HERE
By bus: Klang, Selangor is just outside of Kuala Lumpur and you can get there via GRAB taxi, bus or train. Take the Cityliner bus from Klang Sentral Terminal A to Kuala Selangor/ Bandar Malawati. From there it's just 2km to the Pekan Lama Jetty. Directions HERE
My Sky Mirror Kuala Selangor Tips
*Bring your personal items in a waterproof bag.
*Wear a hat or bring sunscreen as reflected sunlight can be especially strong. Sunglasses or other eye protection is also a good idea.
*Handy wipes will help remove sticky saltwater off your hands and electronics.
*Bring your own water and snacks in case your tour does not include it, because you will get thirsty and hungry out there.
*Leave no rubbish, including cigarette butts.
*Please don't molest the sea creatures. It is a kinder, more sustainable approach to enjoying Malaysia's nature.
*Have your camera ready on the boat ride to and from the Sky Mirror, as there will be various wildlife to see along the river's edge. You may need to ask your boatman to slow down a bit, which will not only make spotting wildlife easier, it will also help decrease the risk of future riverbank erosion.
*Last but not least, bring a few creative props of your own. Look for the #SkyMirrorKualaSelangor hashtag on social media and you will see the types of props that are typically used. Be creative and have fun!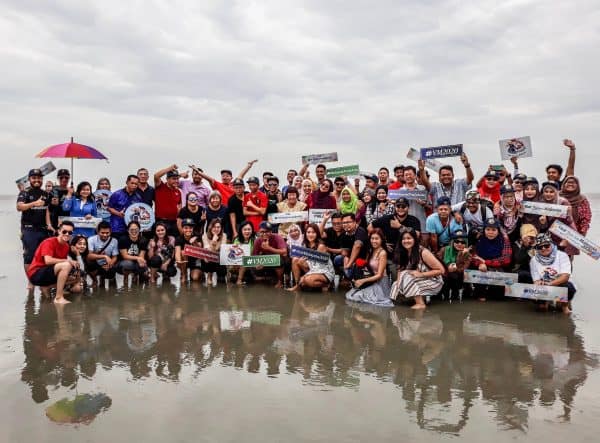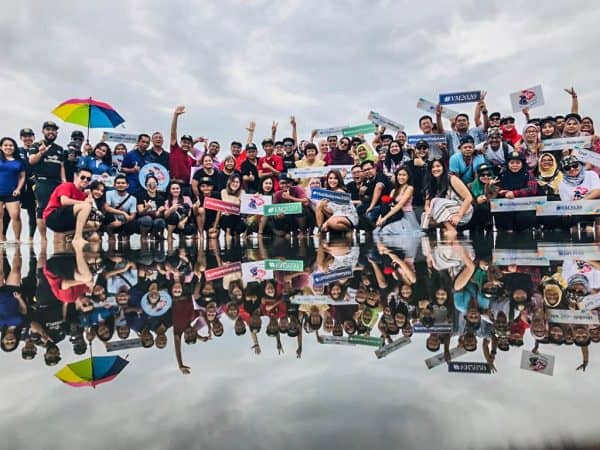 Calling the Sky Mirror Kuala Selangor sightseeing option unique is an understatement, and it's something you need to see with your own eyes to truly appreciate. You can buy your boat tickets at the jetty or pre-book through Sky Mirror Tour & Travel, information below. Sky Mirror Kuala Selangor day trip tickets start at RM60 for kids/ RM80-100 for adults. Multi-tour packages are also available.
Sky Mirror Tour & Travel Sdn Bhd, Jeti Pekan Lama, Kuala Selangor, Selangor
https://www.facebook.com/skymirrortour/, +60105091007 or +6019 266 6665
#VisitMalaysia2020 #TourismMalaysia #MalaysiaTrulyAsia