Visiting Tioman Island has been on my travel wish list for several years now, but the journey to get there looked complicated and exhausting. However, when the Berjaya Tioman Resort invited me to come and experience their property, I couldn't pack my bags fast enough. Sure, I was still intimidated by the how-to-get-there steps, but knowing that one of the top Tioman Island resorts was waiting for me? That reward was well worth any travel uncertainties.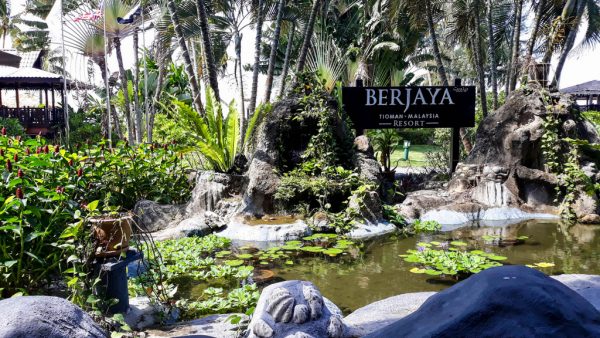 Where is Tioman Island?
Pulau Tioman (Tioman Island), Pahang is located about 55KM from Mersing, Johor on the east coast of Peninsula Malaysia. It's also part of the Tioman Marine Park, which makes it a popular destination for diving enthusiasts as well as beach goers. The ferry from Mersing to Tioman Island takes nearly two hours but trust me it is so worth it!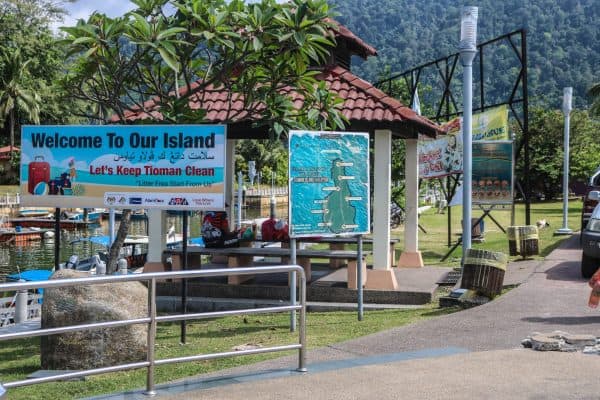 After my ferry from Mersing landed in Tioman's buzzy Kampung Tekek. I was relieved to find a Berjaya Tioman shuttle waiting for me and a few other newly arriving guests. Stress free transportation is always a bonus for anyone familiar with the hustle and bustle of popular ferry jetties. The Berjaya's shuttle service to and from the resort and the Kampung Tekek Jetty is also free!
First Impressions
The Berjaya Tioman Resort was everything I could hope for and then some. In fact, I was quite surprised that despite it supposedly being the rainy (monsoon) season, the skies were blue, and the beaches were spotless. No ocean debris or sun-baked seaweed which is typical for most island beach fronts during and after monsoon seasons. Just an endless stretch of golden sands that were just begging for a 'long walks on the beach' kind of gal like me.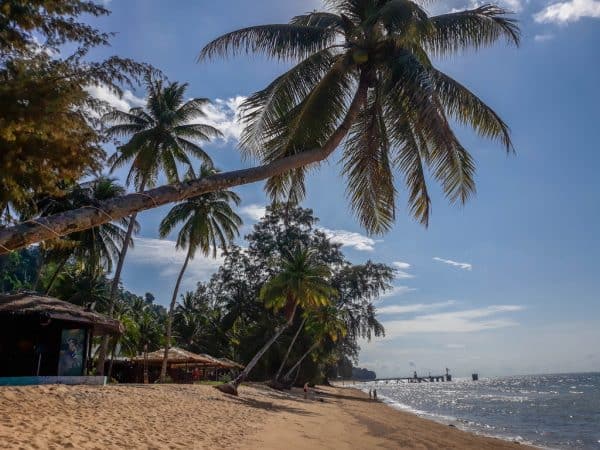 Check in is a breeze literally and figuratively. The front desk and lobby are located in an open-air area pavilion with coffee tables and wicker enhanced cushioned settees akin to a massive living room. The Berjaya's tour desk, sundry shop and coral conservation displays are all located here. The staff are also a breath of fresh air as they are all exceptionally friendly and welcoming.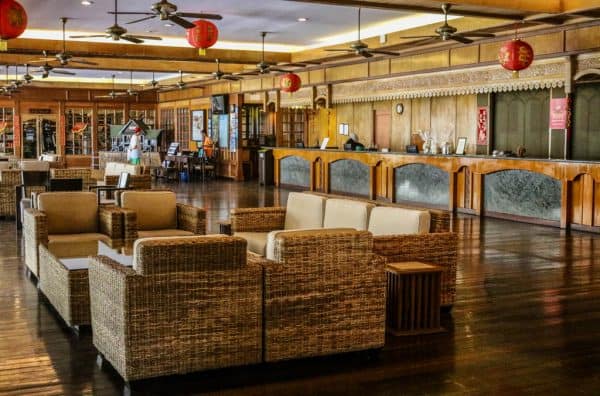 The Property and Rooms
The 200-acre Berjaya property has 268 rooms and suites surrounded by a jungle-y mountain backdrop on one side and the South China Sea on the other. The grounds are quiet with plenty of tropical foliage and shade trees to keep things cool and the ambiance relaxing.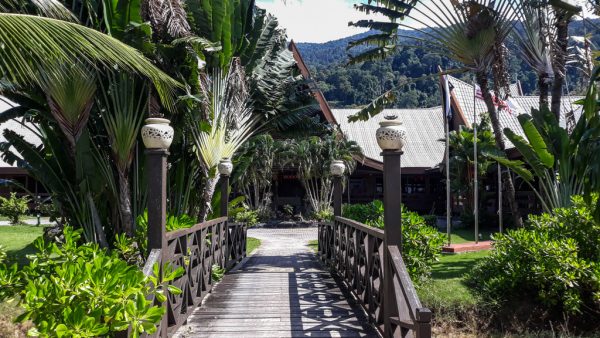 Although the Berjaya Tioman was built more than a few years ago, it should not be mistaken as having an old school hotel style in need of 'upgrades'. On the contrary, the primarily timber buildings, of the resort are a respectful nod to the practicality as well as charm of traditional, time tested Malaysian architecture. And it most definitely works for seaside accommodations in the tropics. The use of wood and timber is also an architectural theme travelers to Peninsula Malaysia will see repeated throughout the country.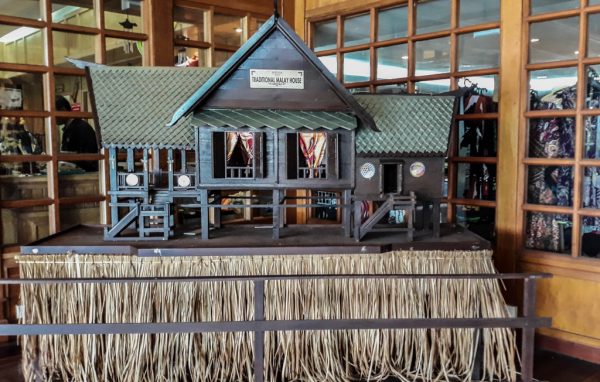 Ten room categories are available at the Berjaya Tioman; from Garden View Chalets and Beach Chalets to a Junior Suite and Shahzan Villa. I stayed in a Garden View Chalet, which was interesting because it was connected to the chalet next door. Although my veranda was a considerable distance from my neighbor's veranda, there was a door inside that connected the two units. Perfect for families with kids or small groups traveling together. Single unit, non-connecting chalets are also available, for those who prefer more privacy.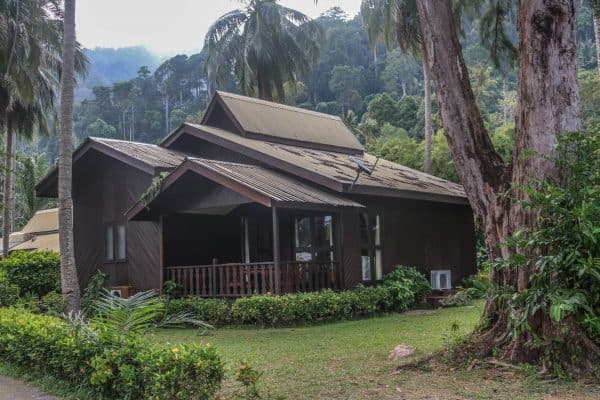 My chalet was quite comfortable. I had a massive wooden bed with plush pillows and soft linens, a sizable desk, electric tea kettle, two chair and table combo inside as well as outside on the veranda. The rain shower was luxurious, and the closet area was ample. And of course, having WIFI availability in my room was a very welcome and convenient amenity.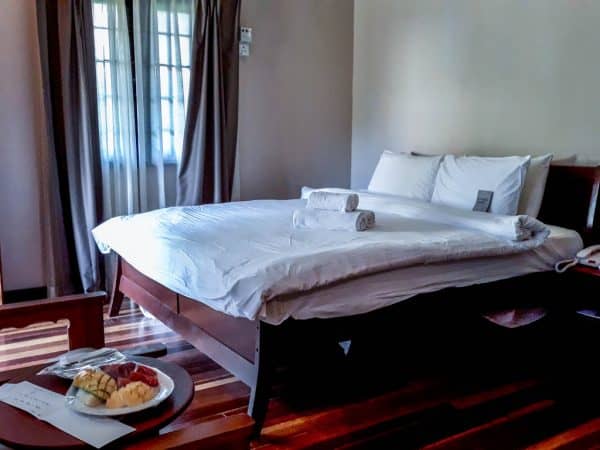 The Garden Chalets also come with a daily wildlife show as the Berjaya monkeys are free range (as it should be) and very clever. Their specialty is harvesting coconuts from the garden palm trees, which is entertaining to watch. They also have an internal clock to know when housekeeping comes through. The possibility that there may be some tasty treats in the rubbish is too enticing to resist. So be mindful of where you dispose of food items and definitely don't feed the monkeys (or any wildlife for that matter).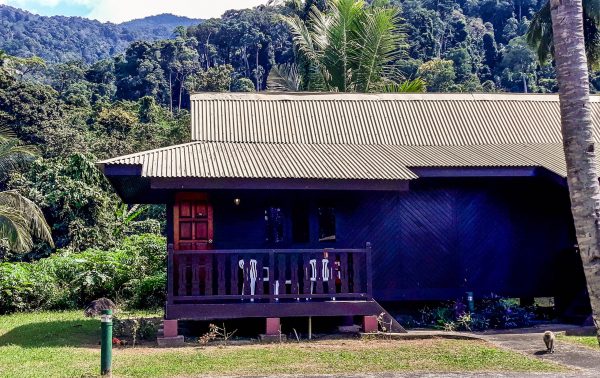 Things To Do at Berjaya Tioman Resort
The facilities at the Berjaya Tioman are plentiful and the activity options are endless. And as cliché as it sounds, they truly have something for everyone. In addition to having a very inviting swimming pool, 18-hole golf course, gym, spa and tennis and basketball courts, they have a recreation and game center and children's playground. Just to name a few. You would need more than a week to do it all. It would be impossible for anyone to be 'bored' at the Berjaya Tioman Resort.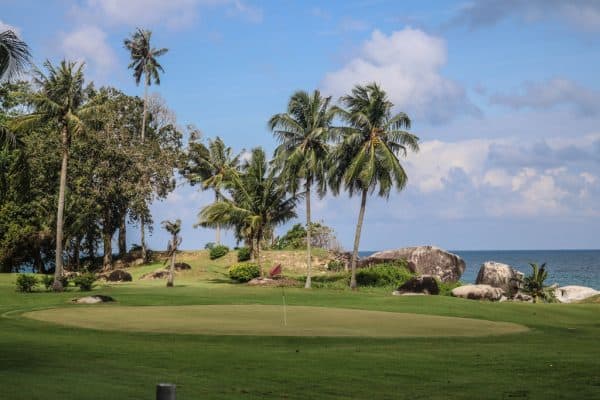 I opted for an ATV Ride and a Snorkel Trip. And although I've never been a great fan of ATVs, I do admit that they have grown on me. The secret may well be in that the rider needs ample time to get the feel of the machine first and perhaps then tackle the off-road scenic vistas. I had that option at the Berjaya. And by the time I eventually ended up at the beach, I was an old hand at trail riding like a boss. My guide didn't rush me either. It was fun! And a workout too I might add.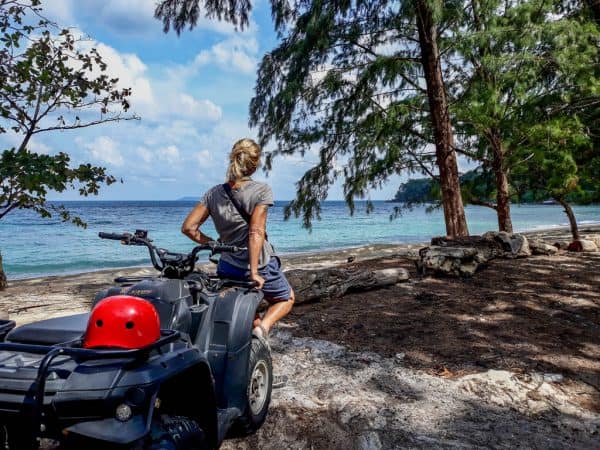 Although there are several island hopping and dive trip options available at the Berjaya Tioman's Marine Center, tiny Renggis Island is just offshore from the resort's Marine Center. It offers newbies a chance to see lots of fish without spending hours at sea. The dive boat also has a glass bottom for those who have no interest in getting wet but still want to have the underwater experience.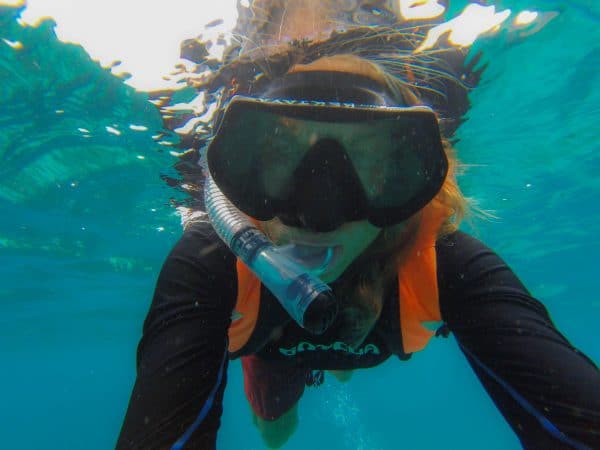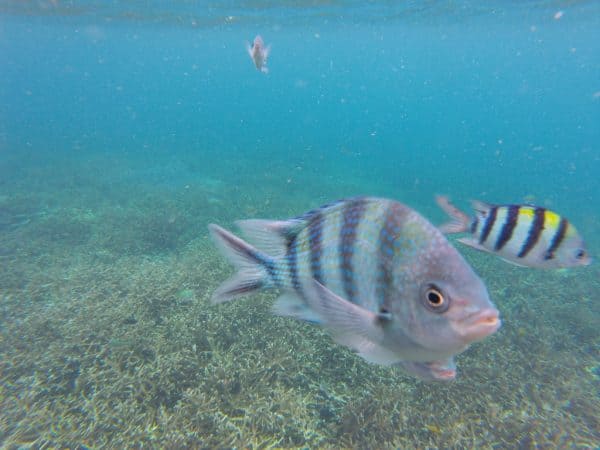 But that's not all. The Berjaya's Marine Center also has a Coral Conservation Program that is quite interesting. In working with Tioman's Rumah Hijau Tioman, the Berjaya is creating coral nurseries halfway between their beach and Renggis Island. Rumah Hilah Tioman (an NGO) has a glass grinder to make sand and are creating eco cement/sand perches to attach coral to. They are utilizing glass bottles as potential coral bases too.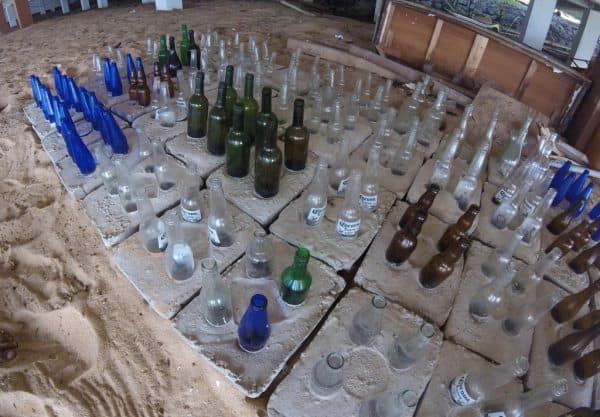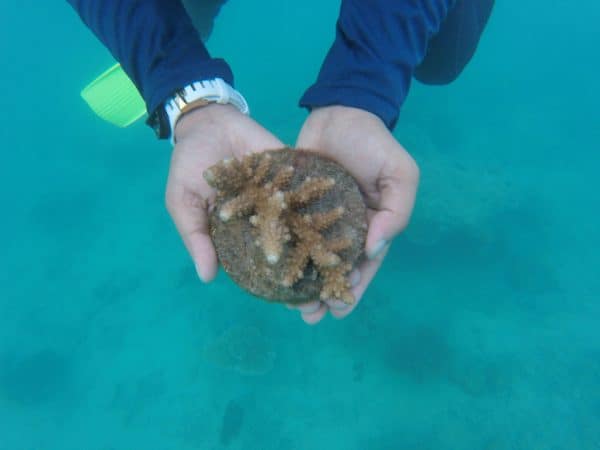 There is even an Adopt a Coral program in place, for guests who want to sponsor a baby coral. Photos and updates of the wee coral are also sent to the adoptive parents throughout the year.
Here's a short video of snorkeling at Renggis Island
Eat, Drink and Be Merry
One can work up quite an appetite at the Berjaya Tioman Resort, but never fear there are many food options available. The Berjaya Tioman has 3 onsite restaurants and a popular seaside beach bar. All within an easy walk (or roll) from the lobby. The resort is also wheelchair and stroller friendly as they have plenty of ramps along the various connecting wooden walkways.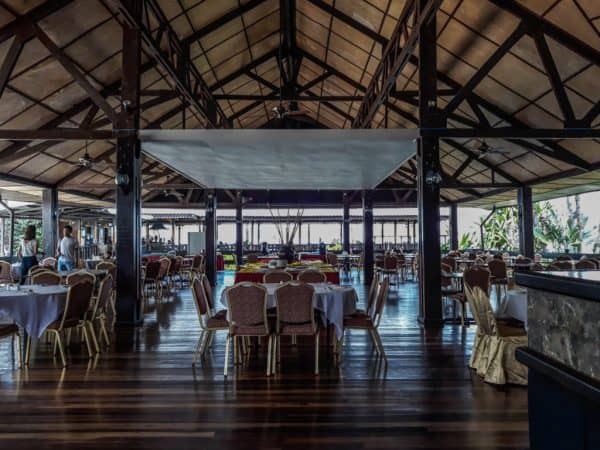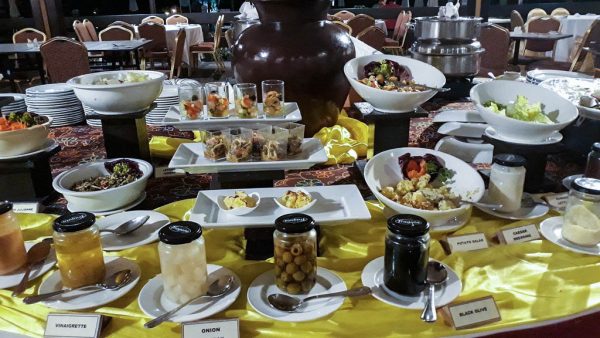 The open-air Fortune Courtyard has all day dining which includes a fantastic breakfast, lunch and dinner buffet. They specialize in Malaysian cuisine but have plenty of international offerings too. The open-air Matahari Restaurant is more beachfront and includes a romantic private table option too. Open in the evenings, the Matahari serves a variety of Thai food, but diners are welcome to order from the Fortune Courtyard menu also.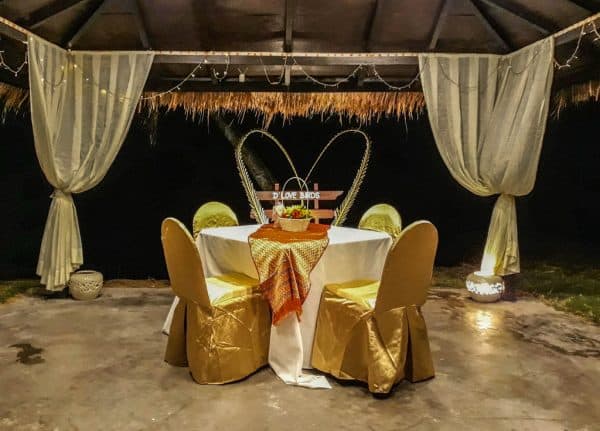 Last but not least is the Xuan Restaurant, who specializes in Chinese style cuisine. This spacious indoor dining option was not my preferred choice since I was dining alone. But it has plenty of space for groups and families. Xuan is open for evening dining only.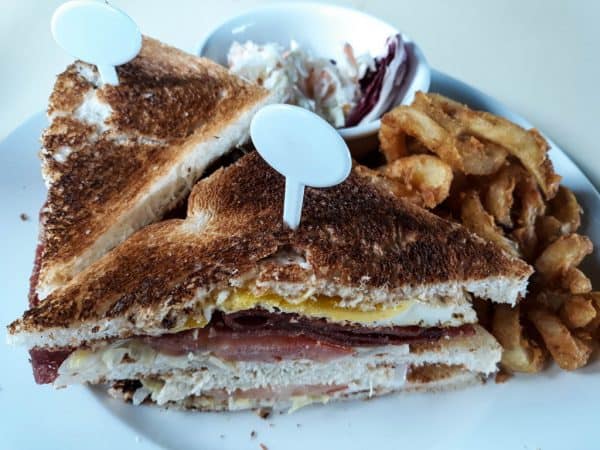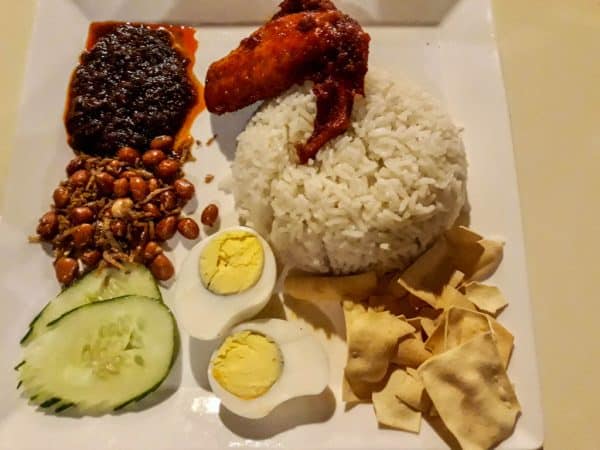 And like any great island resort, the Berjaya's Beach Bar is open daily from 4:00pm until late. The perfect spot to take advantage of Happy Hour(s) and catch a gorgeous Tioman sunset. They also have live music, so be prepared to dance!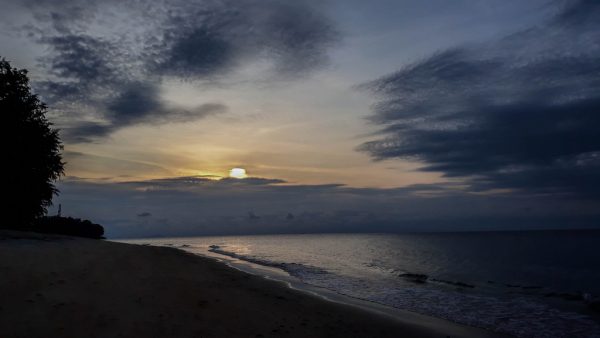 Getting to Berjaya Tioman Resort
Getting to the Berjaya Tioman Resort is easier than it looks. There are direct ferries to Tioman Island's Kampung Tekek from both Tanjong Gemok, Pahang and Mersing, Johor. And the Berjaya's free shuttle service picks you up at the Kampung Tekek Jetty.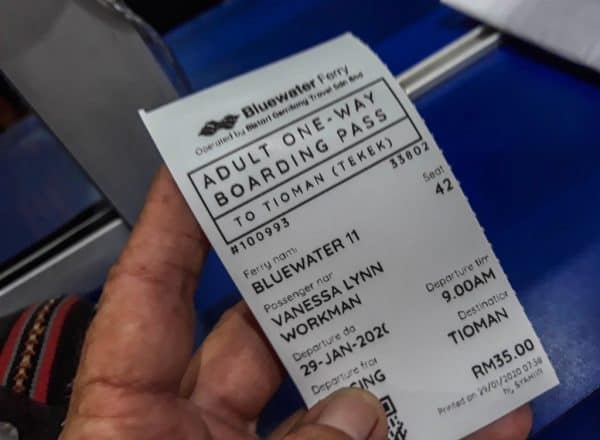 The challenge is getting to Tanjong Gemok and Mersing. If you are driving your own car, then things are pretty straight forward. If, however you are taking a bus, the possibilities are endless (and a little confusing). I found the bus from Larking Bus Terminal in Johor Bahru to Mersing to be the easiest and shortest route. And the Mersing Bus Terminal is just a short walk to the Mersing Ferry Terminal. The buses to and from Mersing and Johor Bahru are also scheduled frequently (and conveniently timed). You can certainly buy your tickets at the bus stations, but you can also purchase your bus tickets online in advance.
For advanced ferry tickets and ferry times, check Blue Water Tioman website. They will also keep you updated on last minute changes of the monthly ferry schedule.
*As of this writing a new Tioman Island airport is being proposed. But for now, direct flights to Tioman Island are not available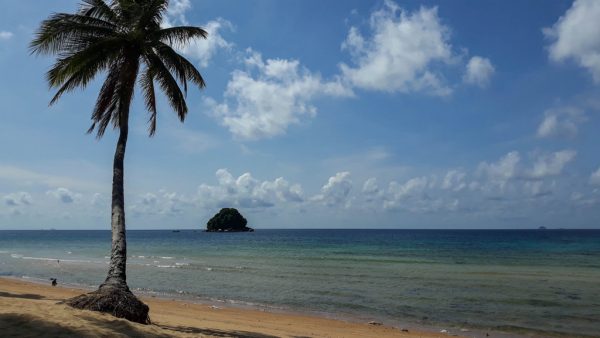 Is Berjaya Tioman Resort, The Ultimate Island Getaway?
My verdict on the Berjaya Tioman Resort? It was indeed the ultimate island getaway. I had a great time there and it was a very comfortable stay. After my adventurous island hop from Langkawi Island (on the west coast of Peninsula Malaysia) to Tioman I was happy to have three days chillin' out at the Berjaya Tioman. But to be honest I would have been much happier with five!
If you have Tioman Island on your radar or just need an island getaway, I highly recommend the Berjaya Tioman Resort for a relaxing few days. I think you will love it as much as I do.
You can check rates and availability HERE
Or check the Berjaya Tioman's online special rates and packages HERE