Bangkok is one of those absolutely must-visit places that I personally know very little about. It's big and very busy, but an exotic destination that should be on everyone's bucket list. You name it and Bangkok probably has it. Until recently, it had been at least five years since I had visited Bangkok, but even with some previous experience it was still a bit intimidating. Even choosing a Bangkok hotel can be a daunting task, that's for sure. Luckily I found Asia Hotel Bangkok.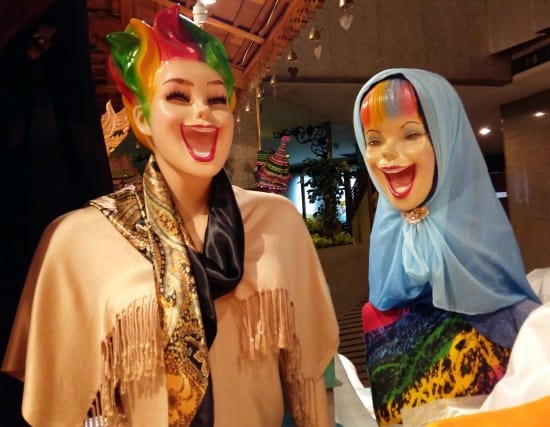 Asia Hotel Bangkok is an affordable, cut to the chase option, which is a great choice for anyone unfamiliar with the Bangkok metropolitan scene. They have plenty of onsite amenities and nearby conveniences to keep even the most timid and non-adventurous traveler in vacation mode.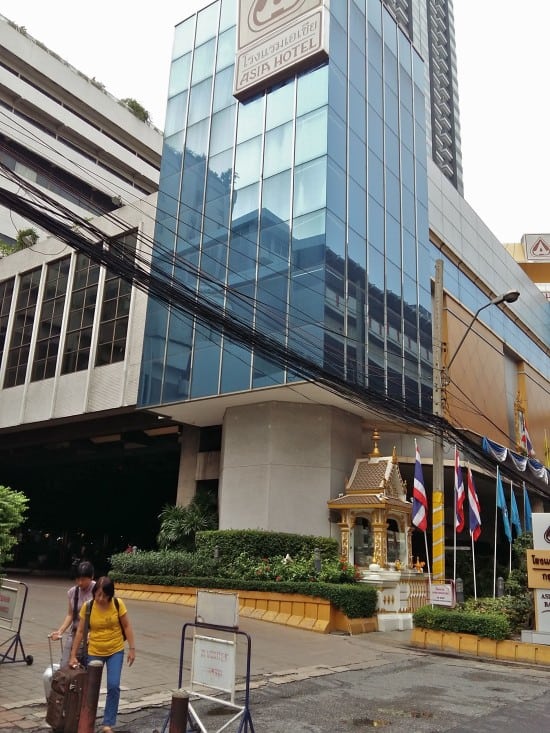 At first glance one might see another hotel clone poking through the Bangkok skyline, but the family owned Asia Hotel has been in the hotel business for over forty years and has plenty of experience in keeping guests happy.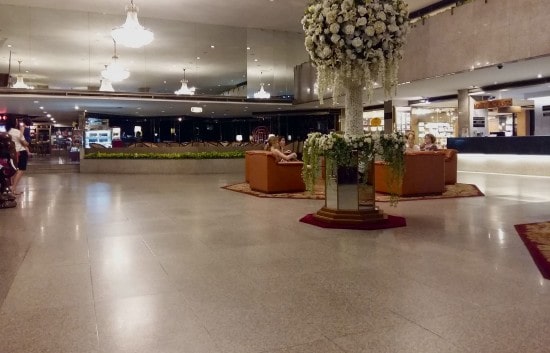 Once through the door you are greeted by the elegance of yesteryear complete with chandeliers and traces of art deco throughout the building's décor. Of course they have done plenty of upgrades and modernizations through the years, but their classic charm is still there.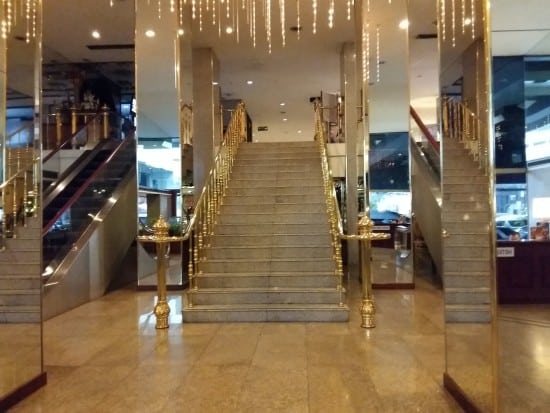 With over 500 rooms available, rest assured that many traveler styles are covered; from the 'somewhat' budget minded to the comfort seekers. My room was slightly on the small side, but it did have a decent view of the surrounding neighborhood as well as all my make-me-happy amenities: working WiFi, spacious desk, mini bar, electric tea kettle, armoire and a comfortable bed (actually two beds).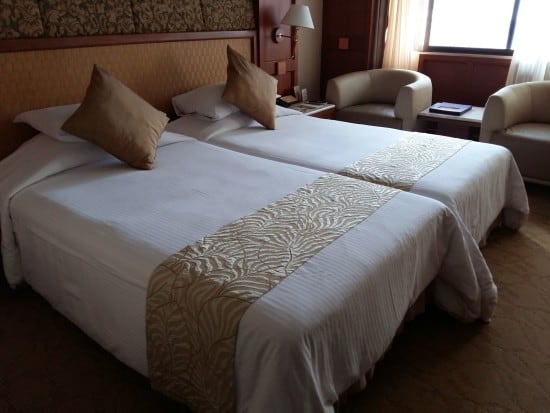 Besides their very well attended breakfast buffet (which I recommend hitting earlier than later), Asia Hotel Bangkok has three restaurants and a coffee shop. From their Great Wall Chinese Restaurant to Saigon Vietnamese Restaurant to the tropical Rio Grill Brazilian, you won't need to wander too far to enjoy fine dining. Their Tivoli Coffee Shop conveniently caters to the late night, 24 hours crowd that can save you those late night trips to the 7-11.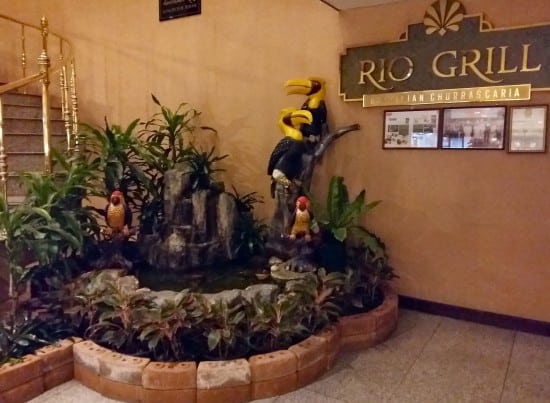 But wait, there's more!
They have not one but two pools, a sauna and a gym. The pool has plenty of space for lounging and a citywide view. They also have an 'om' worthy spa at the hotel. The Asia Spa is a bit pricey, but worth it. However, if you have special needs, the person you inform may not be the person who actually services you, so you may find yourself re-explaining during your session.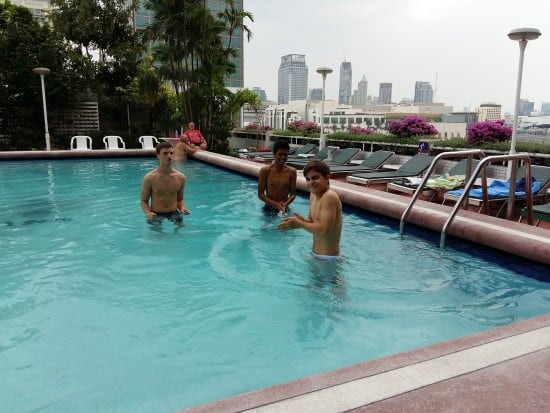 Last but not least, believe it or not Asia Hotel Bangkok has a resident fortune teller. In fact they have several, but I lucked out and met with Ms. Pook, who covers weekends. You may not believe in that sort of thing, but you'll leave with a smile on your face either way and I highly recommend.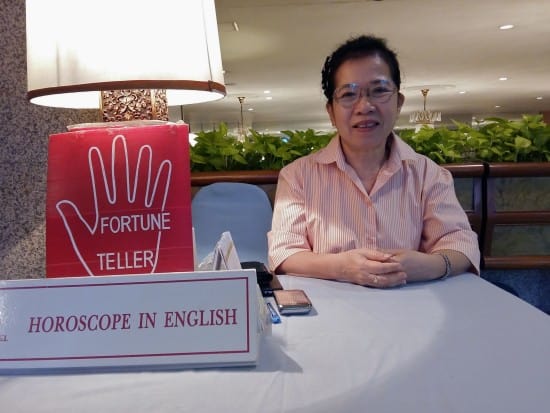 Location wise, not only is Asia Hotel Bangkok centrally located; it's also a mere 32 kilometers from Suvarnabhumi International Airport. The Airport Link City line goes straight from the Suvarnabhumi Airport Link Station to Phaya Thai Station and from there hop on the BTS sky train and head to Ratchathewi Station. Asia Hotel is directly across the street.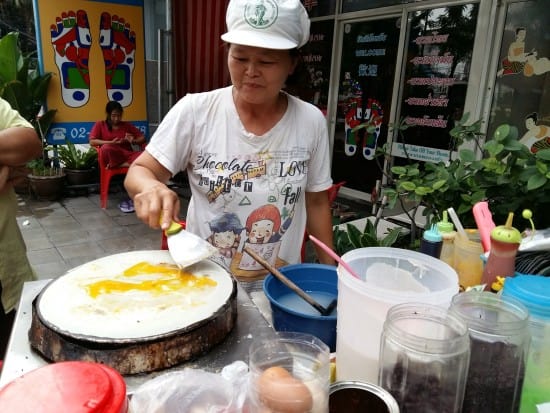 There's a lot going on in this colorful neighborhood, with plenty of shopping and restaurants just a short walk from the hotel. Tasty street food is also available at various times throughout the day and night. And again, that oh-so-convenient sky train can easily deliver you to all that Bangkok has to offer. Prefer the convenience of a taxi? No problem because there is no shortage of them waiting outside the doors of the Asia Hotel Bangkok.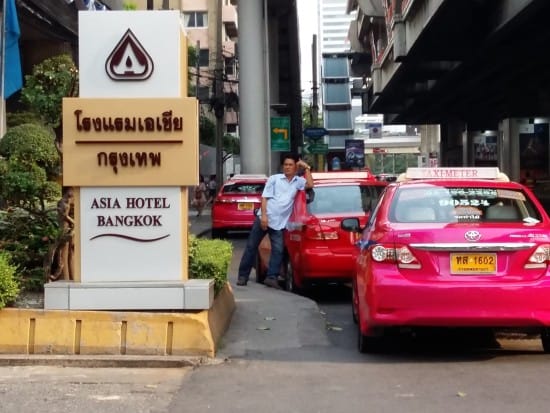 Do take note that it may be in your best interest to arrange with the hotel's transportation desk to ensure there are no miscommunications on rates or exact destination location. That service may cost a tiny bit extra but it's absolutely worth it. They can also assist you with tour arraignments and translation needs. Ask for Mr. Peter Sivadat and tell him I sent you. You can check rates and availability HERE
*I was an invited guest of Asia Hotel Bangkok, but my opinions are my own.
Would I stay here again? Absolutely.
ASIA HOTEL BANGKOK
296 Phayathai Road (across from Ratchathewi Skytrain Station)
T: (662) 217-0808
F: (662) 215-4360
[email protected]
www.asiahotel.co.th