As much as I enjoy the energy of big cities, they often overwhelm my senses. Can't see the city for the buildings, so to speak. Jam-packed with so many things to see and do that I don't quite know where to begin. I've found that one of the beauties of small towns is that they are a manageable sensory experience and much easier for me to relate to. I also sometimes get lucky with small towns and uncover a few 'hidden gems' that can be a unique sightseeing or cultural find. One such recent discovery was Chiang Mai Celadon, tucked away in the small community of Doi Saket, on the outskirts of Chiang Mai. I had been casually cycling my way through the surrounding stretches of Doi Saket's empty padi field roads, when low and behold the Celadon kingdom suddenly appeared.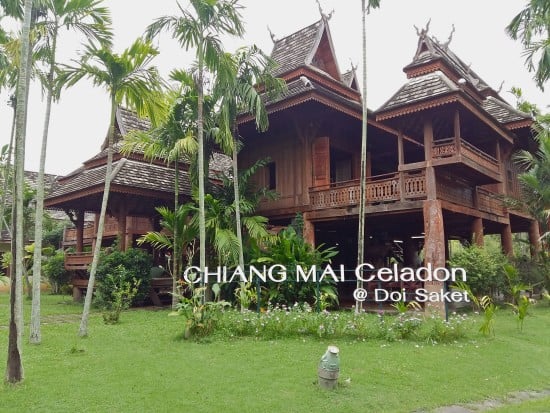 There are no garish signs or a string of tour buses announcing their presence, just a simple sign on the side of the dusty highway. I of course knew nothing of celadon, and the word 'ceramics' had me expecting the typical clay handicrafts being touted across Southeast Asia. But with a carefree schedule, I followed their pock ridden entry road to investigate. Straight away, the eye catching traditional buildings of Chiang Mai Celadon have a way of enticing even the most 'worldly' of travelers. Their complex is surrounded by Lanna houses spaced throughout their five-acre property and includes a massive water dipper (or Nam Ton Yak), a symbol of 'welcome'.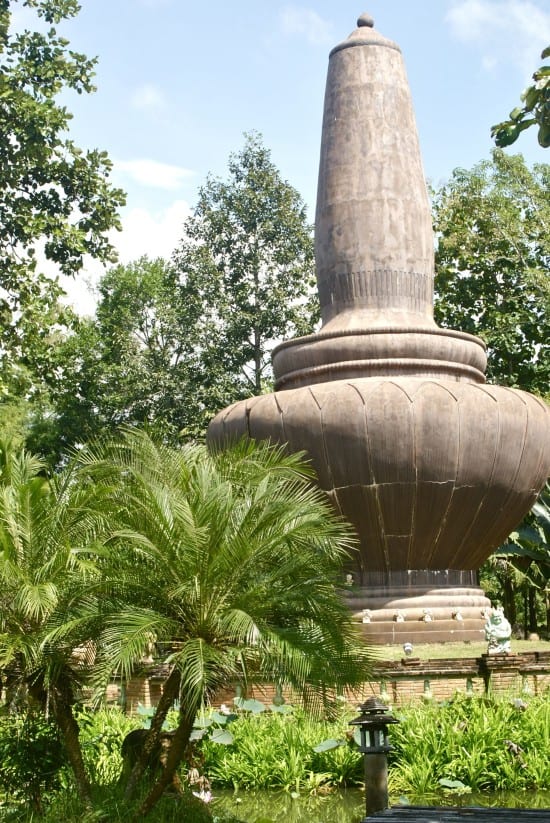 After touring this unique artisan village and seeing the various stages of this celadon specialty, I think it may be one of the more interesting ceramics processes I've been introduced to. The word itself comes from two Sanskrit words; Sila, which means stone, and Dhara, which means green. Celadon means 'green stone'. The Chiang Mai Celadon process, which is quite lengthy, is broken down meticulously into various steps and takes days to complete.
Preparing the clay for the production of Celadon
Chiang Mai Celadon begins the process by making their own clay onsite, from powdered clay to the final product of slabs. To ensure high quality, they use a combination of black clay and compound clay, made from rich topsoil sourced only in the Chiang Mai province.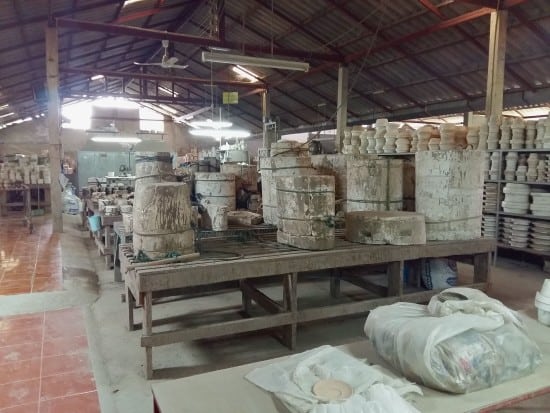 The creation process
The pottery is then either formed (thrown) on a wheel or created using hand-made molds. Both processes are equally challenging, as even when a single piece is created from a mold, there is lots of trimming of excess clay to reveal the fine details.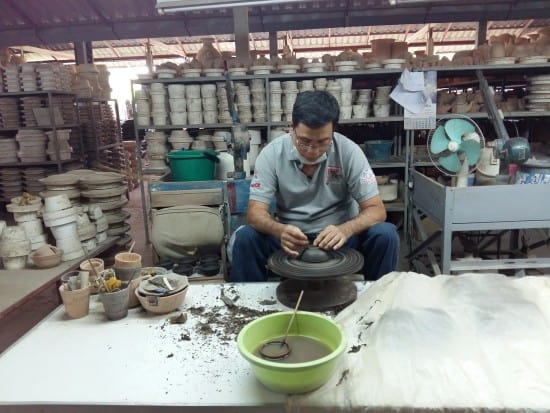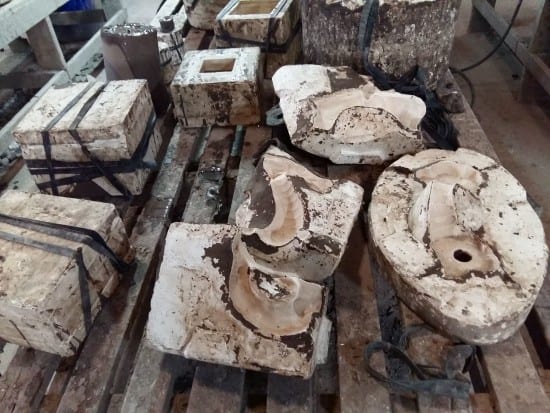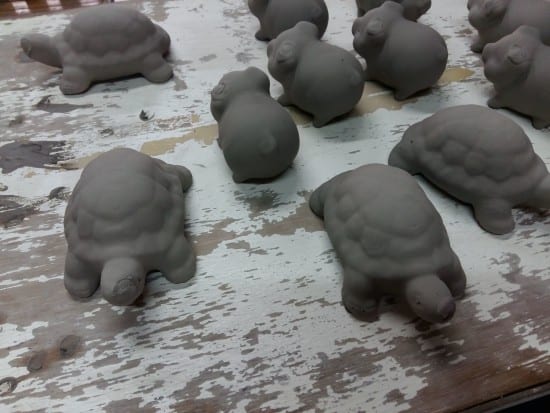 Carving
After the clay piece dries in open air it gains the hardness and consistency of leather. Special carving tools (and steady hands) are then used to create traditional Northern Thai motifs or designs.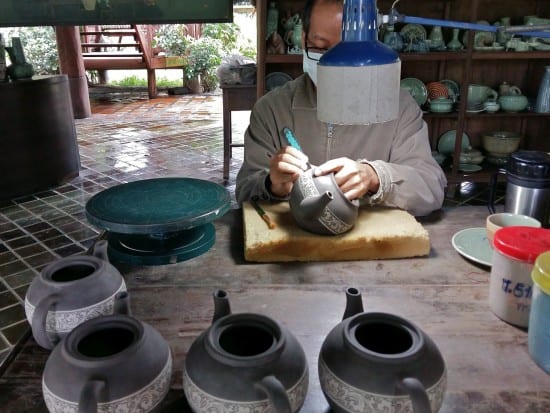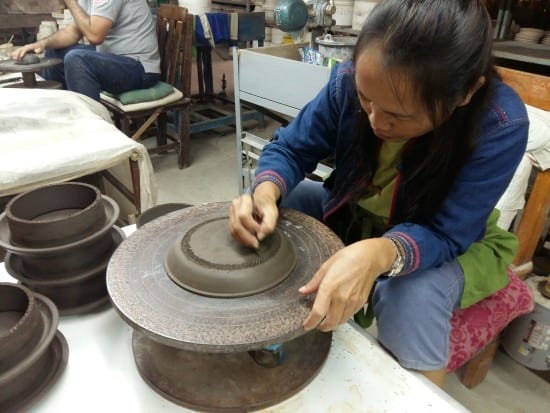 Biscuit firing
The first visit to the kiln is called 'biscuit firing', where the clay pieces are fired at 800 degrees Celsius for 7-8 hours. This cooking process takes the grey clay to a light brown, peachy color. If no additional designs are being added, the newly baked  'biscuit' is prepared to be glazed or passed on to be painted.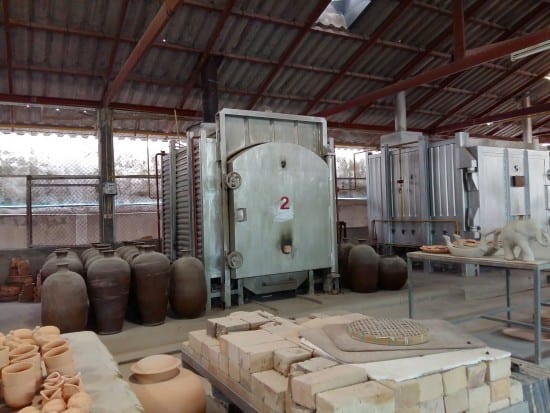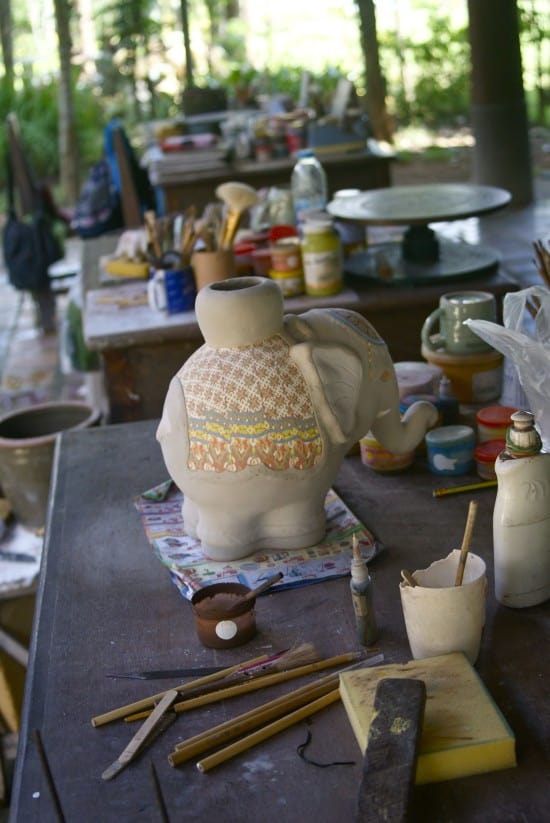 Glazing
Celadon's unique glaze is created with a combination of Laurel Tree wood ash and the topsoil of paddy fields. That may sound a bit like hocus-pocus but the results, are indeed, seemingly magical. The final glaze is fired at 1,260 to 1,300 degrees Celsius for 12 hours and then cooled in the kiln for another 8-10 hours. The resulting glaze has a luscious green hue with subtle cracks. Interestingly enough, the more wood ash used, the darker the shade of green. And yes it looks very much like Jade!
Chiang Mai Celadon, initially opened in Chiang Mai back in 1989, by Khun Tassanee Yaja, a bank officer turned passionate ceramic artisan. Her new location, in Doi Saket, is a sprawling picturesque compound, which inspires the teams of onsite craftsmen (and women) to create the unique pieces of quality ceramics that Chiang Mai Celadon is famous for. They are definitely worth a visit. Not only for purchasing the one of a kind pieces, but to witness the craftsmanship on site. You may also be inspired to join one of their workshops and create your own unique piece of Chiang Mai Celadon.
Can't make it to Thailand? They also take online orders! Check out their gallery HERE

ChiangMai Celadon
135/4 Moo 6 Doisaket-Bosang Road
Doi Saket, Chiang Mai, Thailand
T: 66-53-484693 F: 66-53-484692
[email protected]
www.chiangmaiceladon.com