The year 2000 was a big deal for me. I turned one of those milestone ages, traveled to Southeast Asia for the first time and got my first tattoo. I also rode an elephant. I thought I was pretty cool. It wasn't until 15 years later that I read a blog post about the plight of elephants and the worldwide abuse they have endured. I was shocked. I had no idea. But that one blog post opened my eyes to the exploitation of not just elephants, but wildlife in general. And to the realization that I had been supporting animal cruelties my entire life. From visiting aquariums and zoos, to having my photo taken with reptiles and other wildlife, to riding an elephant in Thailand. Back in those days, there was no such thing as an elephant sanctuary. At least not that I was aware of.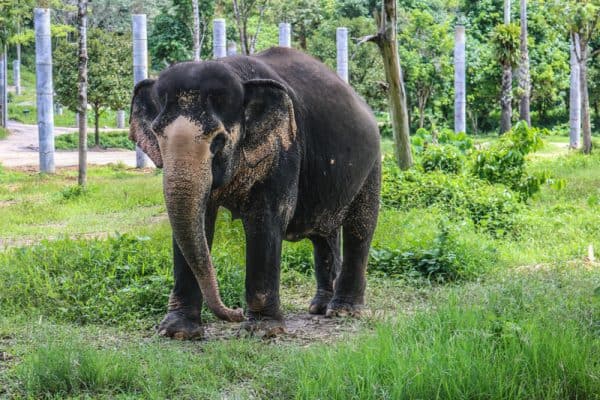 This was long before animal sanctuaries became trendy, but still. It never even dawned on me that these poor animals were not happy in their tiny barren cages or filthy aquariums. Maybe I had been brainwashed by Walt Disney and years of movies whose stars were talking animals wearing clothes. How can any of us not equate such scenarios to happy childhood moments? Well, life isn't a Disney film. It's also no longer the dark ages of lack of information. Social media and the world wide web delivers information to our doorstep at lightening speed. I have now read a lot of articles about wildlife being used and abused in the tourism industry, and would assume so has the rest of the world.  
My Search for an Elephant Sanctuary Utopia
This elephant issue is one I feel especially strong about. In the past four years I have been planning to visit an elephant sanctuary and do what I could to spread the word. But to be honest, choosing one has been a bit confusing. Since my initial 2015 enlightenment, I have read plenty of articles, blog posts and seen many social media posts about the plight of elephants as well as the efforts being done to save them. But only a handful of places really jumped out to me as potentially the 'real deal'. And if you are Googling, you will not necessarily find 'the best' or 'most ethical' at the top of the list, so be sure to scroll through and back things up with a look at Trip Advisor reviews and guests' random photos.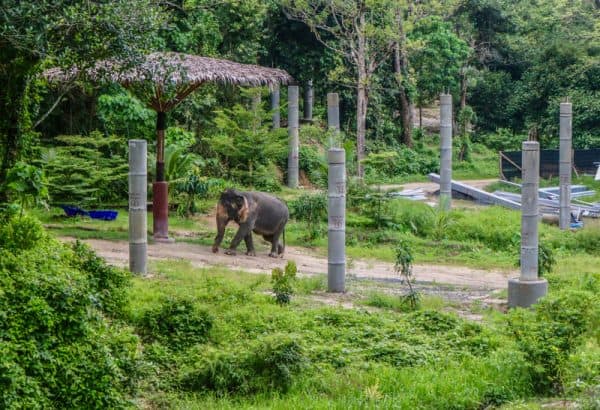 Straight away I eliminated any venue offering 'shows' or baby elephants painting, elephant riding, elephant bathing or any 'playing' with elephants. I even questioned the feeding of fruit, yet with no firsthand experience how can I be so judgmental? It's an expensive gamble to take for first-hand experience as well, so it is well worth taking the time to research first.
Phuket Elephant Sanctuary
Enter the Phuket Elephant Sanctuary. First opened in November 2016, the Phuket Elephant Sanctuary is apparently the first ethical sanctuary in Phuket. I checked out their website, their social media accounts and even checked in with Trip Advisor for any questionable non-ethical offerings. Nope, they were clean as a whistle. So, I signed up.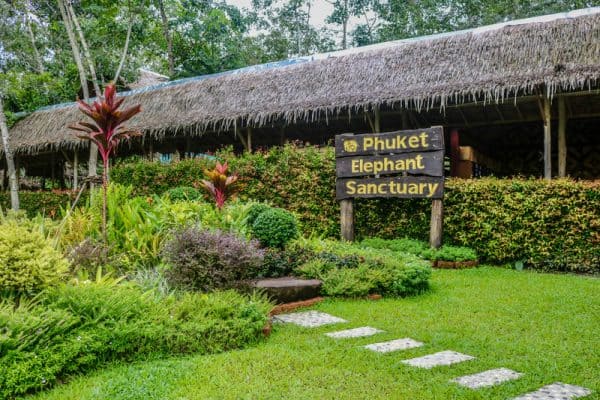 I was skeptical that they would be like so many others with 'grey' areas, so I actually arrived looking for flaws. My vision of an elephant sanctuary was Elephant Utopia. I expected to see herds of elephants romping through the jungles making loud elephant calls (like in a Tarzan movie). Imagine my surprise when I saw pens. Large empty pens. But I'll get to that later…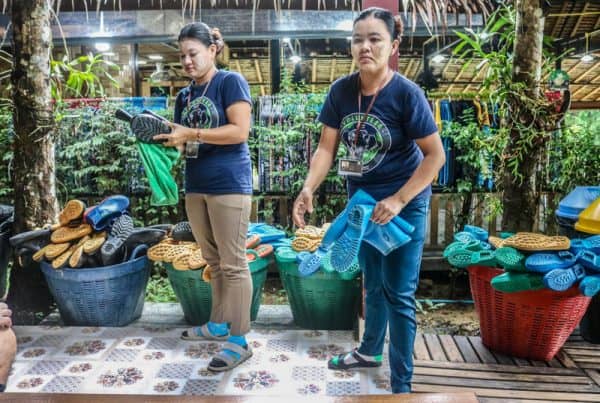 The Phuket Elephant Sanctuary offers a pick-up service, which brings guests to their main location. After signing in, guests are then transferred to the sanctuary which is located a short ride away in the jungle. Since I came for the Morning With Elephants Tour, the program includes a pair of mud boots to wear, a tasty breakfast buffet and a video introduction of how the sanctuary got started, their goals and introductions of their elephants. You can watch this video below. They also have a You Tube Channel which you can subscribe to HERE

During the video a couple of elephants were sauntering their way towards the main building. A human escort (mahout) shuffling nearby. Once the video was over, we were able to feed fruit to the arriving elephants. Obviously, not their first time to show up at a particular time, but I saw no chains, bull hooks or other forms of encouragement so let's just say they like fruit and are smart enough to tell time.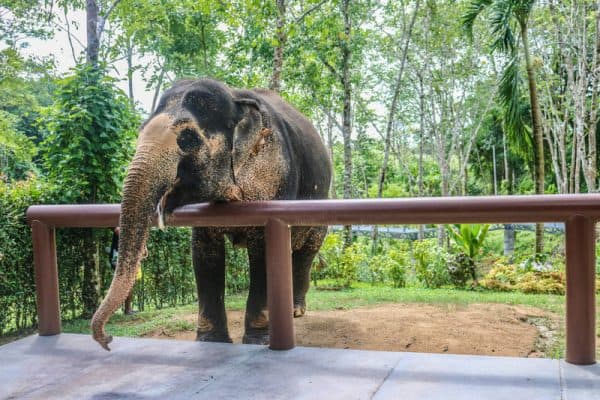 I was pretty thrilled to feed fruit to an elephant. But I felt a little guilty at the same time. It felt 'touristy'. The guests, however, were kept a trunk's distance away from the elephants, which was consistent with the sanctuaries mission statement of making the elephant's comfort their priority. It took great restraint from me to keep myself from 'touching'. Because I really wanted to. Funny right? My Disney fantasies still lurking in my brain.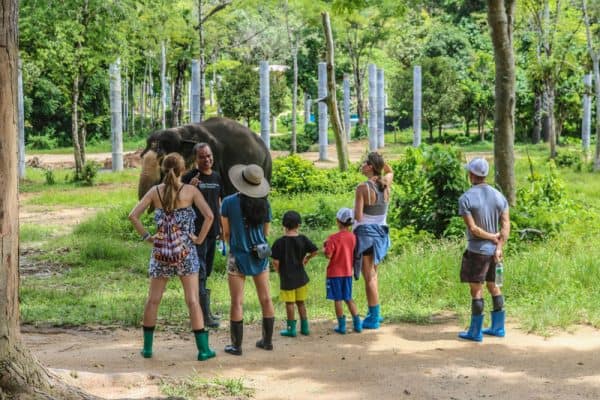 After all of the fruit was gone, off went the elephants along with their trailing mahout 'babysitters'. My group followed from a distance. We saw elephants in the hydrotherapy pool as well as a couple of elephants splashing in the river by themselves or with a mahout. We learned the age of these elephants; 36 years and well beyond. The herd of nine females had all spent decades being abused in the logging and tourism industry.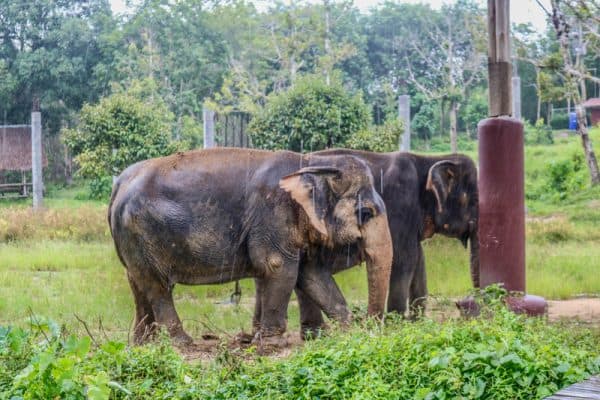 Standing near these elephants made me realized just how large they are. Their ripped ears and scars visible reminders that these strong-willed gentle giants have stood their ground a few times and paid the price. It also made me rethink any thoughts of hugging and being pals. Why on earth would I be seen as any different from the decades of abusive humans these elephants have encountered? I could only prove myself now by giving them the personal space and respect they so deserve.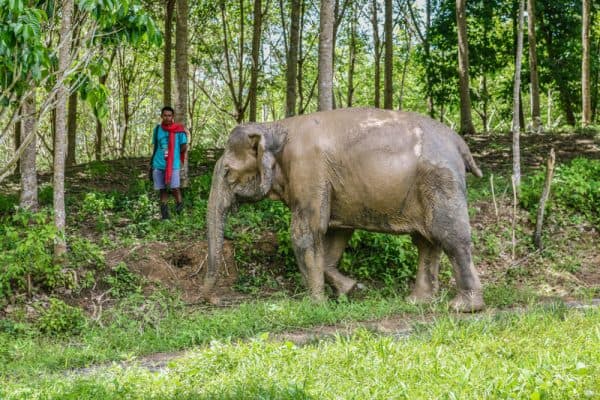 Decades of abuse are not so easily erased. In fact, these unfortunate elephants will never be released into the wild. The sanctuary is as close as it will come to complete freedom for the majority of rescued elephants. And they require daily feeding and unfortunately, they will also need to be kept in pens from time to time. For their own protection as well as the protection of other elephants. And just for the record, the pens at Phuket Elephant Sanctuary are huge. They also have dirt floors not cement. They are built to last and to withstand the weight of a frightened or confused elephant. Now I understand.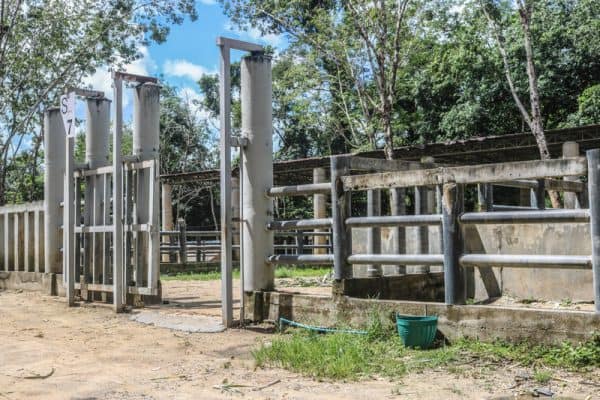 Is Phuket Elephant Sanctuary an Elephant Utopia? No. But for the retired, maimed or blind elephants that live there it is a glorious second chance. I applaud this sanctuary for their efforts and dedication and can only hope that many more of Phuket's elephant population will also be given this second chance.   
Here Are Some Elephant Facts You Should Know
Here are some quick facts per Koh Samui Sunset:
Elephants in Thailand: 4 Things You Must Know
*Asian elephants are an endangered species
*There are approximately 2000 wild elephants in Thailand
*After a 1989 logging ban, most logging elephants ended up in the tourist industry
*60% of Thailand's elephants are captive elephants, and 60% of those are used for tourism
*Many of Thailand's captive elephants are poached from the wild
'Poached from the wild'
Now, no one drags a full-grown wild elephant home against its will. Much less trains it. It's the babies that are captured and ripped away from their mothers. The babies. And this is where things get ugly. Really ugly.
As Expert Vagabond explains:
Why You Shouldn't Ride Elephants in Thailand
'Wild elephants generally won't let humans ride on top of them. So, in order to tame a wild elephant, it is tortured as a baby to completely break its spirit. The process is called Phajaan, or "the crush". It involves ripping baby elephants away from their mothers and confining them in a very small space, like a cage or hole in the ground where they're unable to move. The baby elephants are then beaten into submission with clubs, pierced with sharp bull-hooks, while starved and deprived of sleep for many days.'
In case you need convincing, take a good look at this photo by Brent Lewin.
Brent Lewin / Redux Pictures:
'A baby elephant braces for a hit during a training session in a Karen village in Burma. The training session is coined the 'crush' as its goal is to break the elephant's spirit. Wild elephants are typically tied up and beaten for 3 days straight and left to starve. Burmese Karen mahouts near the Thai border operate a clandestine and illegal trade network smuggling elephants into Thailand to be sold to mahouts for the Thai tourism industry. Officials estimate that 1 Burmese elephant is smuggled into Thailand every week.' (source NBC. news)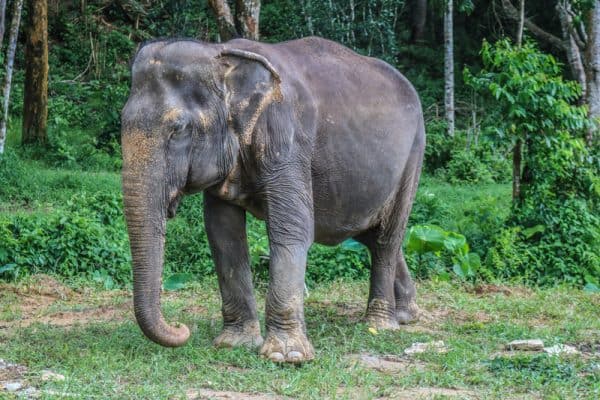 Just Say No To Elephant Riding
Do you really want to encourage this treatment of elephants? You will be as long as you continue to ride elephants and attend elephant 'shows'. Period. It's the tourists' demands for 'entertainment' that keep this vicious cycle alive. You can rationalize all you want about how you are helping the owners feed and care for the elephants, as well as their own families. And elephants certainly do cost a lot of money. Somewhere in the neighborhood of up to 1,000USD per month. But thankfully there are now many more ethical options.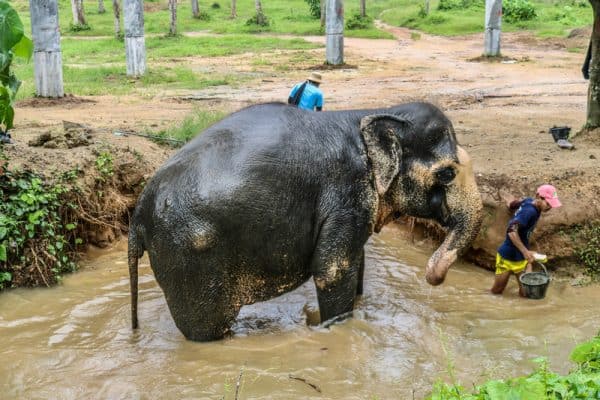 That is why elephant sanctuaries such as the Phuket Elephant Sanctuary and Elephant Nature Park (in Chiang Mai) charge hefty entry fees for visits as well as for participating in their volunteer programs. They usually have to buy their rescues as well as ensure the elephants have proper food, shelter and medical attention. There are also staff to pay, including mahouts who have taken the ethical route and chose employment at a sanctuary in lieu of touting roadside elephant rides or working the 'tourist trap' sideshows. Everybody wins right?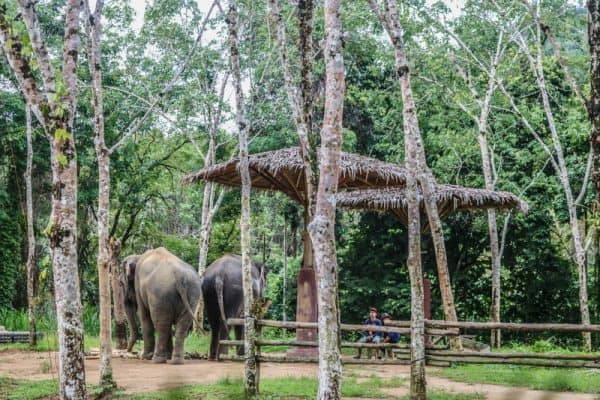 What Others Have To Say
So much excellent information has been written about elephants, that I collected a few links to share with you. Please read them at your leisure.
The Atlantic: Elephant Tourism Thailand
DW: Elephant Rides in Thailand: Fun or Cruel?
Wall Street Journal: Should Tourists Ride Elephants in Thailand?
Adventure in You: Elephant Riding in Thailand: What's The Big Deal?
World Nomads: Why Elephant Riding Should Be Removed From Your List
Buddy The Traveling Monkey: Visiting Elephant Nature Park in Chiang Mai, Thailand
d travels round: The Truth About Riding Elephants
My Last Two Cents
Is it too late for any of us to make a difference? No, it's not. In addition to pontificating my views of the world's injustices on my blog, as a tourist/traveler I can research destinations before I arrive, and I can choose to avoid any venues that exploit animals. I can also choose not to recommend any such venue via my own social media accounts or website. You also have this choice.
I'm a firm believer now that the many rescued animals that have nowhere to go can still bring in money to help pay for their room and board, without chaining them to a pole for photo ops or dressing them in cute outfits or forcing them to endure hours of selfies with loud tourists. Give them space and privacy. Allow them to live in as natural an environment as possible and for heaven's sakes have rules and regulations for visiting tourists.

And in defense of the many zoos and aquariums I have visited during my lifetime, had I not been exposed to the vast variety of animals I have, I may have never had the opportunity to know anything about them beyond National Geographic. But if an animal needs to be chained or tethered, or 'drugged' or be beaten or to have their wings clipped, then you can eliminate such places immediately. And you should. If those places close down, there is a strong possibility that those animals will end up in a real sanctuary where someone gives a shit. You want to rationalize that you are helping them be fed and cared for? Nope. You are helping keep an ugly industry alive.
Please do not ride elephants or support any forms of elephant 'entertainment'. This goes for elephants as well as other exploited wildlife. Please do not support any venue that does not adhere to a strict set of ethical rules and regulations regarding animals. We actually can, collectively, make a difference. And if you have read this post to the end.. thank you. It means a lot to me.