When a hotel offers themselves, not only as a top-notch accommodation, but as enthusiastic tour guides as well? That's a hotel that thinks outside the guest services box. Hotel Jen Penang has raised the bar when it comes to making guests feel at home by also recommending plenty of local sights, activities and food to indulge one's senses in. Their tagline 'Leave Boring Behind' says it all. For anyone who has ever asked a front desk staff about local sights or for restaurant recommendations and has gotten a blank look? Well, you know exactly what I'm talking about. That won't happen at Hotel Jen Penang, the newest hotel brand in the Shangri-La group.  And that amenity alone is pure gold.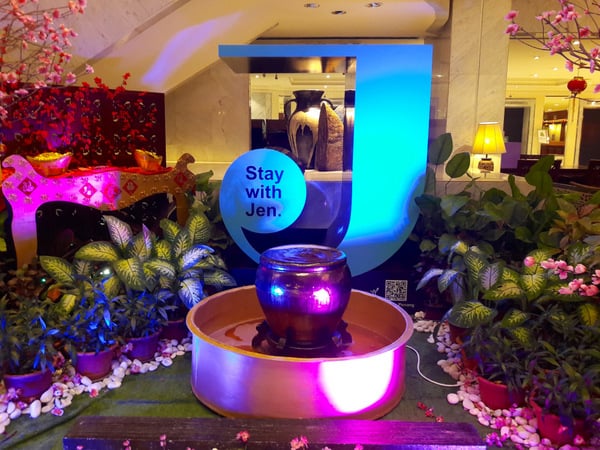 Penang After Hours
Sightseeing is how I came to know about Hotel Jen Penang. I was invited to collaborate with Jen on her exciting new #AfterHours digital map. Jen already has a suggested 24-hour online guide as well as a pocket guide to Penang, which includes a map, sightseeing locations, bus routes and more. However, the launch of Hotel Jen Penang's Nightlight Map campaign is the hotel's latest efforts of taking guest services to the next level.
This is achieved by offering guests an interactive online map, with recommended local Penang sites, activities and eateries located by geotags linked to a Google Map. Unique images are sourced from a variety of nocturnal explorers ( including myself ) with plenty of late night hidden gems revealed.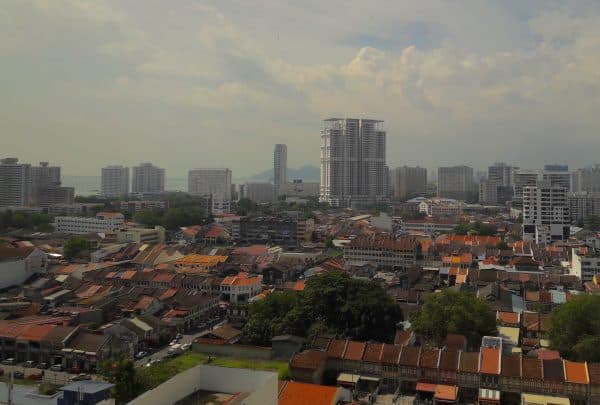 Hotel Jen Penang also loves social media, so be sure to follow Jen on Instagram, Facebook and Twitter as 'her' maps light the way to a memorable Hotel Jen experience. Oh, and the good news? The interactive night light maps are available for all the Hotel Jen locations.
So how was my room you ask?
My fourteenth-floor Deluxe Room was perfect. A massive comfortable and very plush bed, plenty of leg room and work space (with super-fast internet). It also had what I akin to a mini kitchenette with a small fridge, electric tea kettle and coffee making set up. An attractive bathroom buffet of toiletries adds an extra personal touch, with nothing amiss in the personal hygiene department.
No gilding the lily when it comes to room décor, with streamlined furnishings being neutral colored and practical. Bonus points for the large picture window and scenic view of the surrounding neighborhood.

Other amenities? You bet!
Jen also has a well-equipped 24-hour gym and a glorious adjacent swimming pool. They also have two restaurants on site including their prestigious Club Lounge which offers their VIP guests a daily two-hour happy hour. Free flow beverages of choice, plenty of tasty snacks and a sunset. And despite the plethora of nearby restaurants and cafes, Jen's in-house Islander Restaurant and Lobby Lounge are also conveniently available.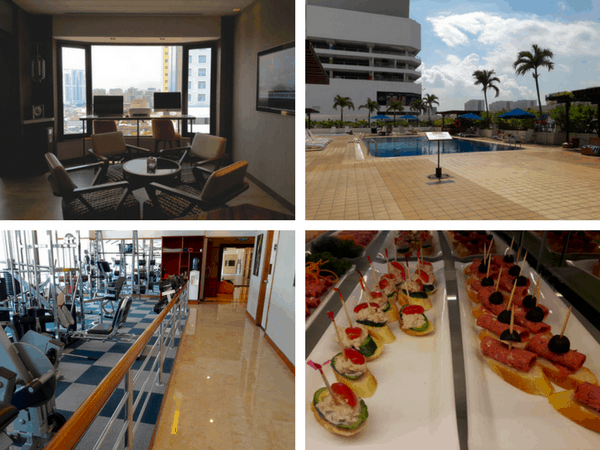 Location
From the Penang International Airport, Hotel Jen Penang is a 30-minute taxi ride away. Situated next to Komptor tower, Hotel Jen Penang is walking distance to George Town and the Komptor bus station is right next door. The abundance of nearby shopping centers, local restaurants and hawker stalls make Jen's location ideal. There is a taxi stand across from the hotel, but I recommend using Uber because you will save big time. Uber also has no problem picking you up directly from the hotel. The hotel can also arrange pick up and drop off service with a hotel private driver.
This wasn't my first experience staying at a Jen Hotel. In fact, I spent a week at Jen Hotel Manila during TBEXPH 2016 (travel bloggers conference), in Manila, and at their sibling Shangri-La at the Fort Manila. So, I'm already well versed in their oh-so-comfortable rooms, excellent customer service and generous amenities. What a pleasant surprise to find they also have a property in Penang. A mere stone's throw from Langkawi and a fabulous staycation option for anyone in Malaysia. You can check room availability HERE
Be sure to check out Hotel Jen Penang's #LeaveBoringBehind #NightLight map
and see what awaits you in Penang #AfterHours
Hotel Jen Penang
Jalan Magazine, George Town
Pulau Pinang, Malaysia
Tel: +604-262 2622
www.hoteljen.com
*I was an invited guest of Hotel Jen Penang, but my opinions are my own.