I clutched the rope for dear life, as the distant tree tops below made me feel slightly light-headed. I'm not sure when I had become phobic of high places. Maybe it had always been with me and I hadn't noticed. But as I embraced my first Flight of the Gibbon Chiang Mai zipline adventure, I realized I had apparently developed a healthy respect for heights. An albatross of getting older is that life's experiences tend to increase cautiousness.
This is when pure trust comes into play.
Did I trust the Sky Rangers at Flight of the Gibbon?
Yes I did.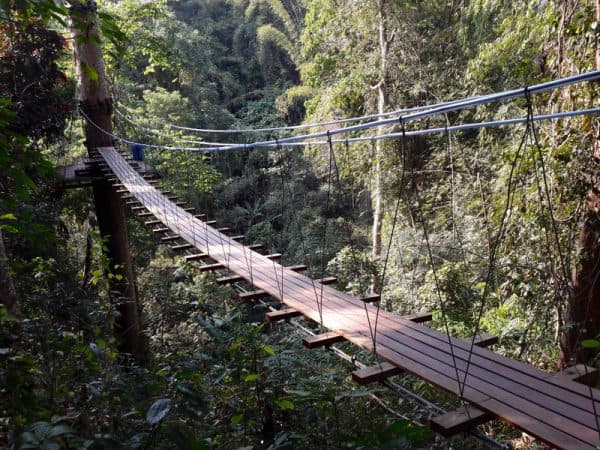 I flew effortlessly through the tree tops. My eyes squinted and beads of nervous sweat pooled in my worry lines, but I knew I had made the right decision. I had chosen the best canopy adventure by choosing Flight of the Gibbon Chiang Mai.
Was I scared? Yes.
Was I high from the adrenaline rush? Yes.
Did I want to do it again? Absolutely!
Flight of the Gibbon was founded in 2007. That is 10 years of experience in rainforest adventures, conservation and the fine art of customer service as well as guests' safety needs. All of which Flight of the Gibbon make their priority. That put them at the top of my list when choosing them for my first true zipline canopy adventure. More specifically, I chose Flight of the Gibbon Chiang Mai. The very first zipline in Asia.
Flight of the Gibbon Zipline Chiang Mai Style
I had chosen an afternoon Zipline Eco-Adventure Canopy Tour, so I could also include Flight of the Gibbon's Segway Chiang Mai City Tour during the morning hours. I was surprised to be able to include both activities within a single day, but Flight of the Gibbon made it quite easy as well as convenient for me, by providing transportation. In fact, their entire booking process is easy and convenient.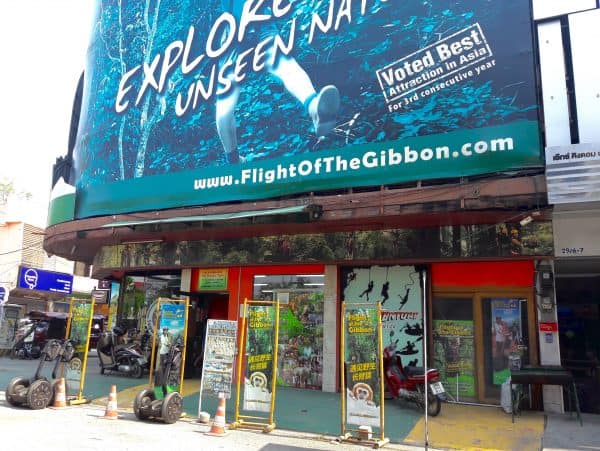 I was picked up at Flight of the Gibbon's Chiang Mai office, which is also the Segway tour starting point. A few other guests were picked up along the way at their hotels. From there, it was a 60-minute drive to Mae Kampong and the rainforest. The drive through the winding tree lined mountain roads is beautiful and a teaser for things to come.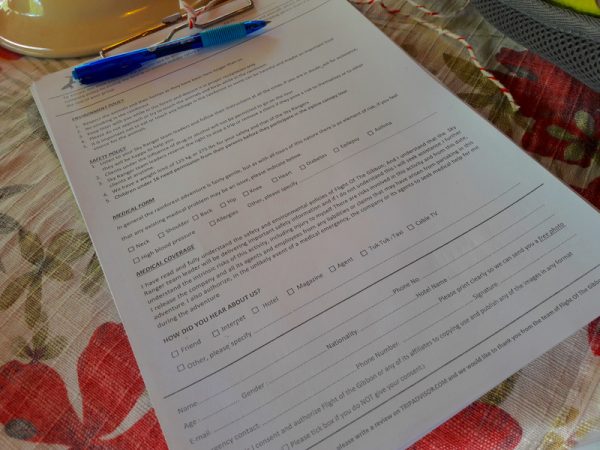 The first order of business was signing a personal health and safety document (just in case). Lockers are offered to guests who come laden with too much 'stuff', as ziplining bodies are meant to be streamlined, with minimal bits hanging out. Anything snag able can create a safety issue.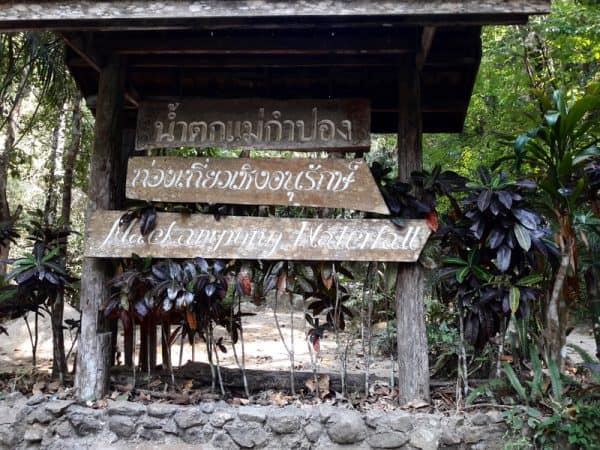 We were driven by van for a brief side trip to visit the nearby Mae Kampong Waterfall. I wasn't sure why we did this first, other than perhaps allowing the group in front of us ample time to get a head start and not have us all back to back with each other.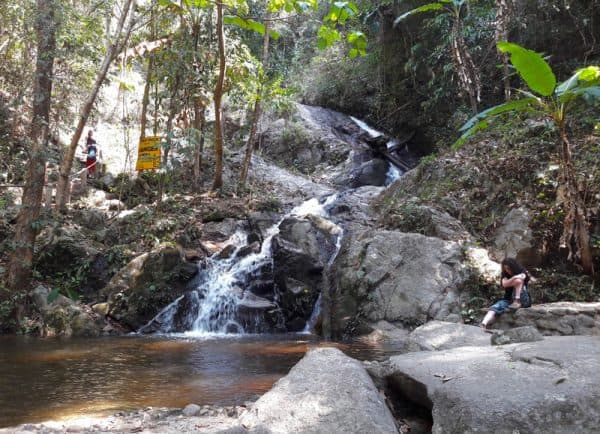 After being returned to the Mae Kampong Flight of the Gibbon base camp, we were geared up and ready to tackle the real adventure.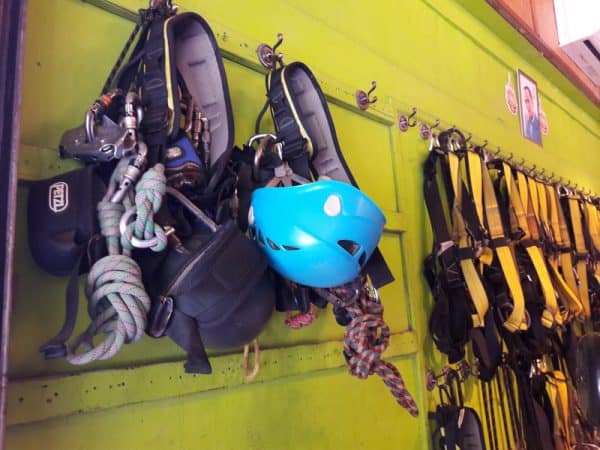 This is a good time to hydrate yourself as there will be no water available until about the midway point. Water bottles and food are not allowed on the course for safety as well as environmental reasons. In fact, you will notice how pristinely clean the entire course is because of this company policy.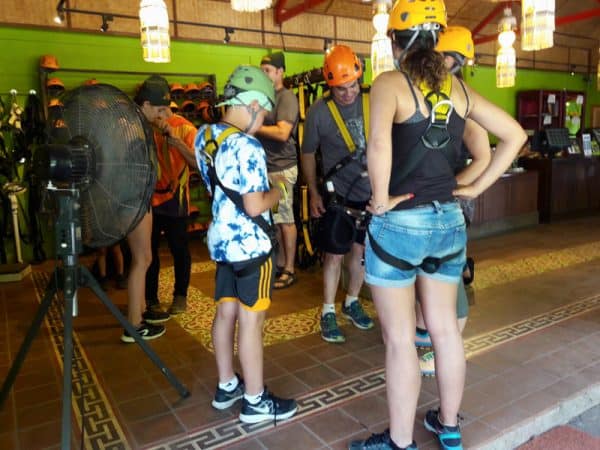 Another short drive away and we entered the rainforest on foot. A small zipline demonstration platform is erected to give everyone safety and procedure instructions and then it's show time!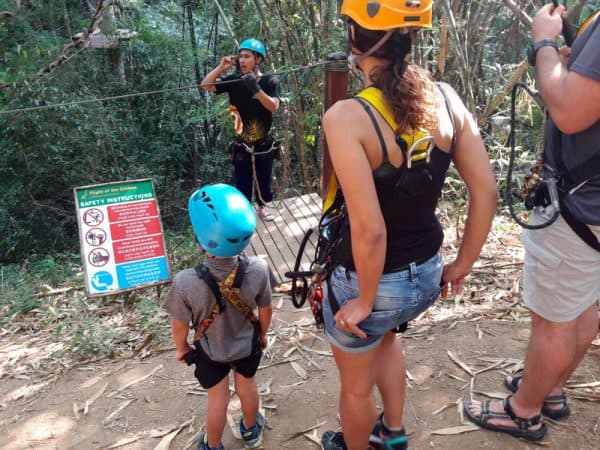 Fifteen ziplines may sound like a lot but amazingly enough we completed the entire course in about 2.5 hours, just as the sun was descending on the horizon. The shadows engulfing us as we all clamored down our last line to our waiting van. Ear to ear grins of satisfaction were on all our faces.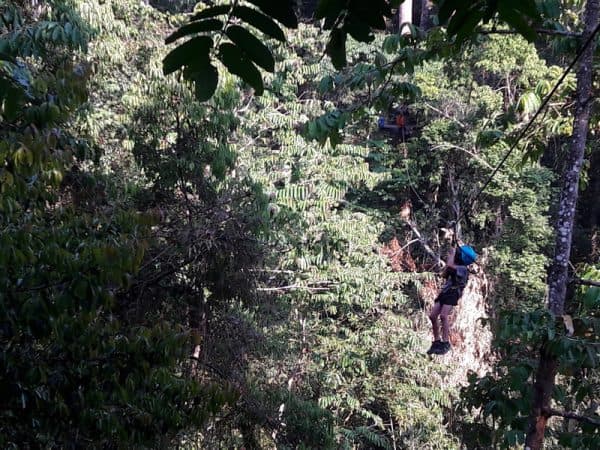 A light meal of traditional Thai food was the wrap up before the hour-long journey back to the city. Each of us conveniently being delivered to our individual hotels.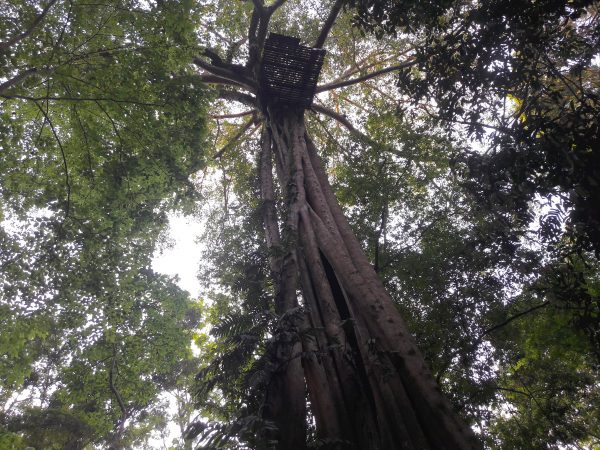 Like I said, would I do it again? Absolutely!
Here are a few video clips of my eco-adventure with Flight of the Gibbon!
Flight of the Gibbon Facts, Figures and Bragging Rights
When it comes to facts and figures, Flight of the Gibbon has a lot to brag about:
*They were the first zipline in Asia
*They have one of the top three longest (and fastest) ziplines in Asia at 850-meters
*Safety is their top priority
*2 Highly Trained Sky Ranger Guides on Every Tour
*They embrace eco-tourism and conservation
*10% of profits going to reforestation projects, ecological education programs, and primate rehabilitation
*They adhere to a zero carbon footprint policy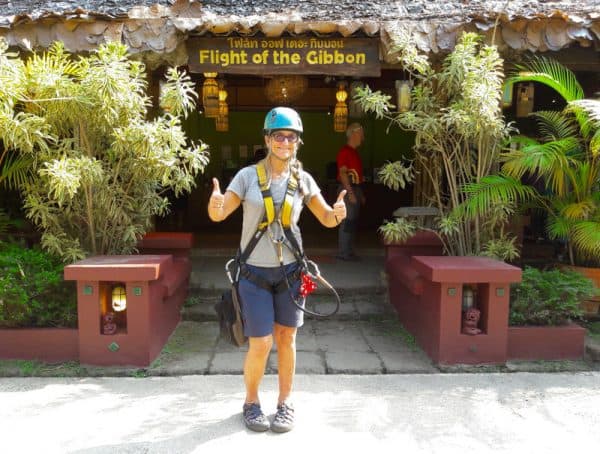 Flight of the Gibbon Zipline Eco-Adventure Canopy Tour isn't an amusement ride,
it's a rainforest experience.
Will I do it again? Absolutely!
And I think you should too!
Flight of the Gibbon
Zipline Eco-Adventure Canopy Tour
www.FlightoftheGibbon.com