At a glance the Shangri-La at the Fort barely hints at the degree of opulence available to their luxury seeking guests. An impressive glass chandelier splashing light across the massive lobby, the hushed tones of the well mannered, and impeccably dressed staff are generally expected at 5-star luxury accommodations. My weekend splurge at the Shangri-La was a wonderful wrap up to a fabulous week long media trip. Having been spoiled in the past week with a selection of higher end resorts and hotels I had already seen some of the Philippines' finest. But after a quick and easy check in and a bee line for the sunny poolside to relax a bit, I began to really take it all in. And yes it started with a smile and a platter of fruit.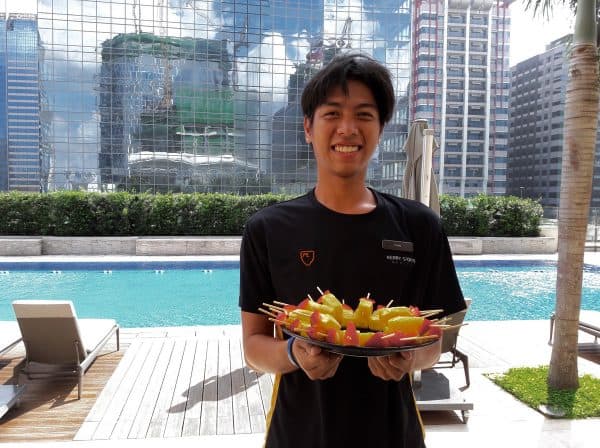 For first timers to the Shangri-La experience, the hotel itself may initially strike unremarkable in appearance but with a closer eye, subtle touches of luxury interior design and craftsmanship reveal themselves. Putting Shangri-La at The Fort in a class all its own.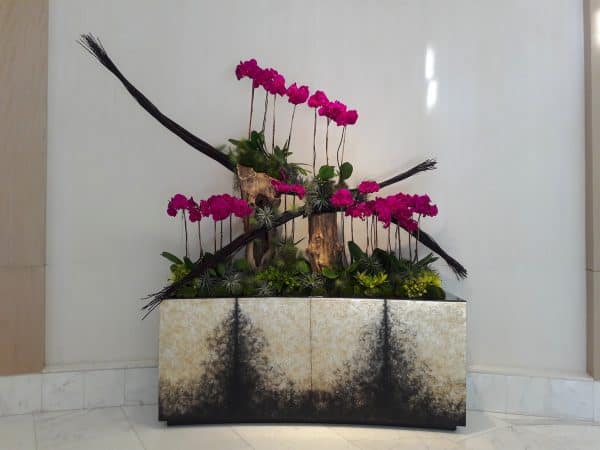 The marble-floored lobby itself spills into the adjacent High Street Lounge with its soothing pallet of muted putty beige; charcoal grey against subtle floral prints. More of an inviting lobby sitting room than a bar per say, this interior design scheme is followed throughout the hotel and enhanced with a myriad of rich textures, textiles and one of a kind art pieces. The carpeting is plush and explodes with quality.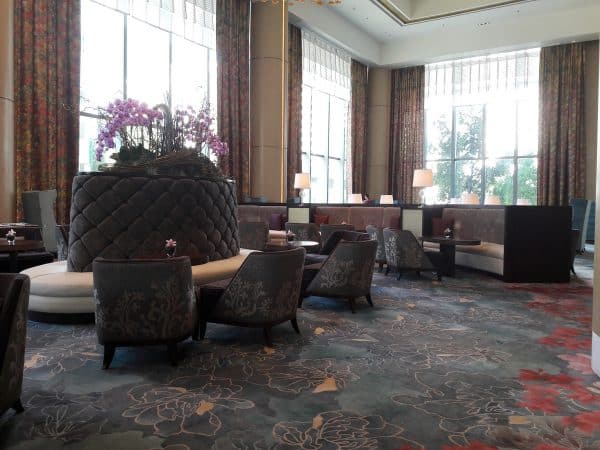 Room with a View
After walking the golden carpeted hallway to my room I was already in luxury travel mode, yet when I first entered the Deluxe Room it was a bit of a gasp at the amount of space I had to myself.  The spacious desk and workspace was well lit by the adjacent panoramic window. The view of the Manila skyline and distant mountains made the prospect of getting any work done actually a pleasant thought. And below, the roof top pools glimmered a well-deserved reward.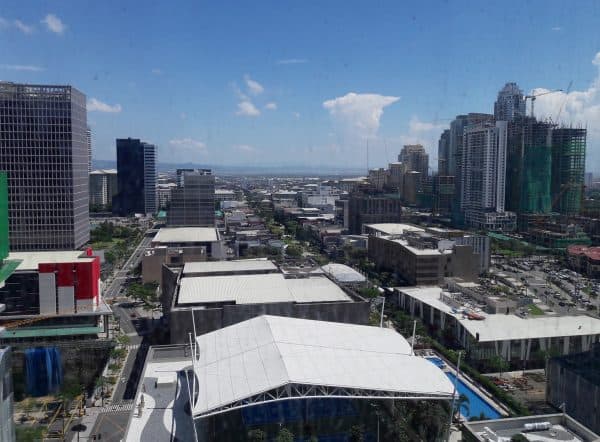 At first, I was taken aback by the absence of expected amenities until I began opening drawers and cabinets. Absolutely nothing was amiss in the amenities department, but everything was well organized in practical, clutter free, out of sight spaces. Mini bar, snacks (including wine), coffee and tea set and even a mini microwave were all conveniently accounted for.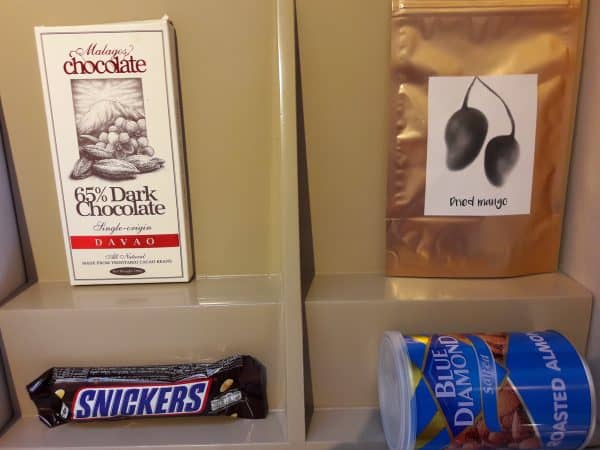 In addition to the seemingly soundproof room's silence, my king sized bed-plus was pure decadence. Soft fresh sheets and fluffy luxury sized pillows along with the brocade style comforter made for 2 excellent nights' sleep. And last but not least was the luxuriously large bath tub and separate shower, which I took complete advantage of. Relaxing never felt so good!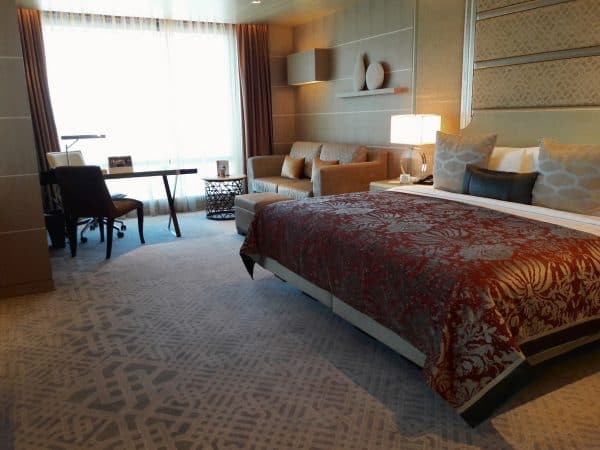 Wining and Dining
When it comes to cuisine, Shangri-La at the Fort may have bragging rights on the best of culinary Manila under one roof. Seven excellent restaurants and bars to be exact. In addition to the High Street Lounge, the lobby level High Street Café alone is actually an eclectic 'Food Hall' with nine live kitchens (and chefs) each offering a specialty cuisine and unique ambiance.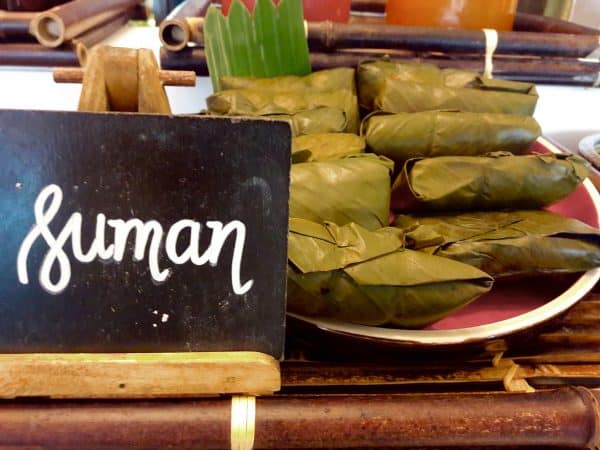 From Southeast Asian and Japanese to Continental, Mediterranean and more. And the High Street Café's breakfast buffet? Imagine all nine live kitchens welcoming you in the morning! That's quite a wake up call, and tasty too! Even if you aren't a guest of Shangri-La at the Fort, a visit to the High Street Café is a must!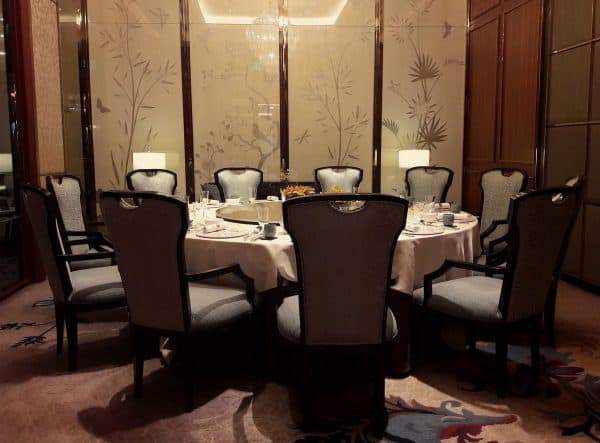 Looking for something more intimate or upscale? I had a peek at the soon to be opened, Raging Bull Chophouse & Bar, Raging Bull Burgers, Canton Road, Limitless and Poolside Samba. Jaw-dropping attention to design detail and pure genius with the elegant combinations. If the food can compete with such beauty and elegance, it's safe to say that Shangri-La at the Fort is raising the bar for Manila fine dining and entertainment. In a word, wow.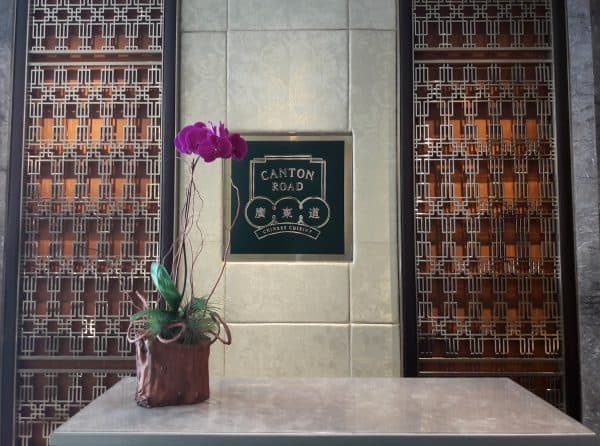 Onsite Amenities
In addition to plenty of wine and dine options, Shangri-La at the Fort offers 8,000 square meters of space for fitness and recreational activities. Three pools, a tennis court, gym and spa are conveniently located on two central levels. With Kerry Sports Manila onsite, Shangri-La at the Fort is a fitness aficionados dream hotel. You name it, they have it.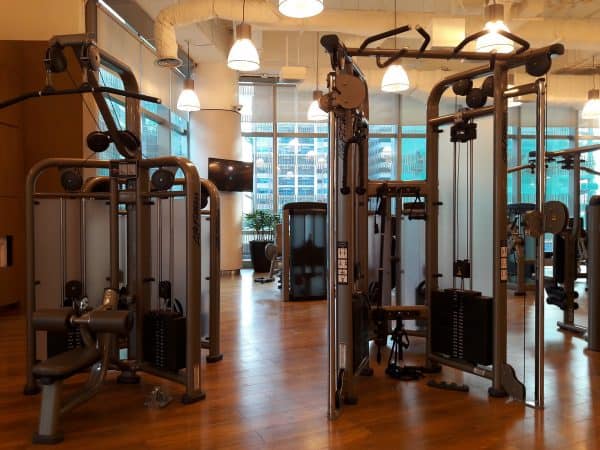 Kerry Sports Manila also operates the Upper Deck Café, Spa at Kerry Sports Manila and the super cool kid's Adventure Zone. I was especially impressed by the Adventure Zone as it is a unique, visually stimulating play zone for children to engage in fitness and coordination activities in a safe and well- monitored indoor 'theme park' environment. The staff even checked my temperature before I stepped inside!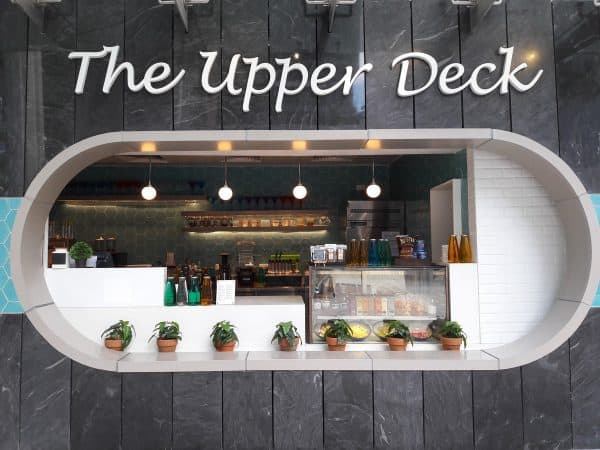 Convenient Location
Needless to say, having a luxury room can make it difficult to leave the Shangri-La property at all, especially when everything you need is at your fingertips. But for anyone hoping to explore the artsy distinctions of Manila, the Shangri-La's charming neighborhood will not disappoint. Location wise, the Shangri-La at The Fort is situated in the Bonifaco Global City (BGC) district. BGC is an enclave of modern architecture, distinguished shops and classic eateries, such as Harley-Davidson of Manila, Gautier's and Pink's Hotdogs as well as a community collection of unique art works from renown Filipina artists. Needless to say, the Bonifaco's emerging contemporary lifestyle district is not boring. It also feels inviting and secure.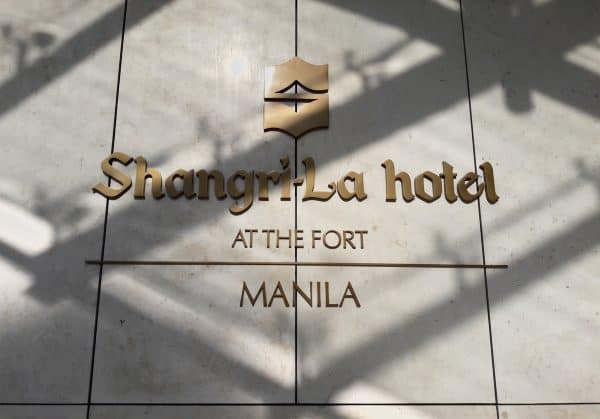 The Shangri-La at the Fort has 576 guest rooms and suites available, from Deluxe Rooms and Premier Suites to four Specialty Suites and one very special Presidential Suite. The property also boasts 97 residence spaces available for short and long term lease. Perfect for business as well as family travelers. But a definite winner for a Philippine staycation. In fact if I lived in Manila, or anywhere in the Philippines,  it would be the perfect local get away for a well deserved pampering!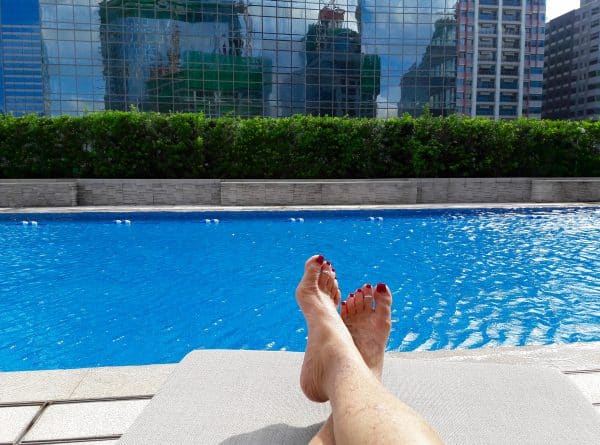 Hospitality from the Heart
As always, an excellent hotel cannot be excellent without passionate management and staff. The staff at Shangri-La at the Fort went above and beyond to ensure my comfort as I assume they do with all guests. Their warm smiles and genuine friendliness is nothing short of contagious. And from my experience, a happy staff is a definite sign of a well managed hotel. It also makes for a great guest experience. Which I indeed had. Shangri-La at the Fort is 'Hospitality from the Heart' and then some! You can check their rates and availability HERE
Shangri-La at the Fort
30th Street corner 5th Avenue
Bonifacio Global City, Taguig City, Philippines
Tel: (63 2) 820 0888    Fax: (63 2) 865 3800
www.shangri-la.com/manila/shangrilaatthefort/
*I was an invited guest of Shangri-La at the Fort, but my opinions are my own.