Those who know me, know that I'm not really a kitchen kind of gal. It's just not my 'thing'. So, imagine my surprise to leave a cooking class pumped to cook an exotic sounding dish like Char Kway Teow!? Who could pull such a magical transformation on a die-hard, kitchen avoider? Food Playground; one of Singapore's top cooking schools. Food Playground specializes in Singapore heritage food and they explore that culinary category through their diverse cultural cooking classes. And honestly, Singapore heritage food is a fascinating topic once you (excuse the pun) 'sink your teeth into it.'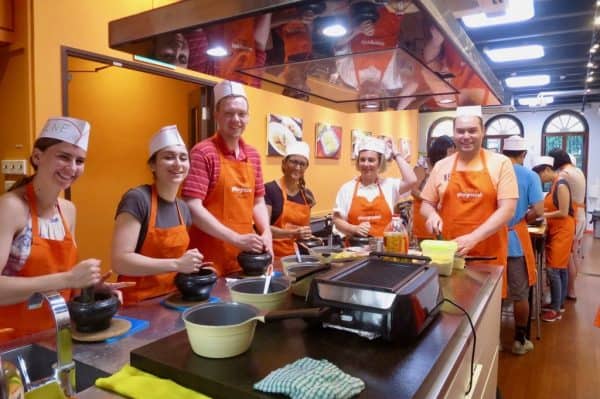 Ok, so maybe Char Kway Teow is one of the easier recipes to conquer, but who knew right? I sure didn't.  In fact, many Singapore heritage foods are surprisingly simple to make, yet so flavorful that they taste as if they took days to create. Perhaps that's where the magic lies, but I was happy to gain a few pearls of this cooking wisdom and insight from the team at Food Playground.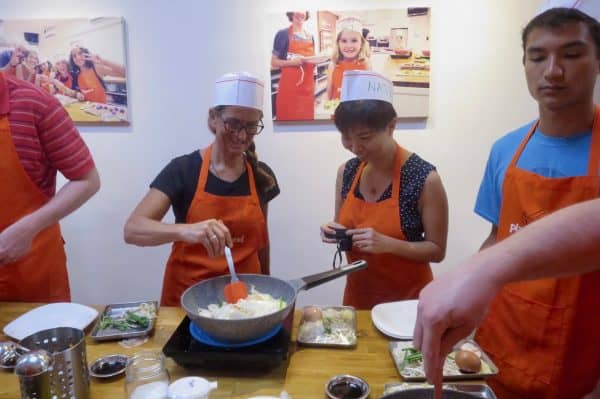 Cooking Up A Great Idea
But there is more to Food Playground than just being a cool place to take cultural cooking classes. They are a cooking school that gives back to the community in a unique way. Food Playground only hires stay at home moms and active seniors to teach their courses as well as handle many on and off-site responsibilities. This inspiring program was the brainchild of founders Daniel Tan and Lena Tan (not related), who started Food Playground in 2012 as a business with a "social mission".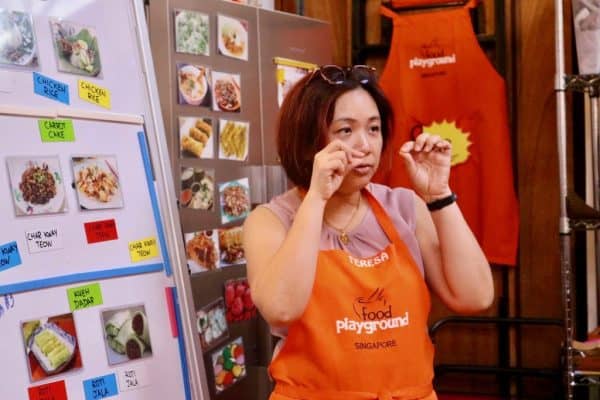 Both were familiar with the challenges that stay at home mothers faced when trying to find part-time jobs and the additional loss of self-esteem they experience when motherhood and family responsibilities isolate them from the community. By offering their employees flexible hours, Food Playground enables their dynamic all-female crew to rejoin the work force without compromising their family commitments, in addition to boosting their self-esteem. A win-win across the board.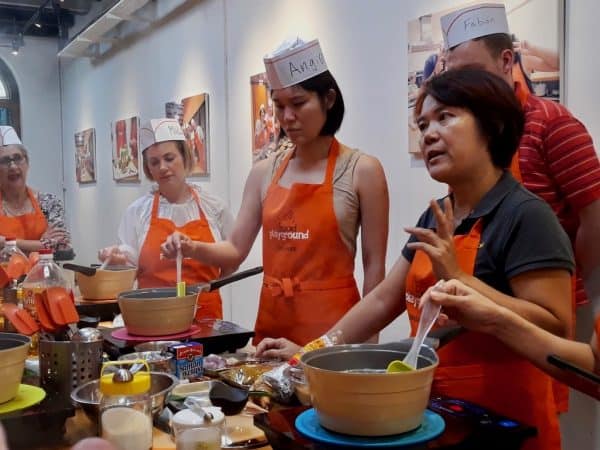 But that's not all! Food Playground team members bring to the table not only their own inspiring stories, but the recipes they use are their own families' authentic recipes and cooking techniques passed down through the generations.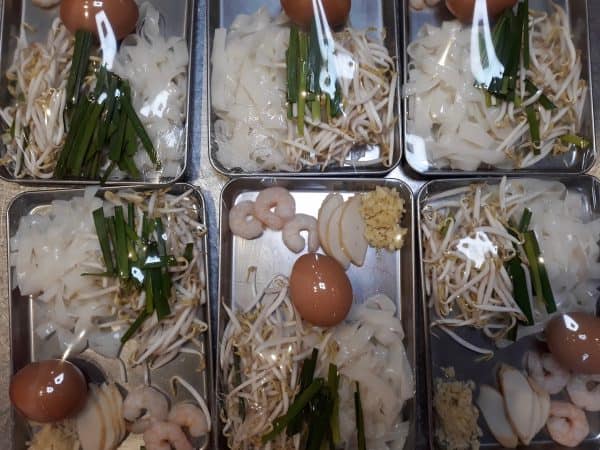 Cultural Cooking Classes
Food Playground's Cultural Cooking Classes are an experience you won't get from a more typical culinary school. The 3-hour classes are held Monday through Friday; 9:30am until 12:30pm, allowing plenty of time to get an introduction to local Singapore street food culture, the spices and ingredients used and a hands-on, step-by-step cooking class.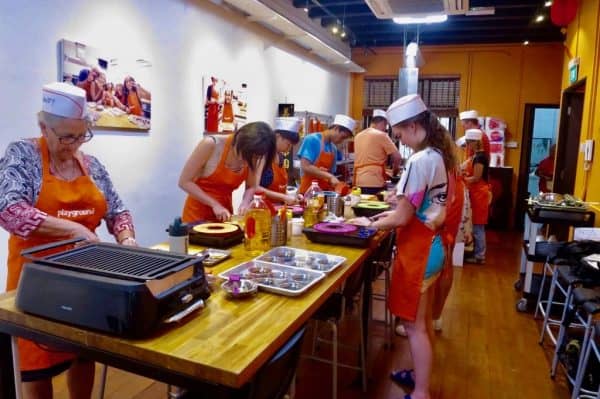 This is of course is followed by a scrumptious 3-coarse communal dinner, compliments of the graduating student body. Which means, we all get to eat what we cook! The three item menu changes for each day of the Monday through Friday week, giving students a selection of 15 potential recipes to cook. Private cultural cooking classes, events and team building activities are also available.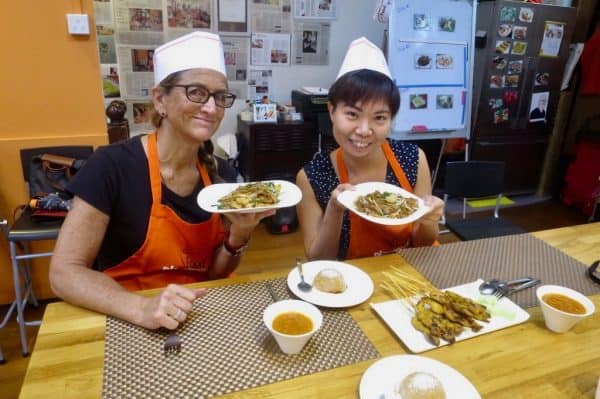 Diverse Menus, Lots of Recipes!
I attended a Thursday cultural cooking class and our recipes for the day were Chicken Satay and Peanut Sauce, Gula Melaka Sago Pudding, and my beloved Char Kway Teow. I chose Thursday based on my own schedule convenience; however, I was also quite happy with the menu choice. Southeast Asian desserts and kuihs are of particular interest to me, so seeing the transformation of beady sago pearls into a delicious pudding was a bonus. And conquering Char Kway Teow like a boss? That experience has definitely given me the inspiration to rethink my own anti-kitchen attitude. I'm even ready to tackle more 'exotic' recipes!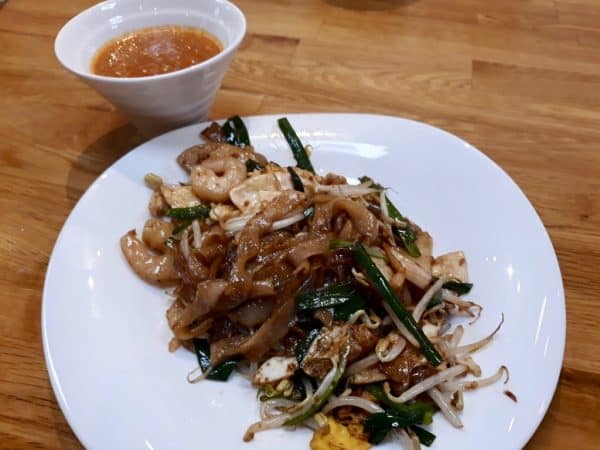 But Food Playground's diverse weekly menus certainly make taking more than one class, a mouthwatering Singapore things-to-do option. Especially for those with more time. I've got my eye on Friday for my next visit, because who can resist learning about Laksa!?
Mondays:  Nasi Lemak, Prawn Sambal & Curry Puffs/ Hoon Kueh
Tuesdays: Chicken Curry, Roti Jala & Ang Ku Kueh/ Ondeh Ondeh
Wednesdays: Hainanese Chicken Rice, Home-made Chilli Sauce & Wonton Soup
Thursdays: Chicken Satay w/ Peanut Sauce, Char Kway Teow & Gula Melaka Sago Pudding
Fridays: Laksa, Fried Spring Rolls & Kueh Dadar/ Hoon Kueh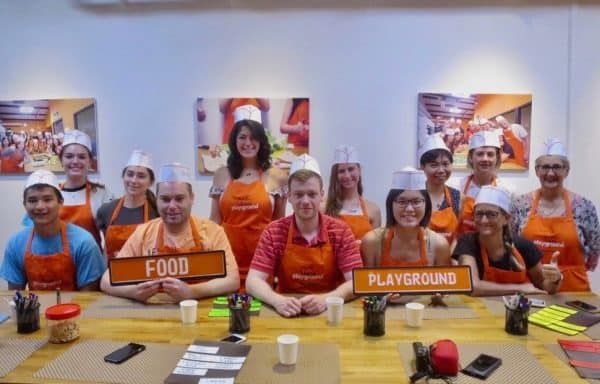 If you are heading to Singapore and interested in taking one of the fabulous Cultural Cooking Classes, Food Playground is accepting bookings up to December 31, 2019. You can also get a 15% Discount by using (Promo Code: theislanddrum) when you book with them online! ☆ Happy cooking!👨‍🍳
Do note: For gluten-free options and other dietary restrictions, please email Food Playground or call them before booking a class.
Food Playground
24A Sago Street
Chinatown, Singapore 059020
[email protected]
Hotline: (65) 9452 3669