I recently had an airport security mishap and I'd like to say a few words about that. I'm a fairly well seasoned traveler these days and have learned to negotiate airports and airport staff much better than when I was a fresh-off-the-farm newbie. And for the most part I'm happy to report that I have not had any issues.. Until now. After nearly two weeks of traveling in a Southeast Asia country, it was time for me to catch a flight to another destination.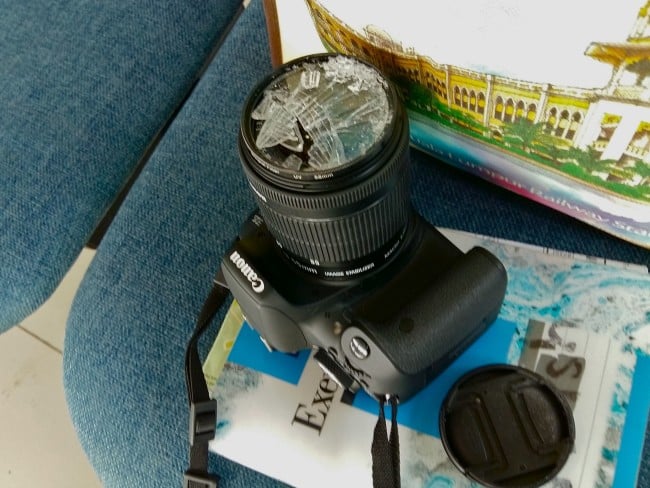 I was going through the pre-boarding security screening of a small (being upgraded) airport, and as I put my carry on items on a table to put them neatly in those convenient plastic bins, a 'security' man immediately started to pick up my items to put them on the scanning conveyor belt. I said, "Please don't touch my things, let me do it."
Now, I immediately felt a negative vibe and quickly explained to him that I had a computer and other equipment with me. He said nothing and walked away.
I got patted down rather thoroughly, and I noticed that all of the passengers were getting 'patted' a bit more thoroughly than is my usual experience. At the time I thought perhaps a VIP was also taking the flight, so security was being extra diligent.
My souvenir bag of brochures and miscellaneous went through screening, my camera (in a padded case) went through, my purse and then my backpack and separate laptop. My backpack usually contains adaptors and various connecting wires, but it was my purse that actually caught the attention of the scanner attendant woman. Meanwhile my backpack and computer were still in the scanner machine.
"Let me see your keys." she said.
I pulled out my house keys and showed them to her. She then started to dig in my purse and I asked her to please be careful because I had lots of notes and papers in it.
I asked her would it be better to move to a table and she said, "Do you want to get on that flight?"
Now this was not a friendly or concerned, 'Do you want to get on that flight' question, it had obvious overtones of intimidation. But in all fairness it could have been my interpretation of her English.
She pointed to my pink change purse and told me to open that. She started digging into this small coin purse so I emptied it. Unfortunately it was heavy with post travel coins so quite a pile spilled out. She asked me where I was from and the helpful guy from my first encounter said (or spat), "American."
They continued the screening, for other passengers, while I was trying to put my things back together. A third security staff, a young woman, picked up my camera case and moved it to the table and it immediately fell. I gasped and said, "Please be careful, that's an expensive camera."
Meanwhile other passenger's carry-on items were now rolling over my piles of coins. I smiled and told the security staff that I would be sure and let their tourism board know what a great job they were doing. I honestly didn't say this sarcastically.
The woman running the scanner machine suddenly stepped over to me asking for my passport. She told me I had many problems and then scribbled my passport number down. I told her I really didn't understand what exactly the problem was and I also told her I was a travel writer thus all the papers and equipment.
She obviously wasn't interested in my career.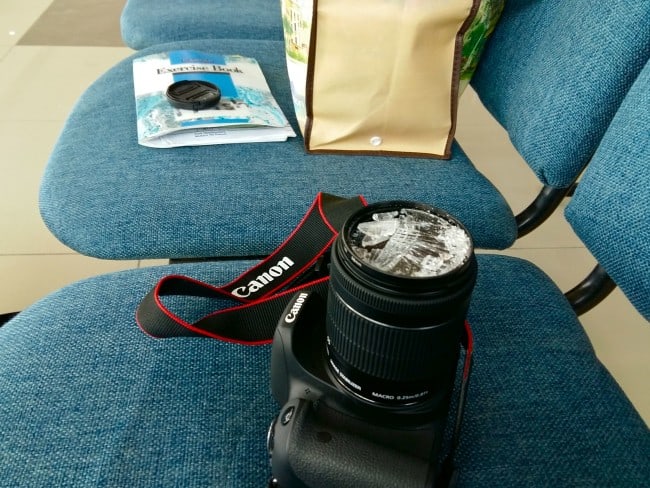 The man then pointed at all my coins and told me to pick them up. (I would like to say that he said this in a kind way, but he did not) In fact it was more of a command. But again, it could have been my interpretation of his English.
Now you know at this point I have absolutely had my fill of this, what appeared to me, game. I also felt a general surge of nausea about this particular area of the planet.  It isn't easy to be positive after having a negative experience. Especially when it's at the hands of someone in a position of authority. THAT my friends can be a bit uncomfortable. And when my well traveled gut whispers, 'Be careful', I usually listen.
I took my unhappy self to the waiting lounge and opened up my camera case to check the camera. I wasn't actually expecting it to be damaged, because the drop was quite a short distance and the camera was in a padded case. Well, I unfortunately discovered that the front of the camera lens was now smashed.
I had been encouraged to buy a protective filter for the two-month-old camera so I looked carefully at the smashed part. The filter was for sure broken, but I didn't dare touch it to investigate further damage. I opted to let a professional camera shop check it out at my next destination.
I calmly went back to security and said to them. "I would like to show you something. There is a reason I was asking you to be gentle. " I showed them the now smashed front of my camera.
The young woman who had moved the camera case immediately said, "I didn't do it." And I said, "Yes, actually you did. You know when you moved the camera and it fell?"
The other two were silent. I told them that they would get full credit for the broken camera and they said nothing. I didn't even bother to ask who I should see for compensation, because to be honest I wanted to get the heck out of there and never step foot there again.
This may seem like a small incident to some people, but as a travel researcher and writer I have quite a few encounters with strangers. And yes we can all have a bad day, but in the travel and tourism industry, front line people who are unfriendly, abrupt or act unprofessionally are a magic ingredient for a potentially bad 'tourist' experience. That holds true for all visitors, both local and foreign. And especially when there is more than one person with a possible attitude working next to each other. They also send a very big 'you are not welcome' message.
Plenty of people are trying to ilk out a living these days and many do indeed rely on tourism dollars. Some even spend lots of money advertising their restaurants, hotels, sightseeing tours, etc. But how can they win when there are those few that have a completely opposite attitude? Basic people skills can usually pass as warm and fuzzy enough, but that may mean training people to learn about working with the public. An airport is no place to put untrained staff and certainly not in charge of passenger security.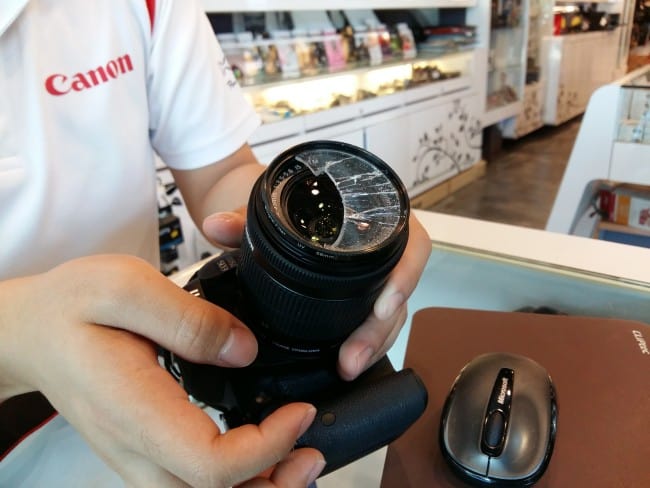 And what of my broken camera?
I did speak to the airline after I safely reached my next destination. They showed concerned and were very helpful, but the extra airline travel insurance I purchased with my ticket did not cover airport damages. After they made a few inquiries, it turned out that my only recourse was to file a complaint against the 'contracted' security people and this would mean filing a police report. These are 'procedures' I really don't want to get involved in.
The airline went so far as to phone the security people, in my behalf, and were told, 'We were not involved.' So that of course leaves me with a three-against-one, he- said-she-said situation and you know those aren't great odds.
My camera damages thankfully cost less than 100US dollars. That covered the cost of a special technician to carefully remove the jammed filter and inspect the lens as well as replacing the protective filter (not including my time and transportation costs to and from the special camera shop). I 'm very grateful the lens wasn't scratched or damaged or that would have certainly cost a chunk of change.
I will eventually recover this financial loss. One way will be to avoid future flights to that particular city. Which is unfortunate, because I really like the area and am particularly fond of both of the airlines that fly there.
In time I will lose this bad taste in my mouth and hopefully this incident has gotten to the proper ears via the magic grapevine. I don't think that I am so unique that this is the first time anyone has had 'issues' at this airport, nor do I think it will be the last. Until they hire properly trained staff.
Have you had a similar experience while traveling? I'd love to hear about it.