Island airports tend to look very similar to one another, yet as I stepped just outside of the Puerto Princesa International Airport baggage claim I was struck. The air hit me with a wave of familiarity that immediately brought tears to my eyes. And a chill up my spine. I know that may sound beyond greeting card sappy, but it's the truth. Puerto Princesa was like a long lost friend. I could feel that certain 'something' that had been missing from my life. Sounds quite ludicrous considering I was standing in an airport parking lot. But it was in the air. Or maybe it was the air. I felt like I could breath again. In some bizarre state of my post flight mind Puerto Princesa was whispering, "Welcome home".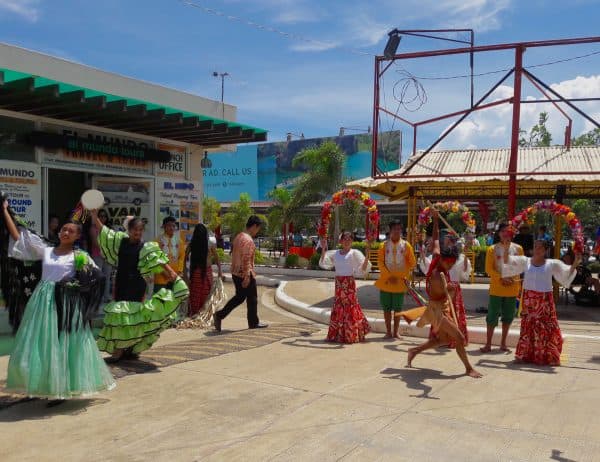 I might have been just happy to stand in the airport parking lot with the sun dancing off of my face, but my arrival and itinerary was part of a carefully orchestrated media trip courtesy of Tourism Promotions Board Philippines. I was whisked away in a blink of an eye for two days of sightseeing, delicious local cuisine and not nearly enough long walks on the beach.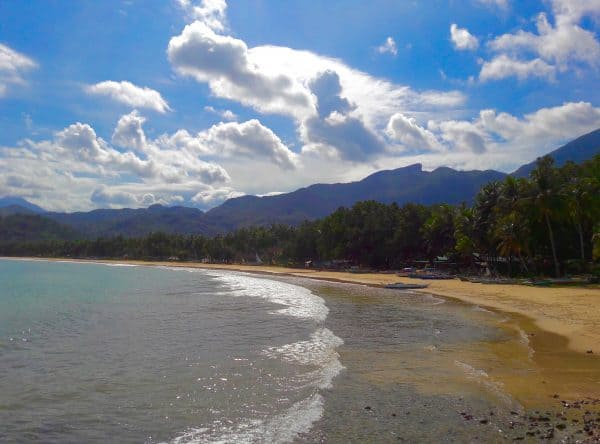 Puerto Princesa is a coastal city on Palawan Island in the western region of the Philippines. A laid back place which still resonates the island charm which more developed islands have long forgotten. An eclectic ensemble of shops, restaurants and markets, the sleepy Puerto Princesa township thrives around their busy international port which maintains a subtle community buzz.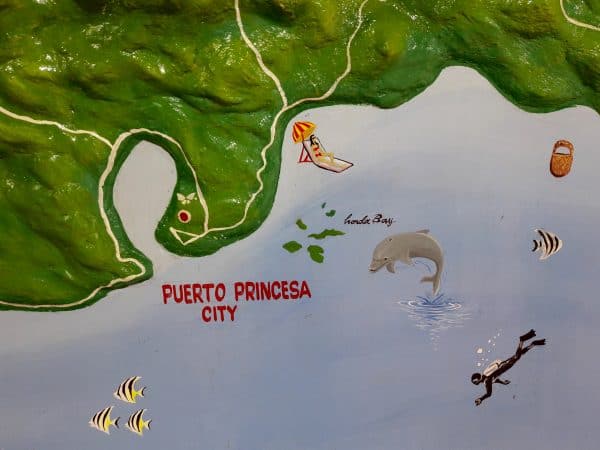 Aside from the ethereal experience some visitors may have, there are also plenty of things to do in this Jewel of Palawan. Is two days enough time to experience Puerto Princesa? Of course not! No place so magical could possibly be conquered in 48 hours. Especially with such a diversity of things-to-do.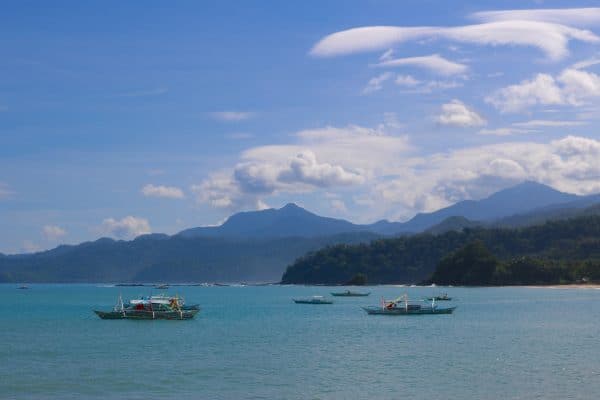 Here's a sample of some unique things to do in Puerto Princesa that were included in my media trip itinerary. They are available for anyone who can tear themselves from the gorgeous sandy shoreline. Or in my case, the airport parking lot.
Palawan Underground River Tour
In addition to enjoying some excellent beach time, at the top of the Puerto Princesa must do list is the Palawan Underground River Tour. Located at the impressive 22,202 hectare Puerto Princesa Subterranean River National Park, the Puerto Princesa Underground River is the world's longest underground river. The park itself is reachable by boat, with many local boatmen departing from the Sabang Boat Terminal near Sabang Beach. Tour package prices, as well as the allotted time, may vary depending on the itinerary.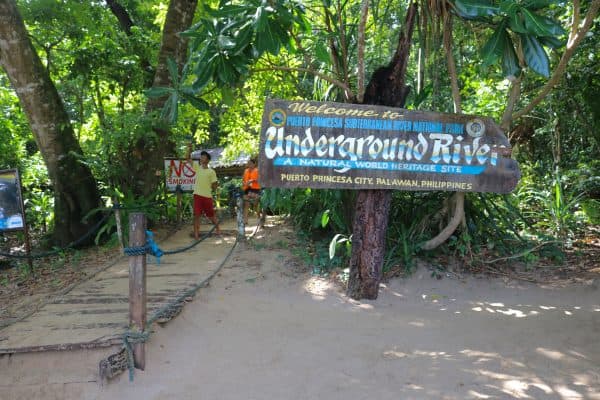 Our tour took about four hours including the transfer to and from the park, a second boat ride through the cave and a separate lunch stop. The 8.2 kilometer river system flows directly into the sea providing remarkable biodiversity and the distinguished honor of being one of the New 7 Wonders of Nature.  The river tour itself is about an hour's worth of spectacular rock formations and educational multi-lingual narratives are provided to guests via personal headsets.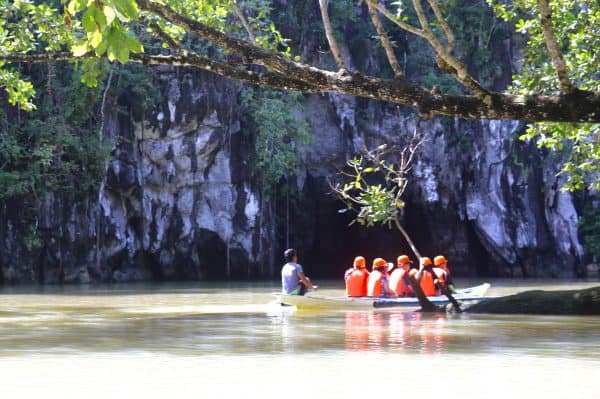 Noise is kept to a minimal within the cavernous adventure to insure cave dwelling wildlife (such as bats) are not disturbed. Geological formations have been given a variety of names by amusing local boatmen with vivid imaginations and clever wits. Throughout the quiet echos of water dripping quietly in the darkness, snickers can be heard as shapes ranging from vegetables to sexual organs are recognized. Experiencing this underground river is both surreal and spectacular, and definitely a unique experience.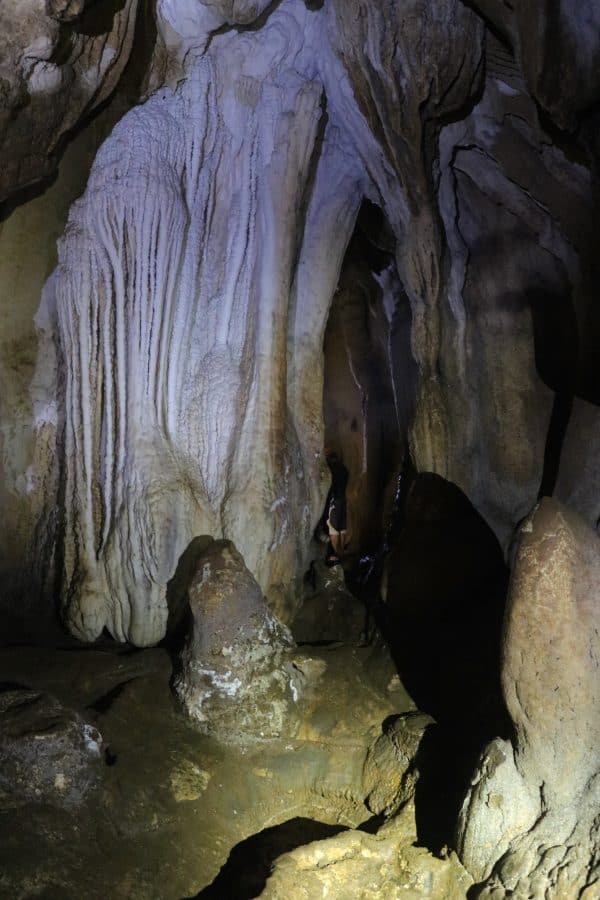 Palawan Underground River Tour
Full Day Tour (7 hours)
PHP 1800 / Adult (7 years old and above)
PHP 1000 / Child (3 years old to 7)
Butterfly Ecological Garden and Tribal Village
If you love Butterflies, the Butterfly Ecological Garden and Tribal Village is the place to go. That may seem like an odd combination, but the jungle-y atmosphere sets the stage well for the 'Tribal Village' performance in addition to a homey space for the butterflies to go about their butterfly business. Live exhibitions of other insects and reptiles are showcased for educational purposes with informative plaques displayed throughout the garden compound. Additionally, a few rescued endemic birds and animals,  such as the Palawan Peacock and the Palawan Bearcat, are residing at the ecological garden. Having been rescued from poachers, relocation and rehabilitation options are limited thus the garden sanctuary provides a safe haven for them.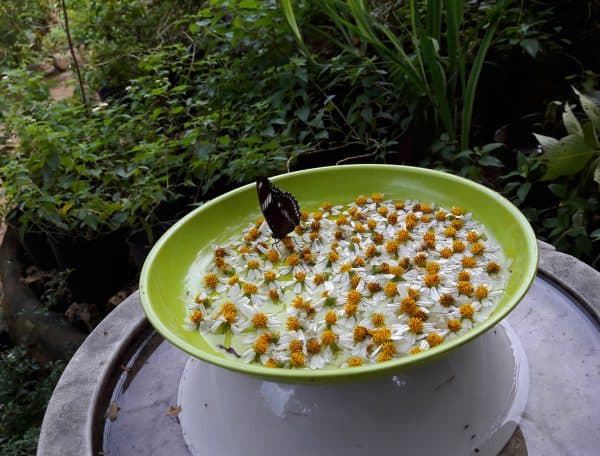 If indigenous cultures are of particular interest to you, the Tribal Village also has a small cultural show, or 'share' as they prefer to call it, put on by local Palaw'an natives. The Palaw'an indigenous people are happy to share with visitors the traditional hunting, craftsmanships and daily life of their people, as a way to preserve their culture. Music played with handmade instruments and the blow gun demonstration is particularly impressive. Purchasing their handicrafts also helps their local economy.


Butterfly Ecological Garden and Tribal Village
Entry: PHP 50 / Adult
Open daily: 08:30-17:00
Tel: +63 917 597 5544
Binuantan Creations Weaving Demo
Weaving anything takes loads of patience as it's quite tedious work. Watching the craftswomen of Binuantan Creations toiling away at their masterpieces made me more appreciative of those colorful mats, baskets and other artsy products which I had previously thought were mass produced by machines. In fact, I recognized the exact style of placemats I have at home in my own kitchen! I'm not sure if that's a compliment or not, but it's safe to say that the ladies of Binuantan Creations are not only sticklers for detail and perfection, they take great pride in their work.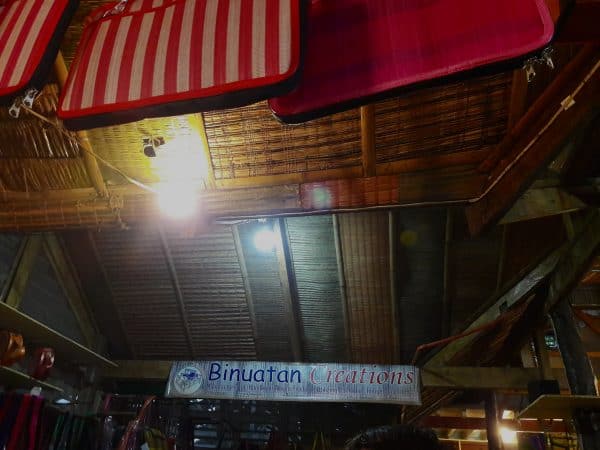 Their colorful and masterfully done products speak for themselves. This is a company dedicated to help local weavers of Palawan by giving them employment and at the same time make use of indigenous materials from nature. The company aim is to utilize local materials and also promote its sustainability. You can even try your own hand at weaving, which will certainly give you an appreciation for the hours of work which go into the various creations.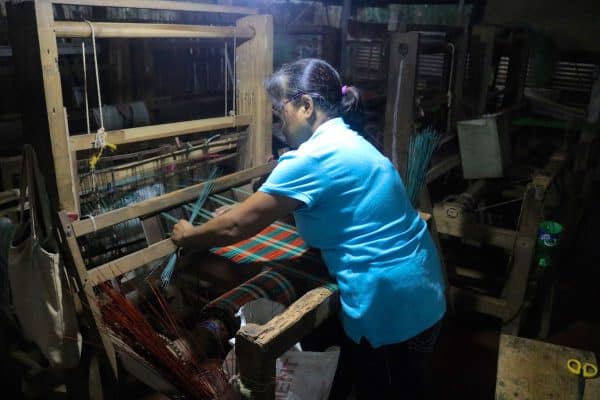 Binuantan Creations Weaving Demo
Entry: Free
Tel: +63 917 597 5544
Palaweno Brewery
The last thing you might expect to see in such a pristine Philippine beach community would be a micro brewery. But if there is one thing Filipinos appear to be quite fond of it's, indeed, beer! Who knew right? But what makes Palaweno Brewery even more unique is that they are the first and only craft beer brewery in Palawan.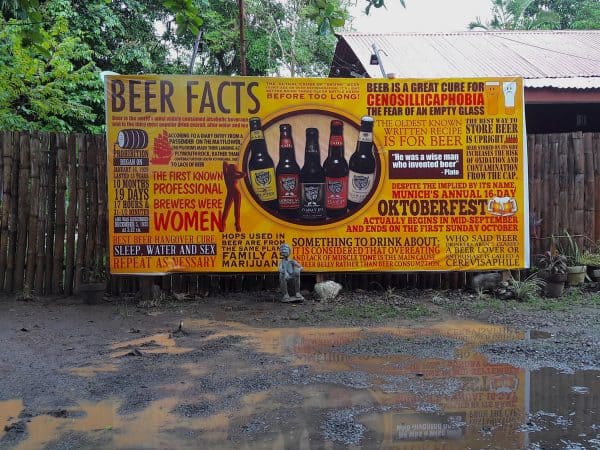 It is also the brainchild of the first female craft beer brewers in the Philippines. That's right, beer lovin' entrepeneural Filipina women! Their story alone is enough to make you want to meet them in person, but honestly? They also make excellent and oh so tasty beer. They offer daily tours of their processing facility and taste testing of their fine brews. Palaweno Brewery is also just a cool place to hang out and drink beer!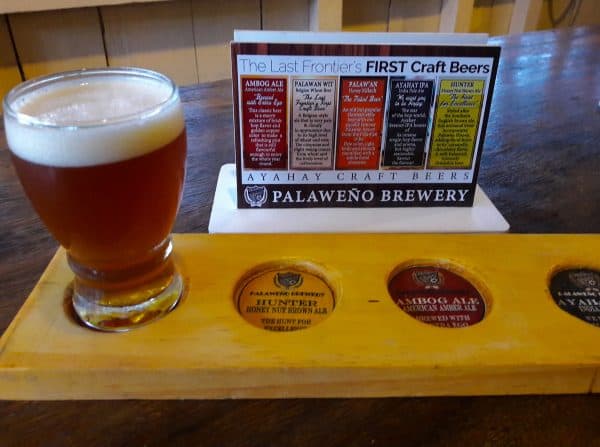 Palaweno Brewery
Entry: Free
Open: Mondays through Saturdays  13:00 – 21:00
T (+63) 048-434-0709
Tours are everyday except Wednesdays
Hundred Caves Tour
The Hundred Caves Tour is part of a management plan implemented by The Palawan Council for Sustainable Development. The 'plan' is designed for the protection and conservation of Hundred Caves; a potential eco-tourism site in Barangay Tagabinet and managed by the Tagabinet Neighborhood Tourism Association. Local families maintain the surrounding properties as well as lead the impressive cave tours.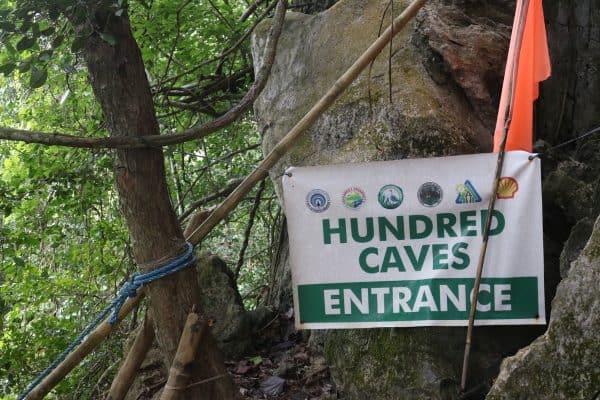 The Hundred Cave Tour was an optional side tour which I enthusiastically agreed to, but was regretfully unprepared for. Not that I wasn't actually told what to expect, I assumed from my own previous 'basic' cave visits that we would be popping in, taking a few photos and departing. That wasn't the case at all. At 80-meters above sea level, getting to the cave entrance alone might be considered, by some, as a full on mountain climb (I might embarrassingly fall into that particular category).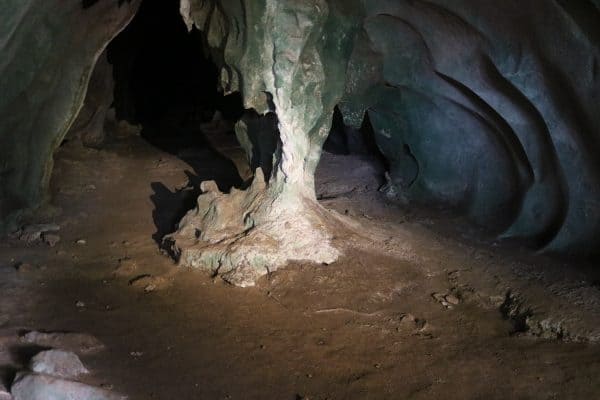 The caves themselves are stunning as there are plenty of nooks and crannies to explore, but the trails are slippery and may be slightly intimidating for the not-so light on their feet types. Guests are equipped with a hard hat, torch and gloves which may be a bit cumbersome for those visitors (like me) who also come laden with photographic equipment. Water may not be available during the short but strenuous excursion, so consider wearing a very light day pack if you need to carry any extras with you; keeping your hands free. Proper shoes and breathable clothing will also make this activity more pleasant. Caves not your cup of tea? Visit the Hundred Cave Tours location anyway and enjoy the beautiful (sea level) garden landscape and meet the locals. It will be memorable either way.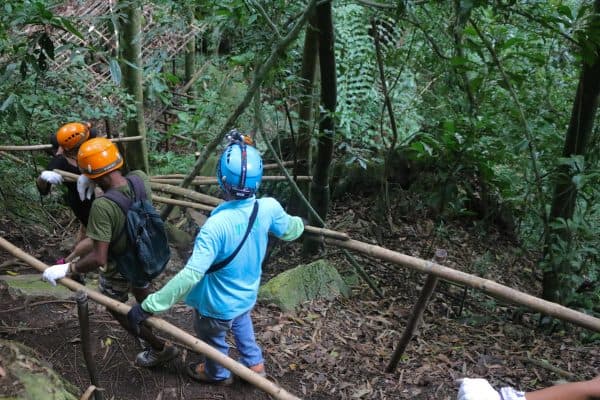 Hundred Caves Tour
Entry price may vary depending on tour selection
Tel: +63 926 113 7923
Crocodile Farm
Although I'm not a big fan of animals in captivity, I do believe they still retain some educational value. Especially for children. As one who grew up in the age of zoos, I know that those childhood visits to the zoo ingrained in me much love and appreciation for the animal kingdom. Unfortunately, not all facilities have adequate space or the financial means to re-create a massive wildlife park, but I do give credit to facilities who at least try to treat their animal residents with dignity and kindness.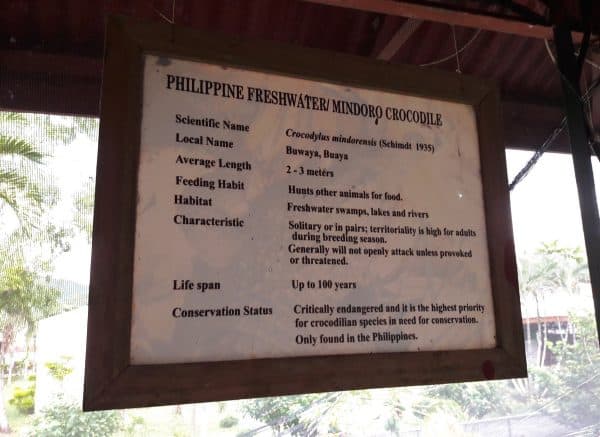 I've learned in the past few years in Southeast Asia that some animal facilities may begin as 'sanctuaries' or research centers and end up being the dumping grounds for (legal and illegal) exotic pets who have outgrown their domestic households. Thus adding to the financial burden of said sanctuaries. At some point, funding may run out requiring such places to charge entry fees or start selling souvenirs to make ends meet. Touching or holding wildlife soon becomes a tourist draw and a revenue maker. And of course, then, the animals for entertainment purposes line is sadly crossed.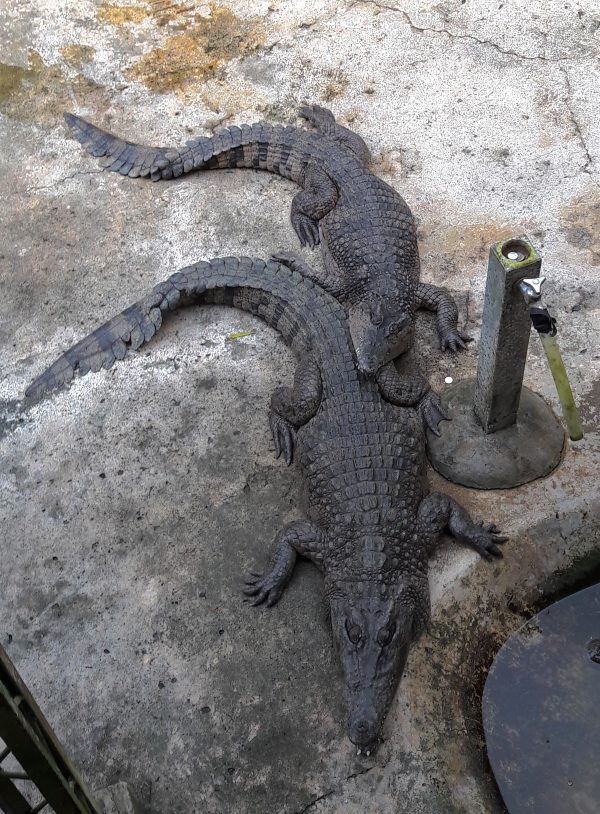 That said, Puerto Princesa does have a Crocodile Farm, which serves as the 'Sanctuary of the Philippine Crocodile'. The Philippine Crocodile is not only endemic to the country; it's also on the endangered species list. Two species of crocodiles are bred at the Crocodile Farm (including the Philippine Crocodile) and you can see them at various sizes and ages within the compound. A massive skeleton also graces the front entrance of the Crocodile Farm, which will certainly make you appreciate their longevity potential or unfortunate demise in captivity. The Philippines once had dibs on the world's largest crocodile in captivity, at the Bunawan Eco-Park and Research Centre, until he unfortunately died in 2013.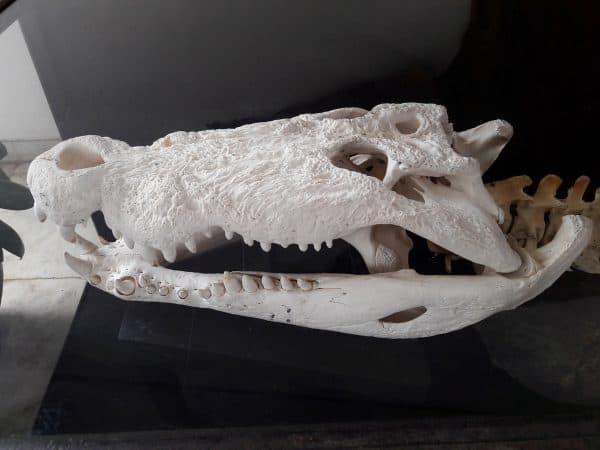 Crocodile Farm
Entry: PHP40
Open: Monday through Saturday  08:30-11:30 & 13:30-16:30
Still not convinced?
Check out this video by Sheila Dee of  The Opportunistic Travelers

As you can see, Puerto Princesa activities can widely range in diversity but are especially attractive for nature and culture fans. And of course there are plenty of those long walks on the beach to be taken, while pondering life's great mysteries. You may even have your own ethereal experience as the winds of Puerto Princesa whisper, "Welcome home".
Where to stay in Puerto Princesa
The Sheridan Beach Resort and Spa and the Daluyon Beach and Mountain Resort are both excellent Sabang beachfront options.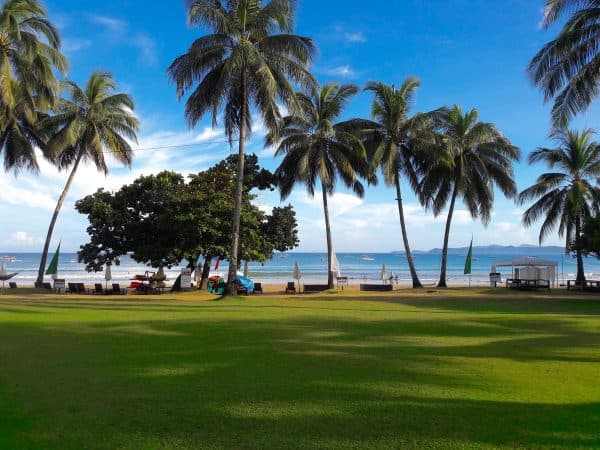 Where to eat in Puerto Princesa
In addition to the delicious dining options at both the Sheridan and Daluyon Beach resorts, the Badjao Seafront Restaurant and the art-filled Ka Lui Restaurant are absolutely not to be missed. Seriously!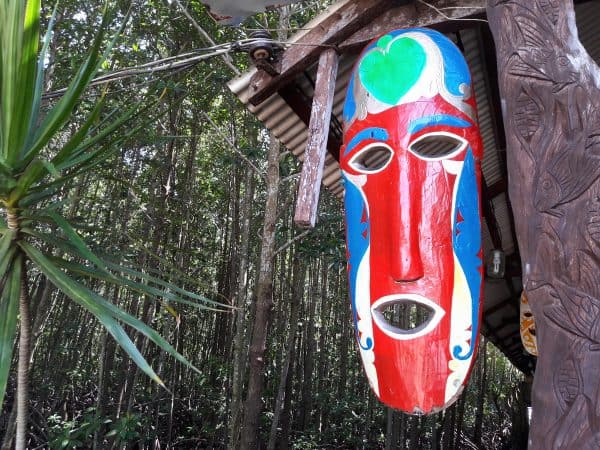 Getting There
Daily flights from Manila to Puerto Princesa are available on Cebu Pacific Air
Getting Around
Multicab and tricycles are readily available in Puerto Princesa. And of course there are always the colorful Jeepneys..

I was a guest of the Tourism Promotions Board Philippines and Intas Destinations Management, combined with local guide Dean San Luis from SMY Travel, my Puerto Princesa experience was nothing short of extraordinary.
For more information on Puerto Princesa, Palawan travel:
Tourism Promotions Board Philippines:  [email protected]
Intas Destinations Management:  [email protected]
SMY Travel tour guide Dean San Luis:  [email protected]