Chicken and rice is pretty much a staple dish in Malaysia. So when you find a chicken and rice restaurant that comes with great reviews from friends it's definitely worth checking out. Langkawi Hainanese Cafe, otherwise known as Chicken Joe's is such a place. Located on the corner end of Langkawi Mall on Jalan Kelibang, the main road into Kuah.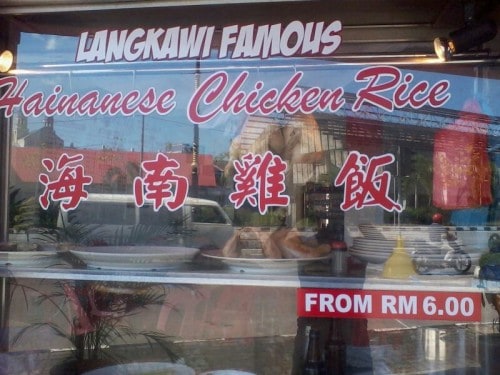 Joe is a talkative and friendly guy that's definitely proud of his chicken! The Hainanese style chicken is boiled slowly in ginger, garlic and chili with the secret layer of chicken fat on top. This keeps the vapor in and results in the chicken being very moist and full of flavor.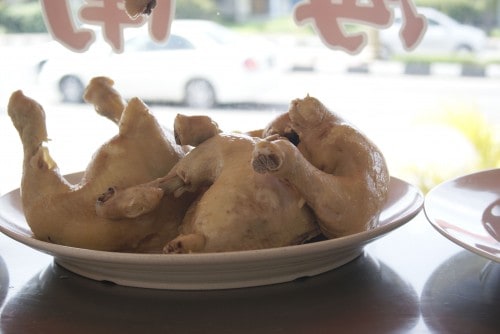 The chicken is chopped and served by Joe himself.  Add a bowl of tasty vegetable broth and rice it's a great meal for only 6 ringgit! And Joe buys his chicken and vegetables fresh everyday. No frozen chicken in this traditional recipe!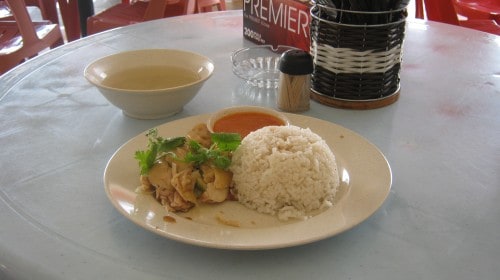 Hainanese style chicken and rice is an especially popular dish in Melaka. Originally cooked for the laborers or 'coolies' that worked long hours on the waterfront, the chicken was served with rice balls instead of rice in a bowl so that it was more convenient for the workers to take with them. Joe's mother was renowned for her chicken and rice in Melaka and passed this family recipe down to him.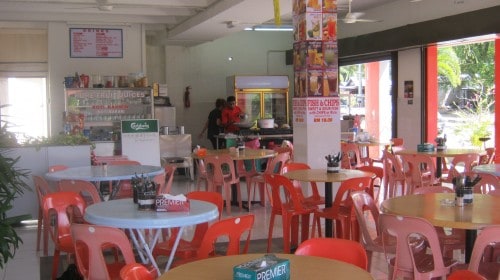 While visiting Langkawi quite awhile back Joe was hanging with friends when the subject of Chicken Rice came up and the challenge was on. The chicken was so good the name 'Chicken Joe' was appropriately bestowed and the rest is history so to speak. Langkawi Hainanese Cafe was born.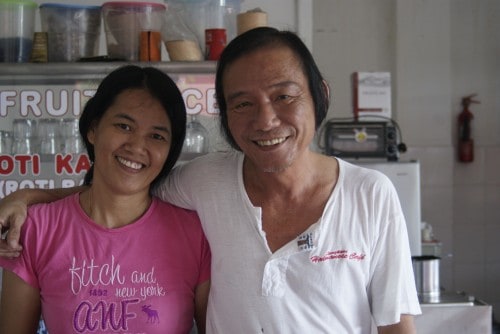 And there is more at Chicken Joe's than just chicken. They serve a unique twist on fish with chips. This is served with local mackerel instead of cod and in a sweet and sour sauce with either chips or rice. The also serve Yong Tau Foo. Vegetables, such as bitter gourd and bindhi and tofu stuffed with mackerel. This is fried in a wok and served in soup.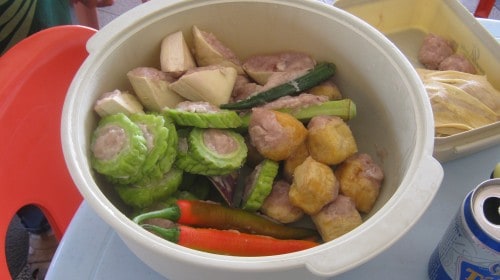 The clean, simple and airy interior almost always has a cool breeze as well as a broad view of the main street that makes it a great place to dine. Joe's also serves a wide variety of fresh fruit juices in addition to cold beer. Delicious local cuisine at very affordable prices has put Langkawi's Hainanese Cafe on the map and a not-to-be-missed!
*Updated June 2023- New Kuah location HERE
Langkawi Hainanese Cafe (AKA Chicken Joe's)
Kuah, Langkawi
*Open: Daily 11:00am-2:00pm
Tel: 011-1059 3238