Although there are plenty of Kuala Lumpur hotels to choose from, it can often be a hit or miss situation depending on the recommendation sources. Online travel or booking agencies? Advertorials? Who to trust, right? But you're in luck! I asked a few travel blogger friends for their favorite KL accommodations, based on their own personal experiences, and they came up with some great recommendations! From backpacker style to family and luxury travel, these recommended Kuala Lumpur hotels cover the gamut with something for everyone.
Check out this list of Kuala Lumpur hotels for your next trip to Malaysia's capital city!
Go For The Club Room: FURAMA BUKIT BINTANG
Recommended by Sarah of Fit Travels
We've checked in today for what I think is our 7th stay at the Furama Bukit Bintang, Kuala Lumpur. Located just a short walk from IMBI monorail station the hotel is close to shopping malls and the wonderful eating experiences available in KL. This hotel has got to be one of the best value four star properties going in the city. Sometimes their club room rate is not much more than USD60 per night!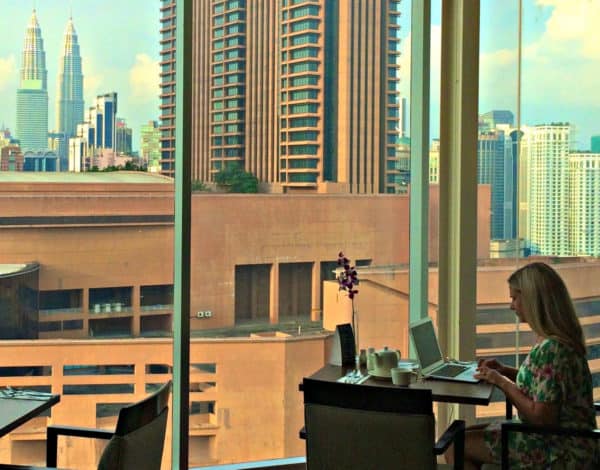 This includes all the added bonuses of private breakfast area, snacks and drinks during the day then free flow and canapés for two hours in the evening. It is well worth the little bit extra. Their gym would be one of the best I've seen in any hotel across Southeast Asia and their pool is almost infinity like with views of the KL and Petronas Towers. The rooms definitely have a business hotel feel, but they're spacious and comfortable so we're always happy here!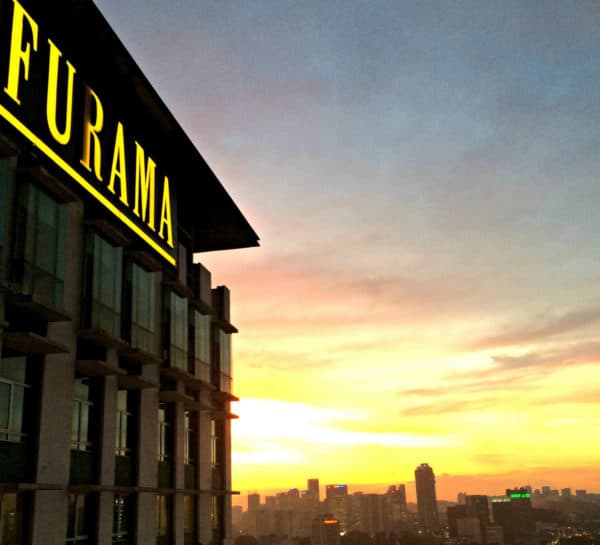 Want to know more about this fabulous hotel?
Be sure to read Fit Travels' full review of FURAMA BUKIT BINTANG 
Great Value and Convenience: BERJAYA TIMES SQUARE HOTEL
Berjaya Times Square is a massive shopping centre in the heart of Kuala Lumpur. It is one of the biggest in the country and staying on top of the shopping centre, at the Berjaya Times Square Hotel, makes things super easy! This means there are eating and shopping options galore as well as a theme park and cinemas. It's also connected to a train station and everyone will know where you want to go if you get lost.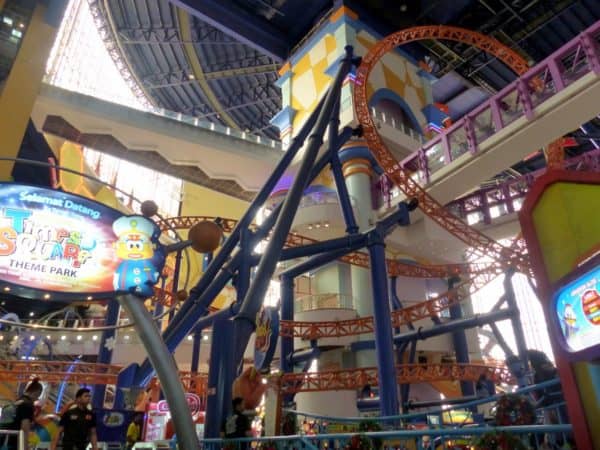 The hotel itself would be worth staying at even without the shopping centre. It is packed full of facilities – restaurants, bars, the biggest swimming pool I have seen in a city hotel, kids pools and a playground.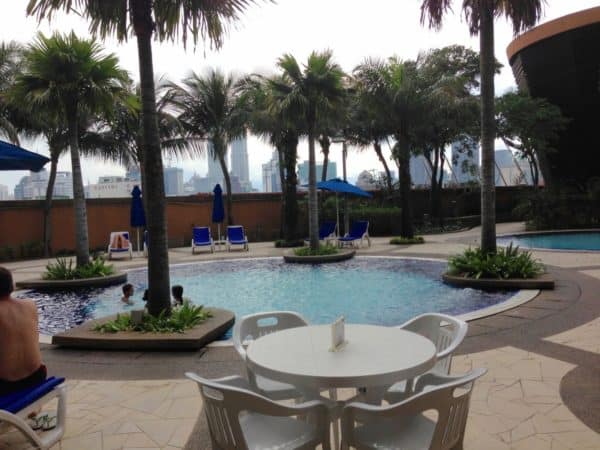 One of the best features is that the cheapest rooms are more like one bedroom apartments with a kitchenette and separate living area. Everything is a good standard We have usually been able to stay here for less than US$65 a night which also makes it a total bargain for a family of 4. We have gone back many times as it is just such a lovely, easy place to stay that makes exploring Kuala Lumpur extra awesome.
Want more of Sharon's hotel recommendations?
Be sure to read Where's Sharon?'s THE BEST PLACES TO STAY IN KUALA LUMPUR

Best Long Term Rental in Kuala Lumpur: REGALIA RESIDENCE
Regalia Residence is a luxury hotel with the best infinity pool in Kuala Lumpur. The pool is situated on the highest floor of the building (37th floor), so the view from the top are absolutely breathtaking! Regalia is not only a hotel but also a place where local people live.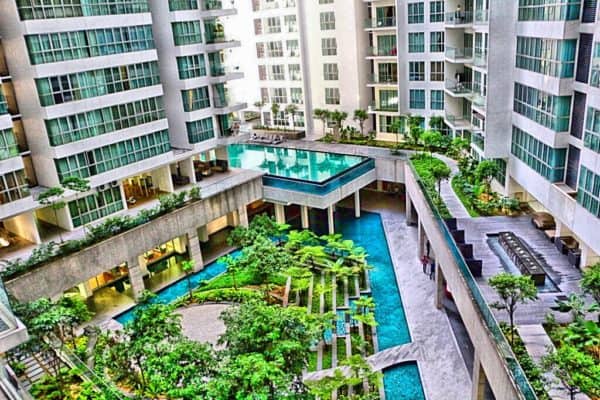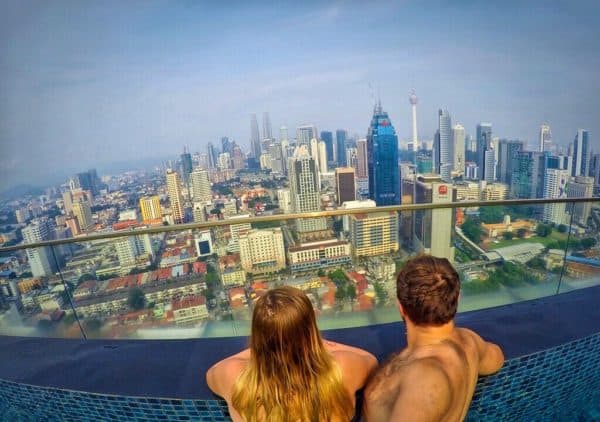 You can easily rent there an apartment with kitchen, washing machine and all the other facilities that will make you feel like home. The location of Regalia Residence is great- right between Putra and PWTC LRT stops. We've spent a month in this hotel and we will stay here again for sure next time we'll be visiting Kuala Lumpur.
Are you traveling on to Thailand?
You'll definitely want to read KarolinaPatryk's reviews of THE BEST HOTELS IN PHUKET

Taste of Luxury: GRAND HYATT KUALA LUMPUR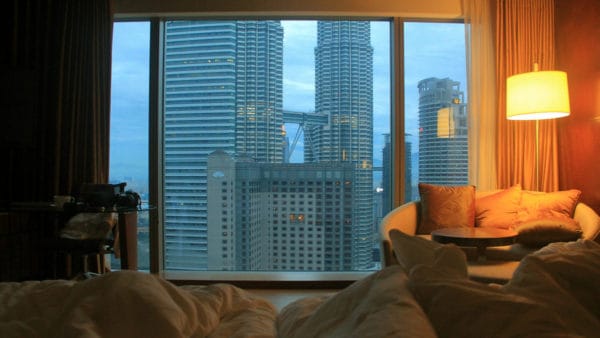 While its rooms and facilities are typical of what you expect of a 5* establishment, the hotel was definitely built to impress, with the lobby located on 39th floor that gives a 360 degrees view of the city centre that surrounds it – from the Twin Towers to KLCC Park to KL Tower – you'd be hard pressed to find another hotel that offers such a view. Breakfast, if you opt-in or choose to have it, are served just one floor below on 38th, which provides a similar view like from the lobby as well. So even if you don't stay in a KLCC-view room like I did, you'd still get to enjoy a great view of the tallest twin towers in the world.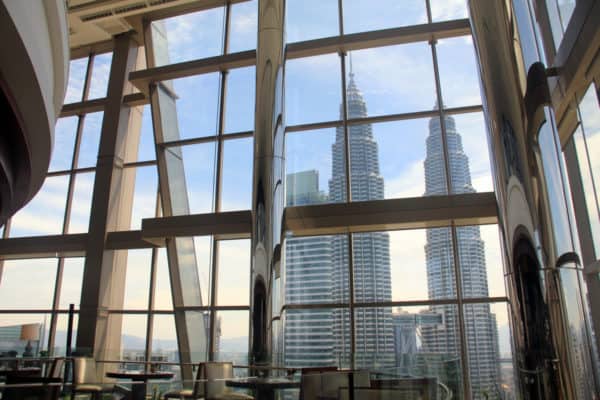 The location? It's in KLCC but located right smack in between Petronas Twin Towers and Pavilion in Bukit Bintang, giving you easy access to the best of what KL's Golden Triangle has to offer. Really, what more could you ask for?
Planning on exploring more of Malaysia?
Check out Ramble and Wander's extensive coverage of Malaysia HERE
Arty Comfort: PAPER PLANE HOSTEL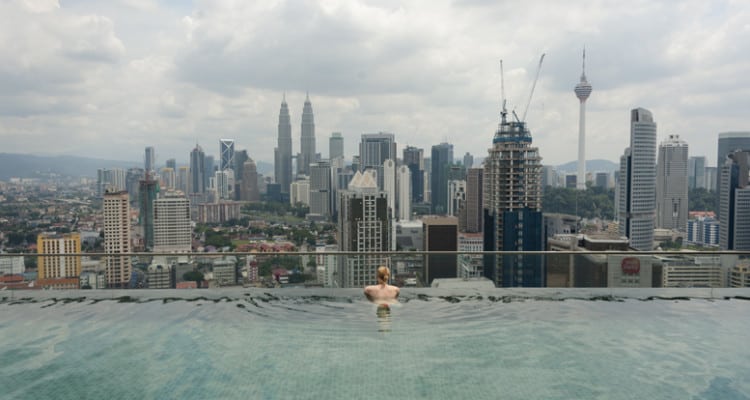 The Retreat KL is a collection of apartments in a luxury condo in KL. The apartments have all the essentials – a kitchen (not that you'll ever use it, with all the delicious street food in KL!), aircon, fridge and access to all condo amenities – including a gym and the rooftop pool! Personally, after having discovered The Retreat KL I have never stayed anywhere else and a know that a bunch of my readers loved it as well!
Want to know more about this amazing property?
Check out The Crowded Planet's full review BEST VIEW OF THE PETRONAS TOWERS? THE RETREAT KL!
Stone's Throw from KL Sentral: HOTEL SENTRAL KUALA LUMPUR
Recommended by Vanessa (me) of The Island Drum
Special Bonus Hotel Find Near KLIA/KLIA2: SRI ENSTEK HOTEL
Recently realizing that any early morning international flights were going to require a very early, middle-of-the-night airport arrival. And for someone (like me) not living in the Kuala Lumpur area, nearby hotel options I found were ridiculously expensive. Not to mention inconvenient. Getting from the city at an even more ungodly hour or sleeping in the airport aren't exactly attractive options either. But alas! I found Sri Enstek Hotel to be the answer to my travel woes and just 20 minutes from KLIA2.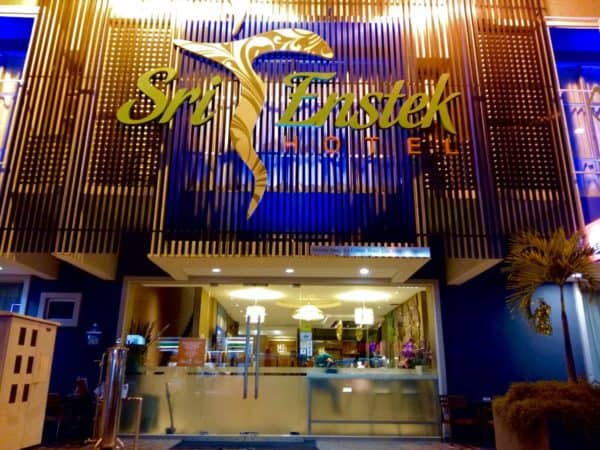 They also provide shuttle service to and from the airports for just RM10-20, depending on the time of day. So rather than hang out in the airport, I was able to relax at Sri Enstek for less than rm100. In room WiFi and desk, big comfortable bed and a hot shower were a perfect 'layover' solution. A nearby mini-mart and a few local restaurants were all very convenient. And the hotel staff? Beyond helpful! I will definitely be a return guest at Sri Enstek Hotel.
Have you been to Kuala Lumpur?
Do you have any Kuala Lumpur hotel recommendations? I'd love to hear them!