I'm embarrassed to confess that I have had little actual 'sightseeing' experiences in Kuala Lumpur, beyond seeing the obvious can't-miss-them Petronas Twin Towers and a few other skyline icons. But on a recent trip to the capital city and the luxury of a few leisure days, I took a closer look at a tourist map and the abundance of places I could possibly explore. Were they all worth visiting? Who's to say when it comes to these things, but the thought of going from Point A to Point B in several different directions of the city, sounded flat exhausting. A guided tour of some sort appeared to be the most stress-free option, especially for a sightseeing newbie like me. Enter, Kuala Lumpur's Hop-On Hop-Off Rockstar City Tour. Technically referred to as the Kuala Lumpur Hop-On Hop-Off City Tour, but since my bus had the attractive appearance of a motorized boom box I think they're entitled to a hip nickname.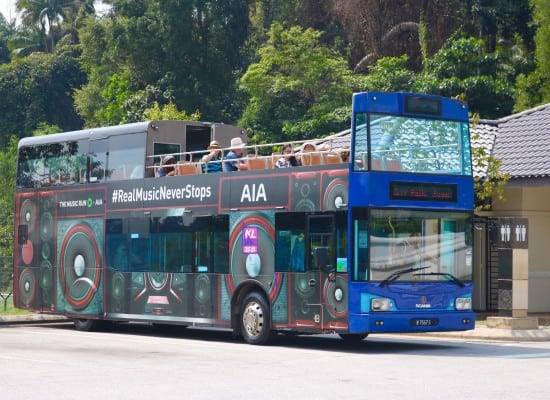 I also think this double decker bus, sightseeing option is pure genius. And it's convenient too! This city tour not only includes stops at 27 major attractions, many of the stops are also just a stone's throw away from over 100 hotels throughout Kuala Lumpur. Couldn't get any easier than that, right? And the price? My adult ticket was 50-ringgit and valid for 24 hours. I call that a bargain!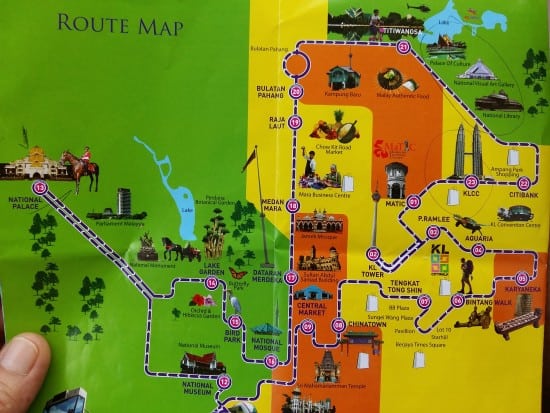 Daily city tours begin at 09:00, at the Malaysia Tourism Centre (#1 MaTIC stop) and end at 20:00. I had my heart set on riding the 'Boom Box' bus, so I was told to be at the #17 Dataran Merdeka stop at 09:30. Sure enough and just like clockwork my rockstar-style chariot arrived as scheduled. The early bird sightseers also get first dibs on the best selection of seats.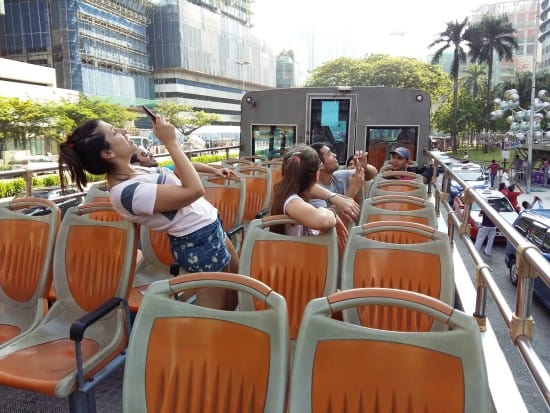 The clock-wise loop around the city takes about three hours to complete (if you don't disembark at any stops). But if you do 'Hop-Off' at one of the stops, there will be another bus passing by in approximate increments of 30-minutes. If, however, it's late in the day, be sure to ask when the last pick up is.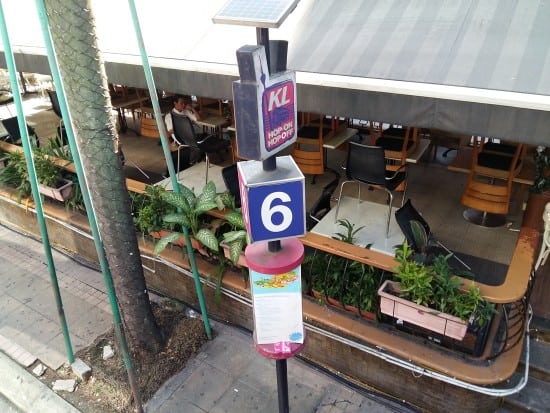 Is it one beautiful picturesque ride? No. In fact, some of the views (highlighted in yellow on the route map) are of good old fashion city-scapes and traffic. But! the visual orientation of Kuala Lumpur is much easier to grasp from the upper levels of a double decker bus than being eye-to-eye with traffic and the low slung awnings of old buildings along the street fronts. To help you identify various landmarks, a recorded narrative (in english) is also played along the route.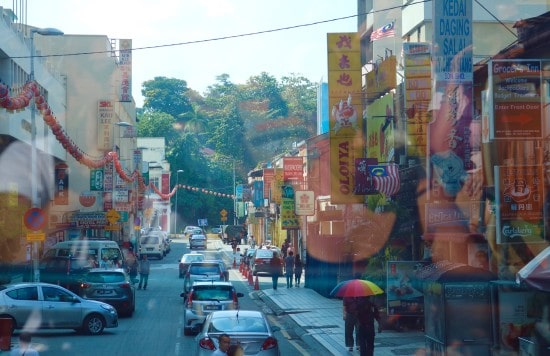 If you're keen to make the absolute most of your sightseeing time, I'd actually be inclined to recommend the 48-hour ticket, if your time allows. You'll definitely get your money's worth and the first overview tour would be very helpful in deciding the best places to schedule for the second day. Or a chance to catch a few places you missed the first go round.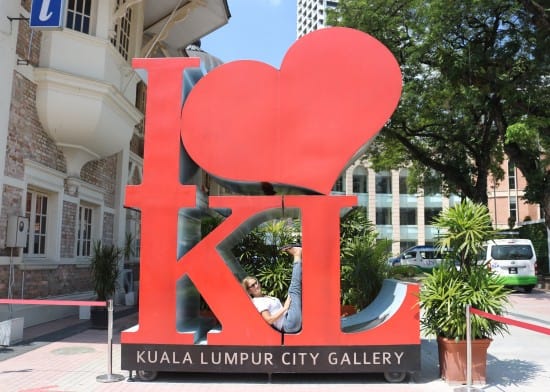 Sightseeing interests can certainly vary from person to person, but on the map the Hop-On Hop-Off highlights don't actually include all that is available in a particular area. The #17 Dataran Merdeka (Merdeka Square) stop is a perfect example. Sure the square is a picturesque, but what the brochure doesn't mention is that the iconic I 'heart' KL sign at the Kuala Lumpur City Gallery, the Music Museum (Muzium Musik) and the Textile Museum are all in the same area. Unfortunately I didn't make it back to visit the museums, as I disembarked elsewhere and had run out of time, but next time for sure!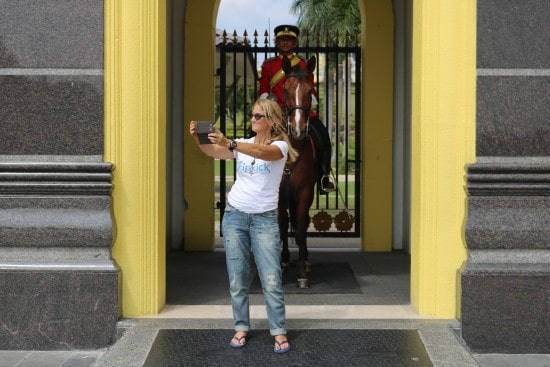 Or in the case of the #13 National Palace stop, it wasn't mentioned that we were actually stopping at the palace gates. In fact, that is also a 15-minute 'rest' stop. You'll have just enough time to run to the restroom or go snap a selfie with the guard and his horse. Or just the handsome royal duo alone. On a well planned day, I would have been interested to get off the bus and tour the palace, but there isn't much else out there except the royal lawn.
If grass and other greenery interests you, nature buffs might want to hop off at one of the next two stops instead. The Hop-On hop-Off map does mention the other venues surrounding the shady, tree-lined #14 Lake Garden and #15 Bird Park stops. So to round out your Kuala Lumpur nature experience, the additional Orchid & Hibiscus Garden and the Butterfly Park await.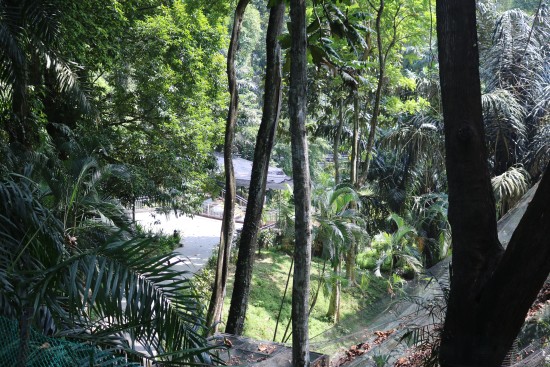 Unless you are actually holding a brochure in your hands, the information offered on the Hop-On Hop-Off website can be somewhat confusing. At least it was for me. The options of ordering tickets on line or through various outlets or agents had my head swirling. Thankfully I was able to get some quick cut-to-the-chase information through their social media team and found out I could pay directly on the bus. The website does occasionally offer special discount prices, so keep that in mind if you would like to save a few ringgit. Also, be sure to keep your ticket with you at all times, because they do randomly check passengers along the route!
The KL Hop-On Hop-Off City Tour is an excellent way for visitors to explore the oh-so-diverse Kuala Lumpur and I highly recommend it. If you need some suggestions for places to stay, be sure to check out 9 Kuala Lumpur Hotel Picks of Travel Bloggers  and for more tips on Kuala Lumpur, check out travel blogger Sarah of FitTravels and her 10 Reasons Why You Should Love KL
Have you been to Kuala Lumpur? Have any sightseeing recommendations? I'd love to hear them!
KL Hop-On Hop-Off City Tour
Tel : +6 03-9282 2713
Hot-Line : 1800-88-5546
www.myhoponhopoff.com
Open: Daily 9:00am until 8:00pm
Prices: RM50 Adult RM25 Children (age 5-12)
*Updated, May 2019