Looking for a little outdoor adventure in Kedah, Malaysia? Then let me introduce Gunung Keriang Mountain. Located around 8-kilometers from Alor Setar, from a distance Gunung Keriang looks like a giant rock sitting forlorn in a padi field; similar to those craggy islets mysteriously poking out of the coastal waters of Thailand.  In fact, Gunung Keriang is part of the Chuping formation, and geological research indicates that, once upon a long time ago, the sea reached much farther inland, and the mountain may have indeed once been an island.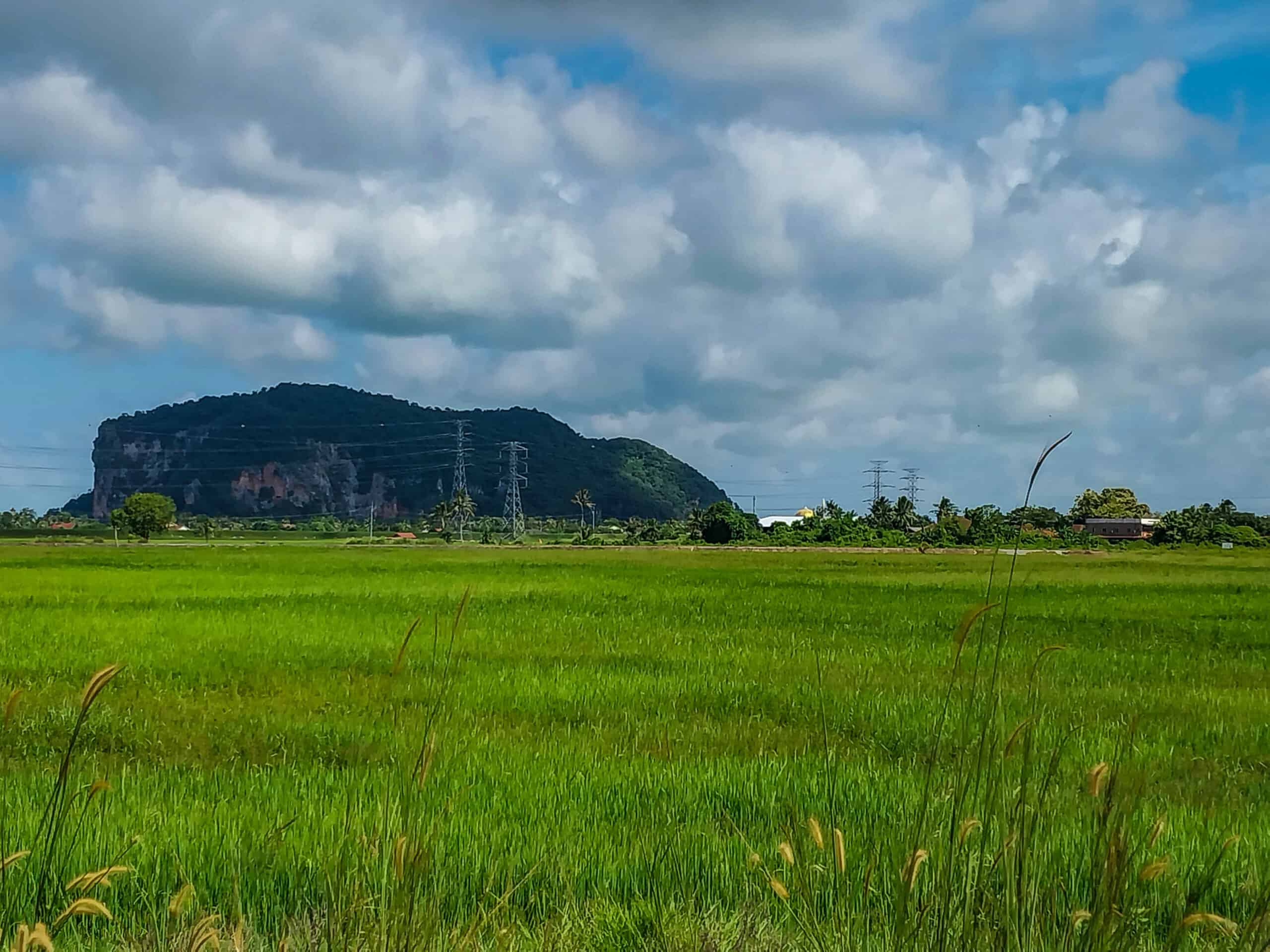 Another Gunung Keriang fun fact is that over the years the mountain has also been referred to, by locals, as Elephant Mountain due to its similarity to an elephant's head. Maybe back in the day it had a more identifiable shape, but according to W.E. Maxwell in The History of Perak from Native Sources (p. 1884) the name Keriang (Geriyang) means 'Mountain of Divinity' or 'Mountain of Godhead' in Sanskrit and Javanese, so maybe that's where the idea originated from.
Despite its intriguing padi field presence, I'd never even thought of climbing Gunung Keriang, well, because, why? Because it's there? Or was it even an option?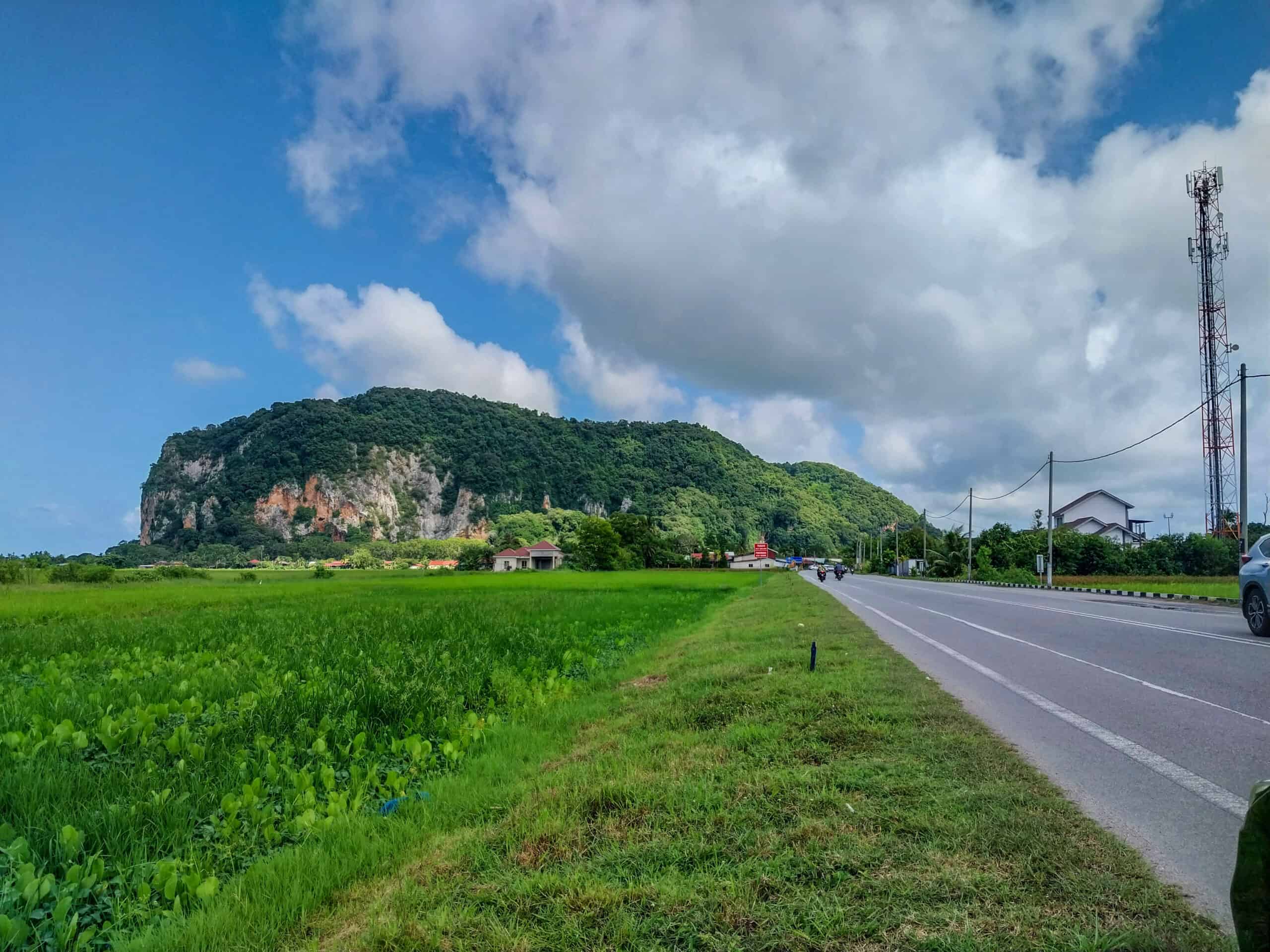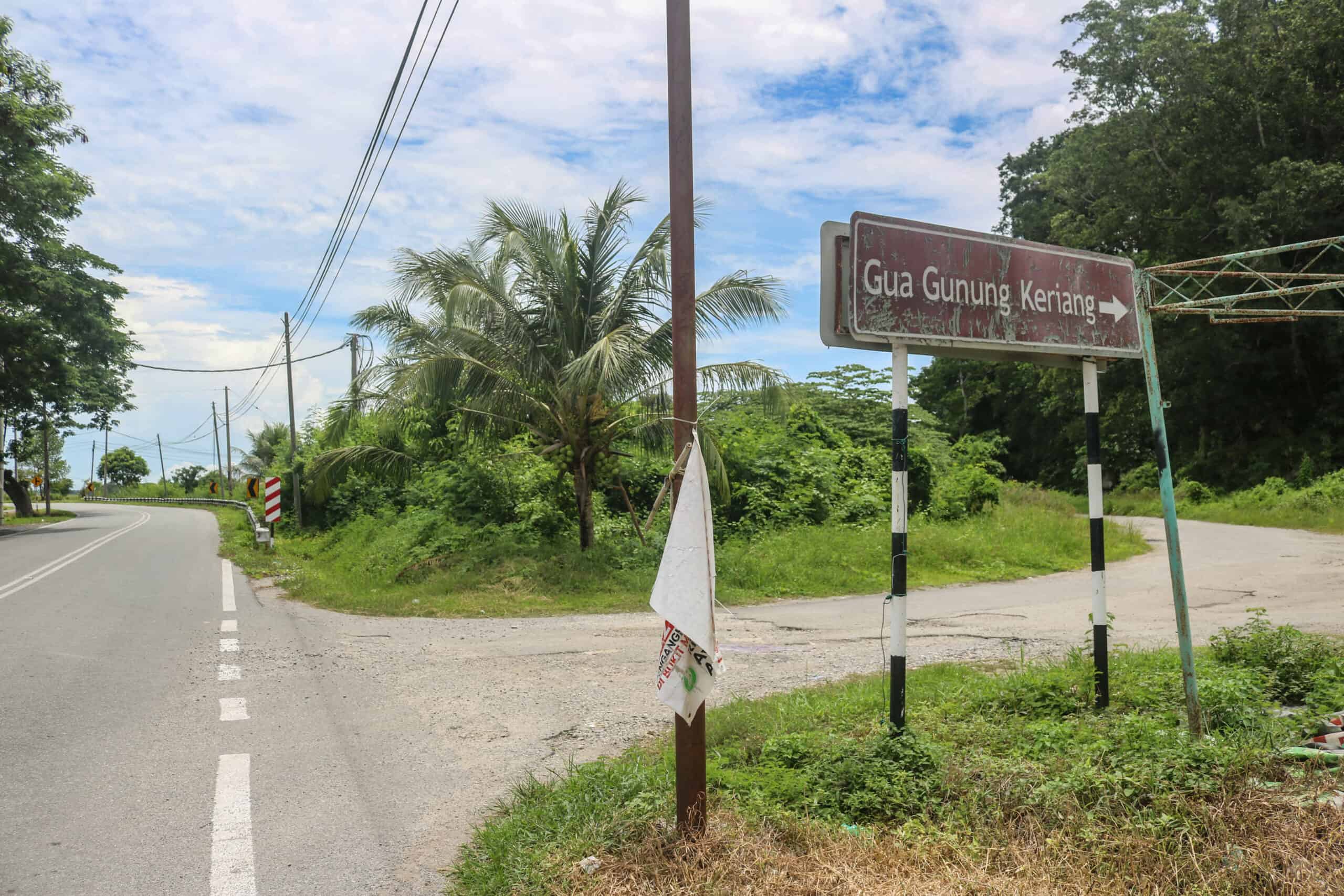 Well, as it turns out that Gunung Keriang is far more than just a lump of rock. It includes a recreational park, a hiking trail and a famous cave. It also has a broken elevator that makes lazy people like me wish they had visited sooner, when getting to the top of the mountain was less labor intensive.
From a distance Gunung Keriang does indeed look like the island it is purported to have once been, only now the surrounding sea is padi fields and kampung houses. And like the Hollywood beacon, a Gunung Keriang sign welcomes visitors to this magnificent nature destination. Despite the slightly askew lettering, the sign and mysterious limestone mountain finally worked its magic on me.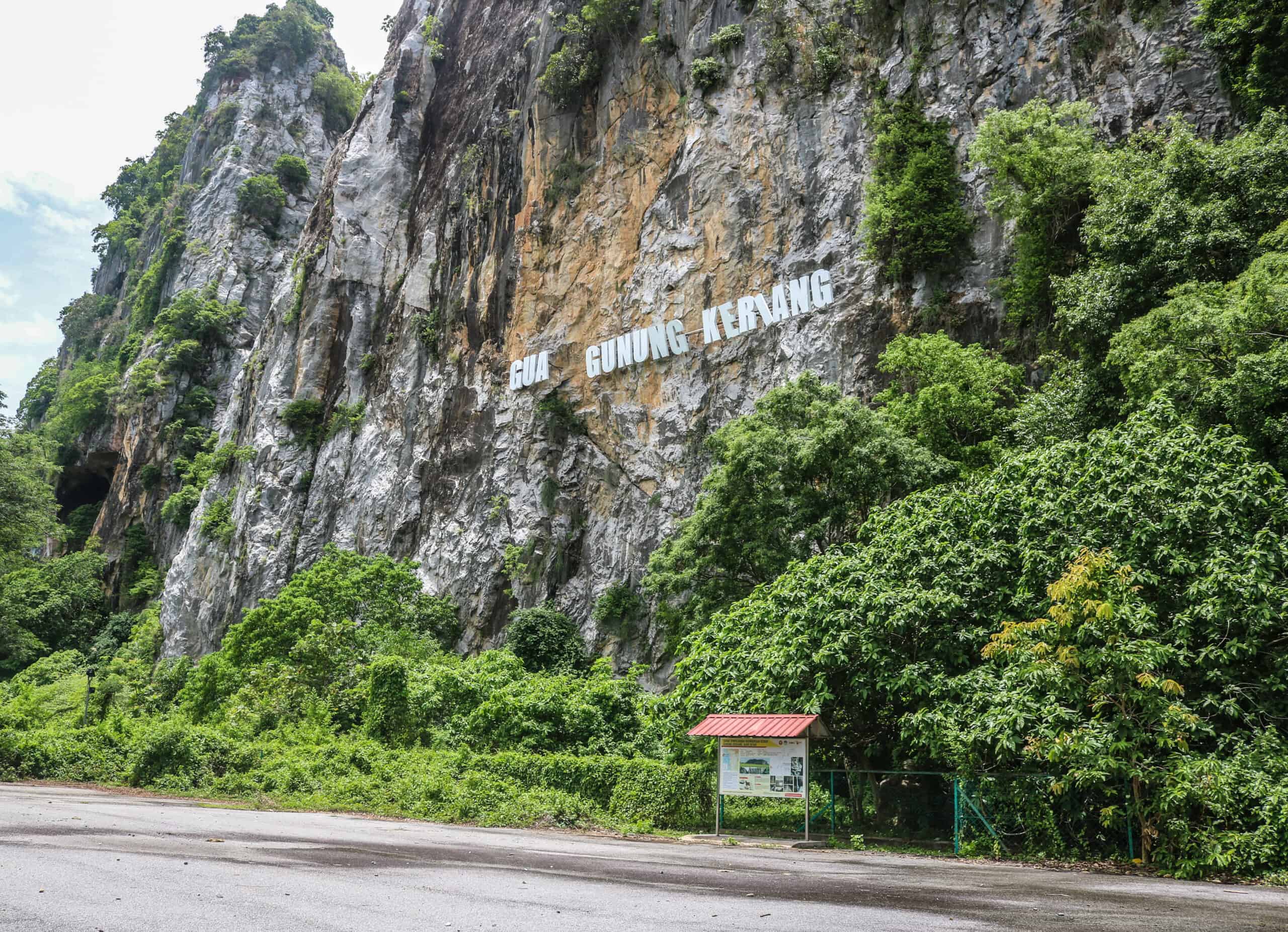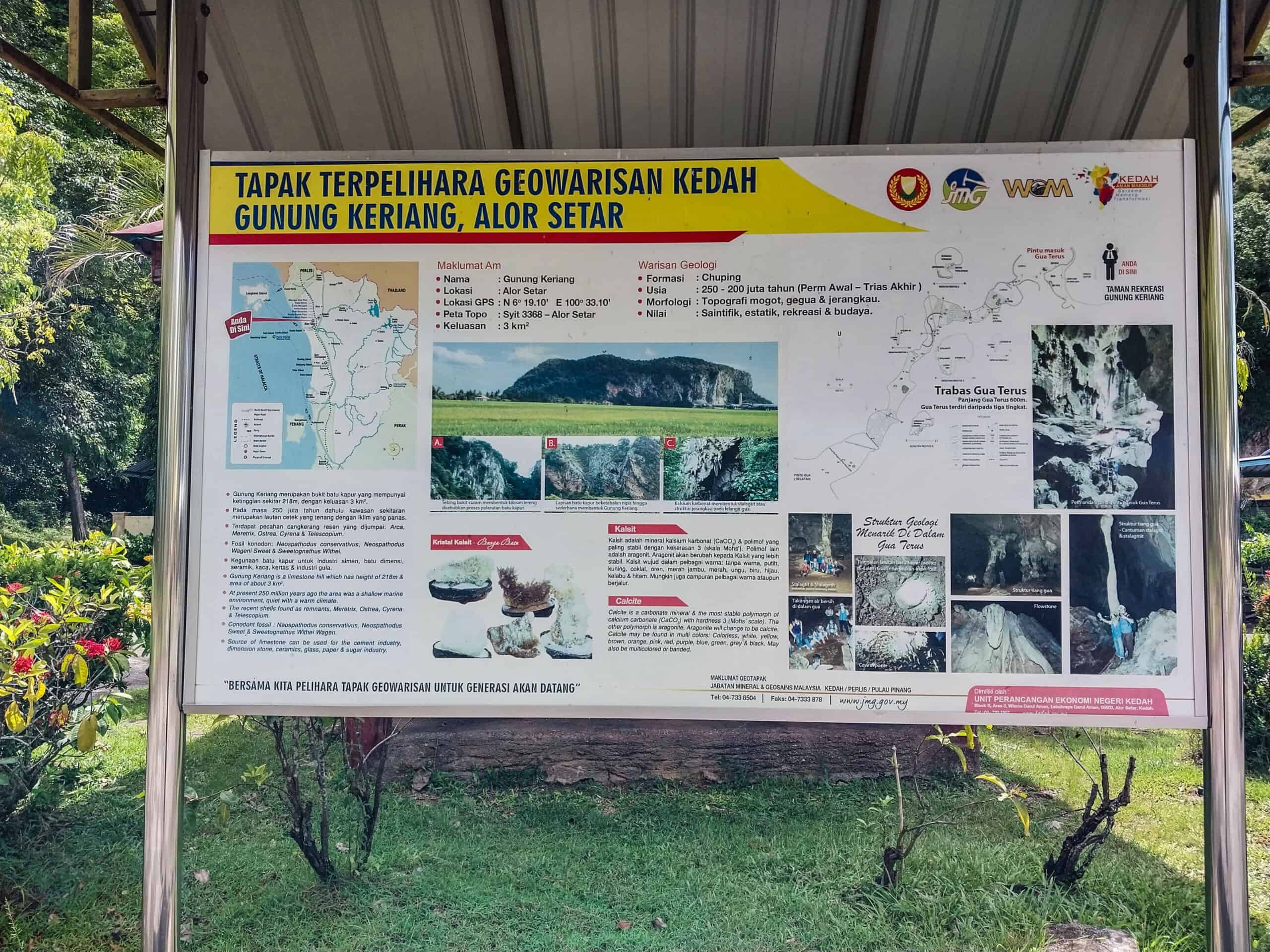 Let the Gunung Keriang Adventure Begin!
Gunung Keriang Mountain is said to be about 250 million years old. Yup, you heard that right, 250 million! The mountain itself has a vast number of mini caves dotting its exterior and obviously popular with Edible Nest Swiftlets, but the grand finale is the not so diminutive Gua Terus (cave) (possibly also referred to as Gua Gunung Keriang) and the breathe taking scenic views which are available to the adventuring public who are willing to hike 40-plus-minutes up the mountain to see.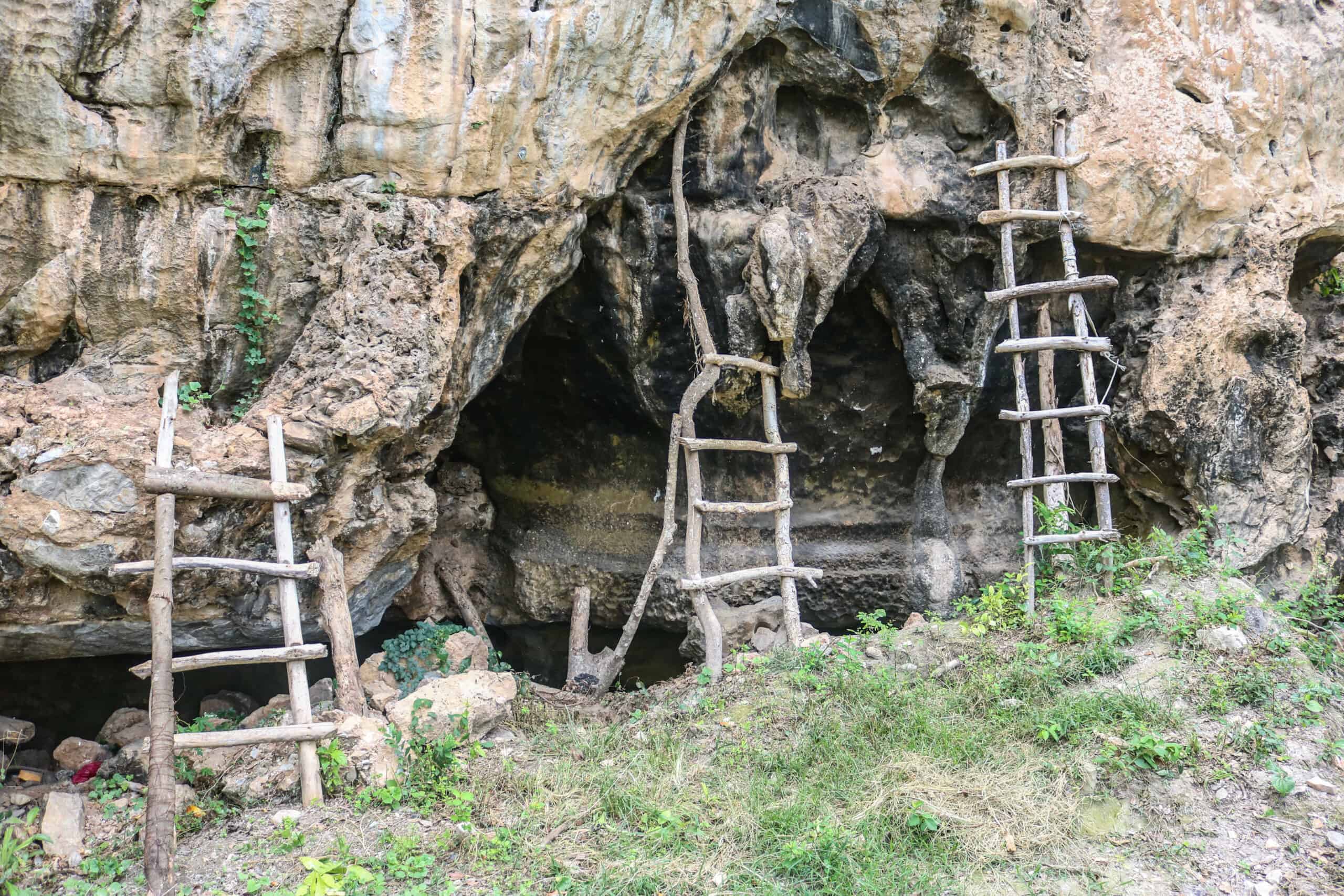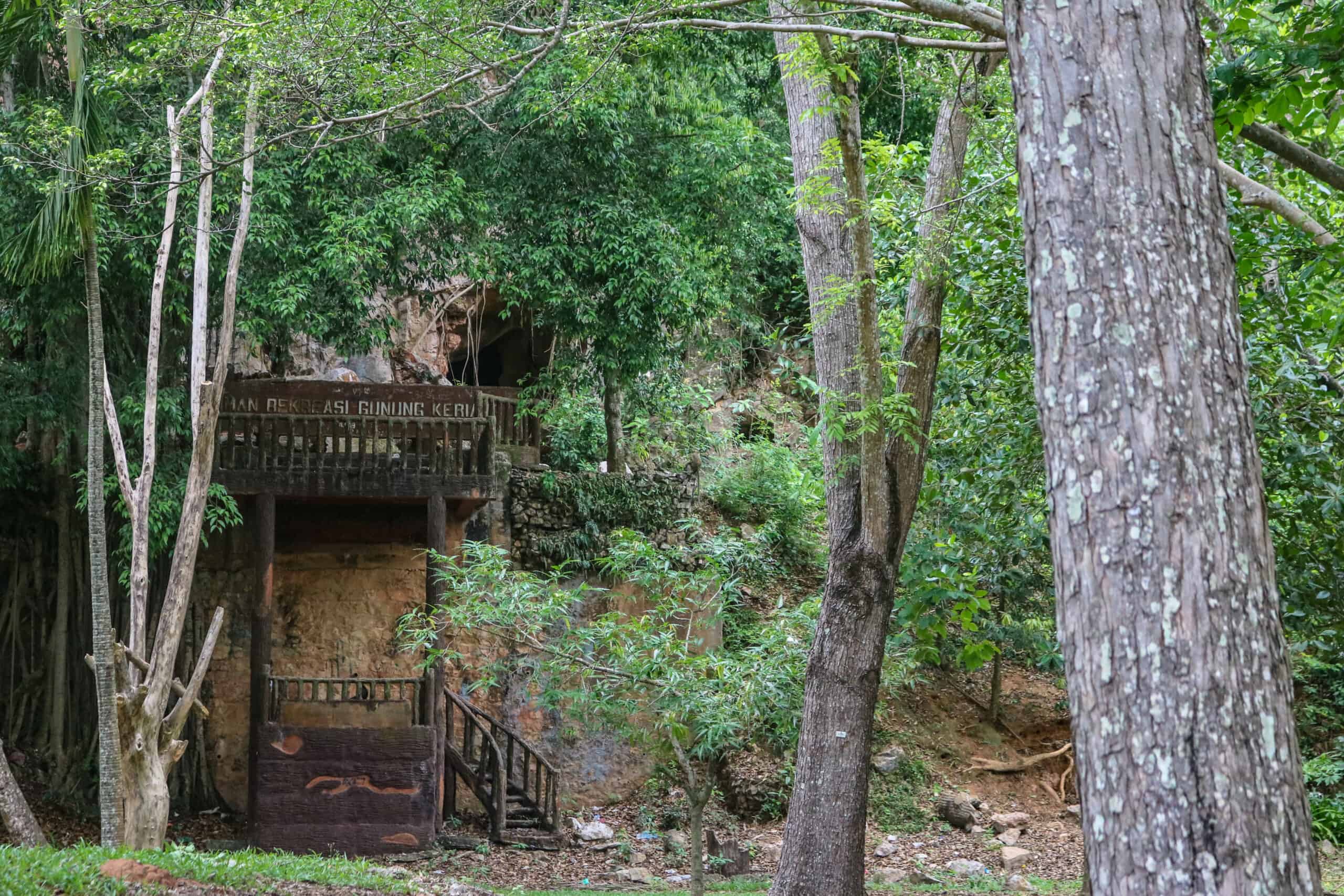 Gua Terus is famous for having crystals, which were much more abundant during pre-tourism days as those crystals became a hot commodity on the souvenir market over the years. And of course, you can buy said souvenirs at the Gunung Keriang shops, that are adjacent to the parking lot closest to the trail entrance.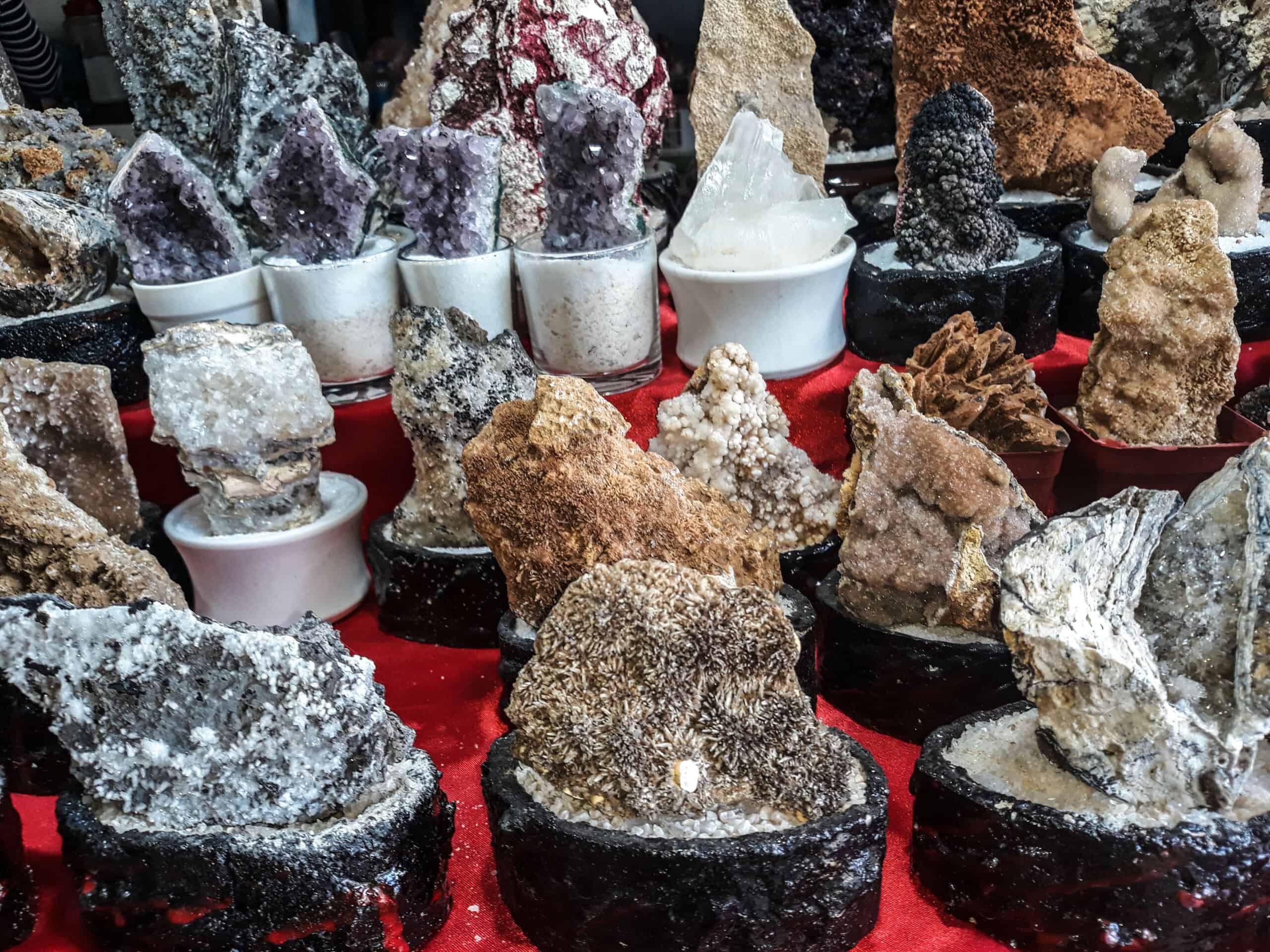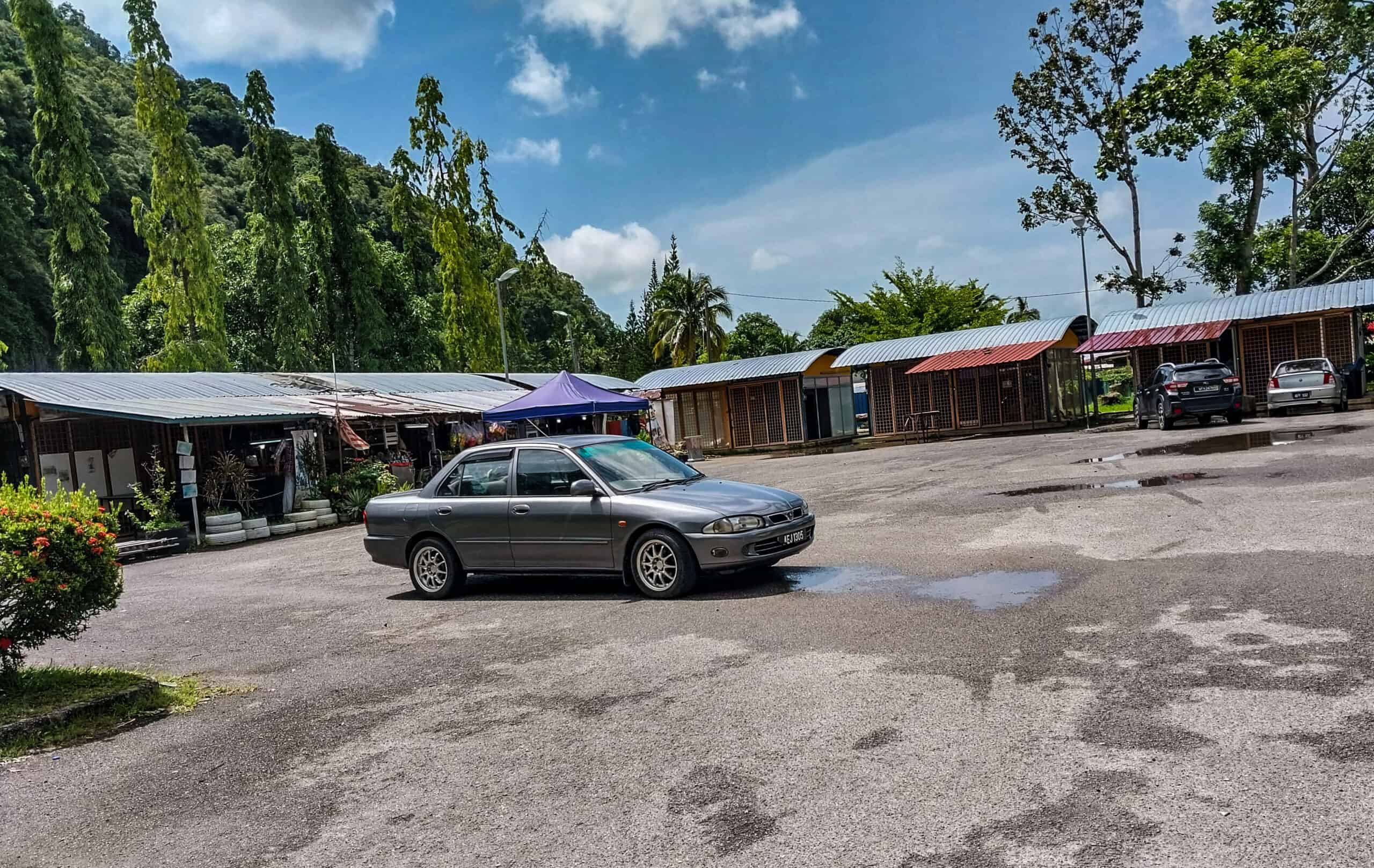 For the less adventurous, the recreational park is right next to the mountain. It has a children's playground, a couple of gazebos, benches and a duck pond. The park also has a small river running through it, with bridges crossing into the nearby kampung. A few, closer to the ground, smaller caves are highlighted invitingly with convenient staircases. Unfortunately, they are also closely monitored by the monkey population, so do explore at your own risk, and watch your bags!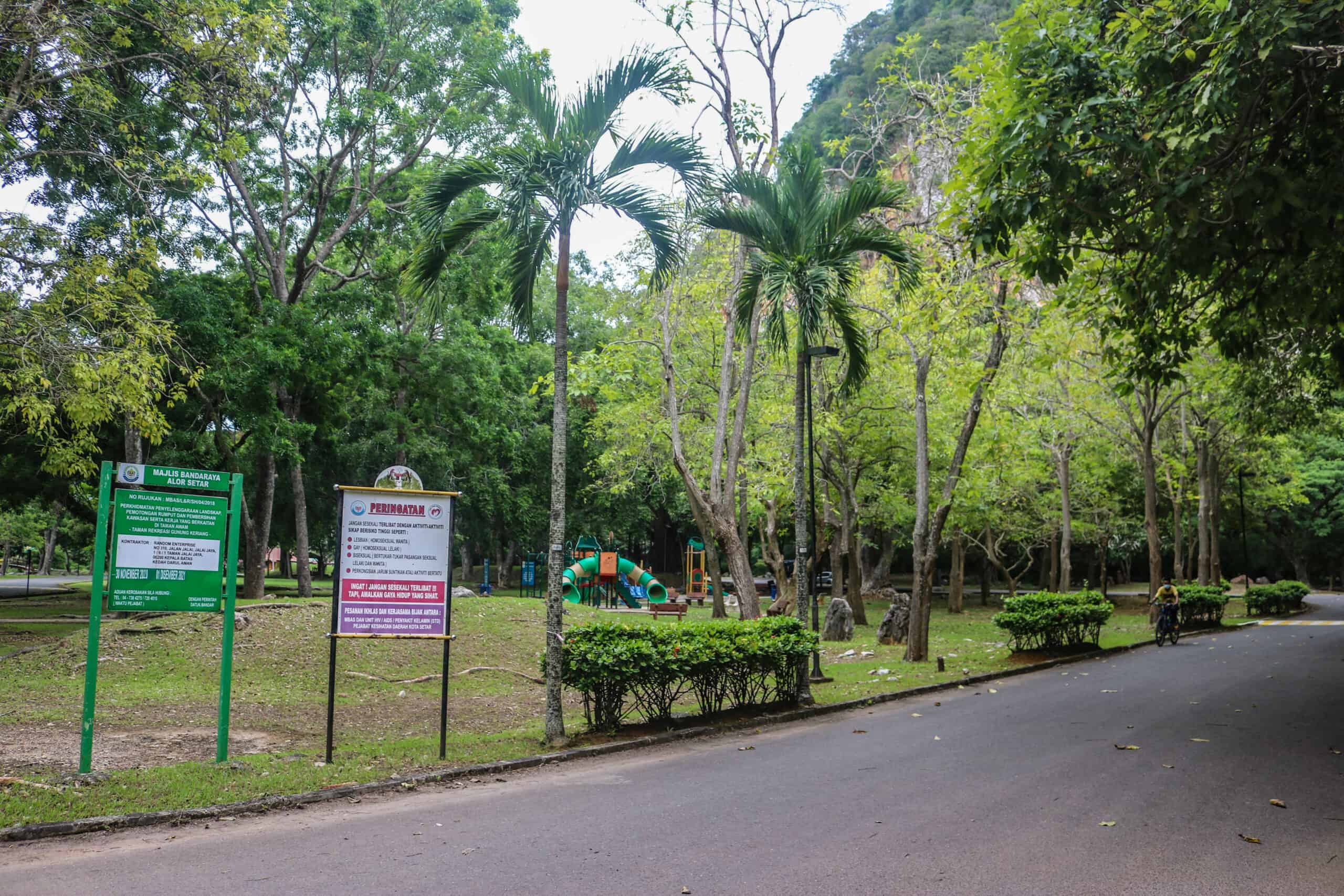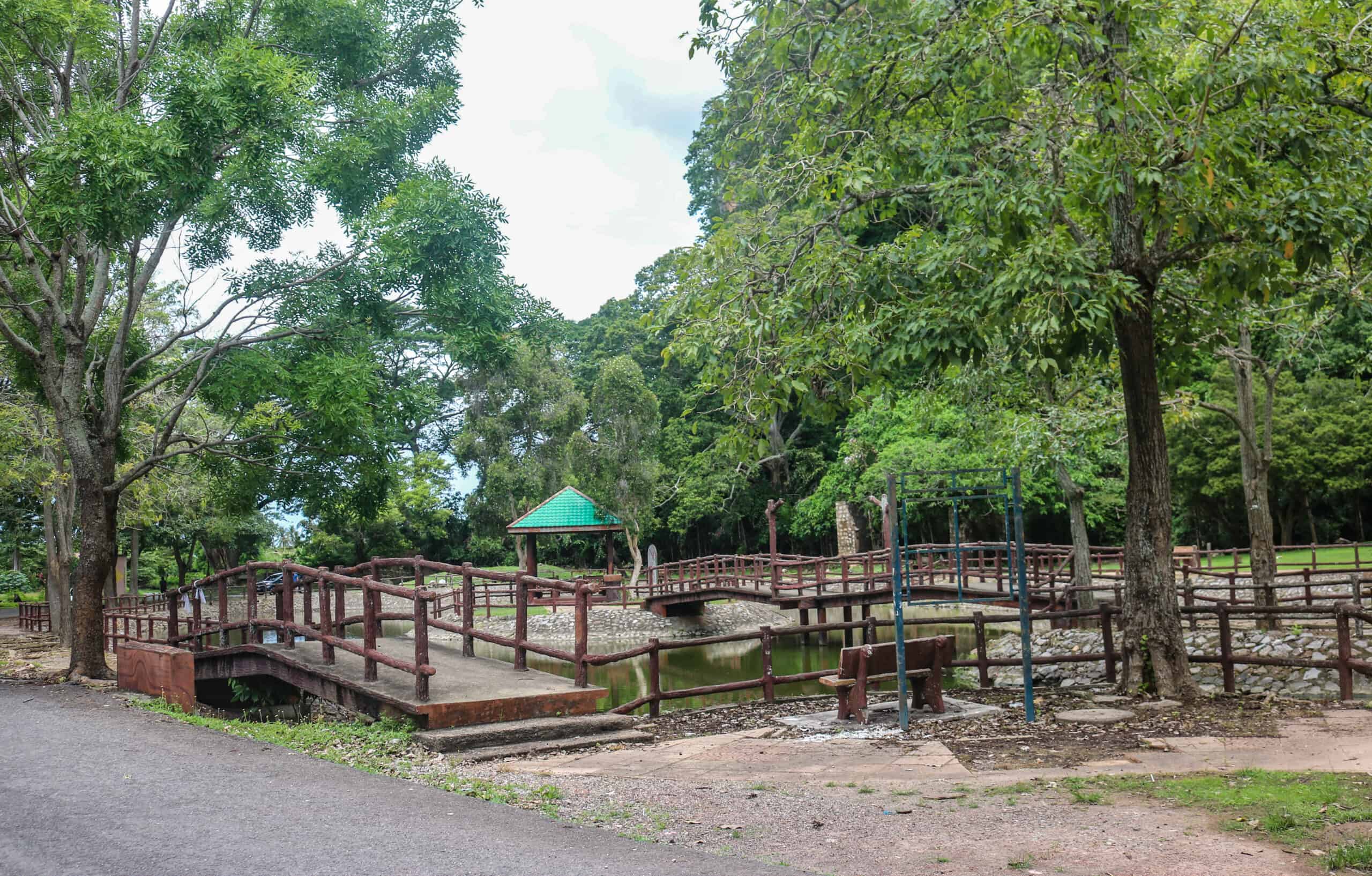 Third Times a Charm
When I first visited Gunung Keriang Recreational Park, it was a ghost town as the nation-wide Covid lockdown had just been partially lifted. Besides a small group of elderly men, I saw few people and only a couple of shops were open. Lots of monkeys though! Being as I was alone, I kept to the main road and stayed visible rather than wander off into unknown terrain.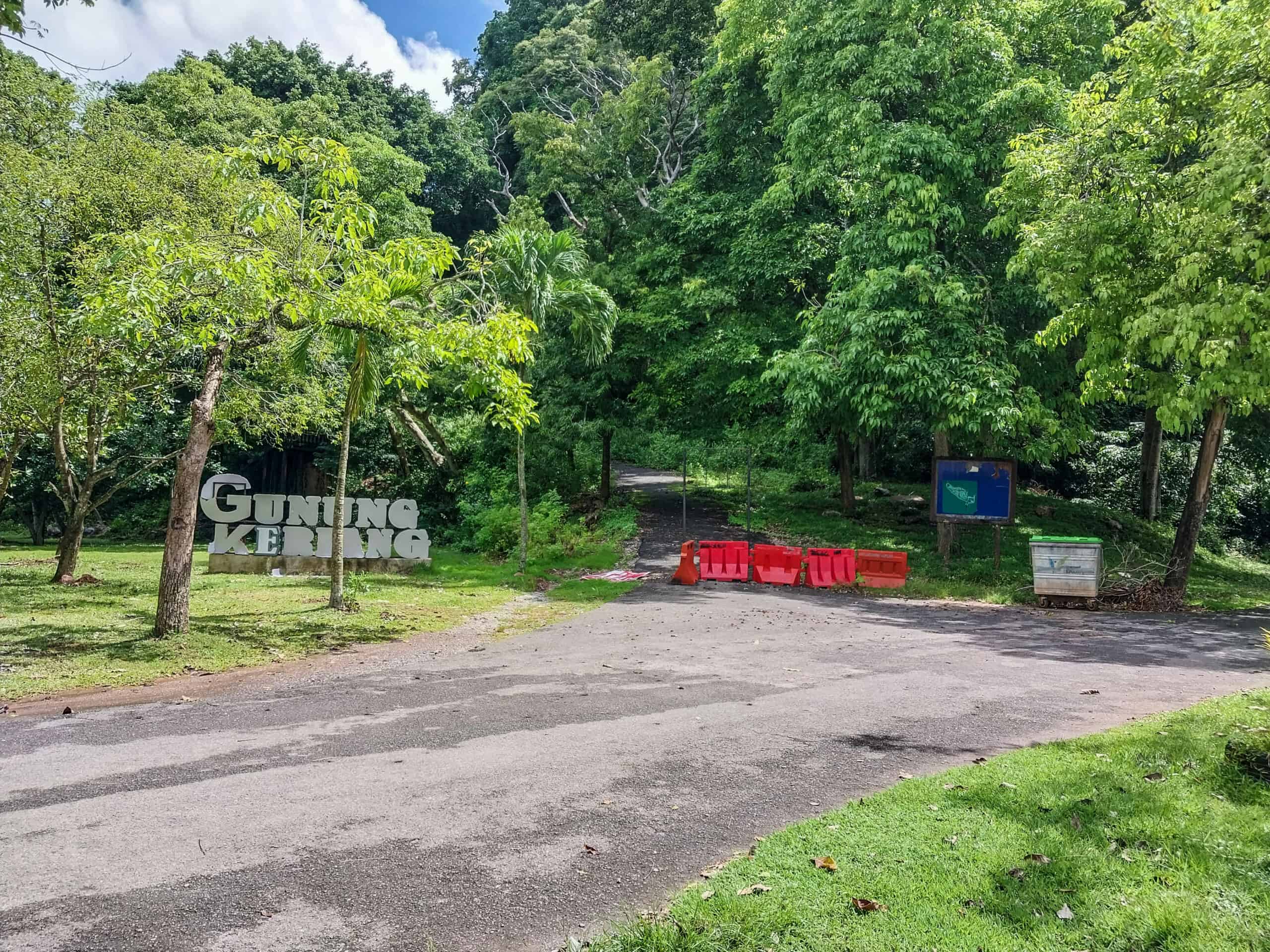 There are two entrances to Gunung Keriang Recreational Park. The main park road skirts the mountain and leads to a non-working elevator and fenced in parking lot. It was unknown to me if the closed area was pandemic related or just planned obsolescence, where popular spots simply fall apart from lack of maintenance.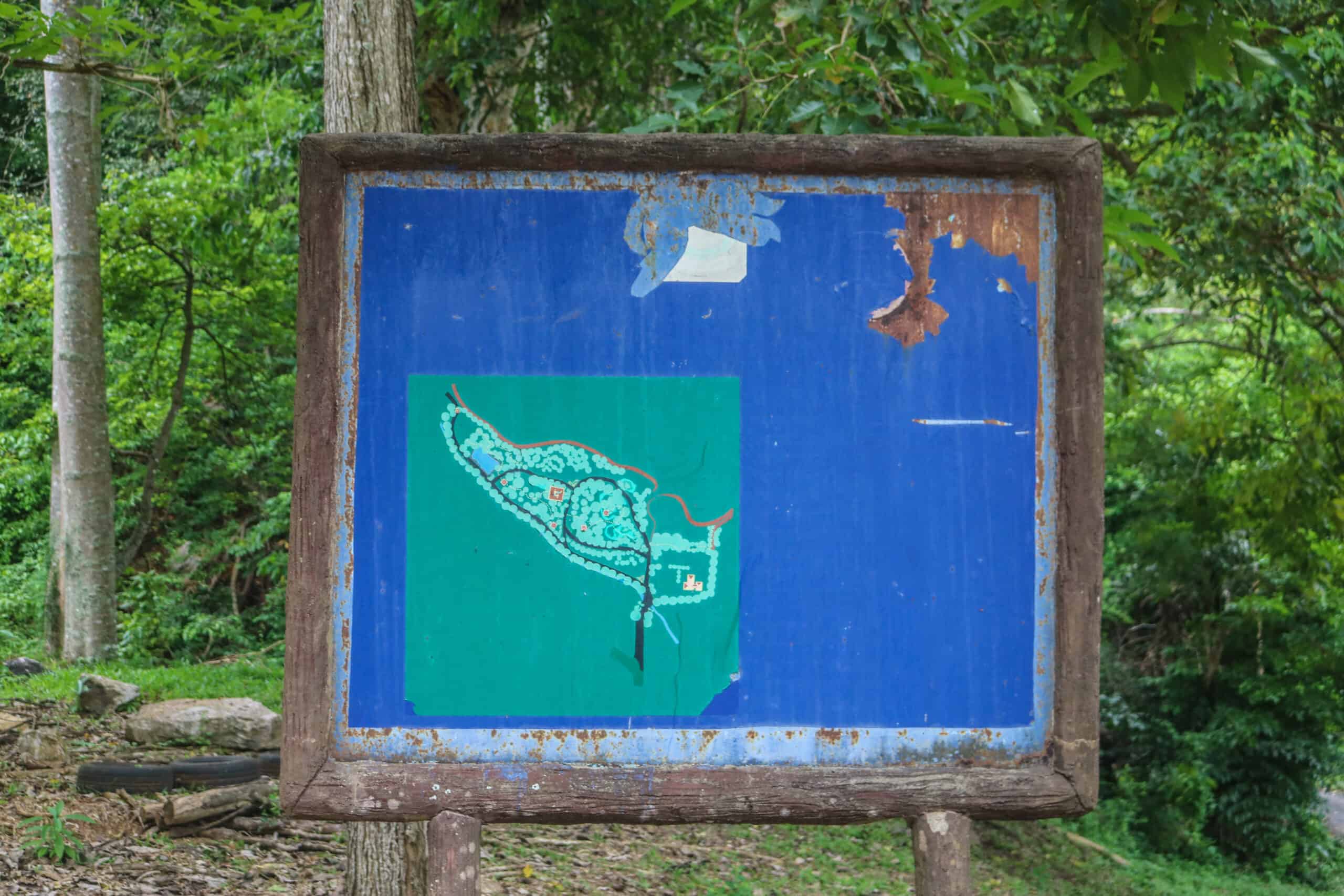 At any rate, it was a bit spooky. I even had a car follow me to the rather deserted elevator area (which in my experiences is very uncommon in Malaysia). The car parked and the man inside rolled his window down just enough to poke his phone out to let me know he was filming me. Now that my friends is unsettling. So, ladies, please take note.
I went home and did more research into Gunung Keriang. I also vowed to climb it.
The second time I visited Gunung Keriang, there were more people around. In my minimal Bahasa I negotiated with a local gentleman to escort me. I chalk it up to fate, because apparently he was hearing impaired and a man of few words, we were able to communicate. It was through this man that I found the actual entry to the mountain trail, which is ominously behind the cemetary. Yes, there is a cemetery at the recreational park and one would assume it was there long before anyone decided to create a recreational park here.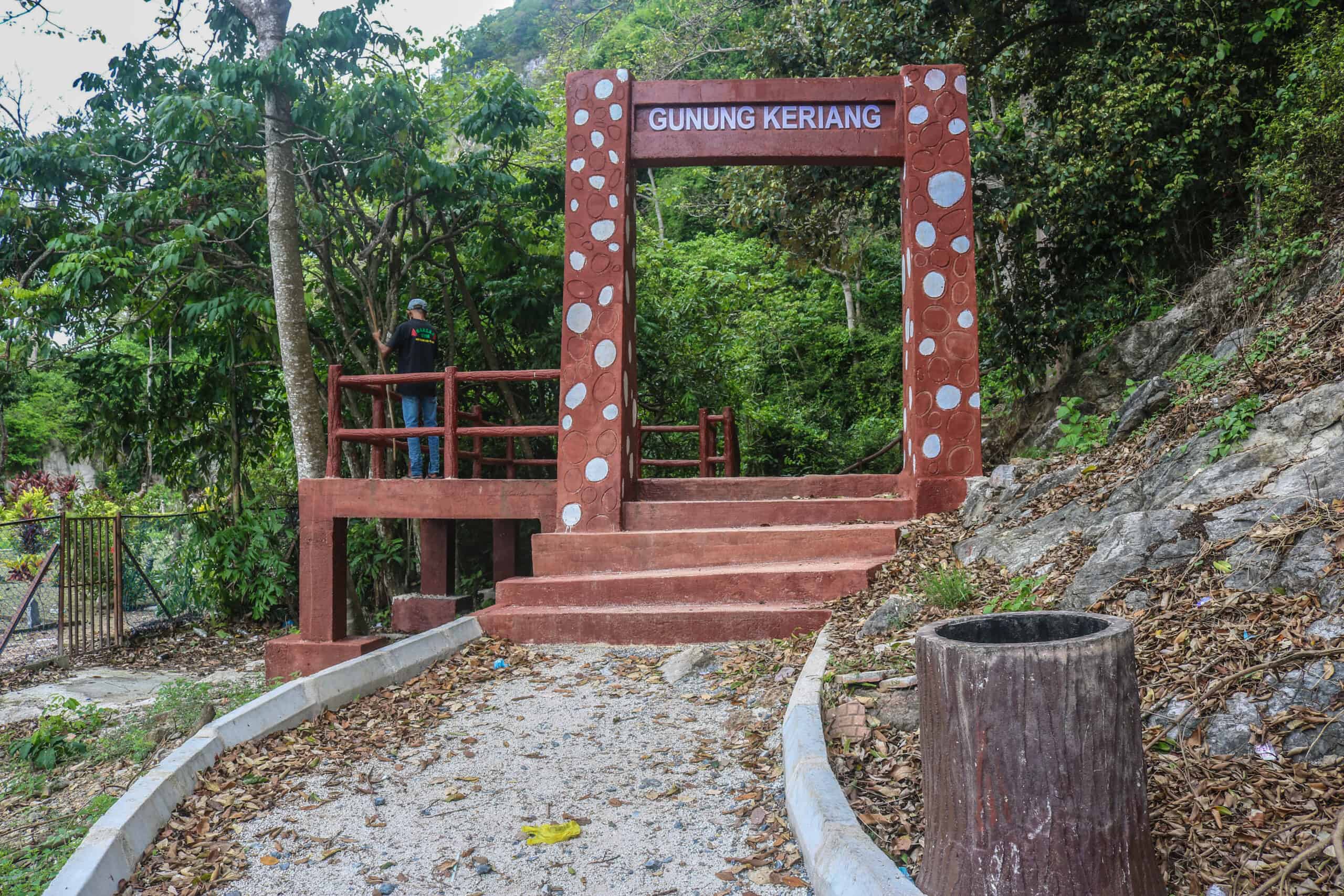 My new friend was easily in his mid- 50s and very agile. We were like the Tortoise and the Hare, with him gingerly sprinting up the trail and taking smoking breaks while he waited for me to catch up. I was cumbersome and not agile. Every step was new terrain for me and I proceeded with caution; a lot of caution.
I'm not a mountain girl, by the way, I'm from Florida where the largest hill I ever climbed was the interstate embankment. Where we would slide down on pieces of cardboard (in case you're curious).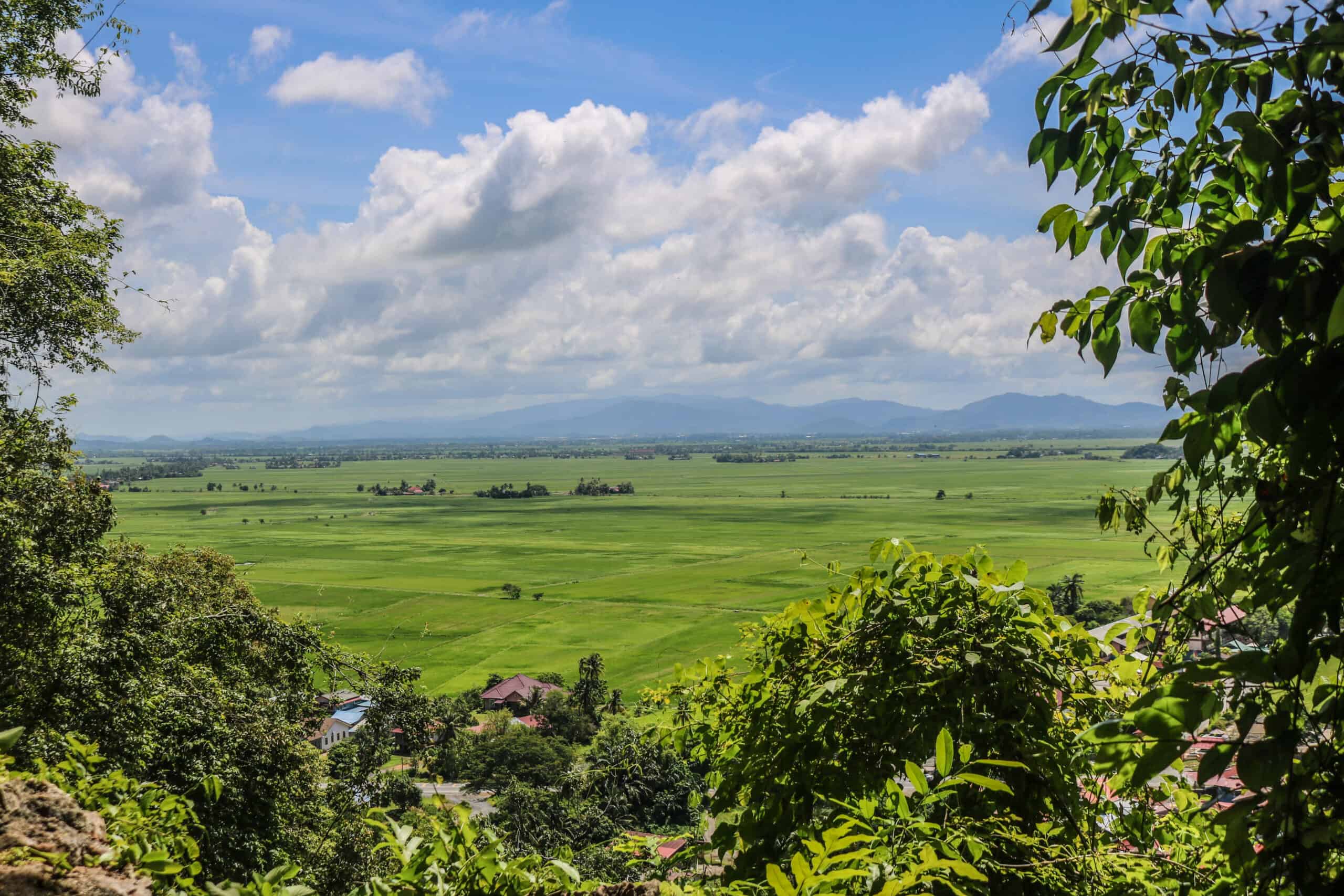 It was after noon when we started the climb and it was very hot. I tried to take photos along the way, not realizing how far I had to go. By most accounts, locals will tell you it takes "about 30-minutes" to get to the top. But one man's 30-minutes is another man's 90-minutes; or in my case 120-minutes. I may have been close to reaching to top, but I had an appointment elsewhere and unfortunately had to turn back due to lack of time. Yup, what a kook right?
However! I made it my mission to go back and conquer the mountain beast, hell or high water and I did just that.
On my third visit to Gunung Keriang I made it to the top. Don't laugh but although Gunung Keriang is only 218-meters high, to me it's my Mount Everest. It's steep, that mountain. It also has jagged rocks that can get very slippery, especially if it rains. And yes, of course it rained while I was up there. My glasses fogged up and the steamy jungle got dark and spooky. And like any well-trained Florida girl, I used my interstate embankment sliding skills in certain ultra-slippery spots to slide back down the mountain. Not a graceful descent, but I at least survived my mountain experience with pride and a sense of accomplishment.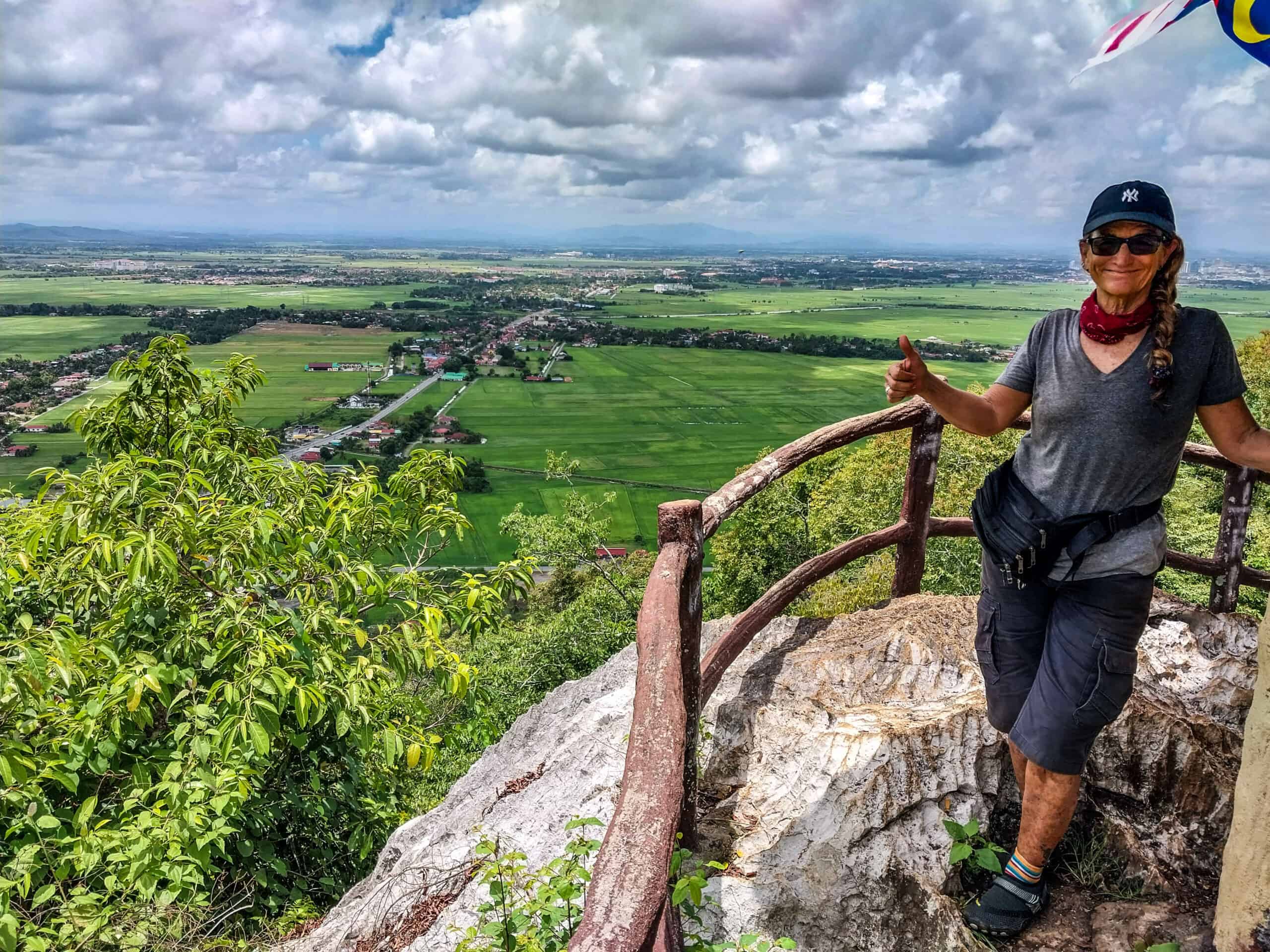 Climbing Gunung Keriang Mountain; You Can Do It!
Despite the fact that Gunung Keriang is only 218-meters high, it's not as easy as it may sound. It's not a gradual incline but a nearly straight up path to get to the top. The trail is fairly well marked but it is often over jagged rock 'stairs'. And there are a few rather steep drops adjacent to some areas. I'm no mountain climbing expert, but if you are a casual adventurer like me then my experience might come in handy for you.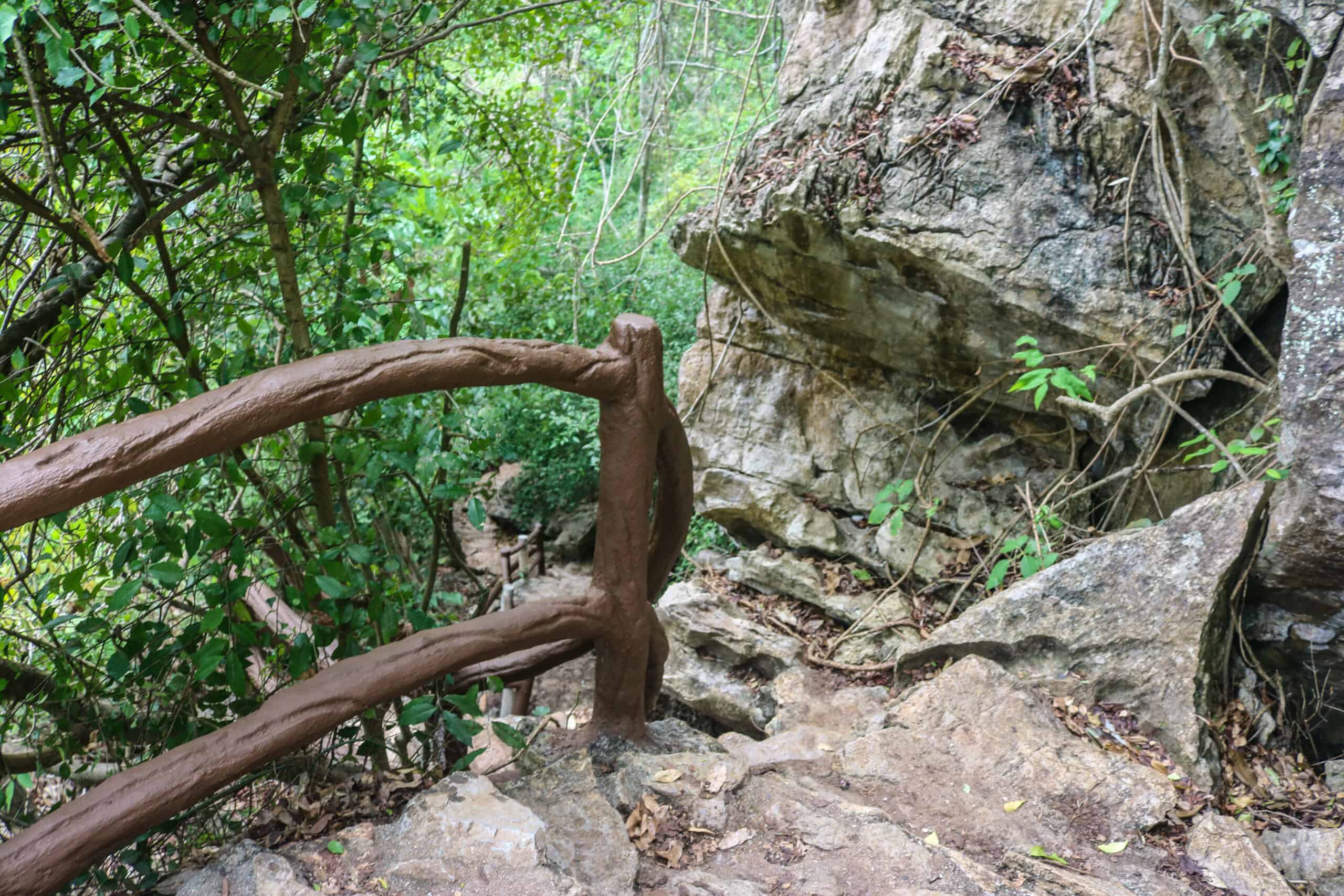 Like I said previously, the trail begins behind the cemetery and is well marked with an Instagram worthy photo-op sign. That first area is a gravelly, dirt path and well-placed handrails that can instill false confidence, because things get much more challenging further up. Soon you will come to your first rocky climb which includes a couple of metal handles sticking out of the rocks. If you can make it past this part easily, you'll probably have no problems getting to the top, just make note that there will be many more similar rocky barricades the higher you go.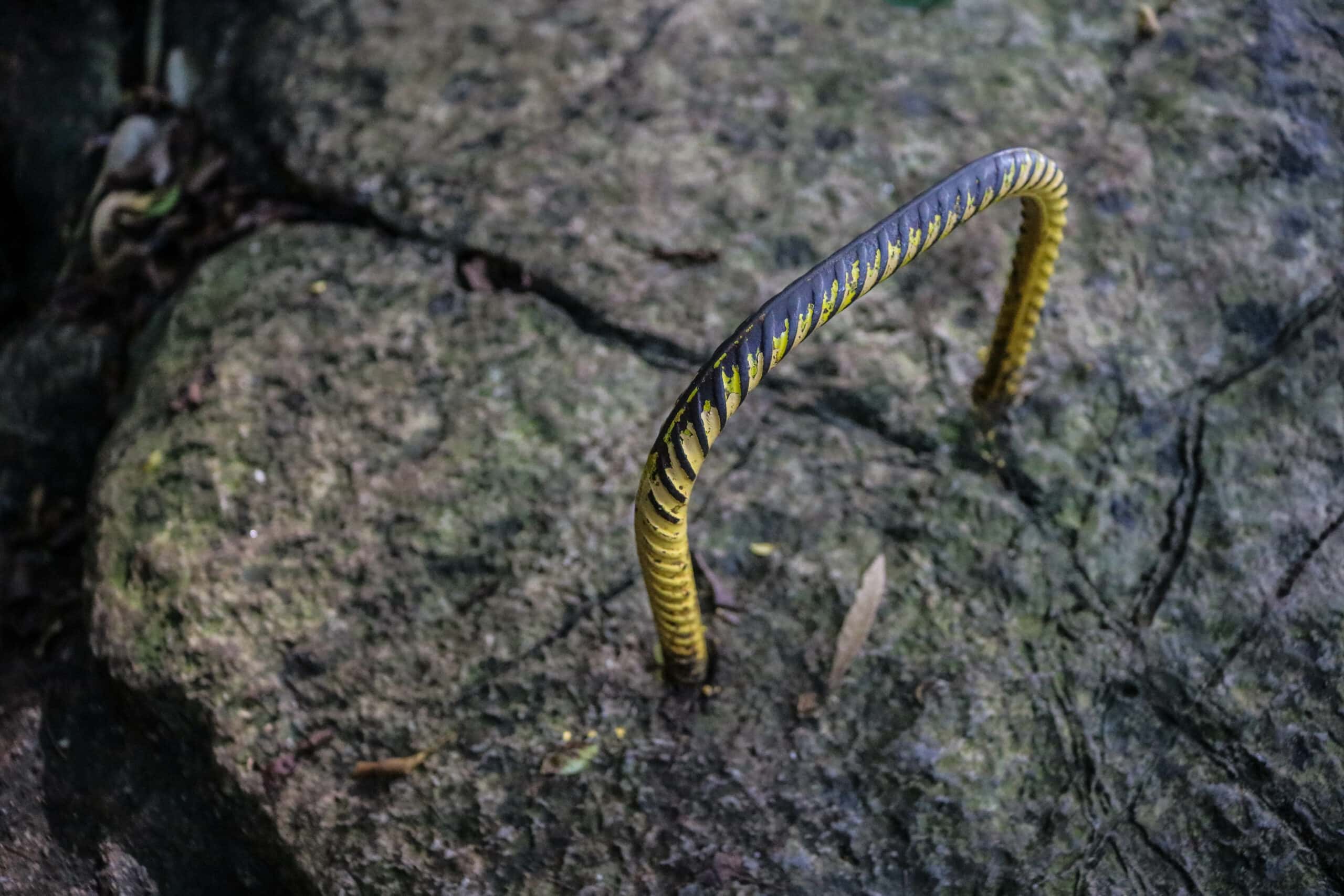 You can experience the climb/hike at various levels and be rewarded with beautiful scenic vistas along the way. There are even a few benches on the trail, making the adventure much more civilized and family friendly. Go to the top or turn around when you want because you'll still be able to bring home beautiful photos of the surrounding landscape and simply call it a day.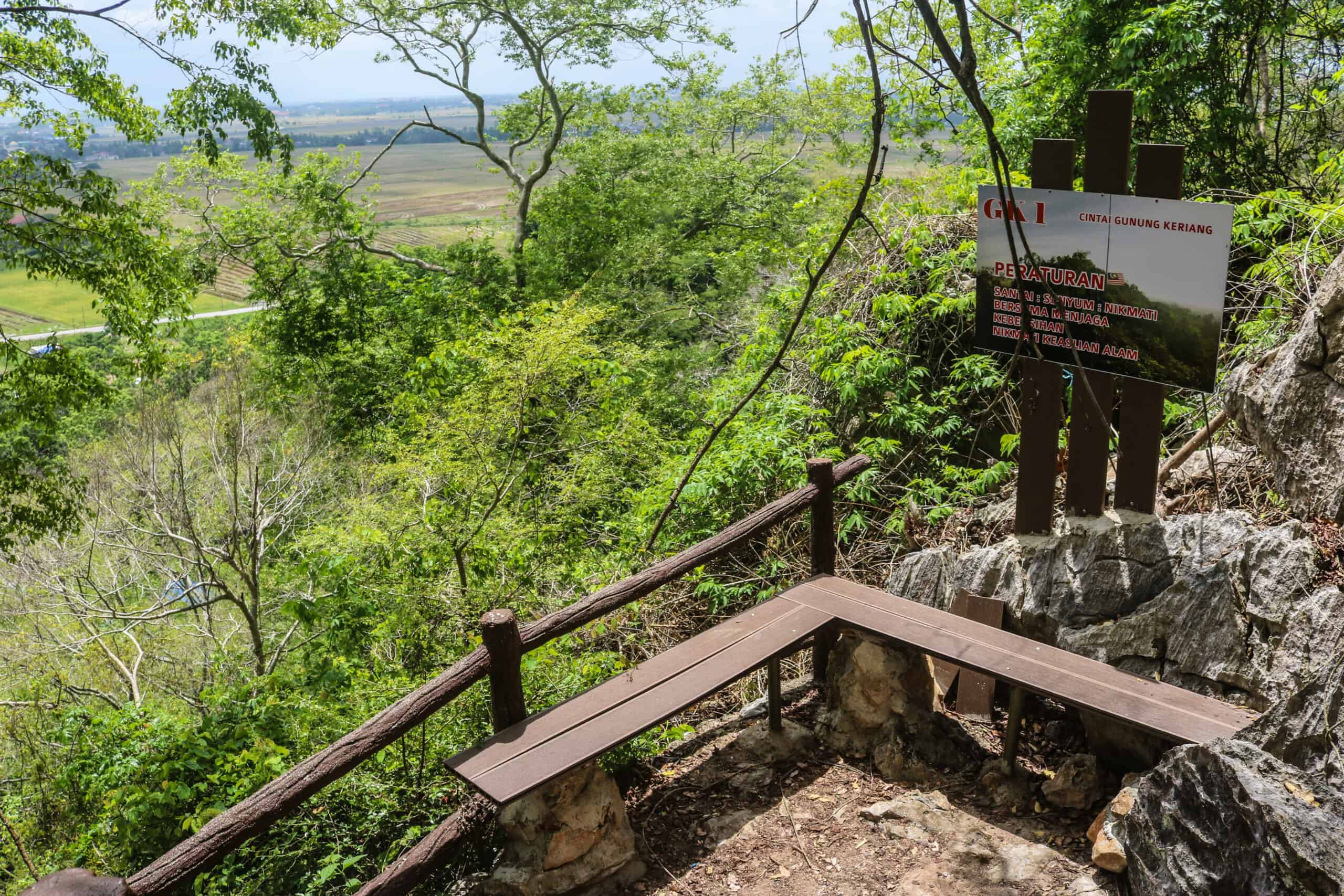 But if your goal is to reach the Gunung Keriang mountain top, be sure to keep your eyes open for rail bits and signs as those are trail markers. If you suddenly find yourself standing in dense jungle, you've gone off the trail. Scan the area carefully for where you should have gone instead. This happened to me a couple of times, so I know how easy it is; more so if you are alone.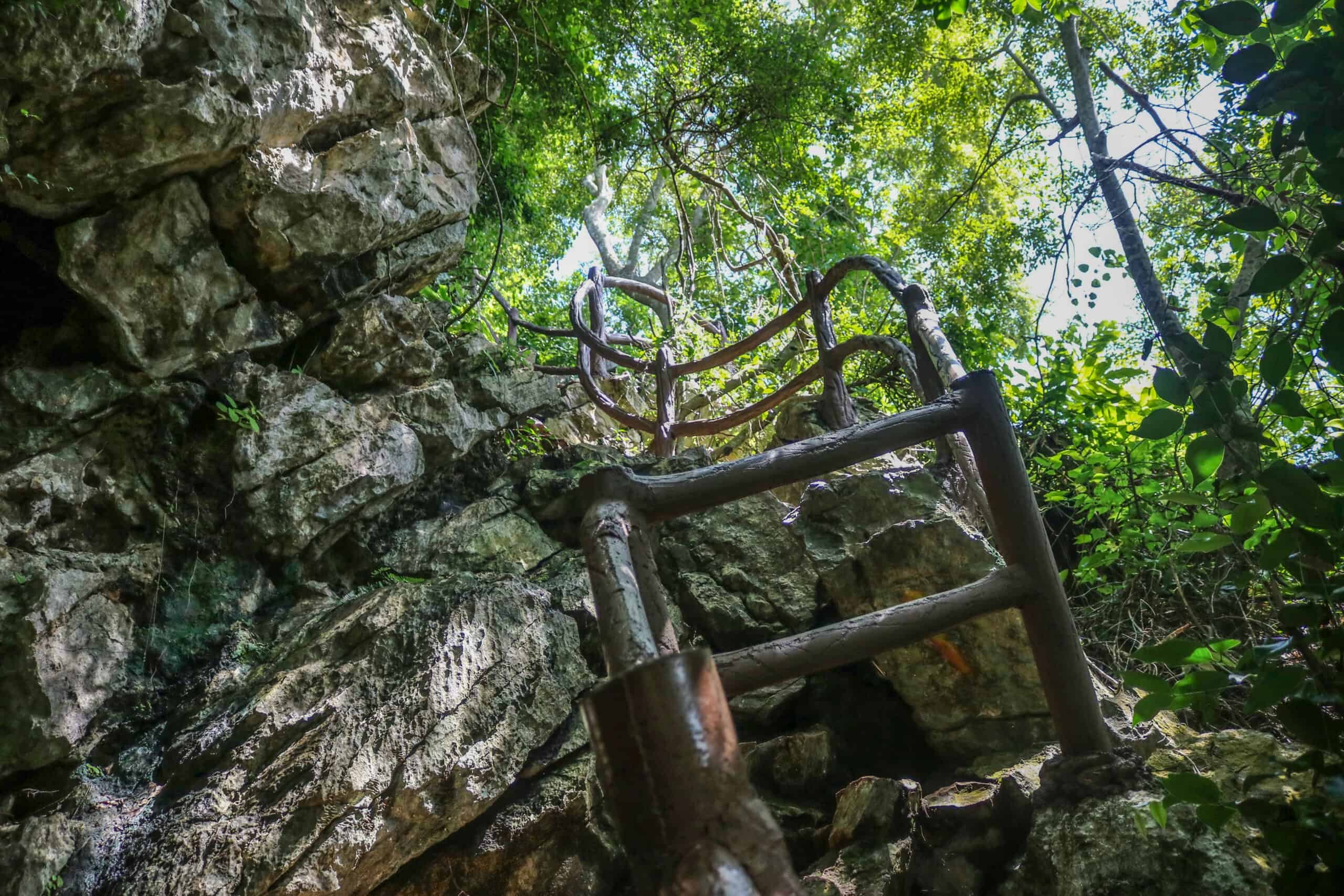 If you make it to the timber archway, you're about halfway. Now is a good time to decide whether you're up for the remaining challenge. Because remember what goes up, must come down and there are no elevators. This 'small' 218-meter hike is a workout!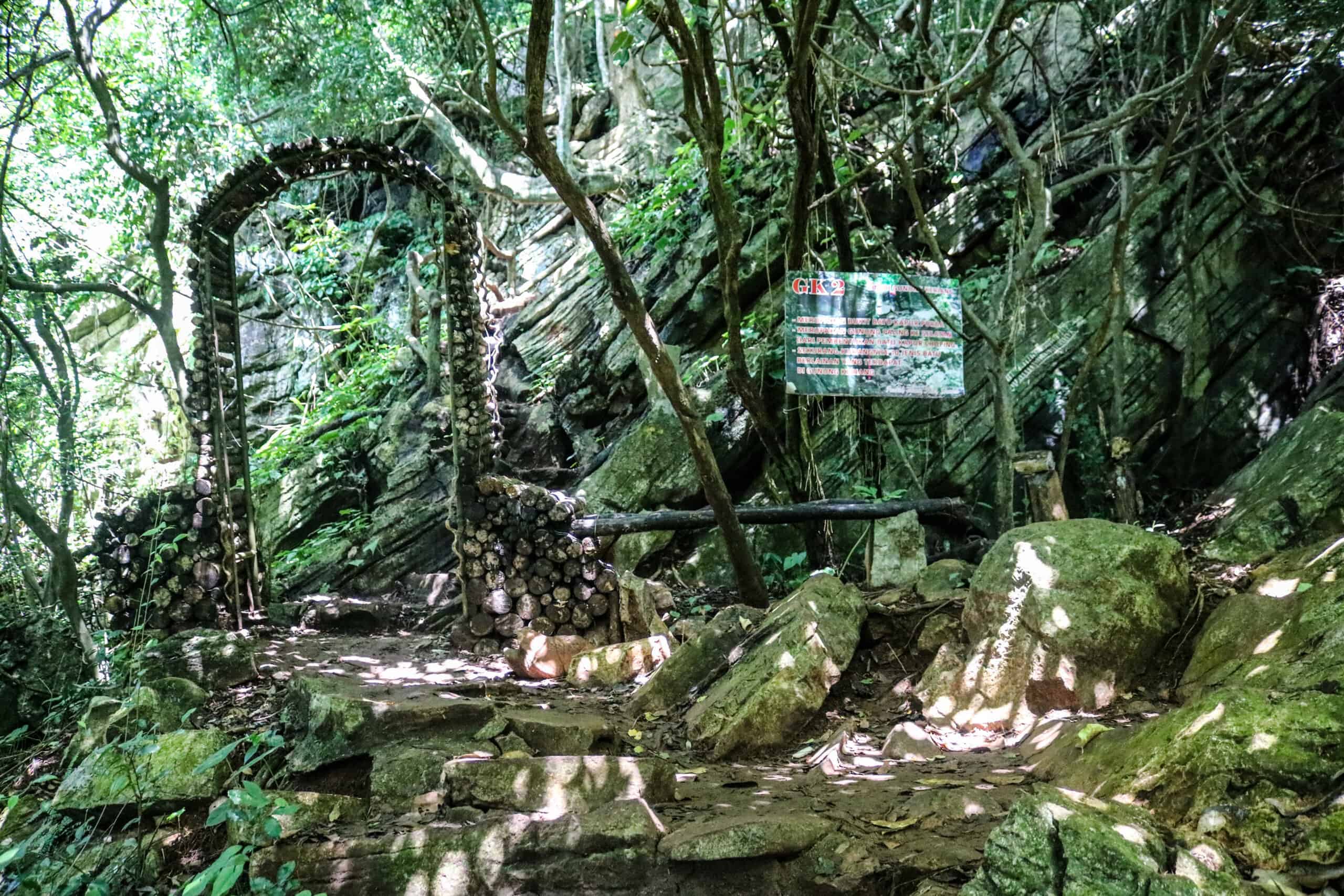 The good news is, that the famous cave that you may have heard about is not at the top of the mountain. I repeat, Gua Terus is NOT at the top of the mountain. Unfortunately it took me three visits to Gunung Keriang Recreational Park to know this, but never the less, the trail to Gua Terus cave is located before the midway mark.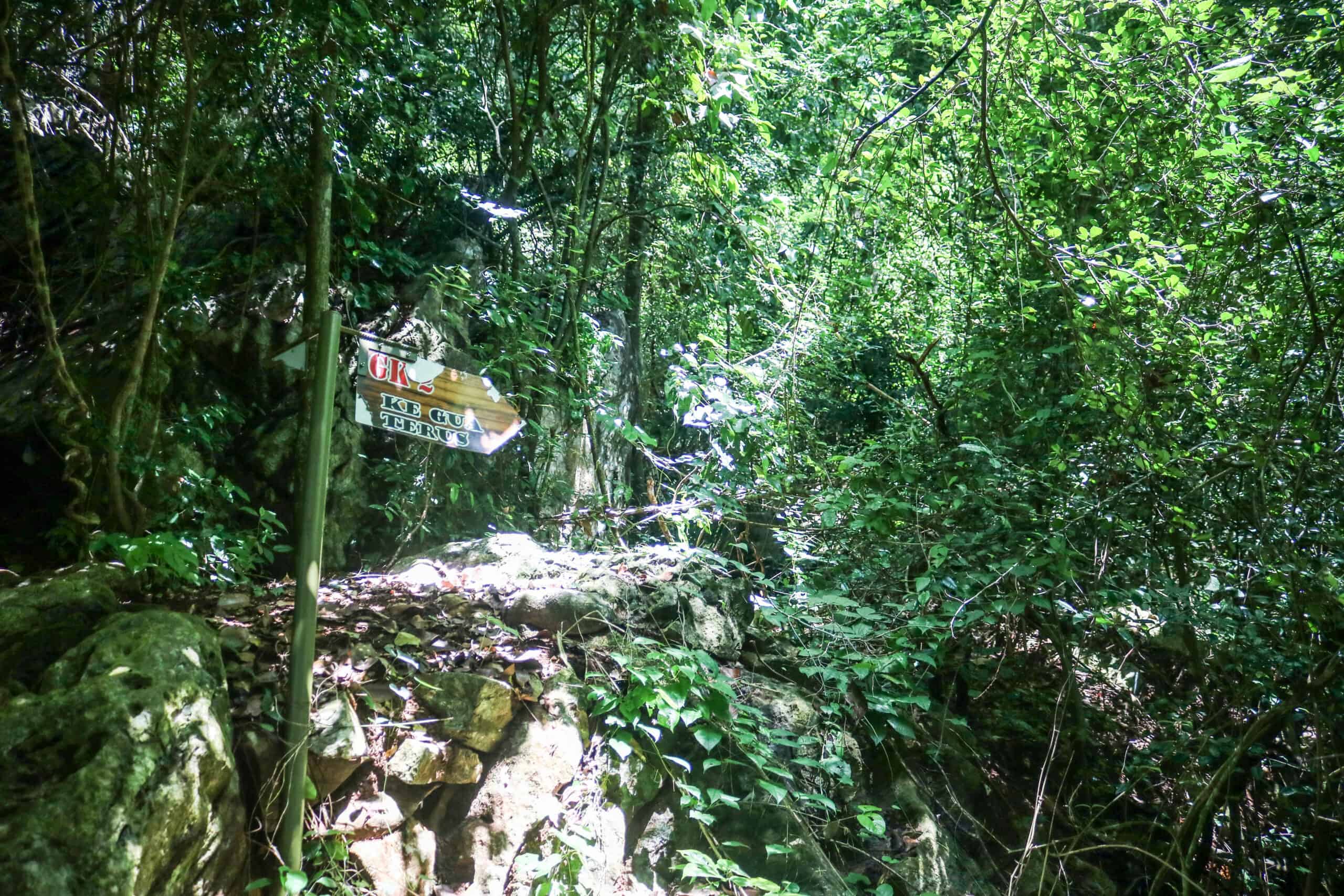 I had previously thought that the cave was at the top of the mountain as its crystals are quite famous. Why else would an elevator have been installed? But I was wrong, and only found out during my third visit. I was close to reaching the top and was invited to join a group of caving 'uncles' who passed me on their way back down. Tough decision, but my goal was still to reach the mountain peak.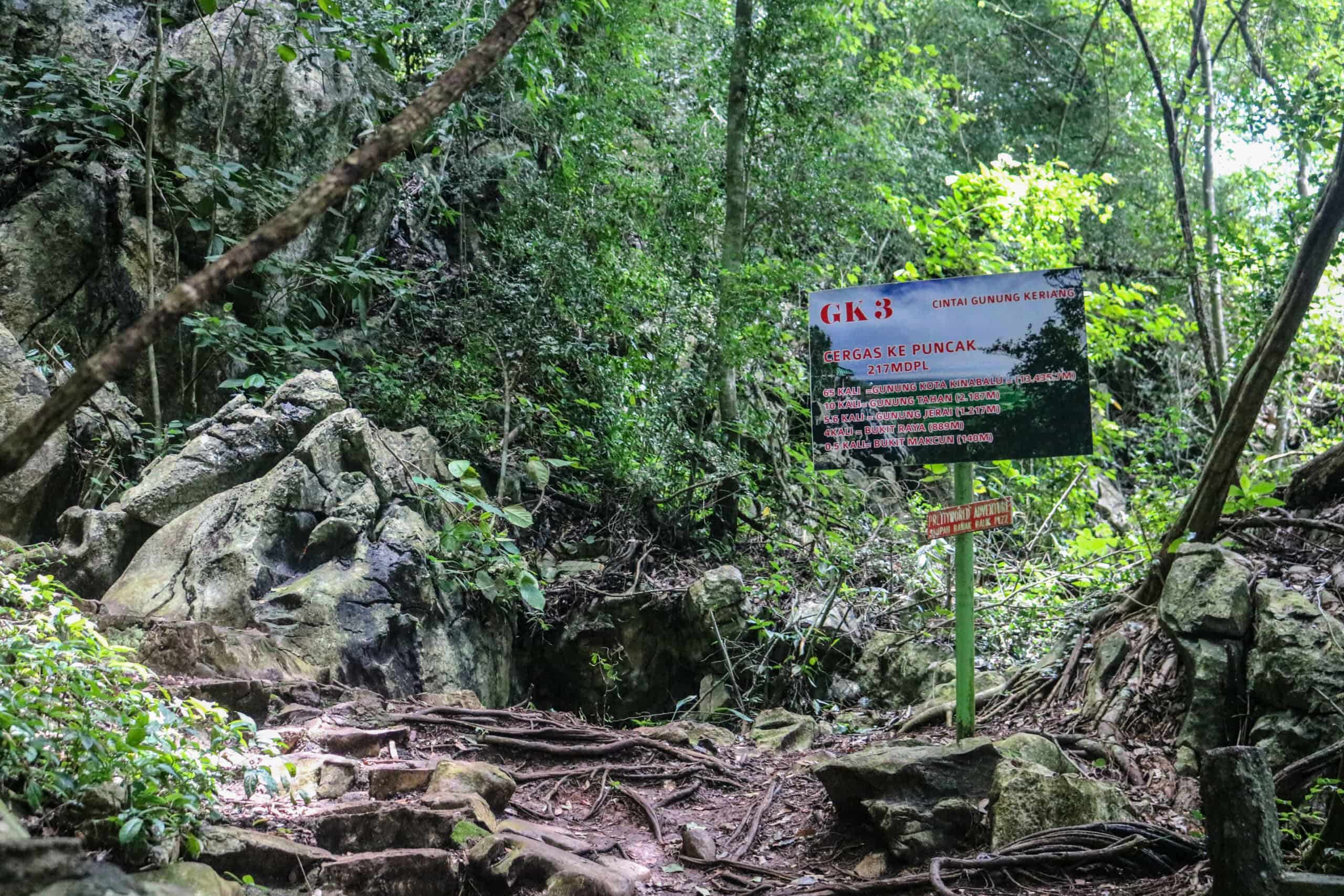 Maybe I could have caught up with them on my way back down, but unfortunately it started raining heavily and my new goal was to reach sea level alive. So, it looks like I'll be once again heading back to Gunung Keriang for the first hand Gua Terus experience so stay tuned!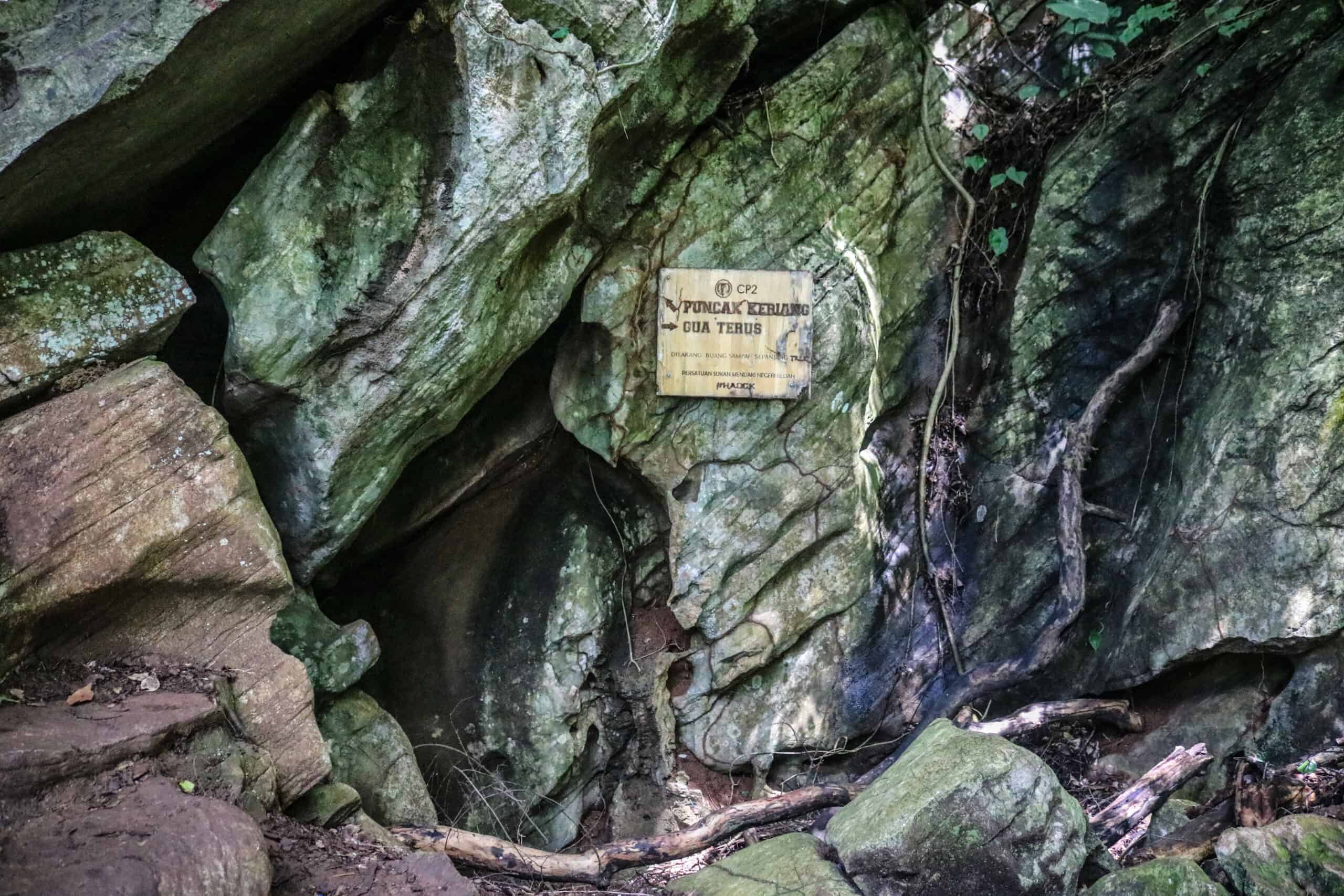 The solo climb to the top of Gunung Keriang took me about 2 hours. I was overly cautious and slow, and I also stopped to take photos along the way. The average person could probably skim an hour off of my time and guesstimate their own effort to take about an hour to reach the top.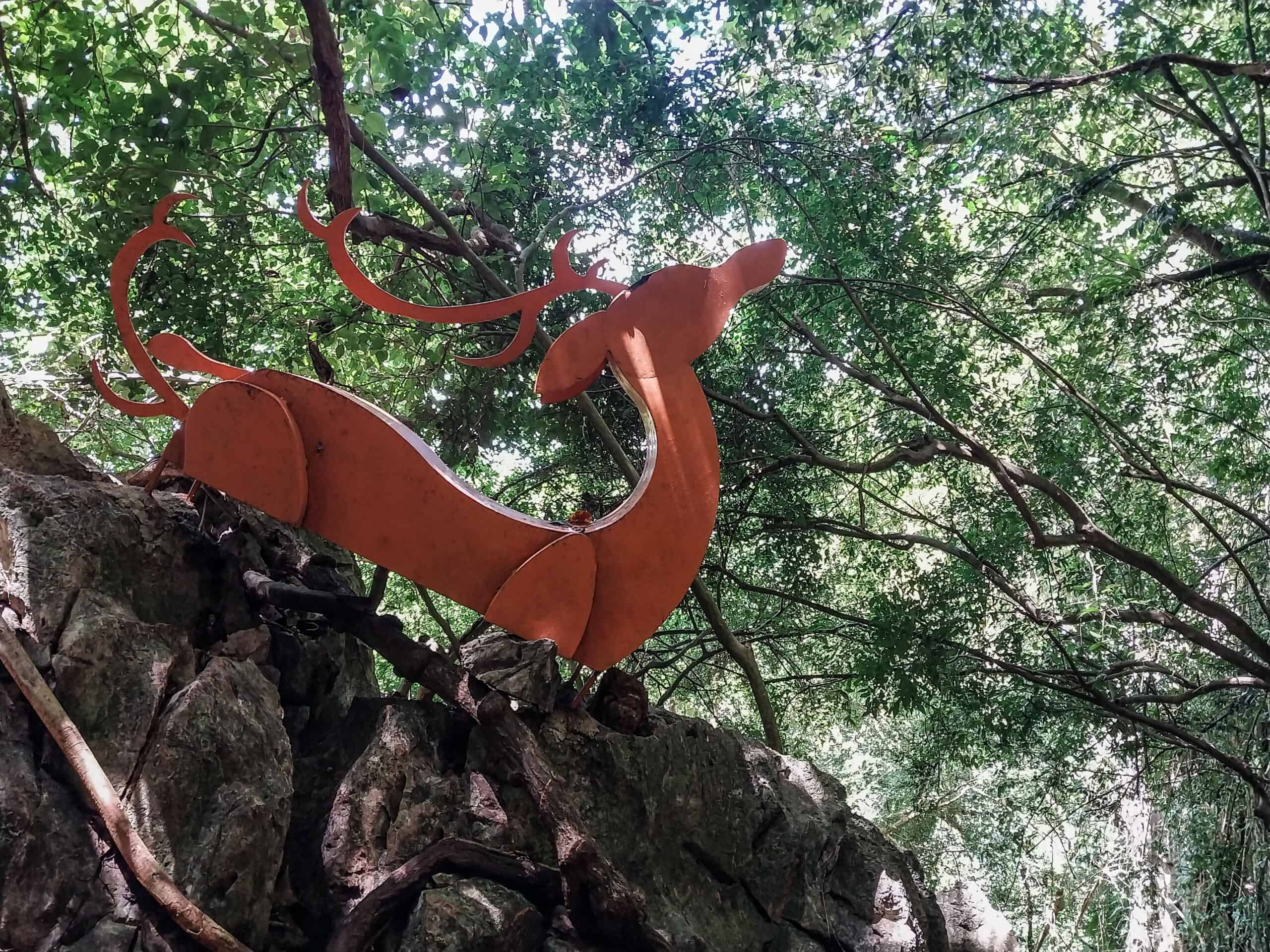 Be sure to leave yourself plenty of energy for the climb down! There is a cozy sheltered gazebo at the top of the mountain where you can take a comfortable breather or have a snack. Also keep an eye out on the distant weather, because getting stuck on Gunung Keriang in the rain is truly an unpleasant experience for a newbie.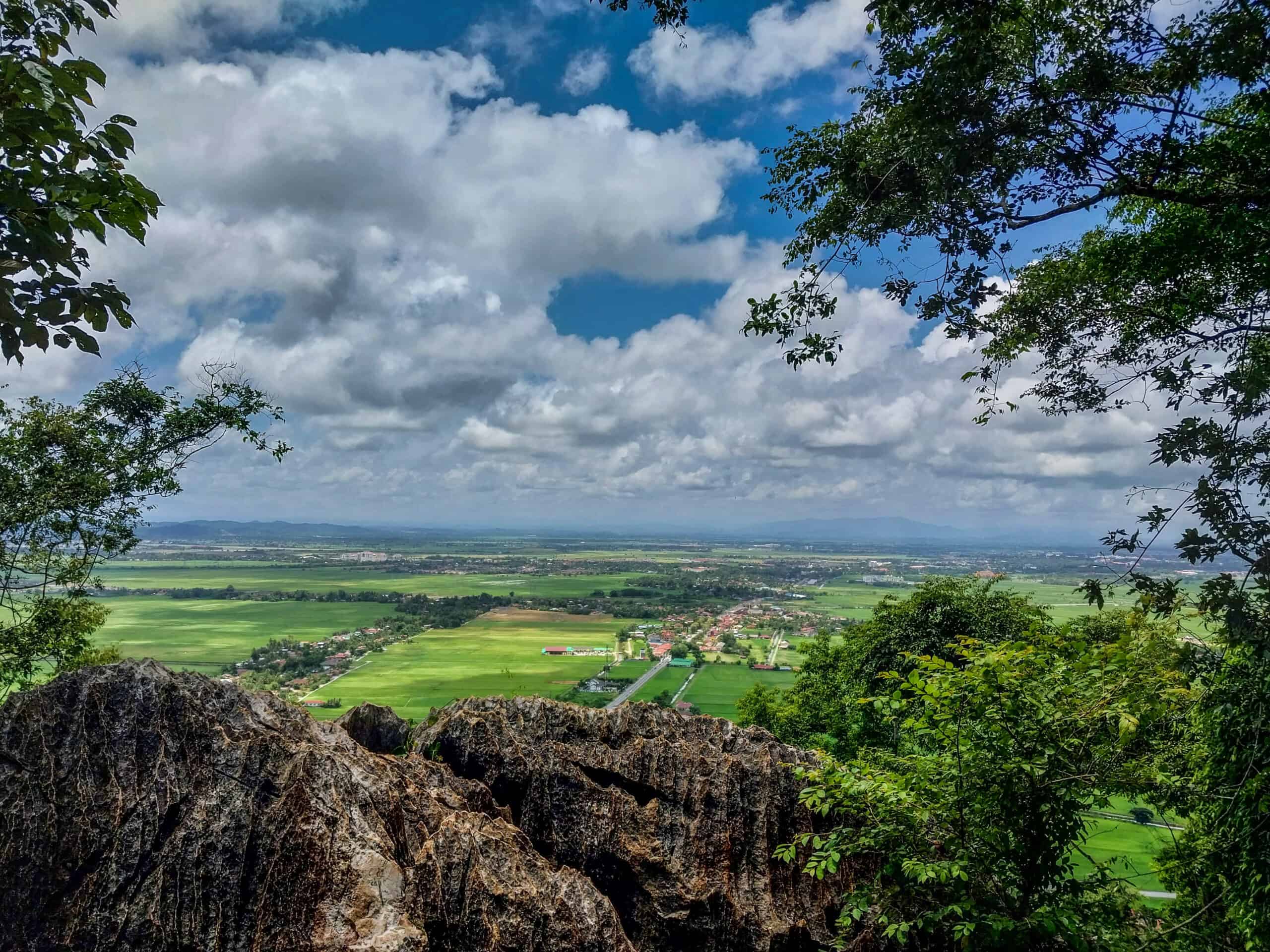 Gunung Keriang Safety Tips
Don't do this alone. If you plan on going all the way to the top it is foolish for first timers to go solo (like I did). If you are traveling alone and have no choice, then plan on going on a weekend morning. You will see plenty of early morning (8-9amish) hikers and you can simply ask them if you can tag along with them.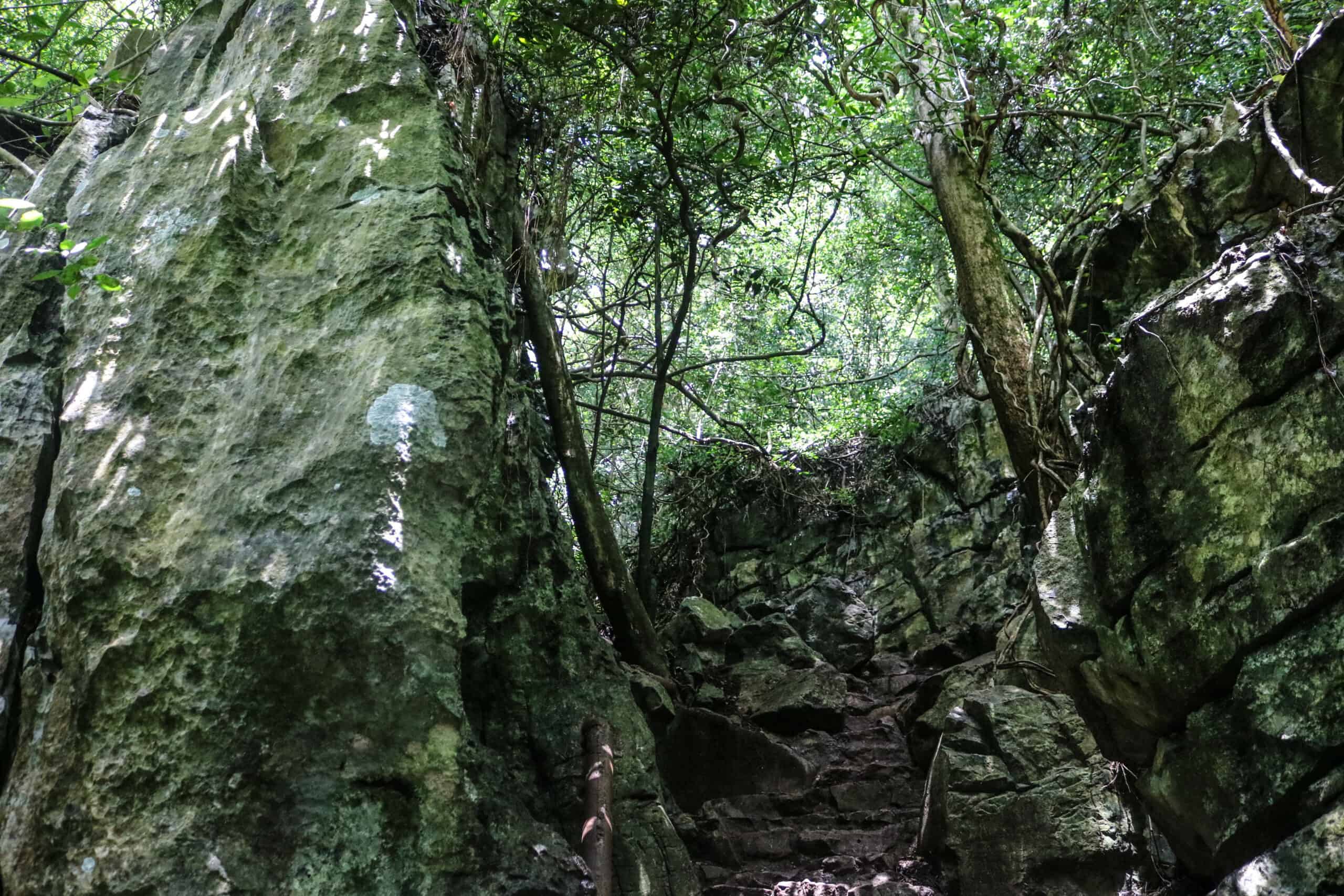 But look for a group that may be more on your physical level; I suggest those with younger kids, in lieu of brawny young lads wearing Columbia outdoor wear. You don't want to ruin anyone's outing because you are slow or God forbid, they leave you in the dust in the middle of the jungle.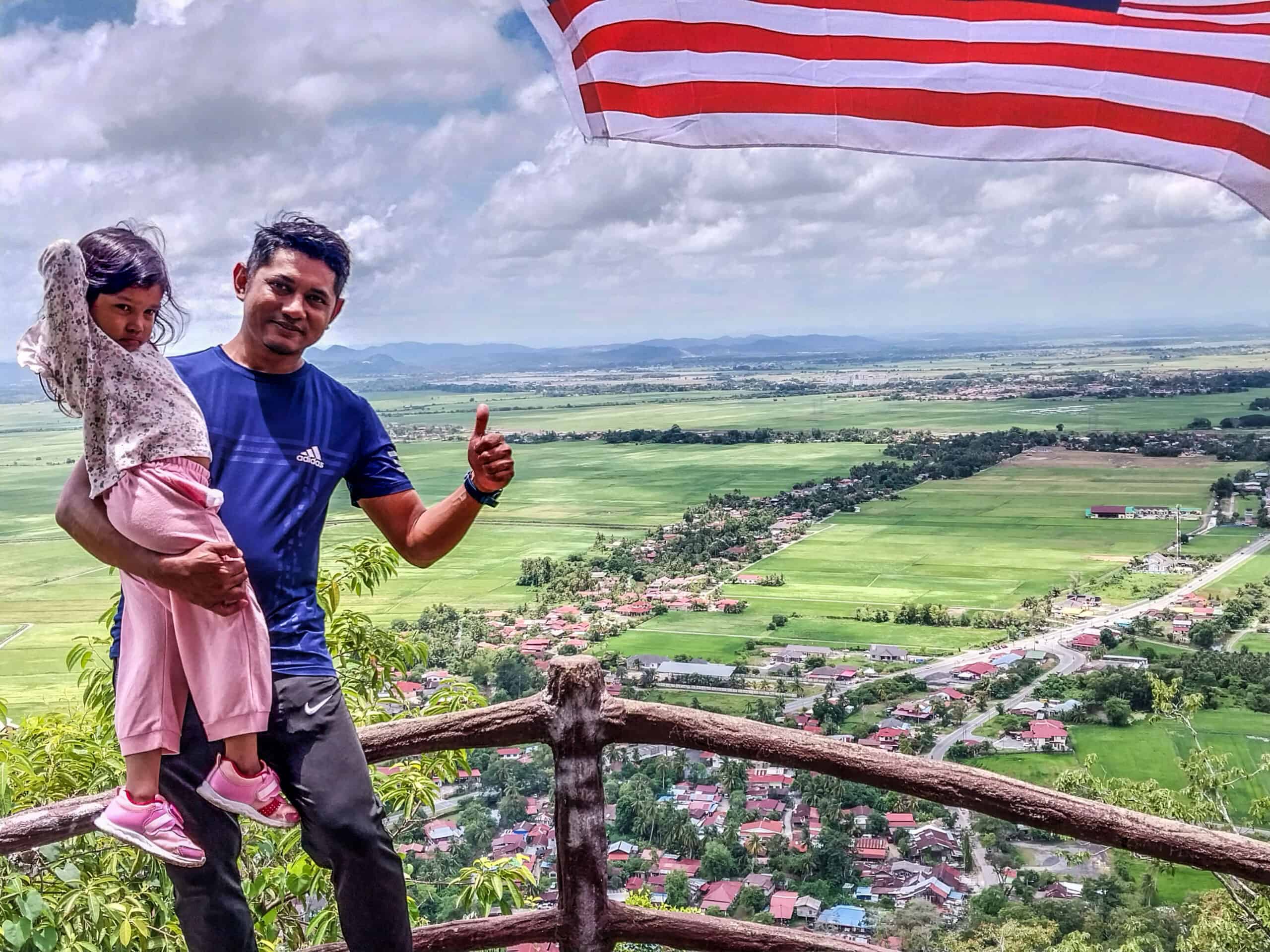 If you are keen on visiting Gua Terus, it would be advisable to go with a local expert. You can call Mr. Abdull Rahman Bin Hussin to inquire about guided tours to the cave; his number is 017-445 5059/ 019-492 2508. He also has an office on the premises.
What To Wear and Bring
Your agility is important and lugging 'stuff' will definitely slow you down, as well as create a safety issue. I think the key is to keep your center of gravity balanced. I found that the closer to my waist I carried extra weight the easier it was for me to move and keep my balance. Camera slinging around my neck or an ill placed backpack made me feel off-balanced.
In hindsight, I did some things correctly (not bad for a newbie) and other things I did wrong. My heavy camera was straight up a pain in the butt, but a spacious fanny pack worked well. Be sure it's of decent quality though because if the zipper breaks it can be a big problem.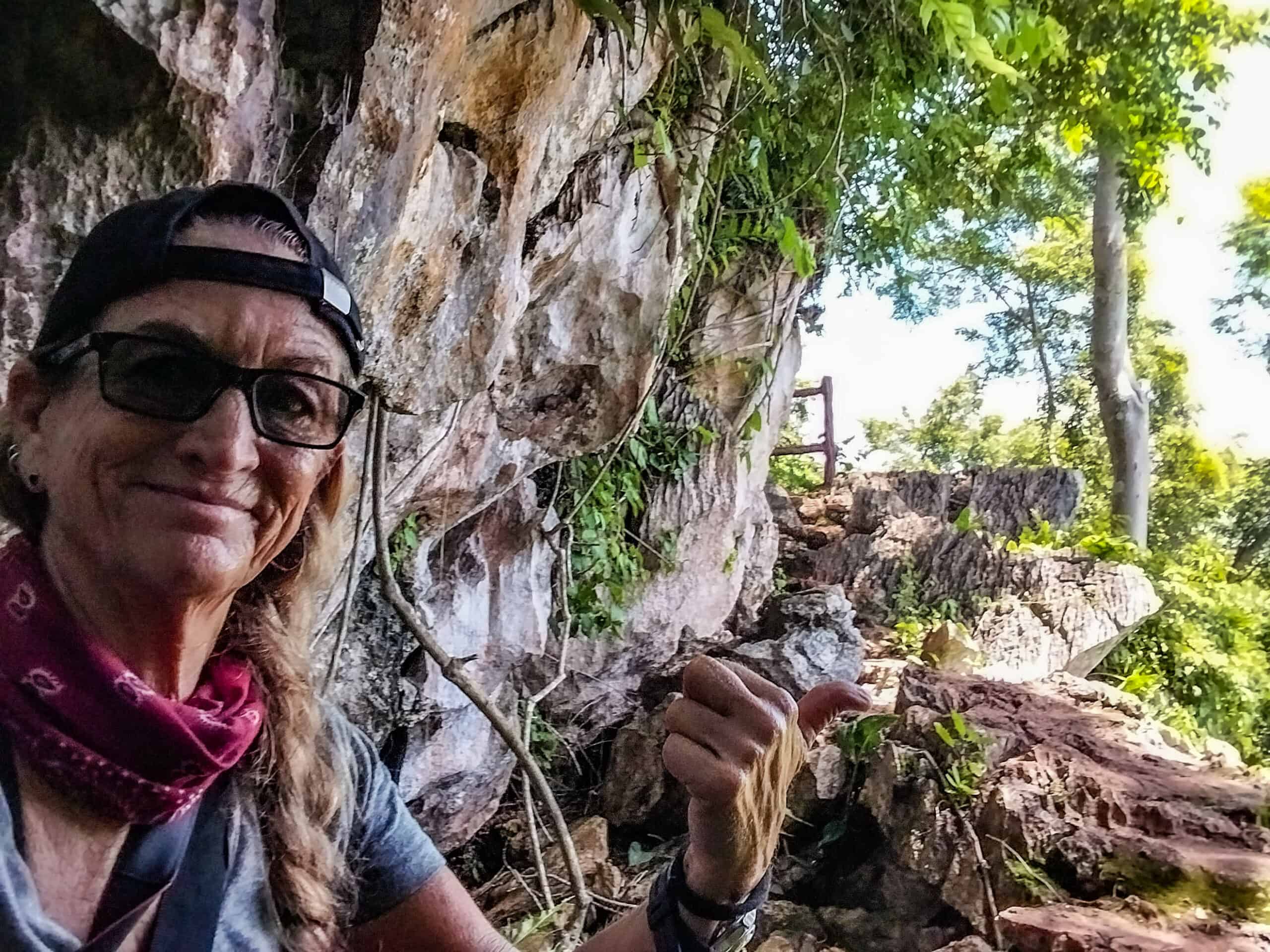 I wore cargo pants for my climb, which became very heavy in the rain. But had I been wearing something more lightweight, they would have been shredded to bits from my multiple rocky butt sliding descent. Surely there is a happy medium in the outdoor fashion world, so just keep that in mind.
What footwear did I use? I opted for a pair of inexpensive water shoes with Velcro straps and they were excellent. They buffered my feet from the sharp rocks but I could still feel various edges with my toes. Most of the folks I saw on the trail were wearing regular sports shoes, but I personally don't trust the grip of sports shoes when it comes to rocks. Never have and never will.
Things to Consider Bringing Just in Case:
*Bug Spray
*Rain Poncho (compact size but not too 'cheap')
*Small Flashlight
*Water (small lightweight bottle)
*Energy Bar/Snack
*Some Heavy Duty Twine
*Small Roll of Duct Tape
*Lighter/ Matches
Oh, and one more thing. If you are alone, be sure to let someone know your Gunung Keriang plans, even if it's just a shop keep or the front desk of your hotel. Let them know what time you are expected back. Yes, I lean a bit towards the darkside, but better safe than sorry, no?
How to get to Gunung Keriang Recreational Park
If you don't have your own transportation, you can call easily call a GRAB taxi for about RM15 (one way) from both Alor Setar and Kuala Kedah Ferry Jetty. The distance is about 8 to 12-kilometers either way, depending on your driver's route. Don't complain about that taxi fare because it's a bargain. Convenient too.
My Gunung Keriang Bucketlist
My intrigue of Gunung Keriang initially came after I visited the nearby Kedah Paddy Museum What's especially cool about this museum is the massive 360-degree painted mural of Kampung Gunung Keriang, which was painted from the vantage point of Gunung Keriang (mountain). The mountain top view of the Gunung Keriang and Alor Setar landscape and community life is painted in almost voyeuristic detail too.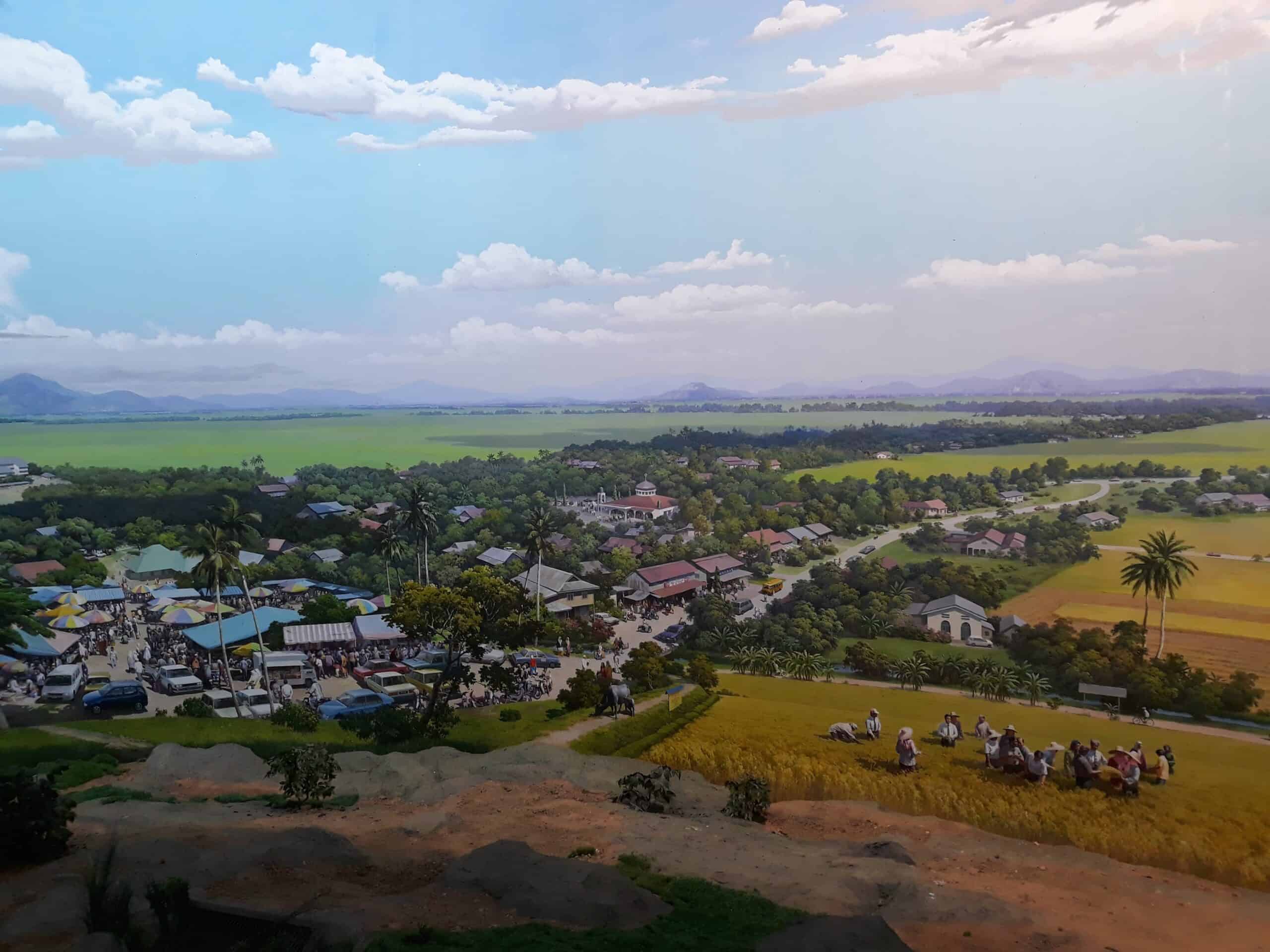 The mural is 8 meters high and 103 meters in length and is the work of 60 North Korean artists who spent two years living in nearby villages as part of their pre-mural research. The visiting Korean artists were able to complete the entire mural within 6 months; just in time for the museum's grand opening in October 2004. Another must visit if you're passing through the Alor Setar area.
For more information on Alor Setar: First Time Visitor's Guide to Alor Setar, Malaysia