Domitys Bangsar had me from hello (and their unique advertising campaign). It was the image of a group of goggle wearing, 'older' folks toting water guns storm trooper-style, that initially caught my eye. My 50 plus peer group. My social media feeds are generally filled with so many images of young faces, that it becomes easy to forget that people over age 50 even exist anymore.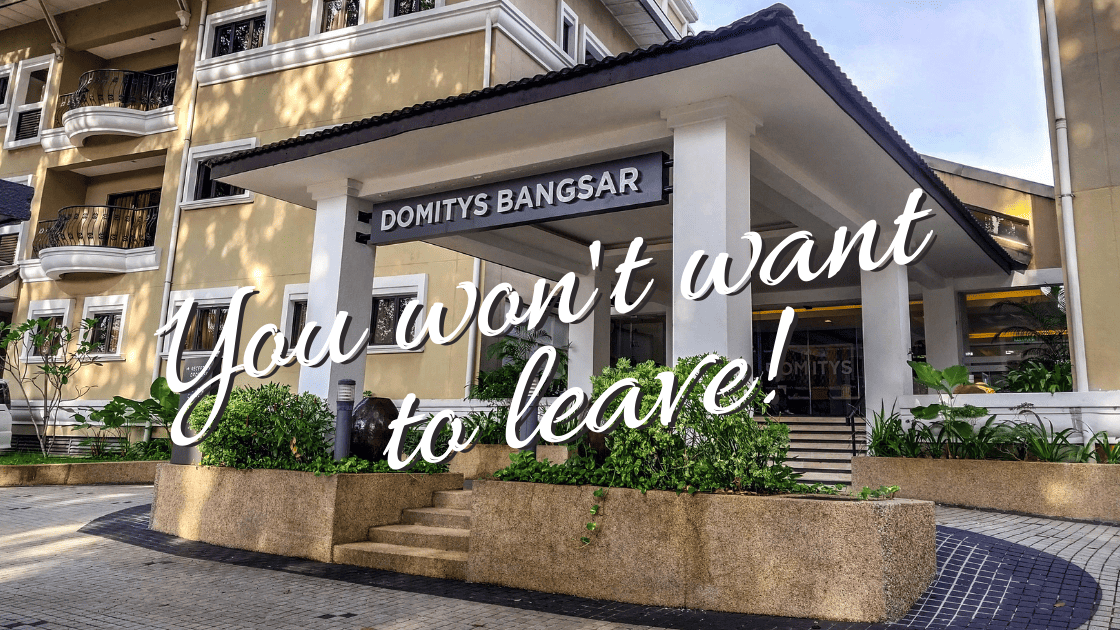 According to some marketing experts, we apparently don't do much, thus not worthy of being a target audience. We don't eat out, we don't go to theme parks, we don't buy beauty products, and we most certainly don't travel. Beyond the #over50andfabulous type hashtags of a few, 'we' are often invisible. But not to Domitys Bangsar. I was definitely intrigued.
The Domitys brand was founded in France and with the help of The Ascott Limited has now expanded their senior living expertise to Southeast Asia, with Kuala Lumpur being their first stop. Domitys Bangsar is Ascott's first senior living residence, but they also offer their rooms up to others looking for comfortable short- or long-term accommodations; business people, medical tourists, expats looking at the Malaysia My Second Home program and even those who are just on holiday.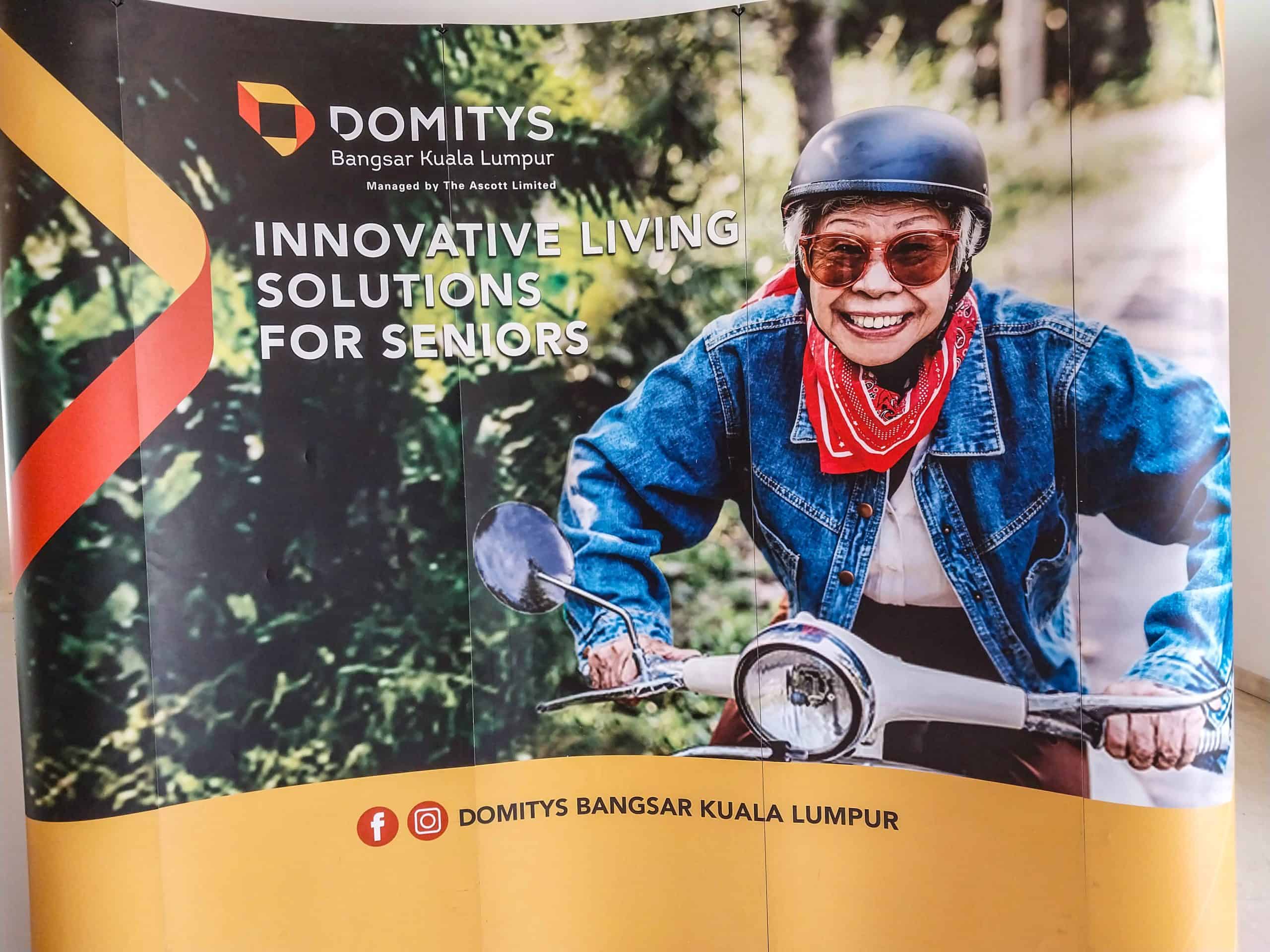 'Active Seniors' is the term Domitys Bangsar uses to describe their target audience and potential residents, but there is no specific age requirement. The beauty of Domitys is that they are senior friendly, meaning that their rooms and grounds are designed with the comforts and conveniences older folks might want. So, like the good active senior I am, I went to check them out in person.
Bangsar is one of my favorite neighborhoods in the Kuala Lumpur area, as it has two excellent shopping centers as well as many cafes, specialty services and shops. Domitys is just a short walk (or RM5 GRAB taxi ride) from it all. The nearest airport is Sultan Abdul Aziz Shah Airport, which is conveniently just 17-kilometers away. A win-win accommodation location in my book.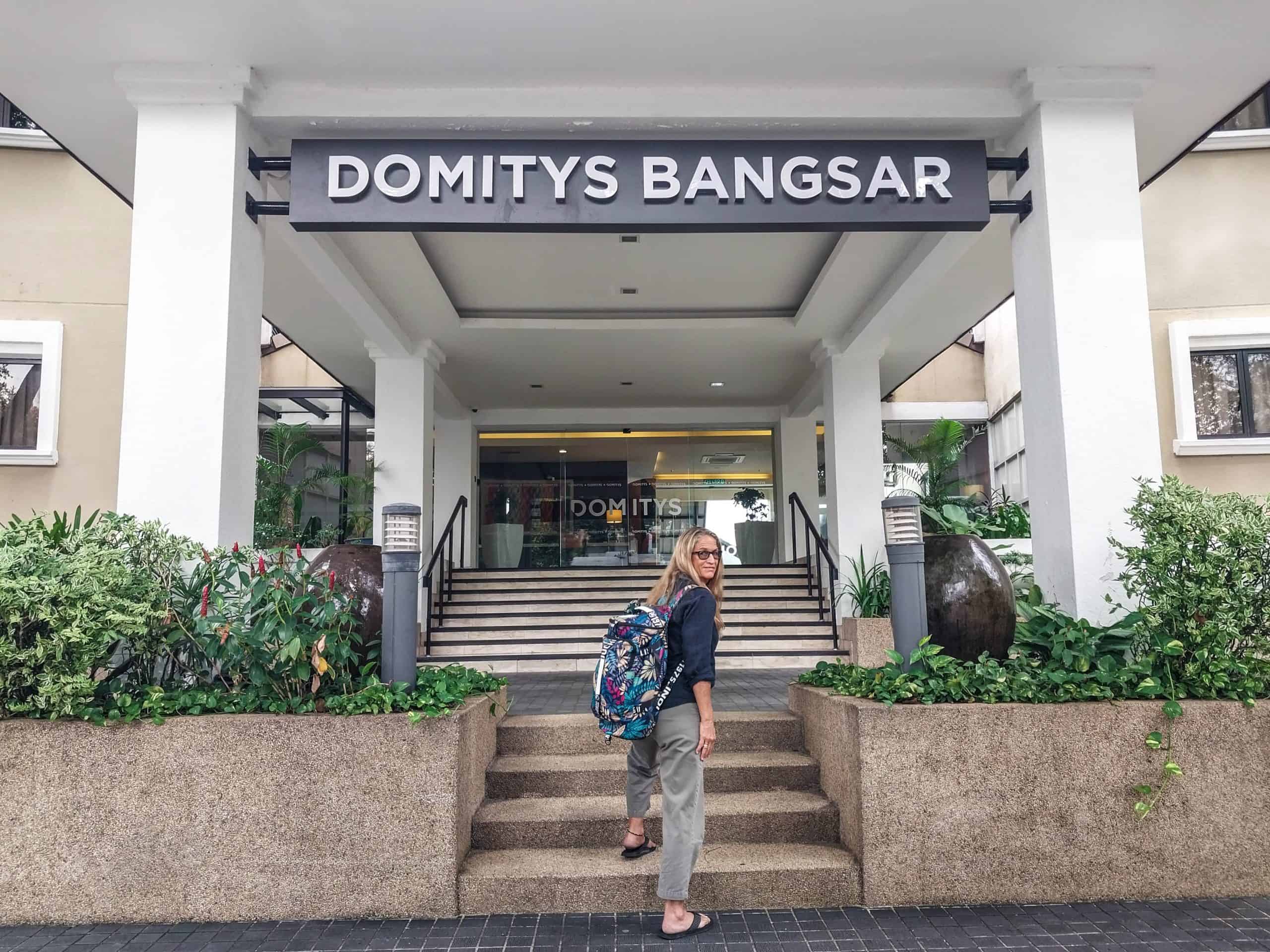 Checking in at Domitys Bangsar
On arrival to Domitys, I was pleasantly surprised. To be honest, I had expected something completely different. I had expected a western version of a retirement 'home' (aka 'old folks home') as I have visited plenty of them throughout my past medical career. Domitys Bangsar is definitely not an old folks home, it is flat out divine. A luxury retirement villa if you will. And I fell in love with my apartment immediately.
I stayed in a One-Bedroom Premier apartment, but Domitys has five types of rooms to choose from; One-Bedroom Deluxe, Two-Bedroom Deluxe, Two-Bedroom Premiere, and Three-Bedroom Premier. All Premier category apartments are equipped with a fully furnished kitchenette, air-conditioning, a refrigerator, satellite TV, fast WIFI and much more.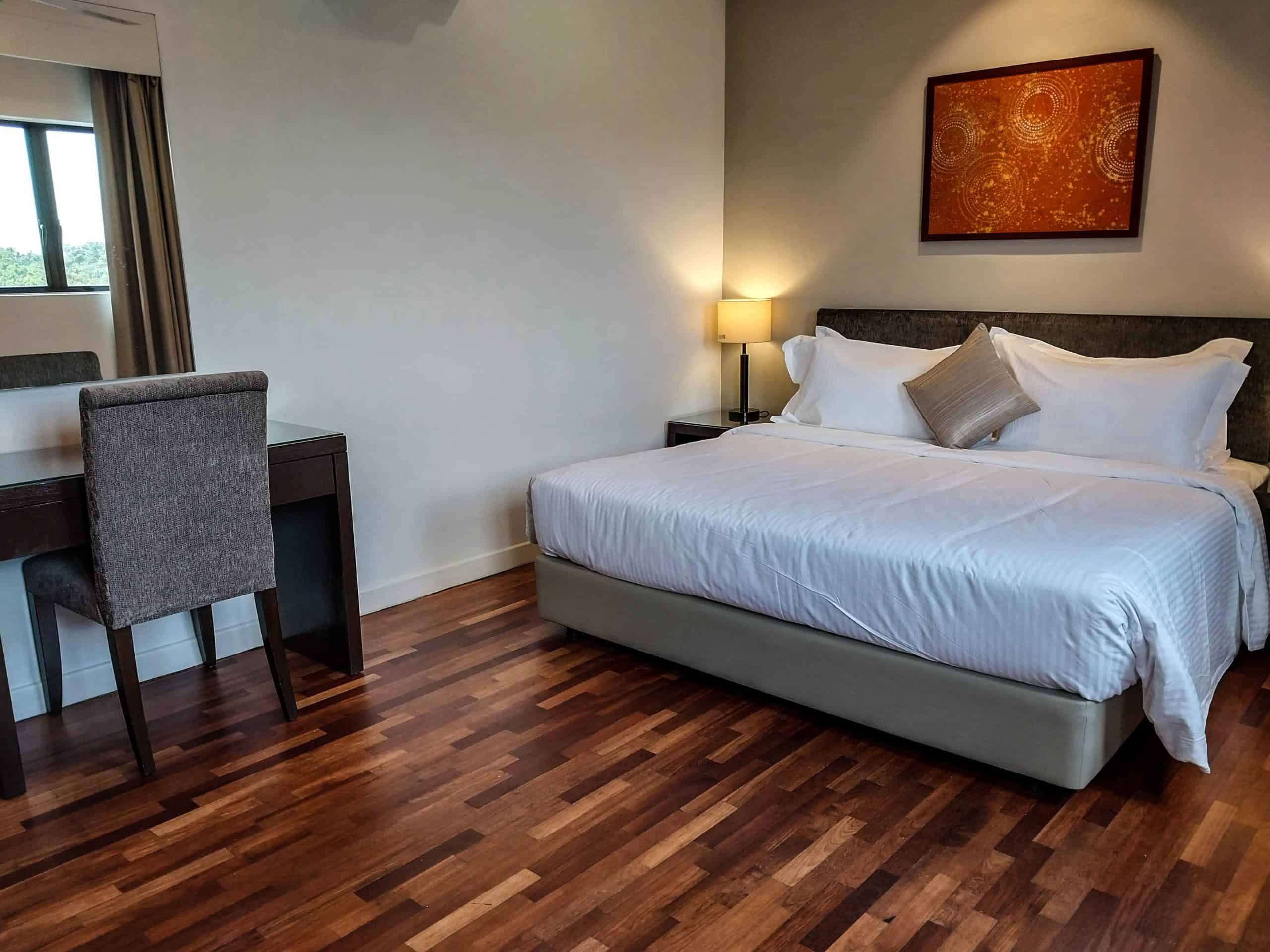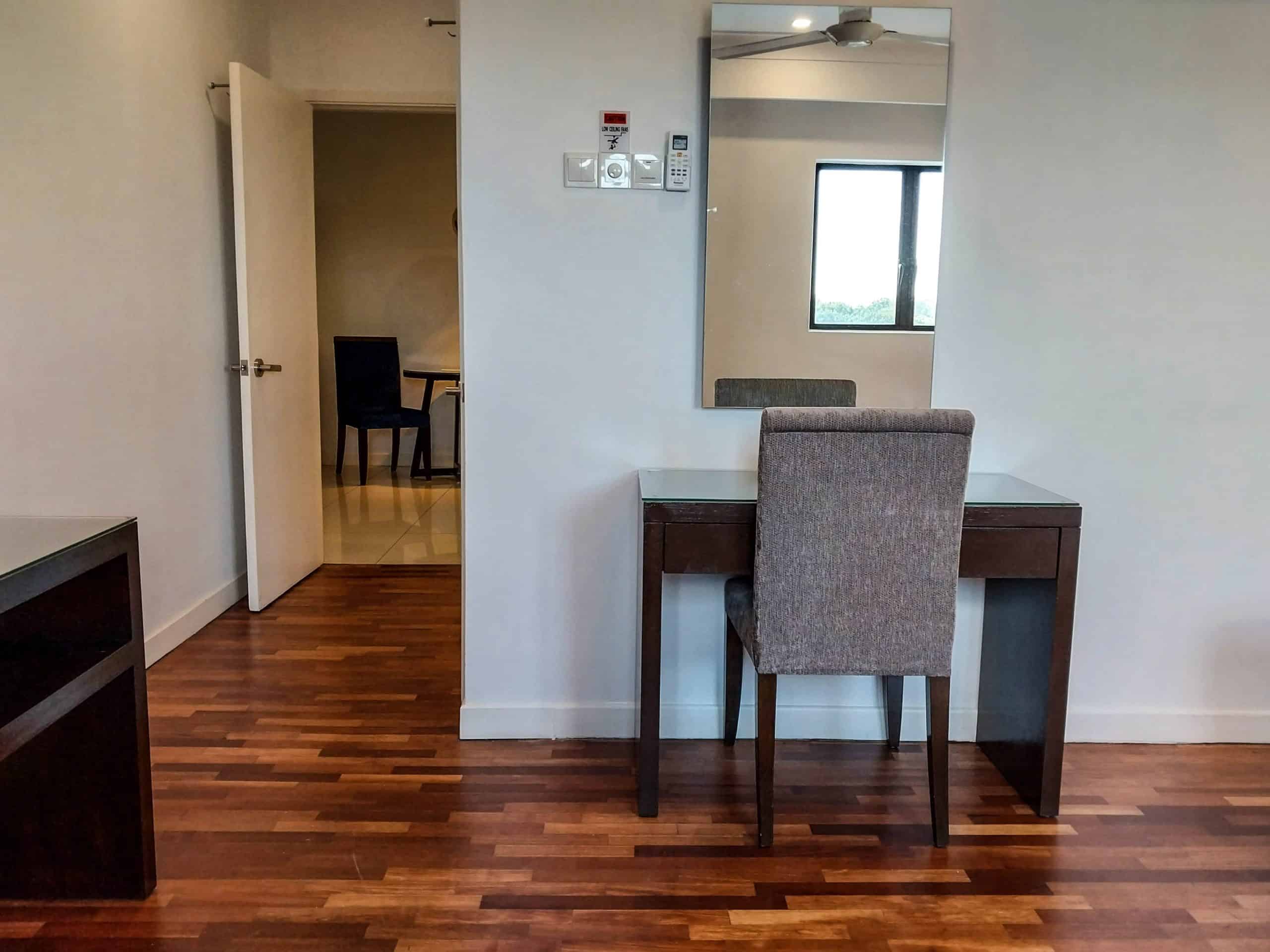 My One-Bedroom Premier seemed luxuriously massive to me. With about 58-sqm floor space, there was enough room for two people to tango from room to room despite being fully furnished. It was also quiet, clean as a whistle and I had privacy. The hardwood floors and earth-toned decor gave my apartment a relaxing airy ambiance that I can appreciate.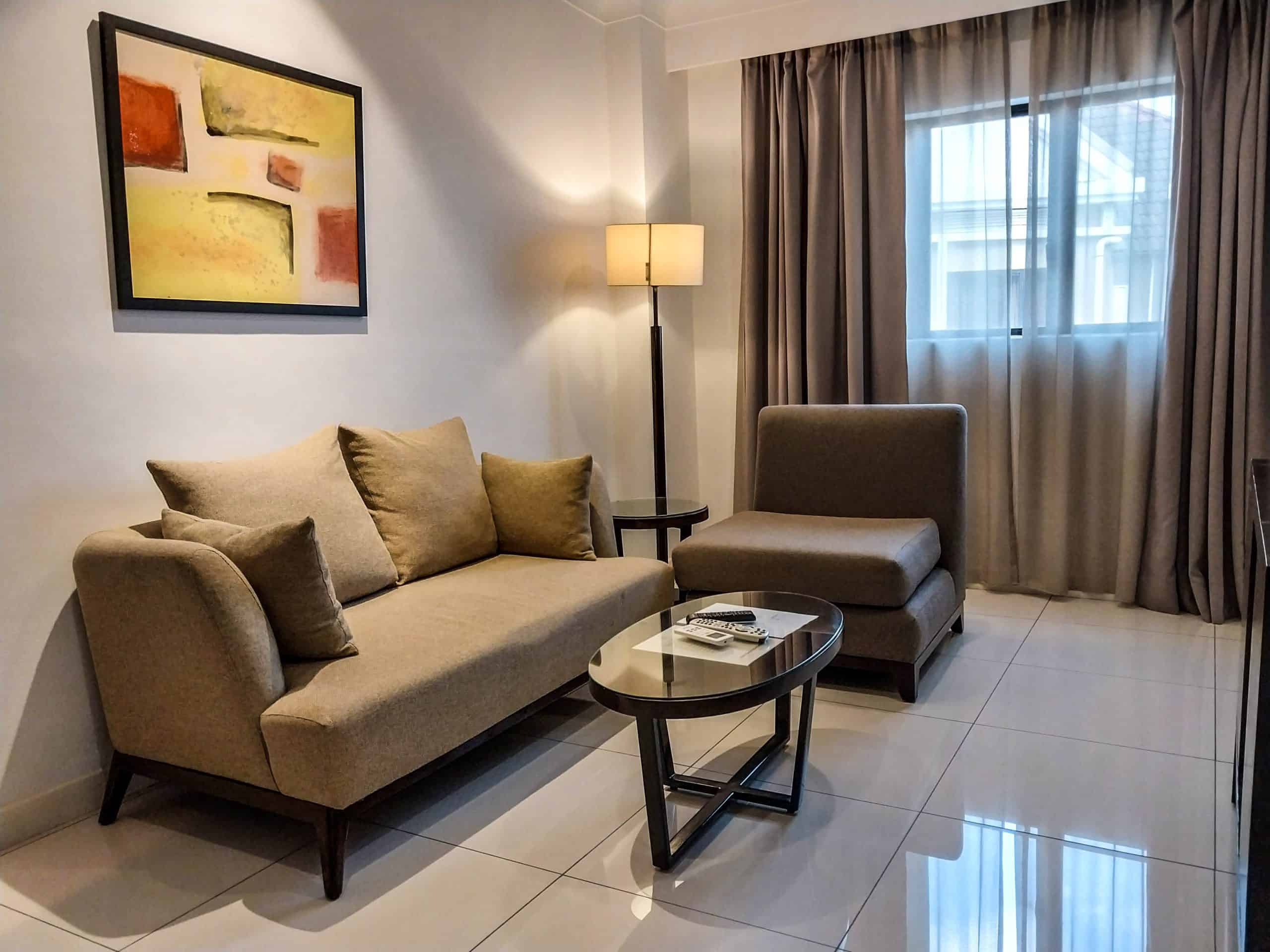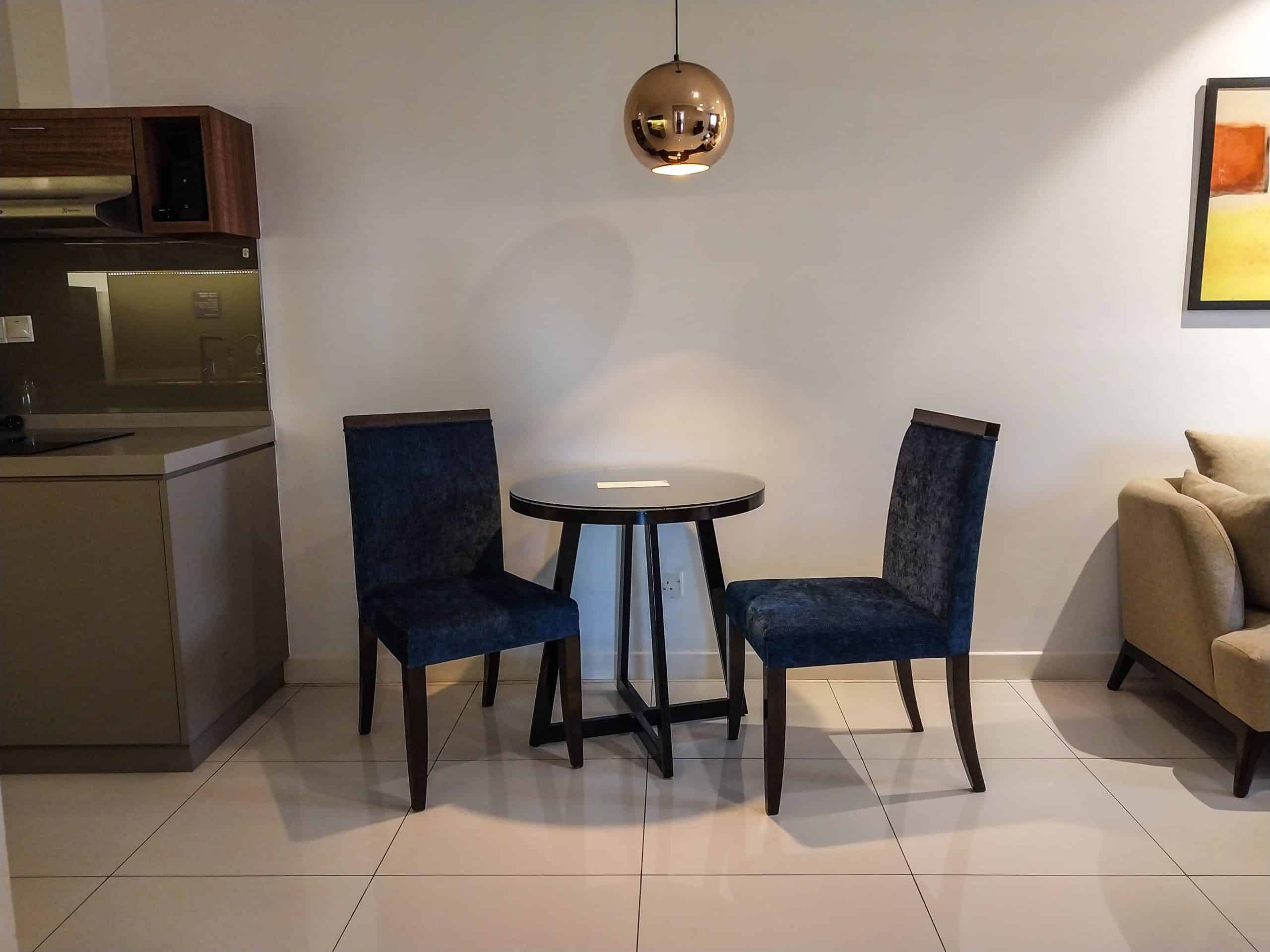 It had everything I could possibly need; a small kitchenette, living and dining rooms, a spacious bath with an amazing rain shower. I even had 3 table and chair set ups for moving my mobile office to any location within the apartment. Each table cum desk perfect for computer work or any chore that required some organized space. The inclusive armoire even came with an ironing board, so I could look and feel my best. It also had plenty of storage space.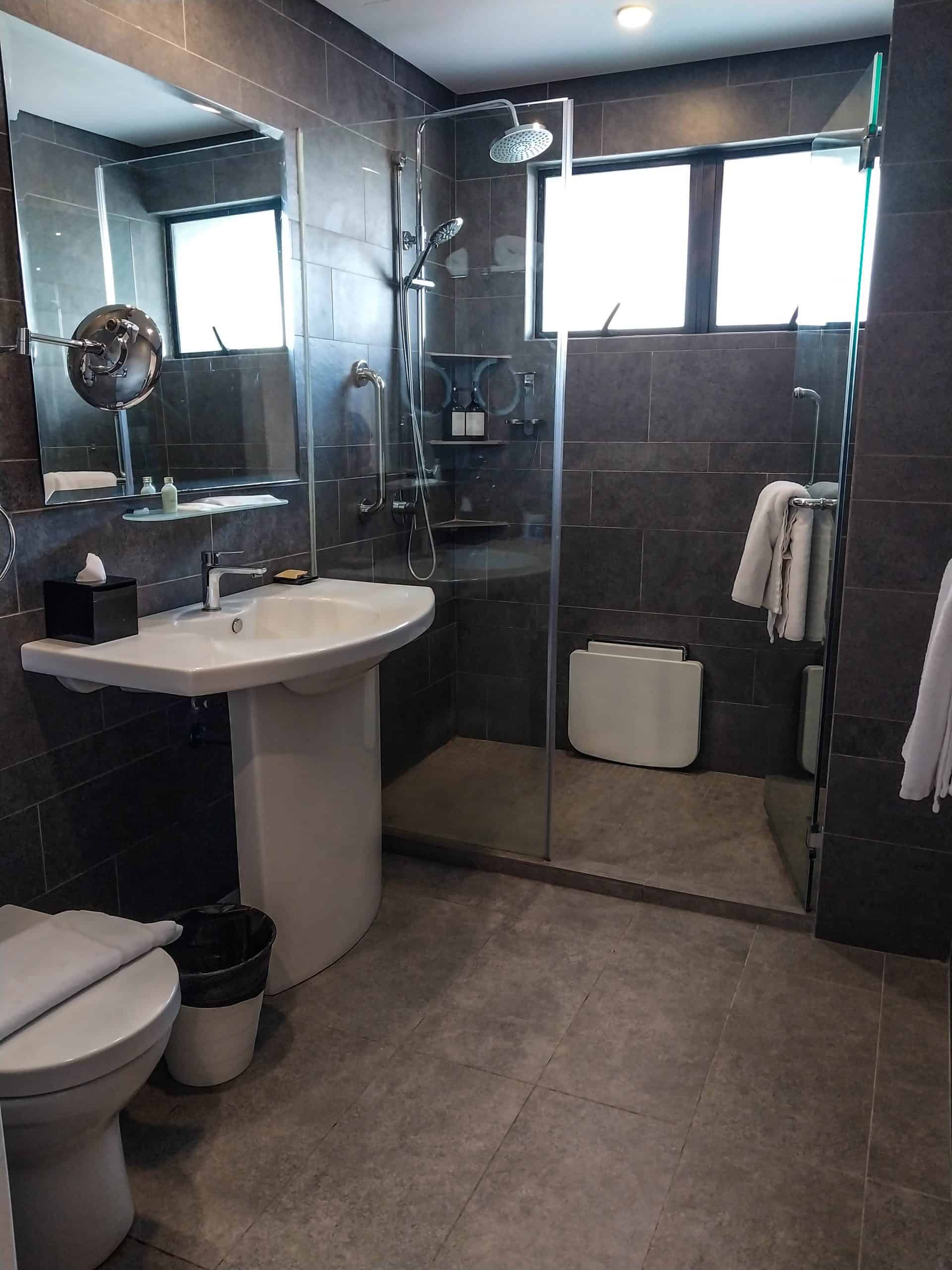 Domitys has plenty of onsite amenities too; including a pool and a small gym. Their large outdoor swimming pool is a pool lover's dream come true; lap-worthy and lounge-worthy. The pool has plenty of room for water aerobics, swimming or basking in the tropical sun. It even has shaded sitting areas and tables and chairs for pool-side get togethers.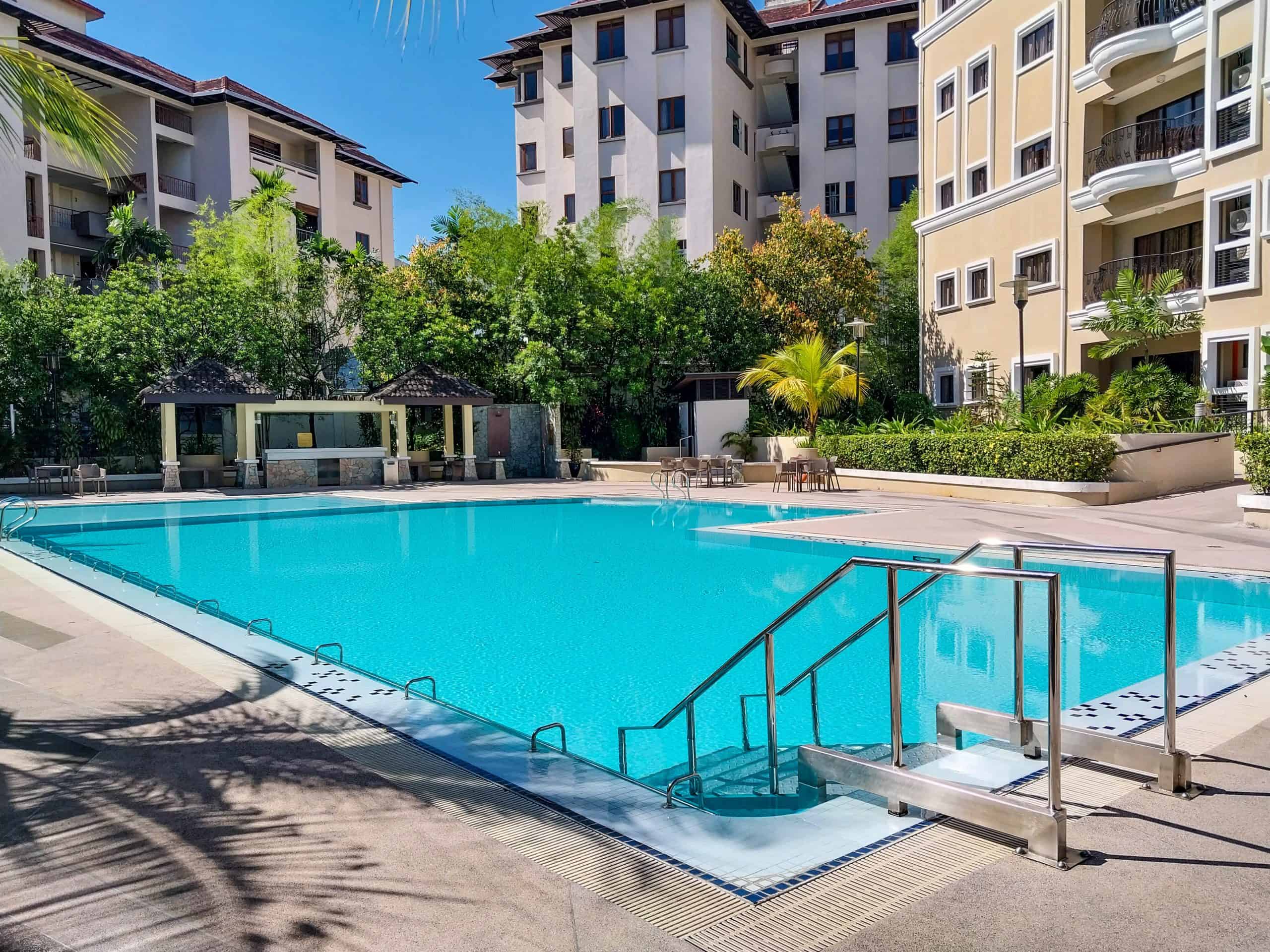 Wellness Perks
Most people, at some point in their lives, break a bone or sustains a limb injury of some sort, and they usually require a certain degree of Physical Therapy (referred to as Physiotherapy in Malaysia). Domitys Bangsar understands that possible need and offers a small Physiotherapy area; an evaluation area as well as the gym. Their senior-friendly gym is not a body building type gym, but is adequate for the average fitness buff to stay in shape. Or for those recovering from an injury to slowly build up their strength.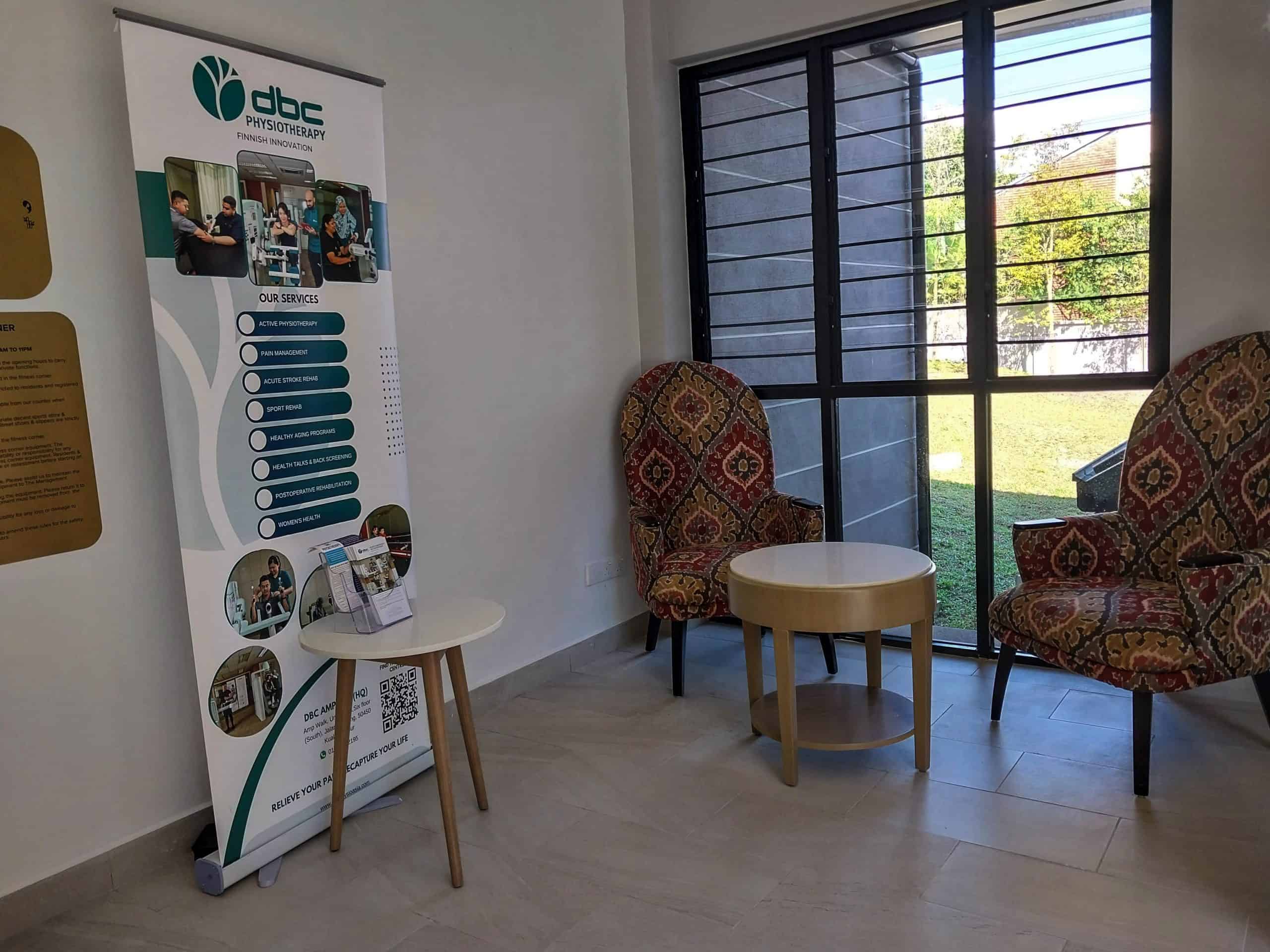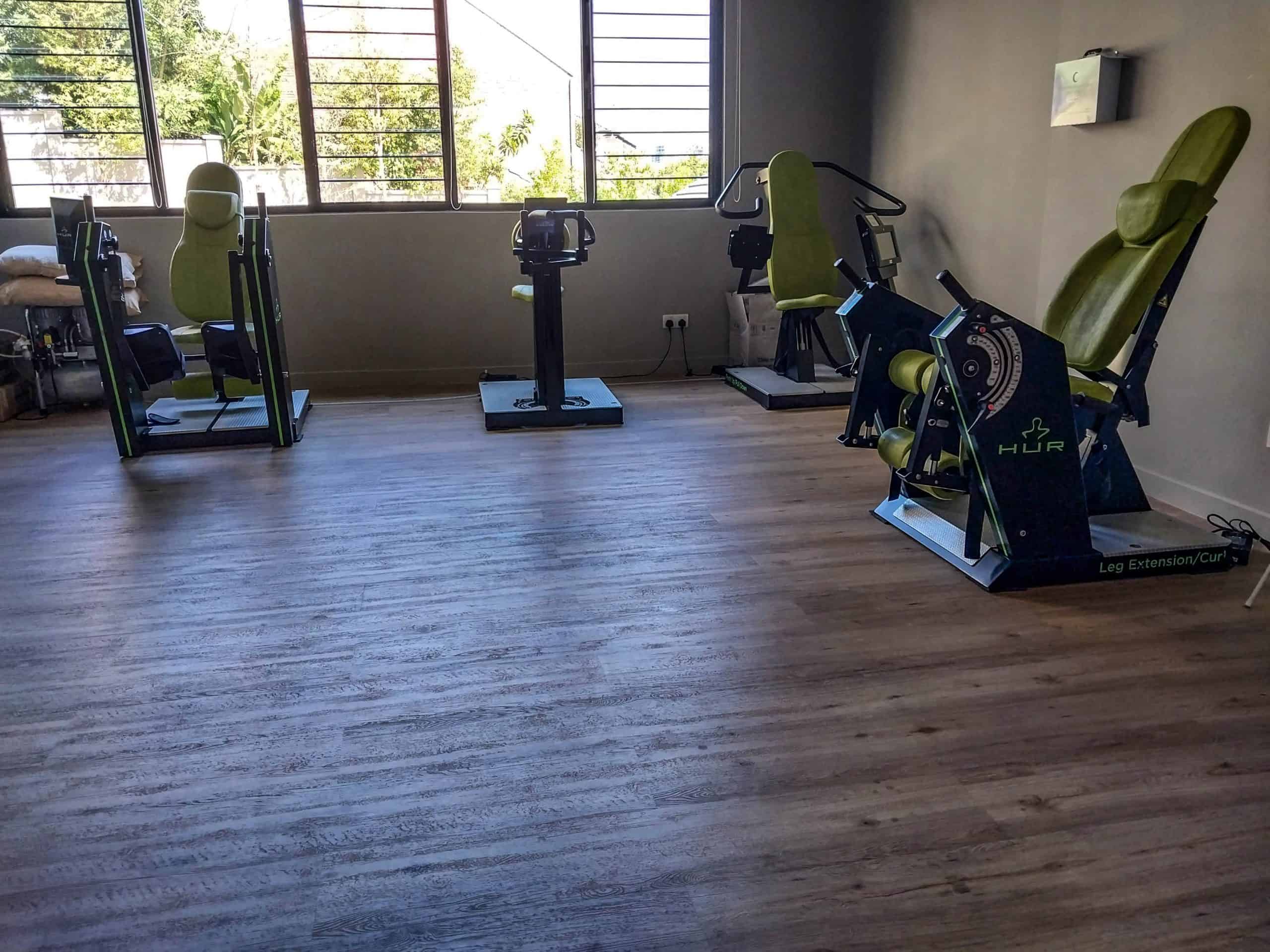 Additional property perks include an onsite café, media room, massage room and hair salon, where residents can have these services within the privacy of the Domitys' estate and just a short walk from their apartments. How convenient is that?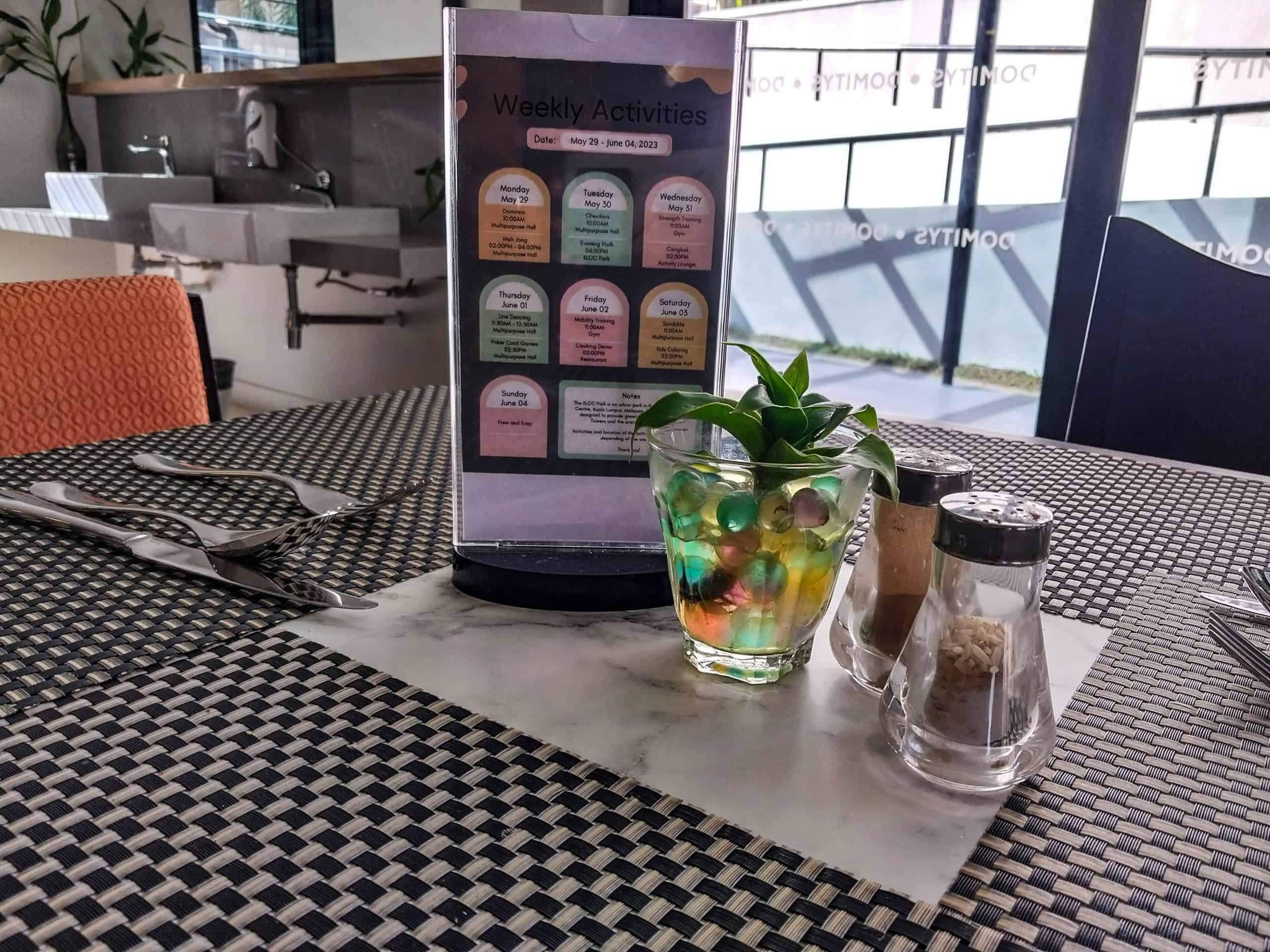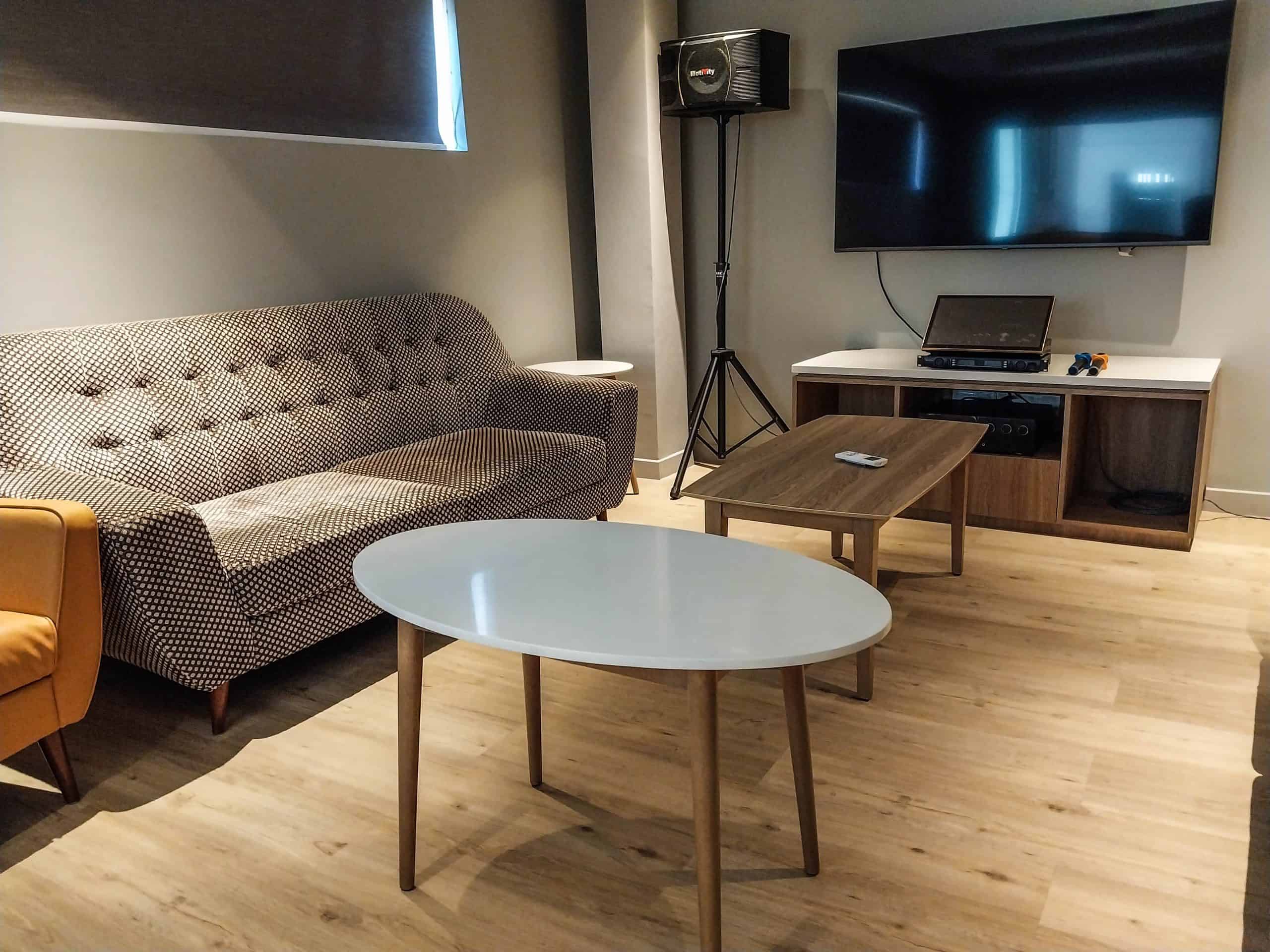 One of my favorite parts of staying at Domitys Bangsar is the daily activities they schedule. While I was there, I saw a cooking demo for delicious Yogurt Mango cake and I even had some beginner Mah Jong lessons. What was especially cool about participating in these activities is that along with the staff, hotel guests as well as residents mixed and mingled (if they chose to). Which is what Domitys Bangsar is all about; freedom, joy and care. All in one neat package.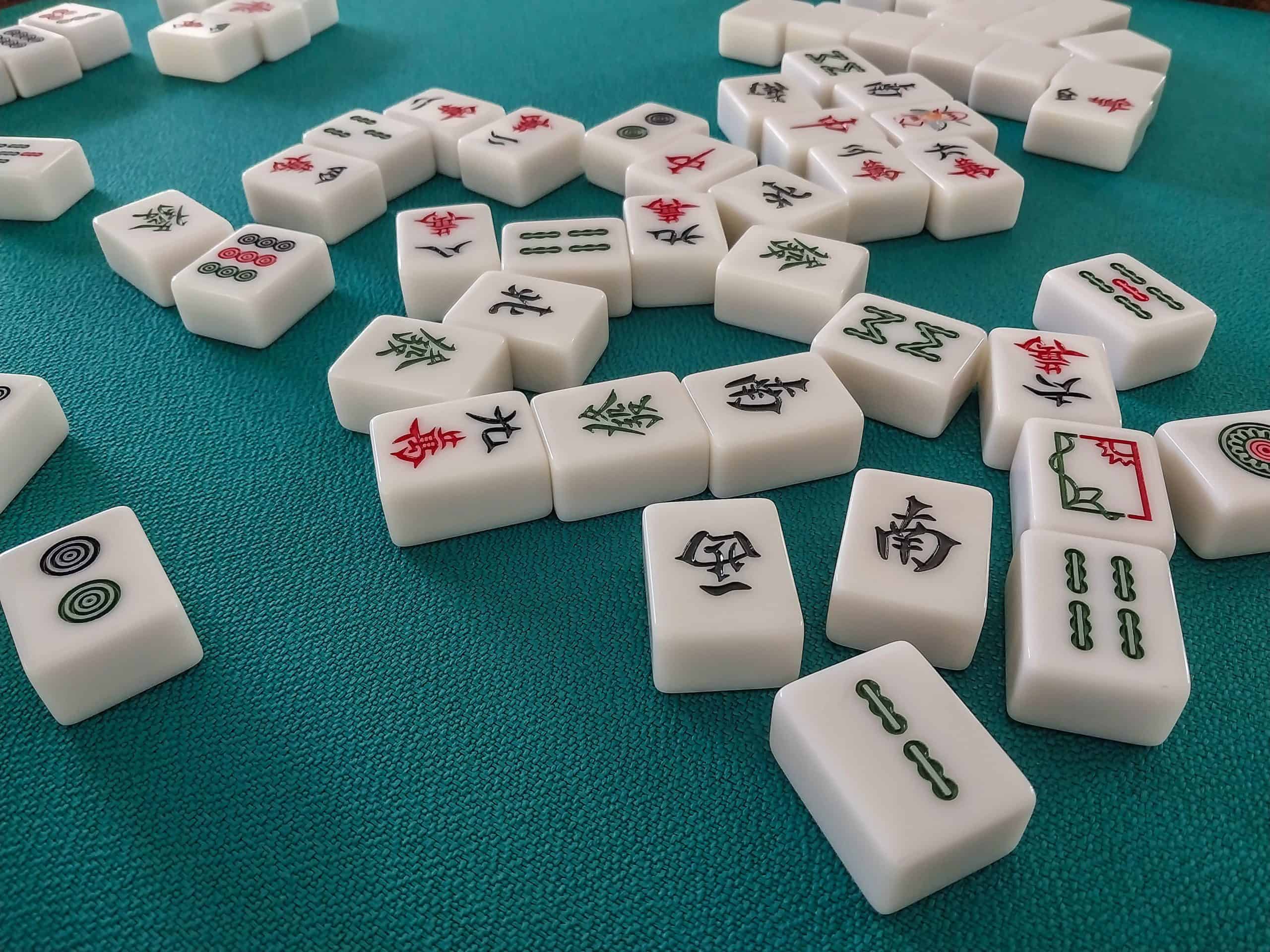 Although Domitys Bangsar caters to seniors this residential hotel is open to all. Active, independent seniors, business people, medical tourists and even those on holiday are all welcome, regardless of age. If you are looking for a permanent retirement living space or a homey long or short term residential hotel, Domitys Bangsar offers many options that are sure to win you over. For more information on rates, packages and availabilities contact www.DiscoverASR.com
Domitys Bangsar
No 136 Jalan Ara Bangsar,
Kuala Lumpur, Malaysia
+603-2092 3232
[email protected]