On March 4, 2022 I woke up at the crack of dawn to go for a walk on a sandbar. Not just any sandbar walk, but the now annual Tanjung Rhu Beach Sandbar Walk at Tanjung Rhu Resort in Langkawi, Malaysia. I'm not one to normally jump on the latest shiny tourism product, but this one had already passed the two-year mark and showed high hopes of longevity.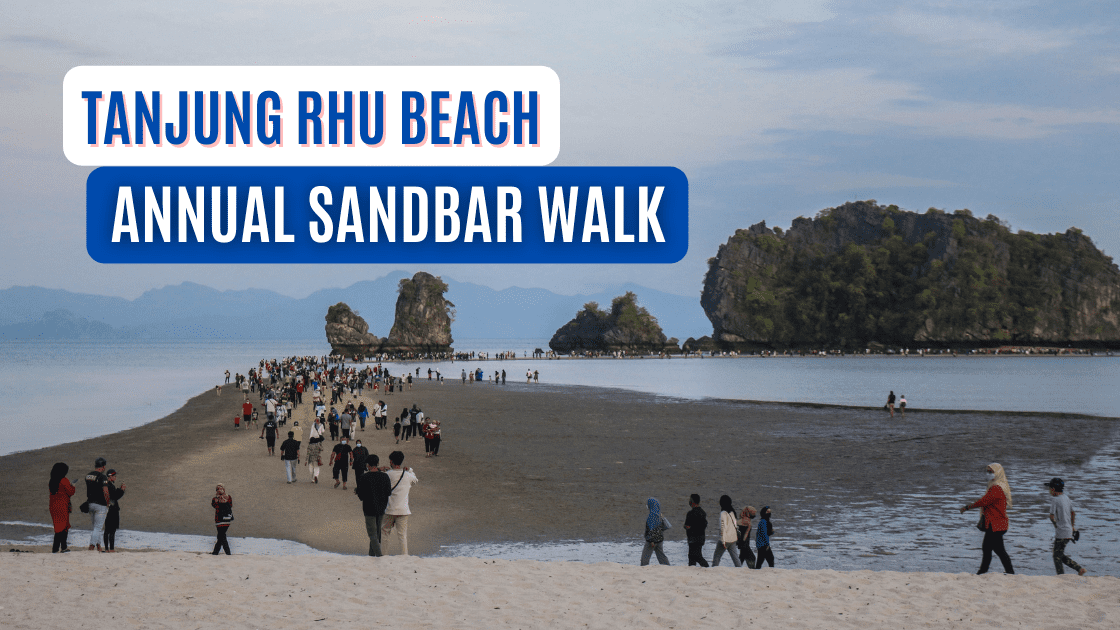 I grumbled the whole way there. With my eyes barely open and squinting to see the dark roads, I had to dig deep for crack of dawn enthusiasm. As I drove, more and more cars suddenly appeared on the road and many were heading in the same direction I was heading. A snake of headlights heading north.
This got my attention. This wasn't just an early morning coincidence, this was a 'something cool is happening' moment. I could feel the collective vibe of enthusiasm and suddenly got a little more excited about this early morning adventure.
Birth of the Tanjung Rhu Beach Sandbar Walk
The Tanjung Rhu Beach sandbar makes its appearance more than one or two magical days a year, but the specific dates for the annual Tanjung Rhu Beach Sandbar Walk are chosen by Tanjung Rhu Resort; the creators and hosts of the annual event.
The sandbar is also located directly in front of the resort, which has a seaview of the iconic Pulau Chabang and Pulau Kelam Baya (the island of darkness). It's safe to say that Tanjung Rhu Resort is well versed in the tidal behavior of their seafront and don't choose their event dates randomly.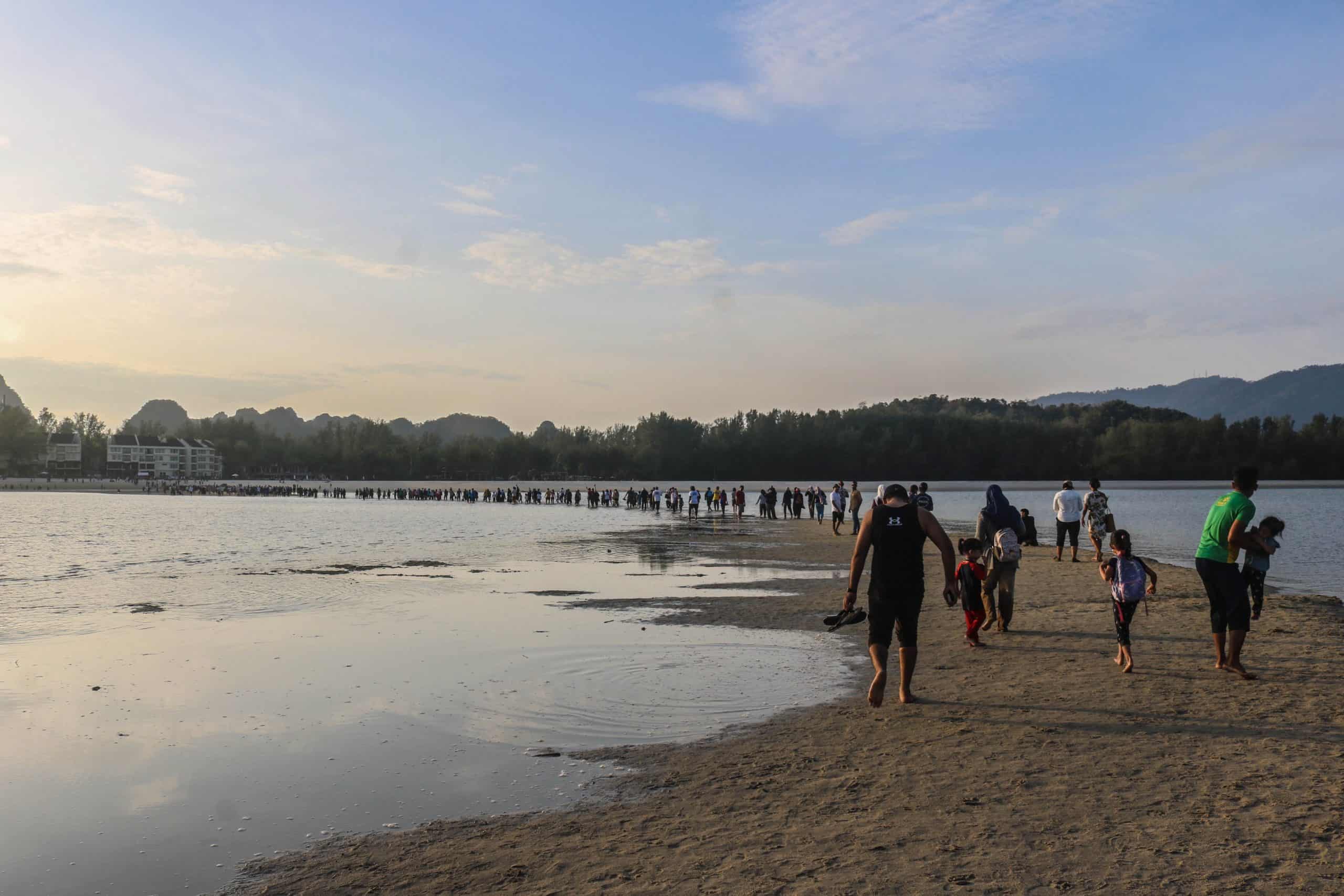 The low-tide event dates chosen are based on neap tide predictions which also tend to coincide with the days surrounding the March equinox date (aka vernal equinox and spring equinox). Equinoxes occur twice a year; around March 21 and September 23, when the sun is directly above the equator. So far, March has been the chosen month 3 years in a row.
Tanjung Rhu Resort's annual sandbar walk is the brain child of General Manager Reginald T. Pereira (appointed in September 2018), who noticed the phenomenon during one of his property visits in 2019. The tide was so low, that day, that people were able to walk from the resort to a nearby island. The vast stretch of sandbar a carpet of golden sand leading out to sea.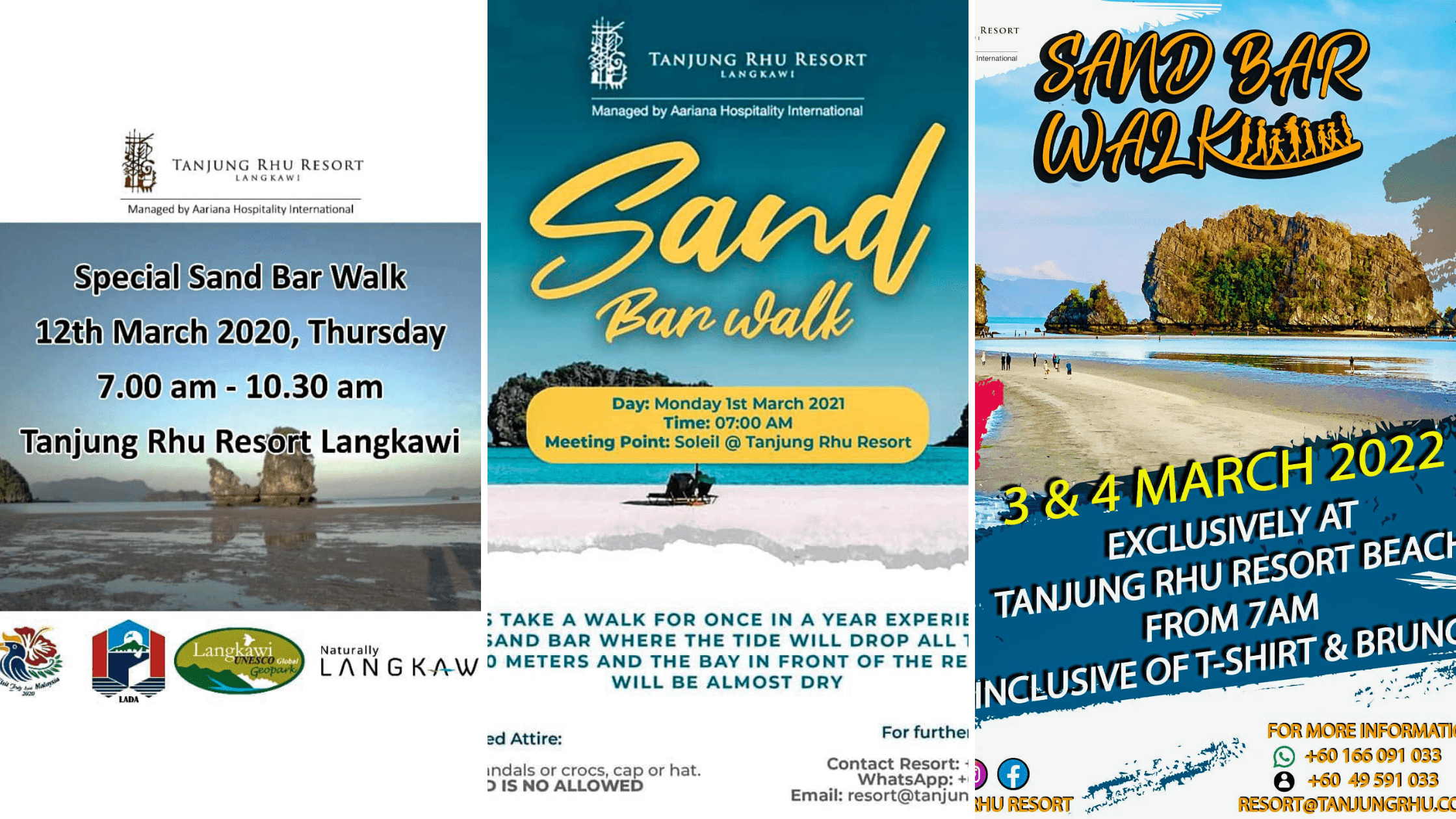 The resort decided to create their first sandbar event for 2020 and it was a great success with about 300 people showing up for the one-day event. The March 12th date also made it just under the wire, six days before Malaysia's national pandemic lockdown.
But the following year, despite Malaysia's travel restrictions, they held another Tanjung Rhu Beach Sandbar Walk in 2021 and once again it drew a crowd. This time an estimated 500 people showed up. People were curious and likely craved a chance to be in the great outdoors after months of being stuck indoors, during the various stages of the past year's lockdowns.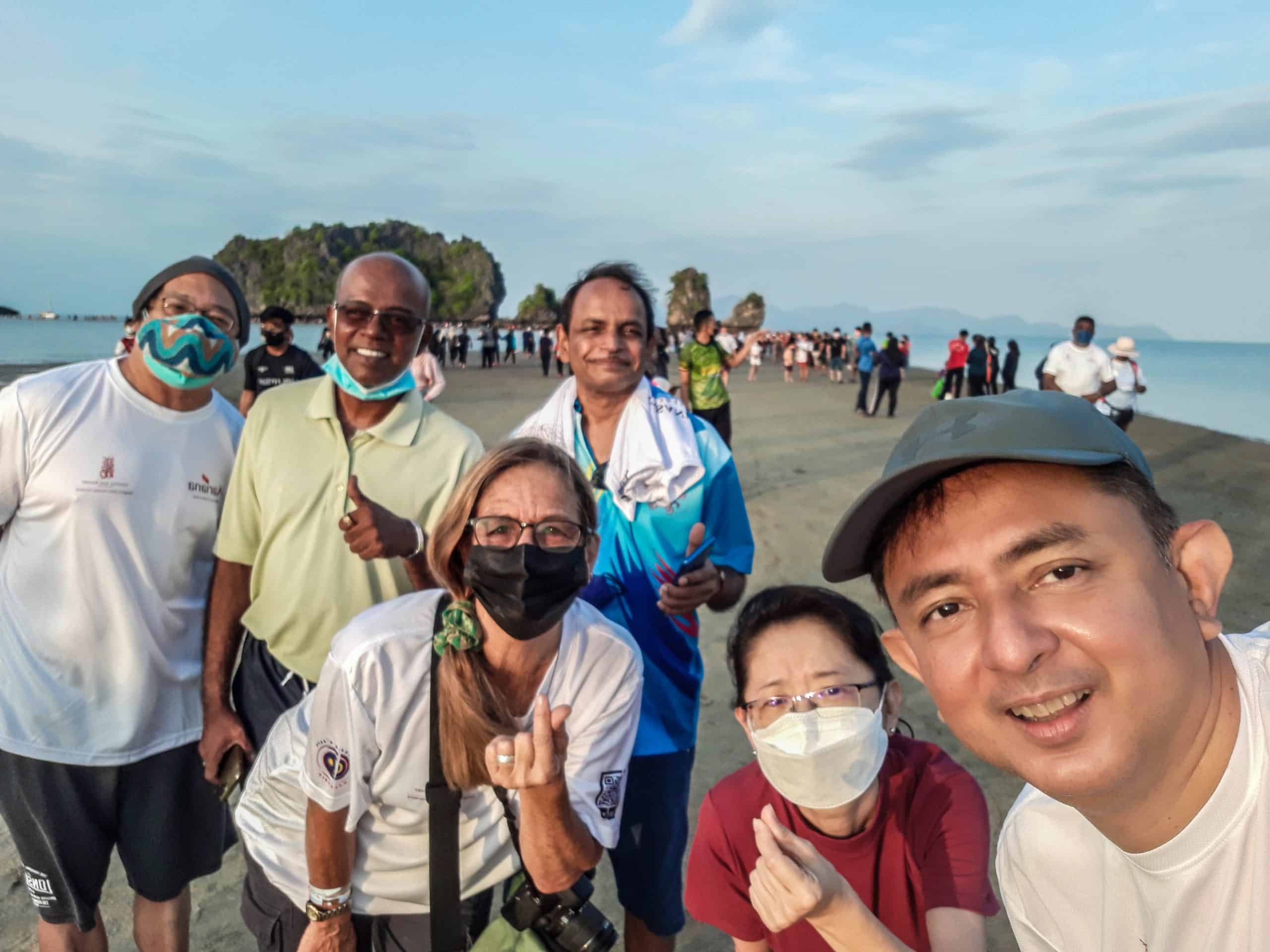 But 2022 broke the record with an estimated 1500 people showing up over Tanjung Rhu Resort's 2- day event. And finally, I was one of them.
Those Mysterious Tides Explained
The ocean's tidal behavior is a fascinating bit of science that is usually followed by sailors, surfers, fisher-people, beach combers and the like. The rotation of the earth and the gravitational pull of the moon is the primary cause of tidal changes. High tides and low tides happen once or twice daily, but twice a month there is an extra 'high' high tide and an extra 'low' low tide, meaning the average tide can go a bit more extreme in either direction.
High tide and low tide sound easy enough to keep track of, but the times of the daily high and low tides change by 12 hours and 24-minutes. It also takes six hours and 12.5 seconds for the tides to go from high to low and visa versa, making for those low tide explorations to be rather time sensitive, (especially if a sandbar is involved).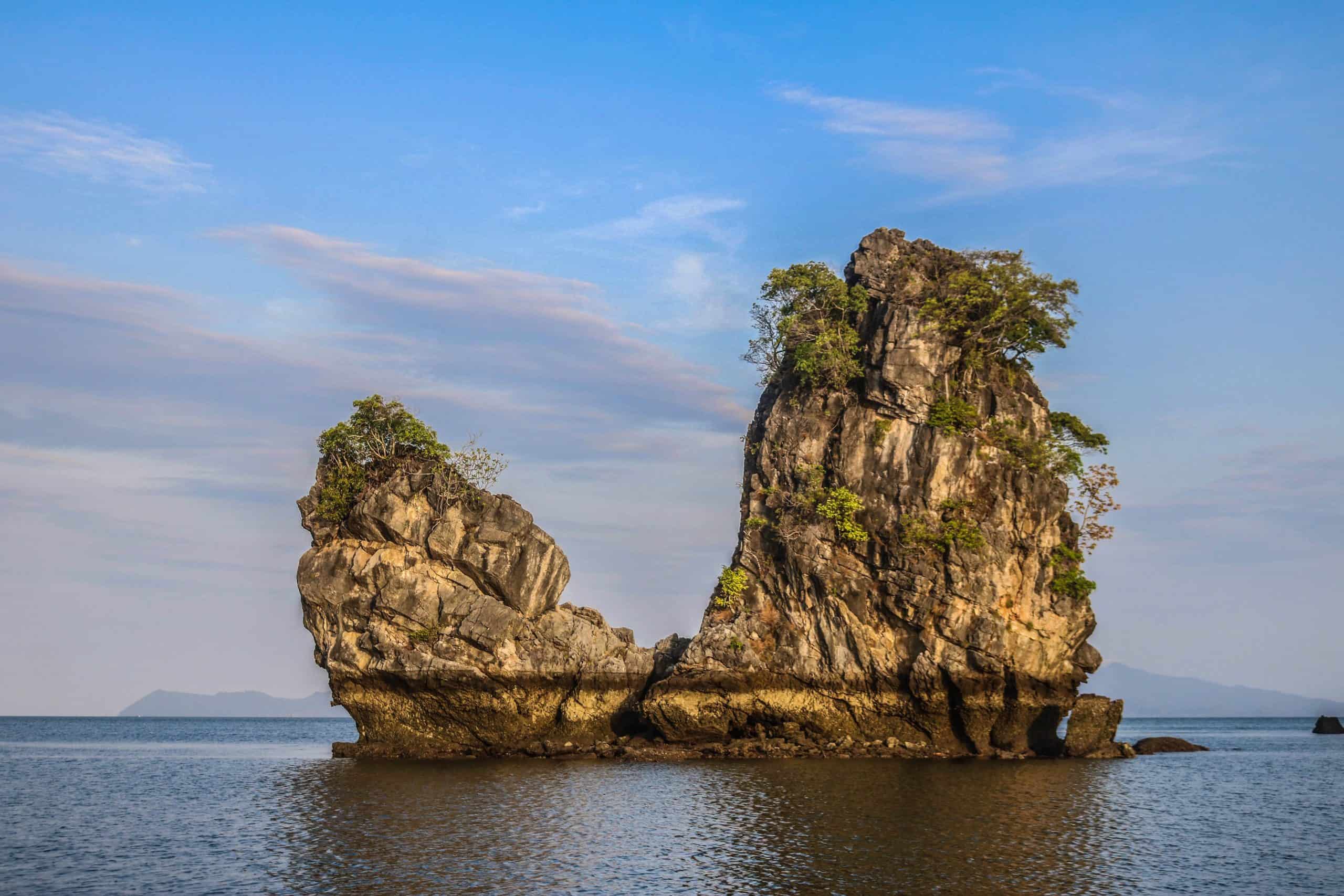 These high and low tides are 'generally' referred to as diurnal (one daily high and low), semi-diurnal (two daily high and low) or 'mixed' (two daily high and low of different sizes). However, those extra high and extra low tides are referred to as spring tides (high) and neap tides (low). A spring tide (also known as a 'King Tide') is the high tide that occurs during a new and full moon.
Neap tides happen seven days after a spring tide, during the first quarter moon and last quarter moon. During this time the moon faces the earth at a right angle to the sun and the gravitational pull of each planet (the moon and sun) are relatively weak, causing tides to be lower than usual.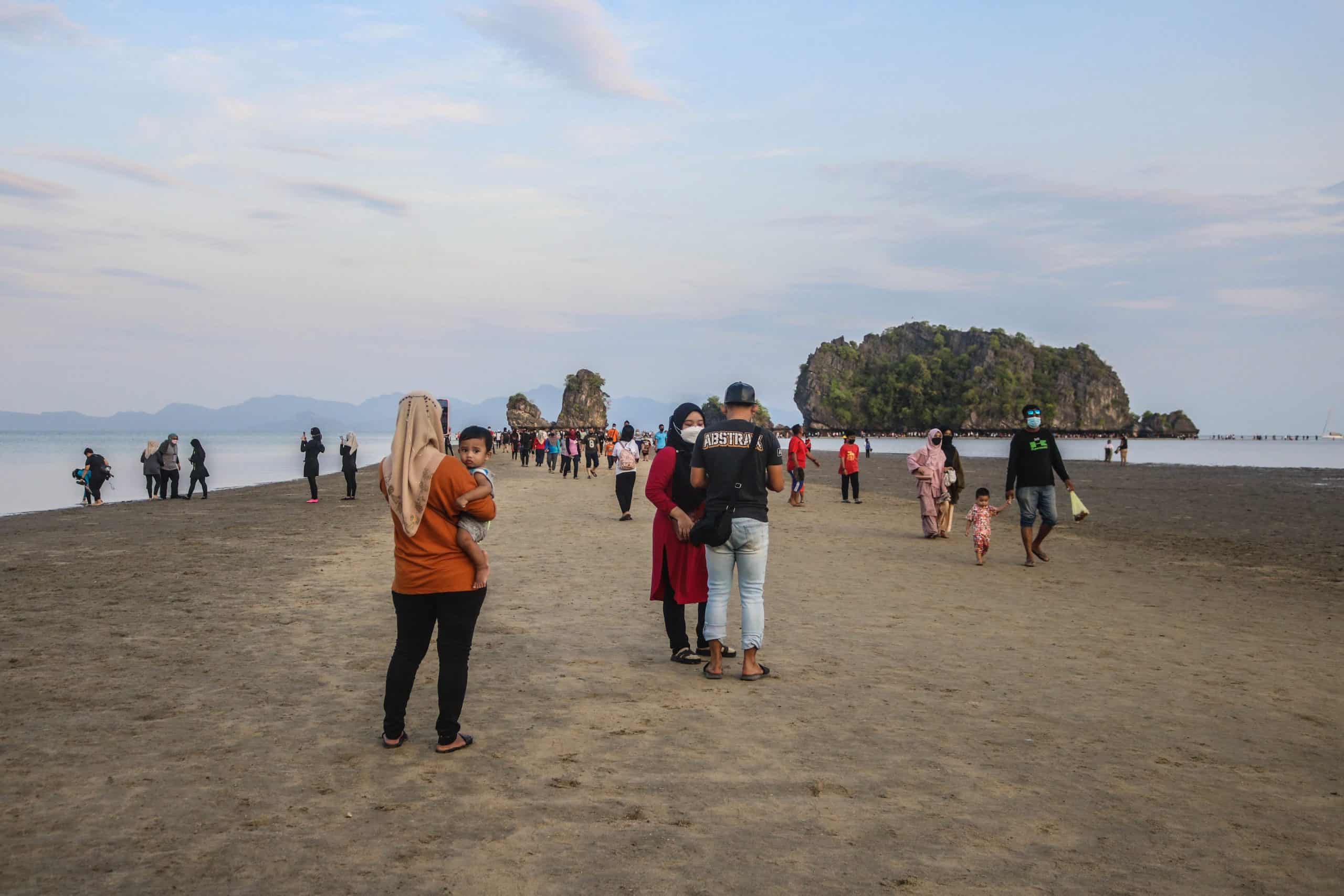 Spring tides tend to have highest high tides and higher low tides than the average daily high and low tide ranges. Neap tides have the opposite, with a lower high tide and lowest low tide. Sound confusing? Well basically, in a nut shell, you will find your lowest low tides happening seven days after a full moon.
My Tanjung Rhu Beach Sandbar Walk Experience
When I arrived at Tanjung Rhu Resort, my jaw dropped at the sight of so many people. Almost like a sci-fi movie. The early morning light guiding the pilgrimage of people quietly out to sea. They came from all walks of life, literally. The shoreline alive with young and old alike. And despite the number of people, it was quiet. Murmurs of voices wafting through the air. It was mesmerizing.
For a brief moment in time, we were all kindred spirits brought together by a sandbar. As corny as it sounds, to see so many people enjoying the same thing at the same time, was very uplifting to me. People were smiling, taking photos and clearly as fascinated as I was.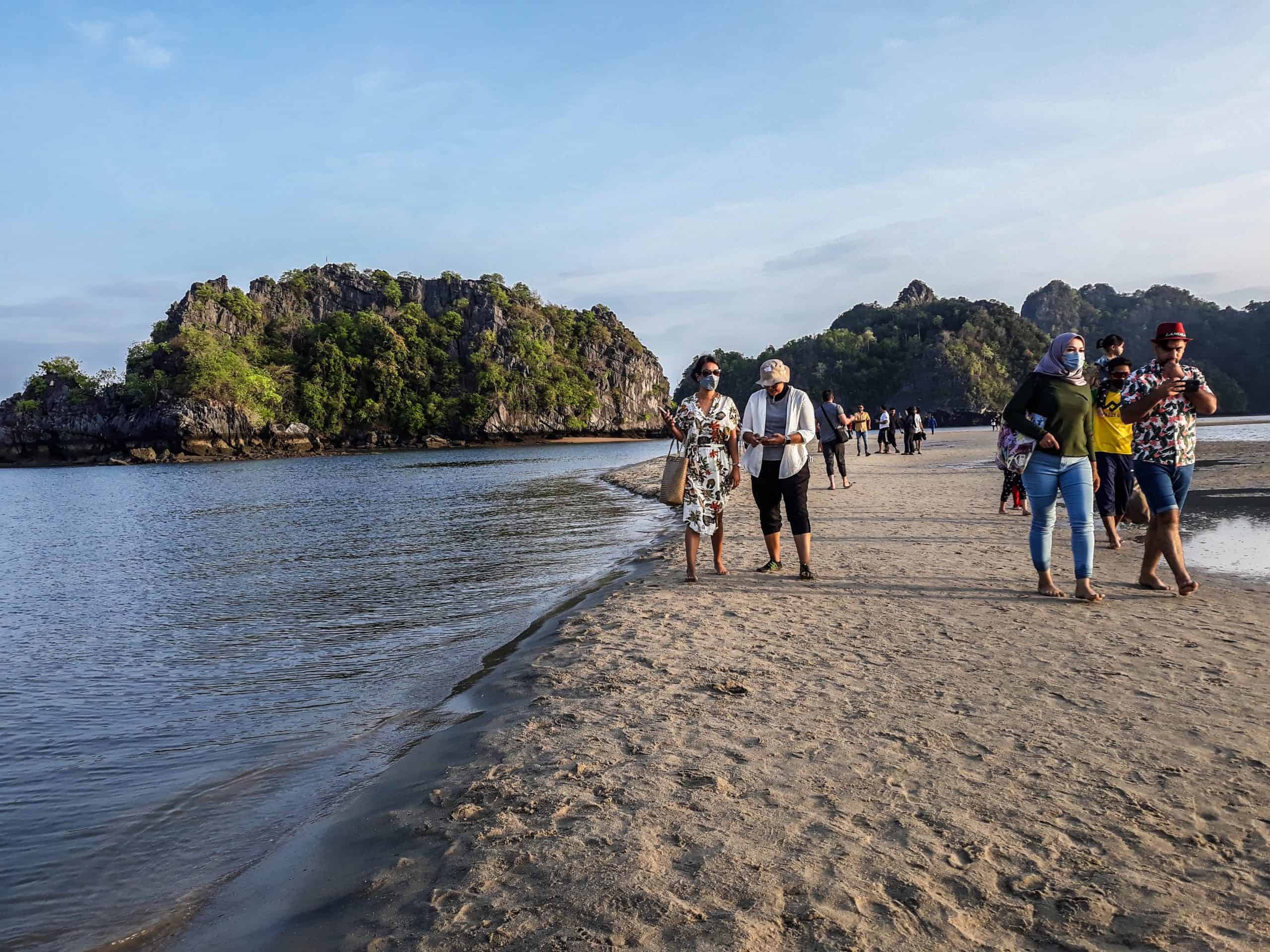 Many had bypassed the resort's event package and walked up from the public access. But those of us who came the VIP route were rewarded with souvenir t-shirts, a leisurely post-walk breakfast buffet and a chance to watch the tide come in from the cozy comfort of the Tanjung Rhu Resort property. We also had access to a changing room and toilets.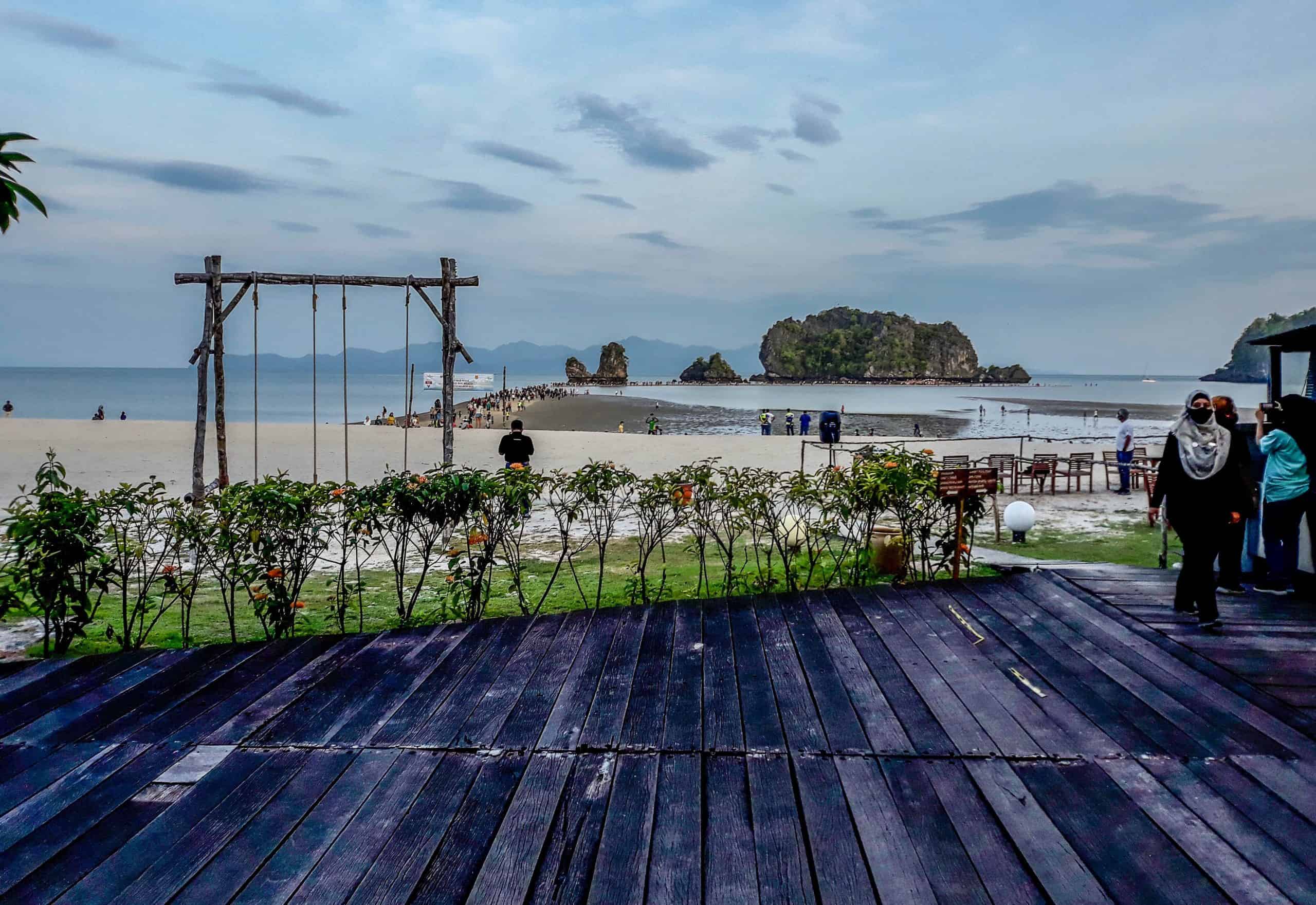 But Tanjung Rhu Resort went a step further for this event and had security staff on the sandbar. Not to 'police' the event but to remind people that the tide would be coming back in. A siren also went off to alert sandbar explorers. It can be easy to lose track of time during a low tide and before you know it you could be swimming back to shore instead of walking. So, trust me, it was a good thing.
The resort also sponsored a seaside 'selfie' sign, where resort guests as well as the public access visitors could commemorate the day with a photo of themselves.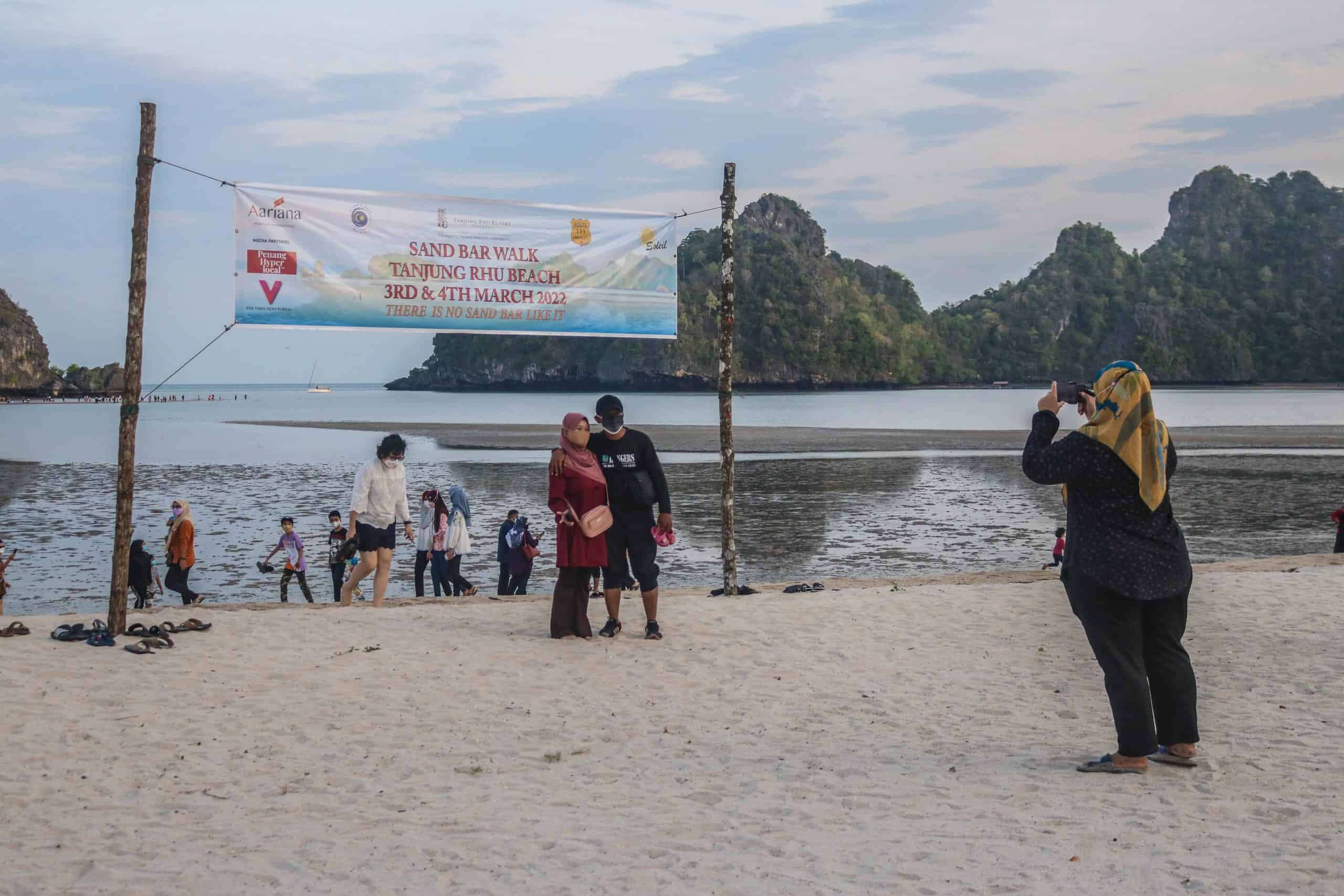 I give a big round of applause to Tanjung Rhu Resort for their promotional efforts in making those two low tide days just a little more magical. Had I not seen their flyers and social media postings, I certainly wouldn't have remembered or much less bothered getting up at the crack of dawn just to walk on a sandbar.
Their event just made it more special and wow-worthy. I think the strolling masses were as equally enthralled as I was. The ringside seat breakfast buffet and souvenir t-shirt was the icing on the cake. A memorable morning for sure. Thank you, Tanjung Rhu Resort, hope to see you again next year!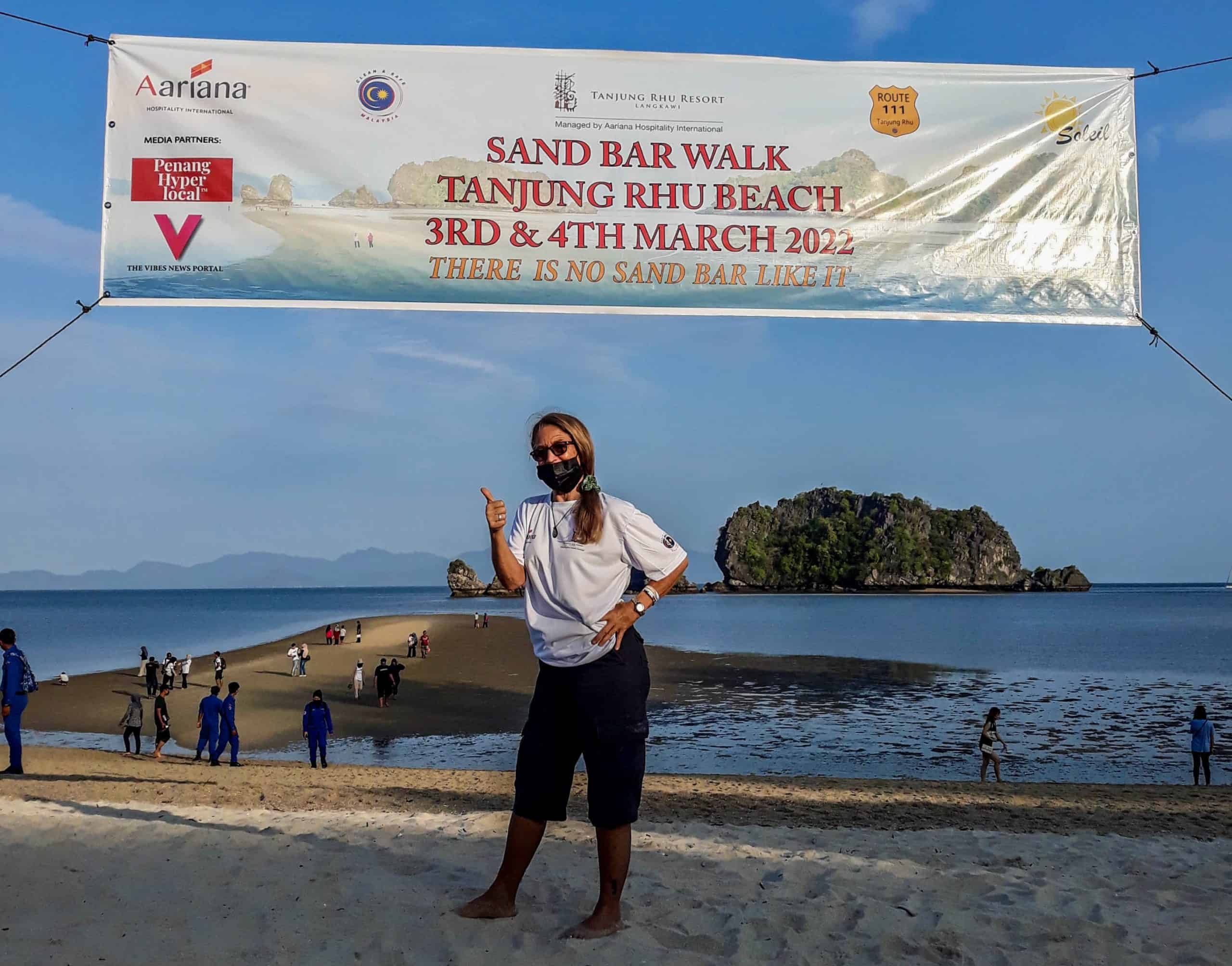 My sandbar walk tips:
Waterproof your electronics (just in case)
Leave only your footprints, take any rubbish back with you
And please, do not touch or remove sea creatures that get trapped on the sandbar during the low tide
Dates for the next Tanjung Rhu Beach Sandbar Walk will be announced around December. For special sandbar walk promos and updates, you can contact Tanjung Rhu Resort directly at www.tanjungrhu.com.my