Penang War Museum had been on my to-do list for a few years now, yet it was a quick post-lockdown, last-minute excursion to Penang that finally brought me to its doors. To be honest, I had never realized how close it is to the Penang International Airport. With that realization and limited time in Penang, I opted to visit the Penang War Museum straight from the airport.
Having been bombarded by overly-enthusiastic airport taxi touts, I actually left the airport on foot and headed east. Once I got to a quiet area, I called GRAB. Bingo! Where the touts were offering rates of RM60 for a 10km ride, my ride cost RM15 and it delivered me to the front door of the Penang War Museum; Penang's answer to a World War 2 memorial.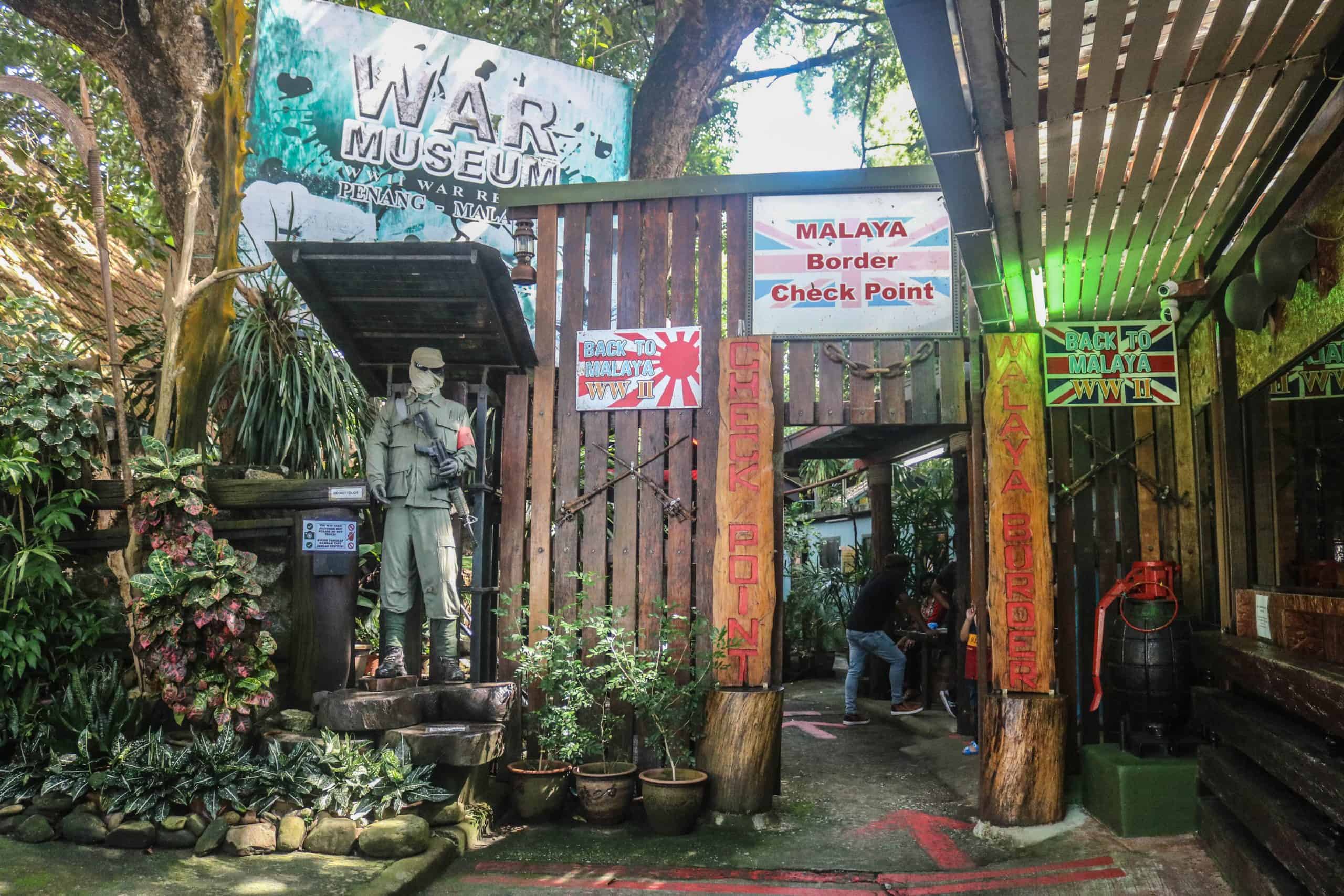 World War 2 Malaya
It was the year 1941 when the Japanese military invaded Malaya. Although their ultimate goal was to capture Singapore, their clever land invasion, on December 8th, started in Padang Pak Ama Beach, Kelantan and took everyone by surprise.
The Japanese military engaged bicycle infantries and moved quickly across the peninsula. By December 11 they began bombing Jitra, Alor Setar and Penang; finally occupying Penang on December 19. By the end of January 1942, all of Malaya was occupied by the Imperial Japanese Military. If you know anyone born in Malaysia before 1940, they probably have first- or second-hand stories to share about this particular chapter of World War 2.
Penang War Museum History
The Penang War Museum was previously known as Batu Maung Fort, which was built by the British military in the 1930s. According to the museum's brochure it was also known as 'Penang Fort'. Its original purpose was to help protect British shipping routes around the peninsula of West Malaysia, as well provide military defense for the Royal Air Force base in Butterworth; located farther north on the main land (closer to Georgetown).
On December 17, 1941 the Japanese military invaded and commandeered the fort within 2 days. There are conflicting opinions as to what really happened at Batu Maung Fort during the Japanese occupation.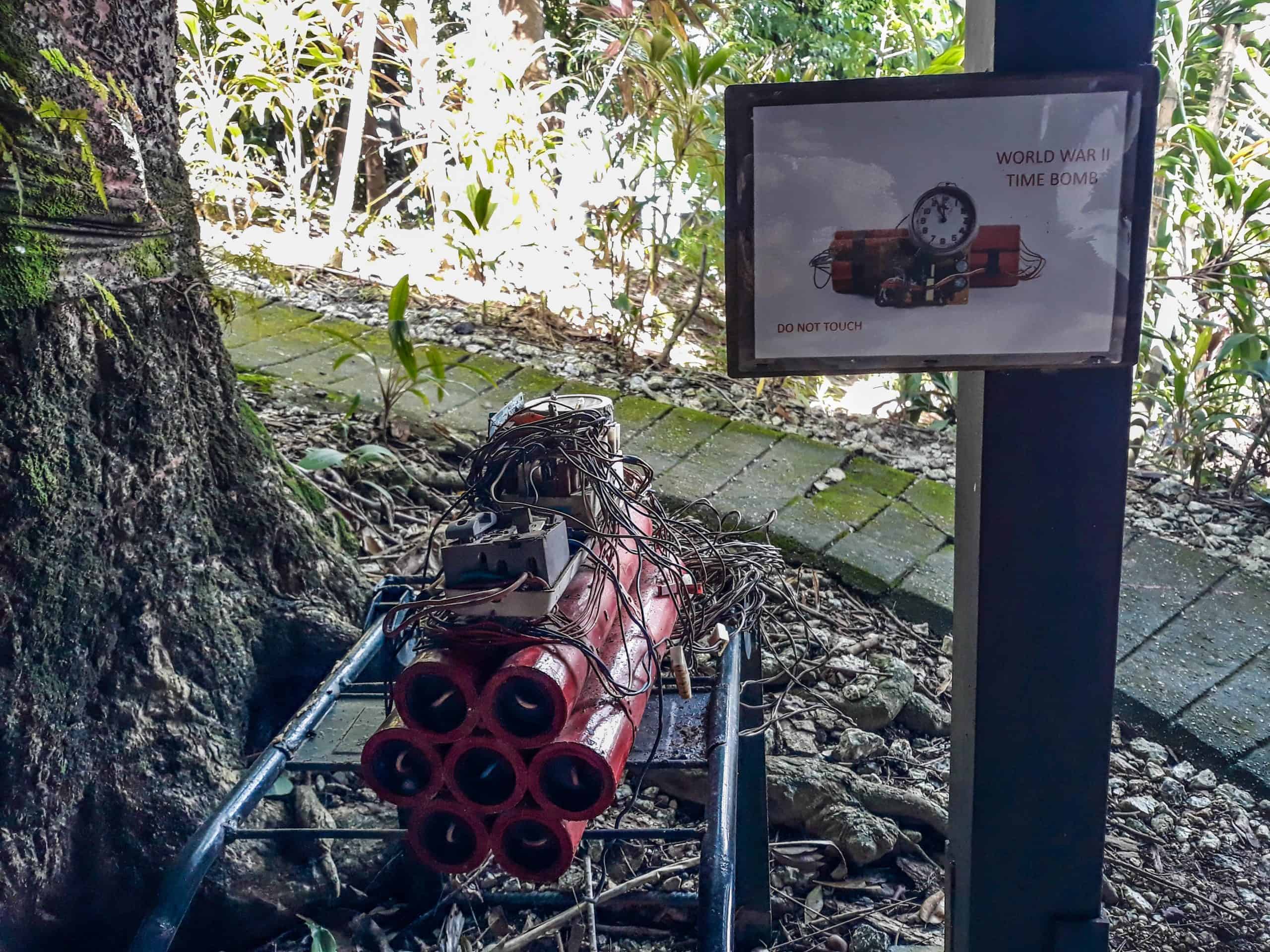 By some accounts it was used as a prisoner of war camp, complete with ceremonial beheadings and rumors of horrific tortures at the hands of a fierce Japanese executioner named Tadashi Suzuki. Other accounts place executioner Suzuki in Butterworth during the Japanese occupation. And apparently there is no evidence that Batu Maung Fort was ever used as a prisoner of war camp.
Never the less, the Japanese remained in power until their surrender to the Allies in 1945. The fort was reportedly abandoned for almost 60 years, until Penang War Museum founder Jahari Shafie took an interest in 1993. His proposal to restore the Batu Maung Fort to her former glory was accepted by the Penang State Government in March 2002.
For six months Shafie's restoration efforts included clearing the jungle engulfed grounds, repairing buildings and shipping in artefacts from various collections sourced elsewhere.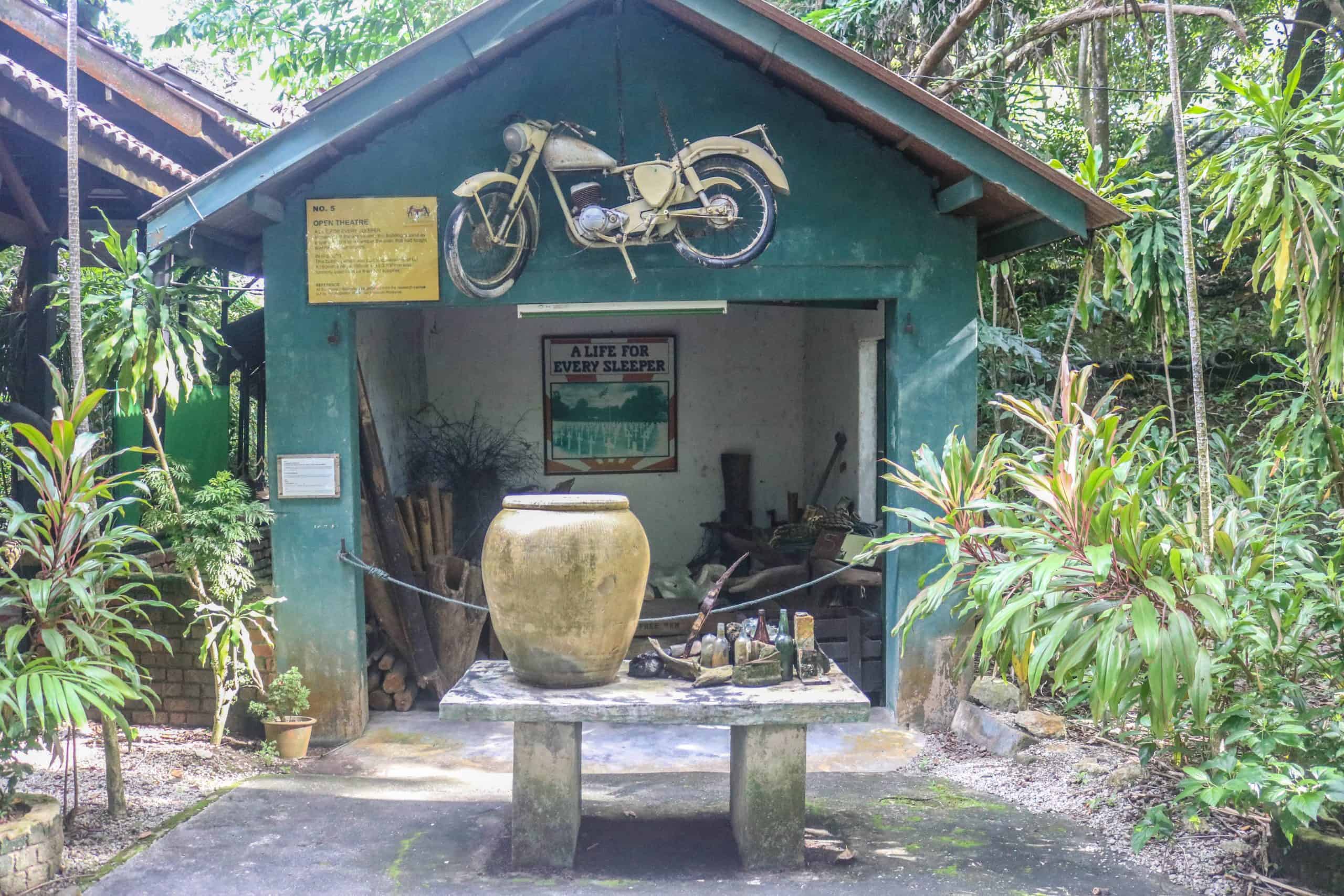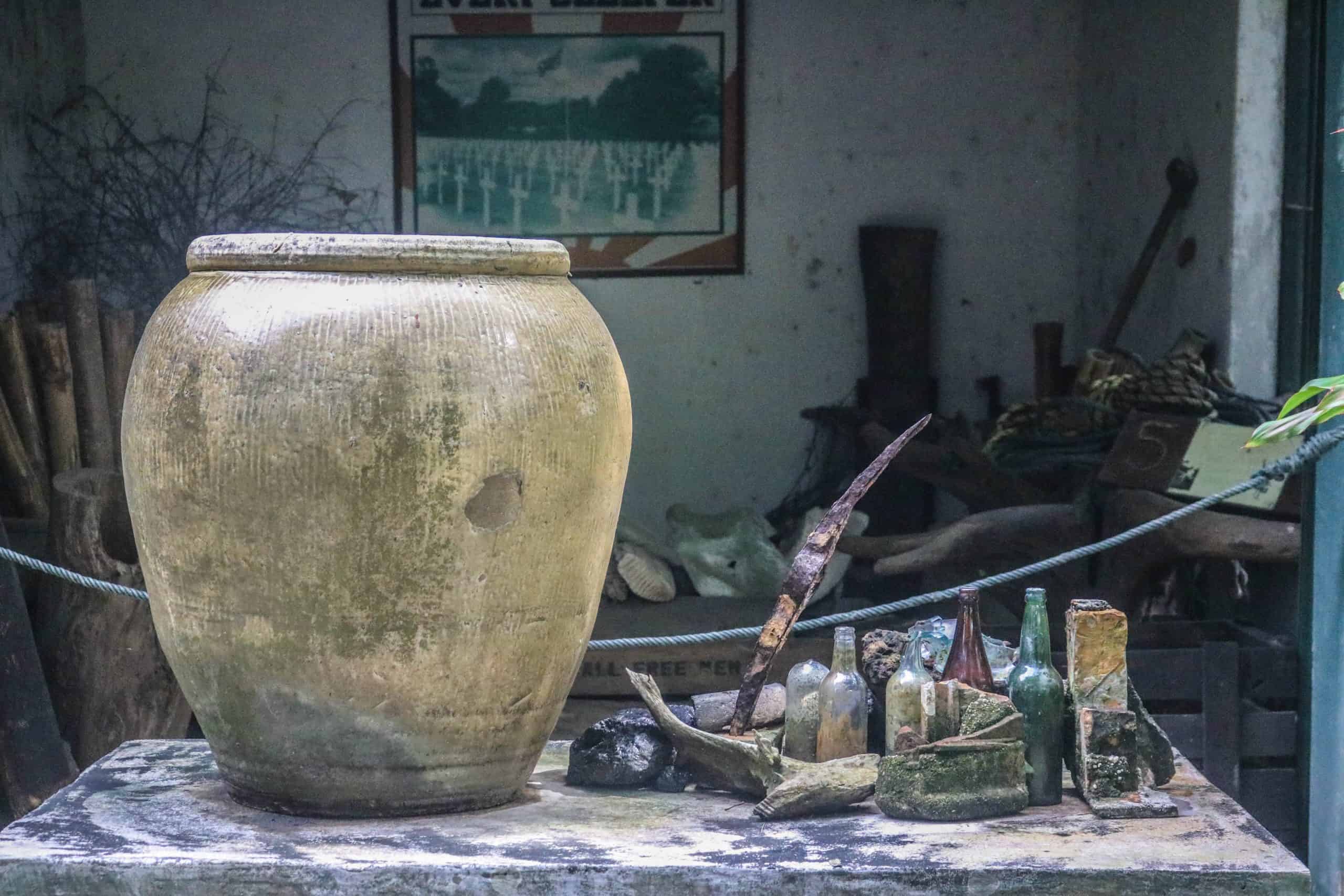 My Visit to the Penang War Museum

The Penang War Museum was not what I expected at all. In fact, it wasn't like any World War 2 museum or memorial I'd previously been to. Externally it looked more like, um, a low budget curiosity shop or mini amusement park. But me being the World War 2 fanatic that I am, there was no way I wasn't going in.
It was much bigger than I had expected, too. The fort was built on 20-acres of land with underground tunnels, ammunition bunkers, canon firing bays and various other fort relics strategically located around the property. To say it's sprawling is an understatement.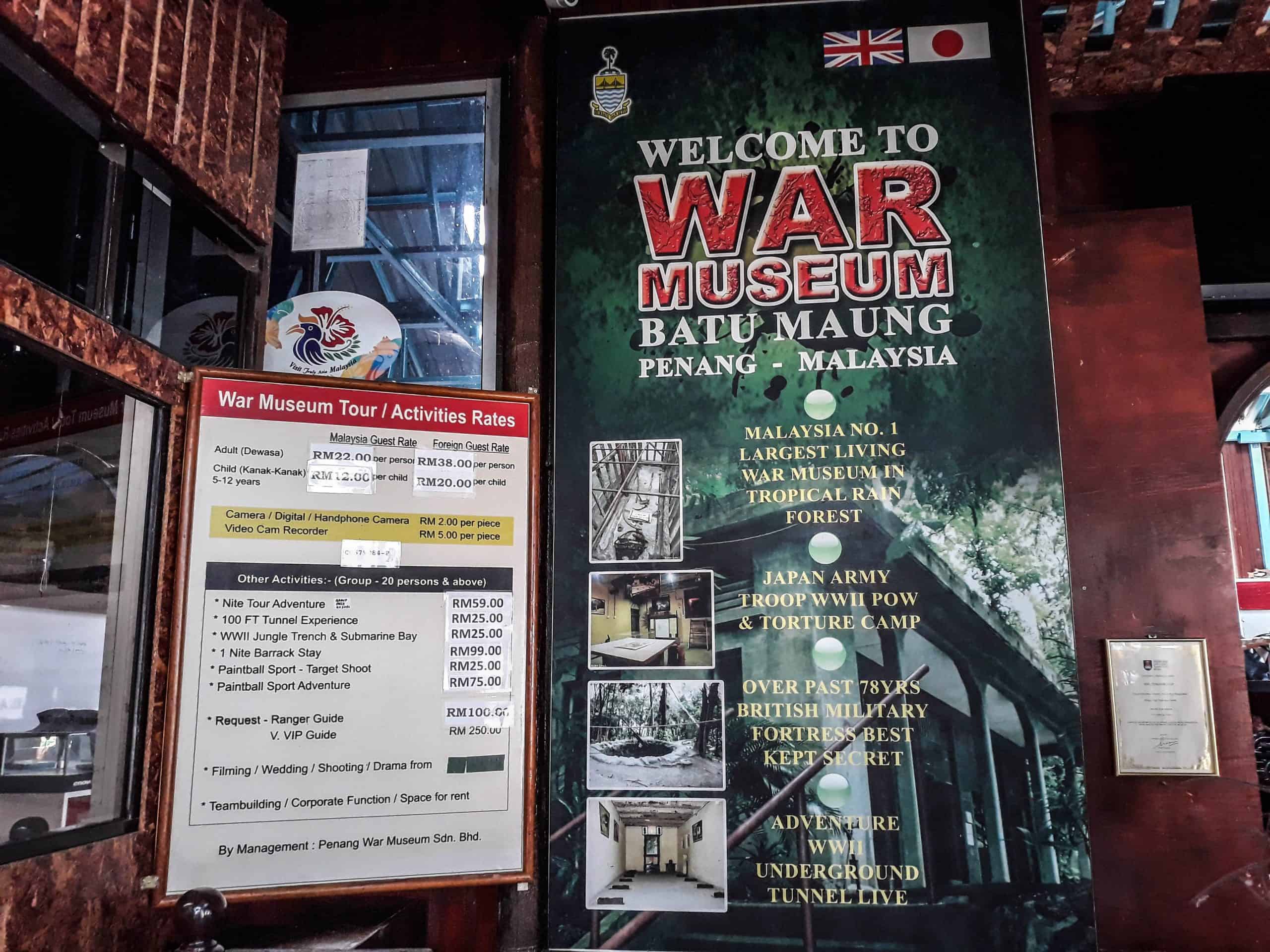 The owner was manning the front desk when I went to pay the entry fee. He was enthusiastic but maybe a bit too enthusiastic for my post-flight, luggage toting self. The Penang War Museum story rattled off in a non-stop narrative that would have been excellent had it accompanied a walk-thru tour, but no such tour was offered to me that day. Just the verbal tour and a colorful brochure with a map; Welcome to War Museum "The Fort Comes Alive".
He was kind enough to offer me the local entry fee instead of foreigner price. And he let me leave my luggage at their front office, which lightened my load significantly. Had I realized what I was about to get into, I would have changed into more breathable, loose clothing. But at least my hands were free and I was wearing sturdy shoes.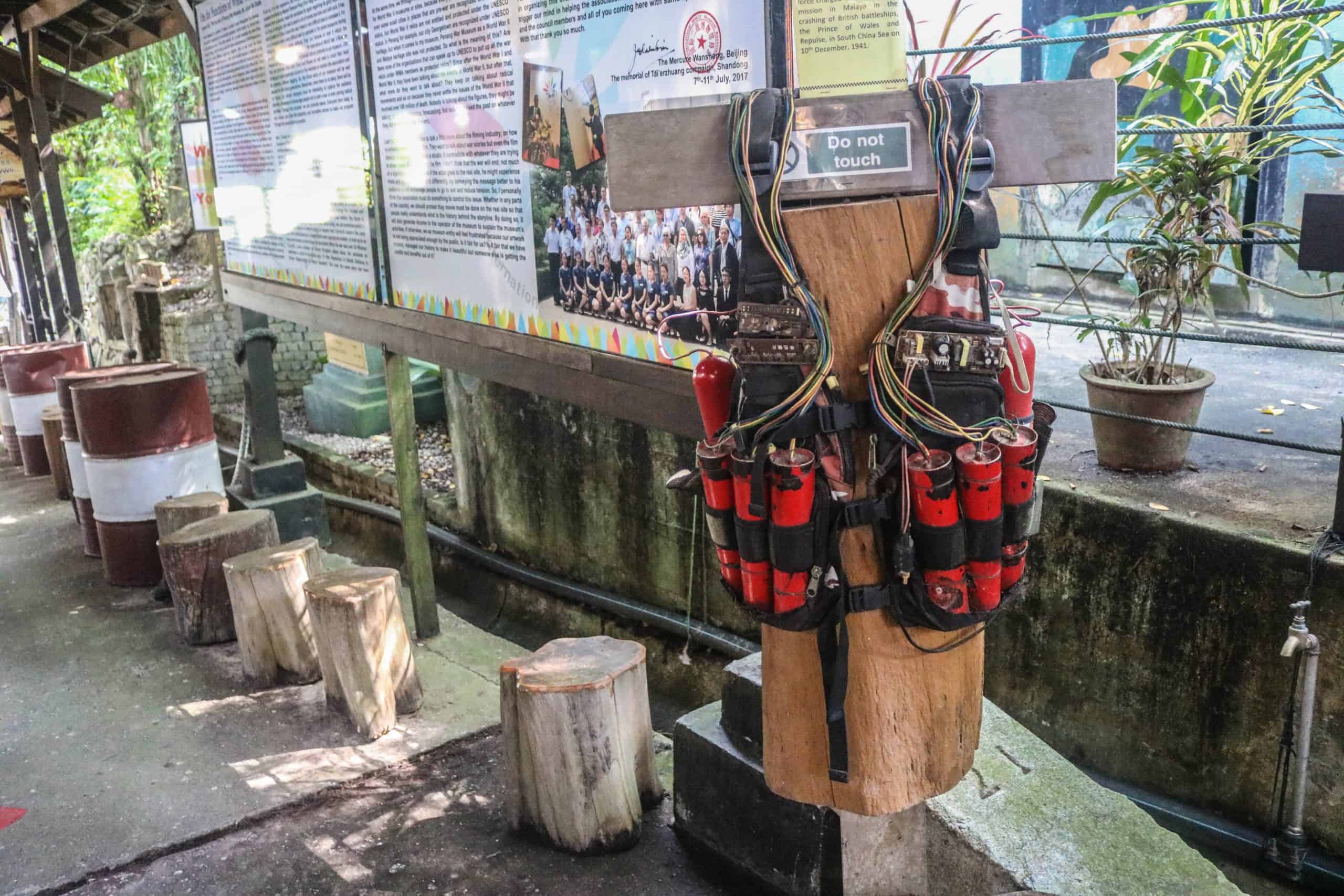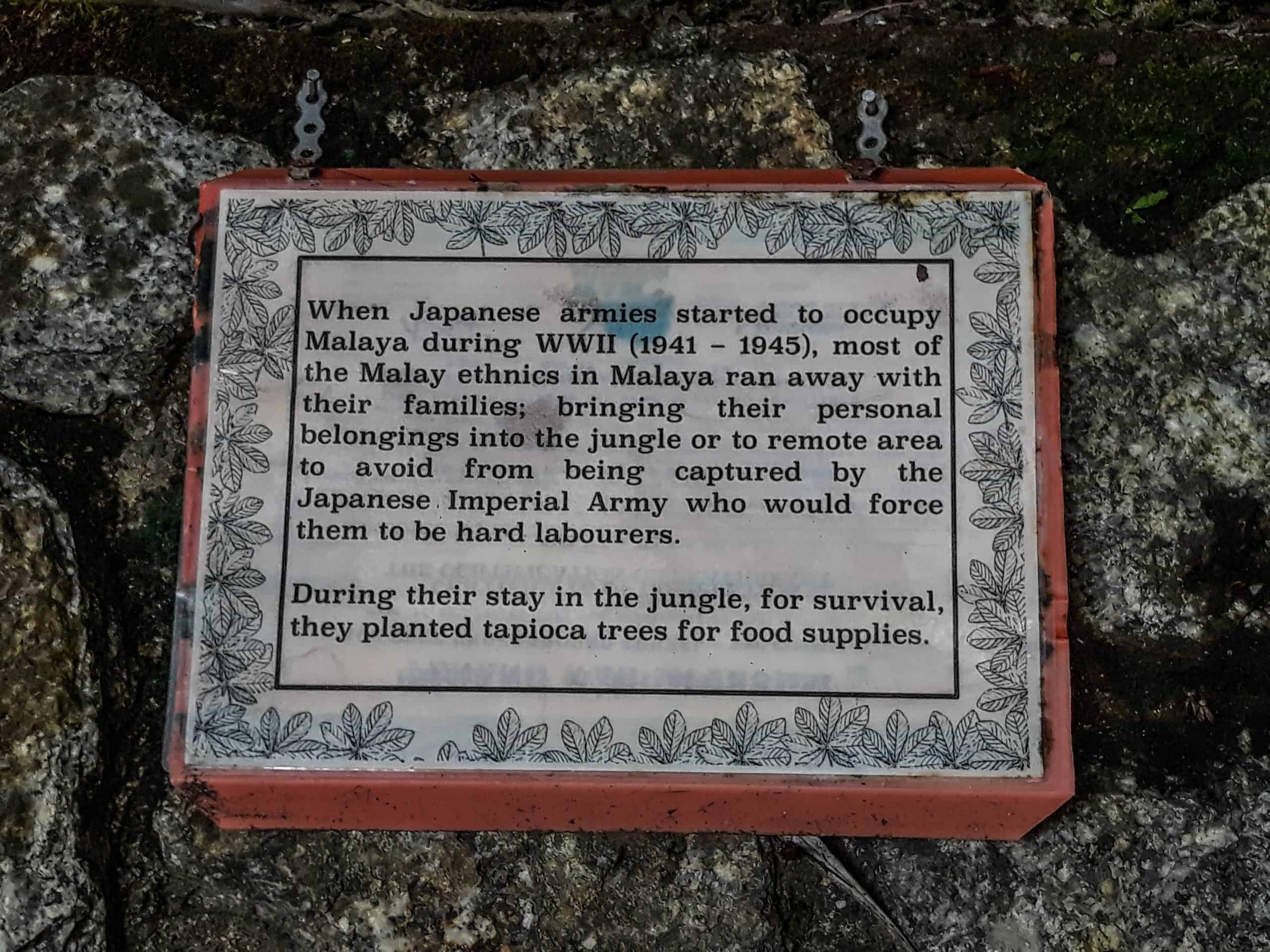 The entry walkway was a bit overwhelming, but promising at the same time. A few choice 'artefacts' here and there, as well as a few printed information plaques assured me that there would probably be some more interesting gems further into the museum. However, after doing a little post-visit research, it appears I may have missed a few things or perhaps some exhibits had been minimalized during lockdown and not fully on display yet.
Due to time limitations, I wasn't prepared to tackle 20 acres worth of living museum, so I basically explored the main area for a couple of hours.
A main covered sidewalk leads to several side tour options or staircases (which there are a lot of). I chose the path of least resistance and shuffled through a dimly lit hallway that was being guarded by two jovial soldier cutouts. The hallway led to several dimly lit rooms which were decorated with 'artefacts'. Copies of old photos, a collection of old shoes, and even an old painting of 'scenic Asia' for no particular reason.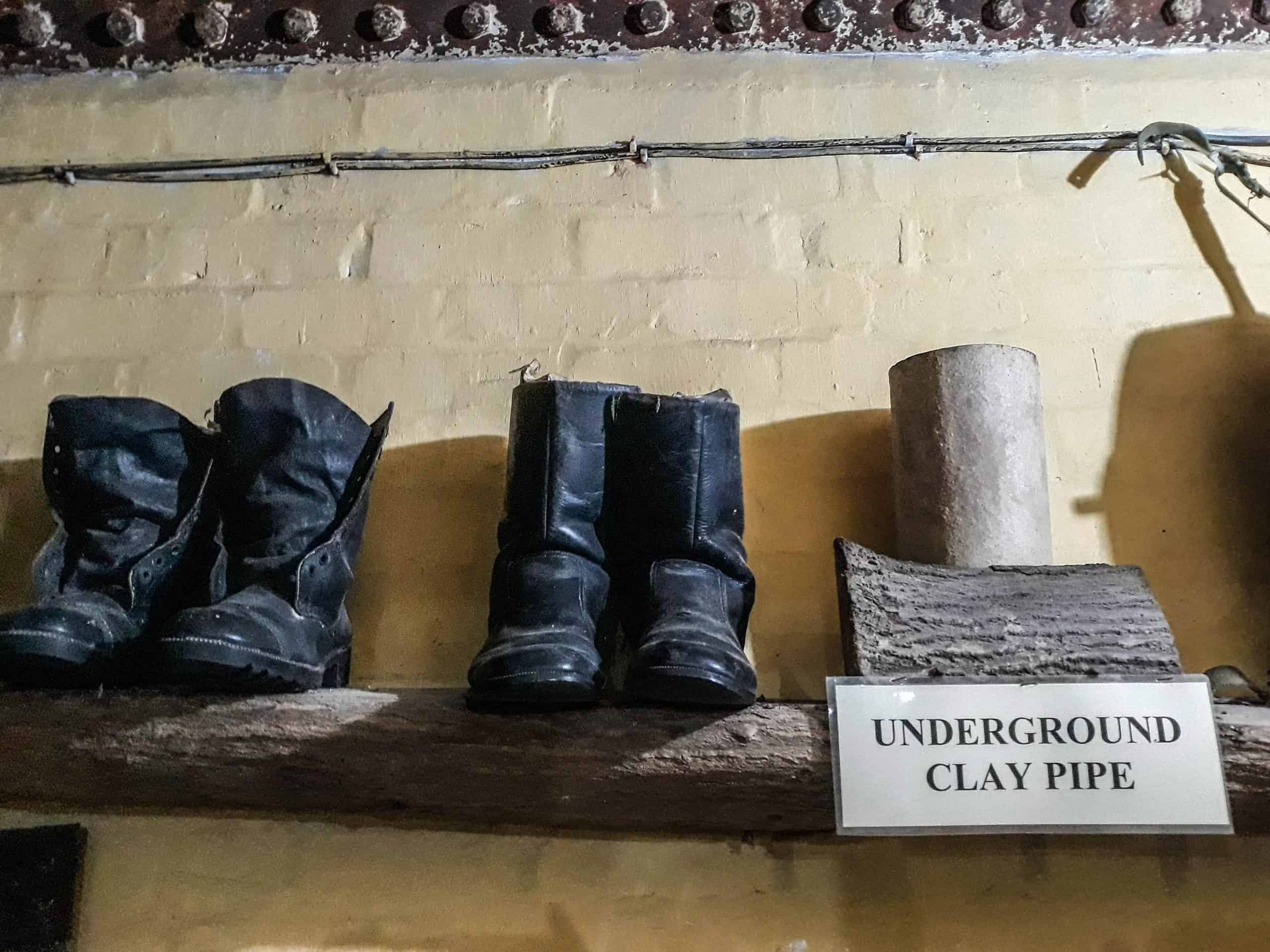 Information boards were a mix of professional looking and home-made plaques with little information offered beyond the obvious. I was rapidly losing interest until I discovered the tunnel crawl space which invited me to try. I did. It wasn't especially fun, but at least I had bragging rights that I did it.
After crawling ungracefully through the cement tunnel, I was greeted by a scary rusty ladder that led to the upper grounds. I'll be honest here, I made it half way before realizing that if that ladder gave way, I was surely f*cked. So, I retraced my steps and took a flight of stairs instead. Safety first as they say and you should too unless you have great health insurance or strong bones.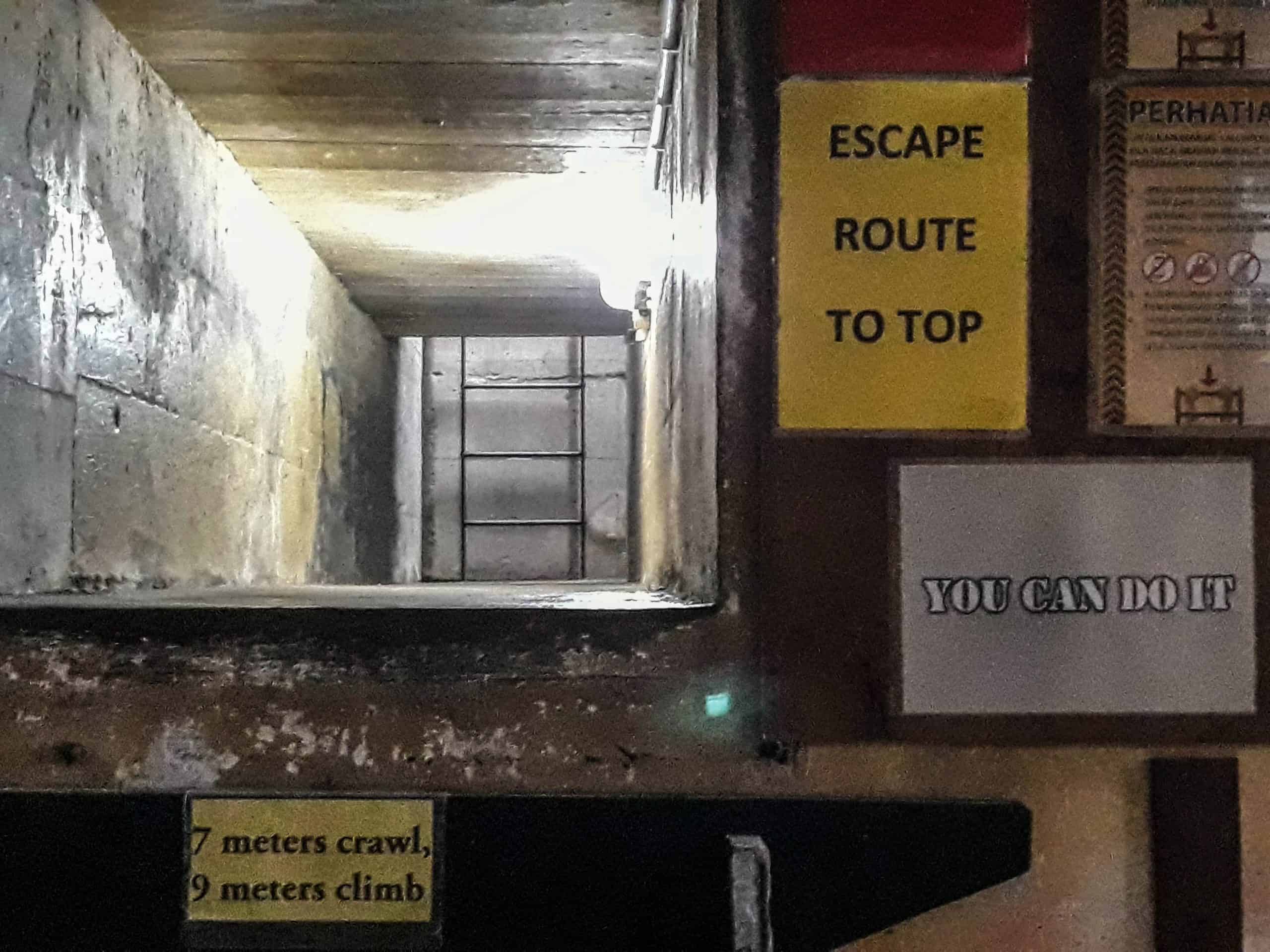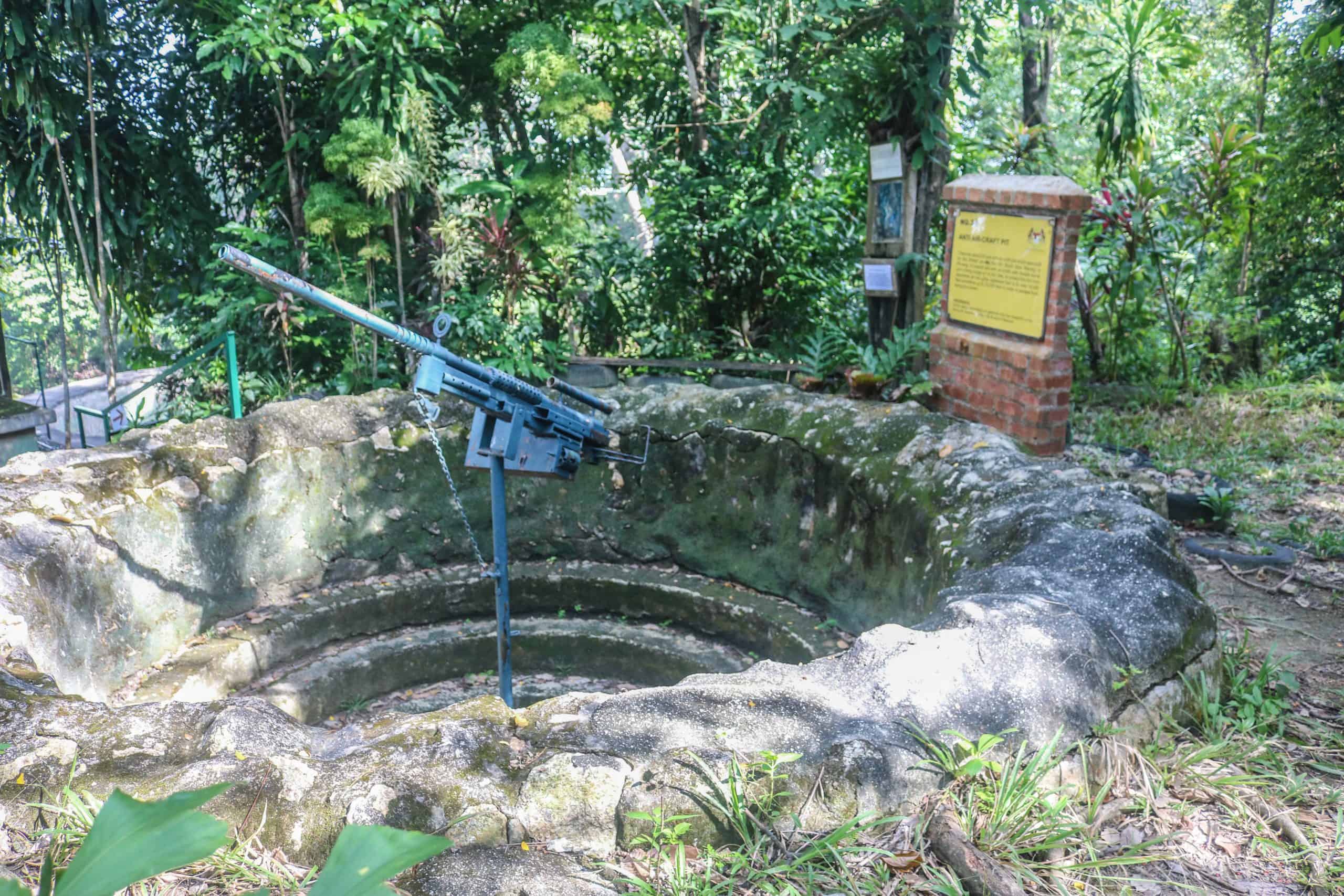 Never the less the grassy knoll at the top offered a jungle clad view of the Penang 2nd Bridge and some coastal development project. Gun batteries and bunkers were mixed in with old tires, rope swings and other 'collectables'. There were several ghost inspired highlights, including a gigantic shadow effigy looming in the trees as well as.
I was already beginning to question the authenticity of the museum's artefacts, but seeing items of supposed historic significance out in the open-air made me question it even more. The haunted house style display of horrific beheading locations sealed the deal.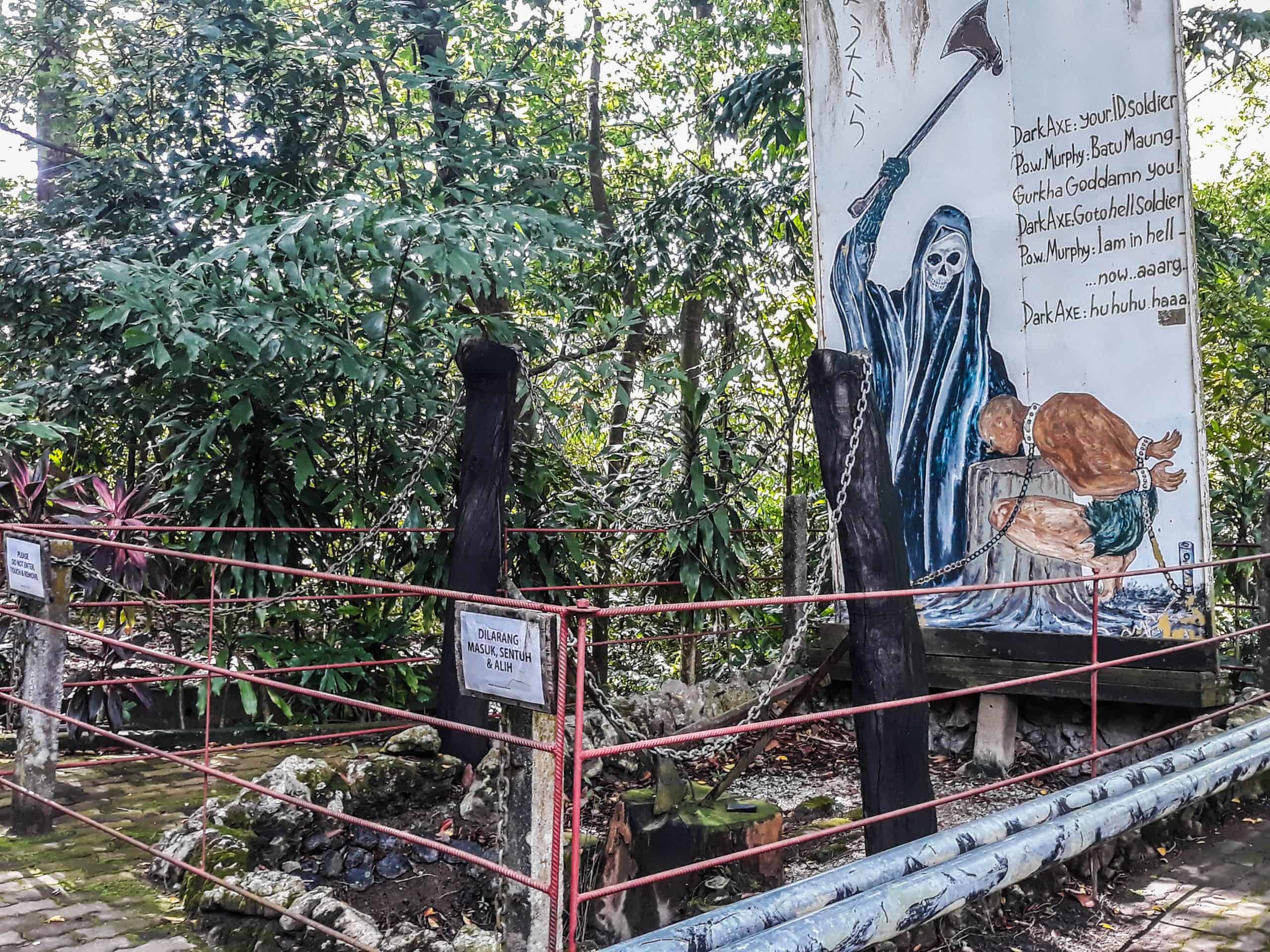 Verdict?
Running a privately owned museum without consistent funding must be a daunting task. It's understandable that passion projects may end up compromising on their original mission and find other ways to generate revenue or attract more visitors. Thus is the case with the Penang War Museum; living museum, after dark ghost story something or other tour, and paint ball park all rolled into one.
It's not easy on the eye, but I applaud any rebel who marches to the beat of their own drummer and gives it a go on their own. However, when it comes to important historic World War 2 sites, I'm not so sure that's how to handle things. That said, the Penang War Museum is an interesting 'living' museum nonetheless. Not what I expected, but still worth a visit.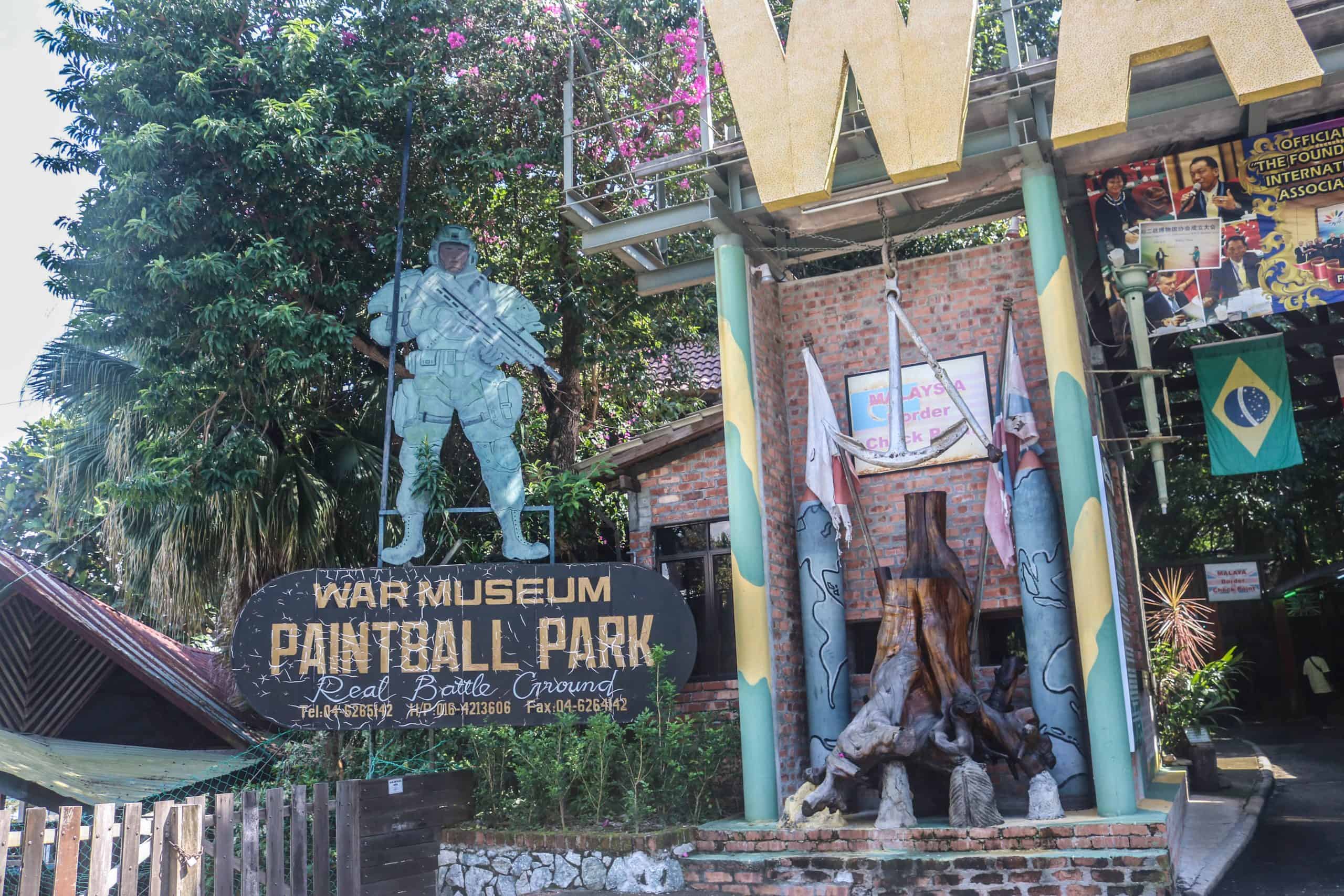 Getting to the Penang War Museum
Located in Batu Maung, the Penang War Museum is just a 10 to 15 minute drive, from the Penang International Airport. If you are relying on public transportation and have the time, it's worth it to visit directly from the airport rather than pay for a costly roundtrip from the Georgetown area. The staff at the Penang War Museum will allow you to leave your suitcase or other travel bags at their front desk.
But there is a lot of ground to cover at the Penang War Museum, so if you want more than a look see, expect to spend several hours there and plan accordingly.
I highly recommend wearing loose clothing and sporting type shoes, and be prepared to sweat. Having a small backpack or waist pack is a good idea too, as you will want your hands free for safely climbing a few ladders and crawling through tunnels. And yes, you must! do these things for the bragging rights and photo opts alone.
The Penang War Museum
Daerah Barat Daya, Batu Maung, Penang
Tel: 016-421 3606/ 04-626 5142
Open daily: 0900 to 1800