Amverton Cove Golf & Island Resort has it all. Or at least it's very near to that lofty goal. What began as a golf course and resort has now expanded to include a second hotel; Riverine Hotel & Suites, a waterpark, survival park and a fast-developing gated community; Homesteads @Amverton Cove. All this and more awaits on sleepy Pulau Carey (island) just a short drive from Klang, Subang and neighboring Kuala Lumpur.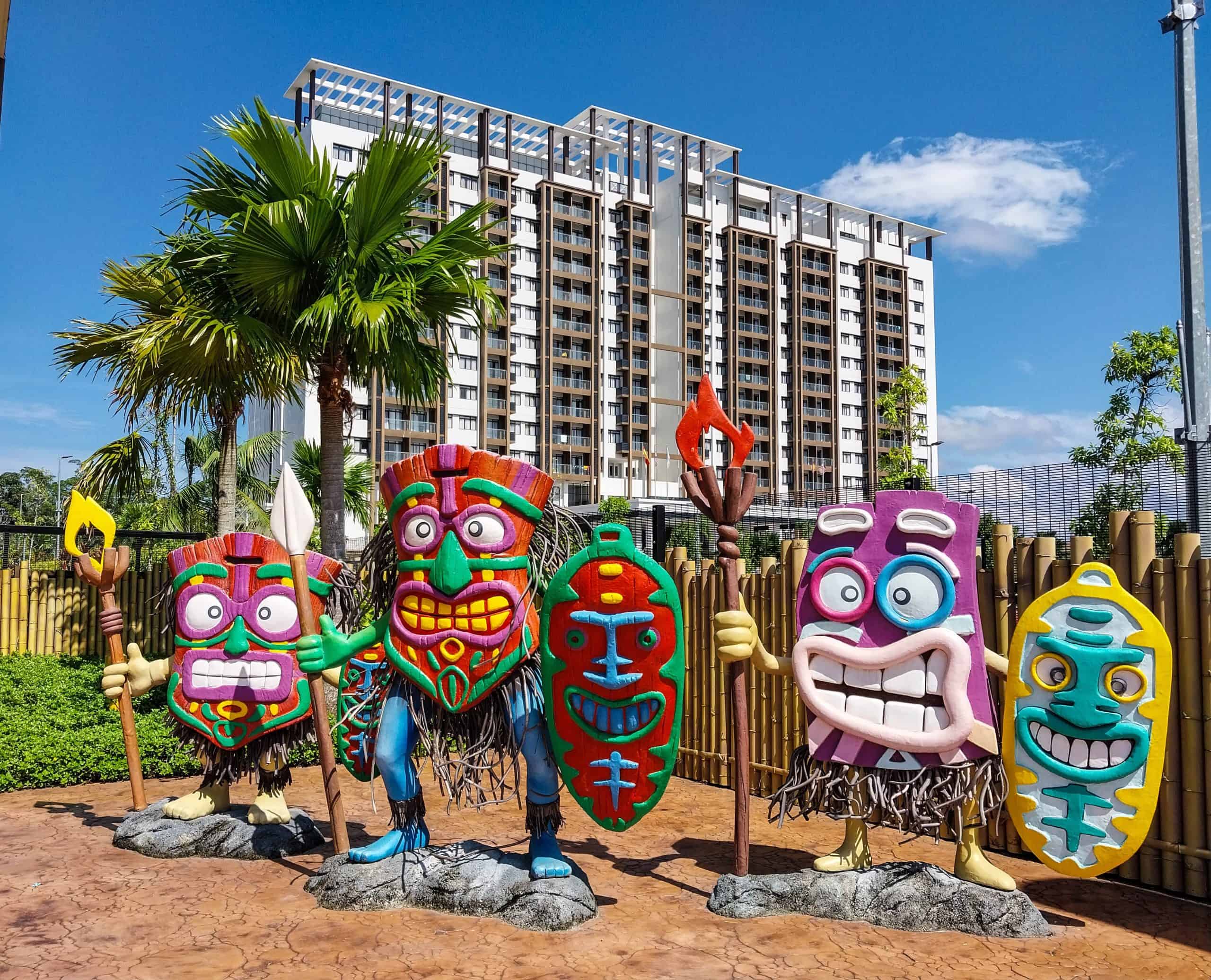 On my recent visit to Pulau Carey, I happily stayed at the Riverine Hotel & Suites, which is a far cry from the simple homestay and budget hotel options of neighboring islands. Riverine Hotel is affordable luxury at its best and has excellent amenities as well as outdoor activities, just a stone's throw from the hotel's front entrance. Amverton Cove has indeed raised the island accommodation bar.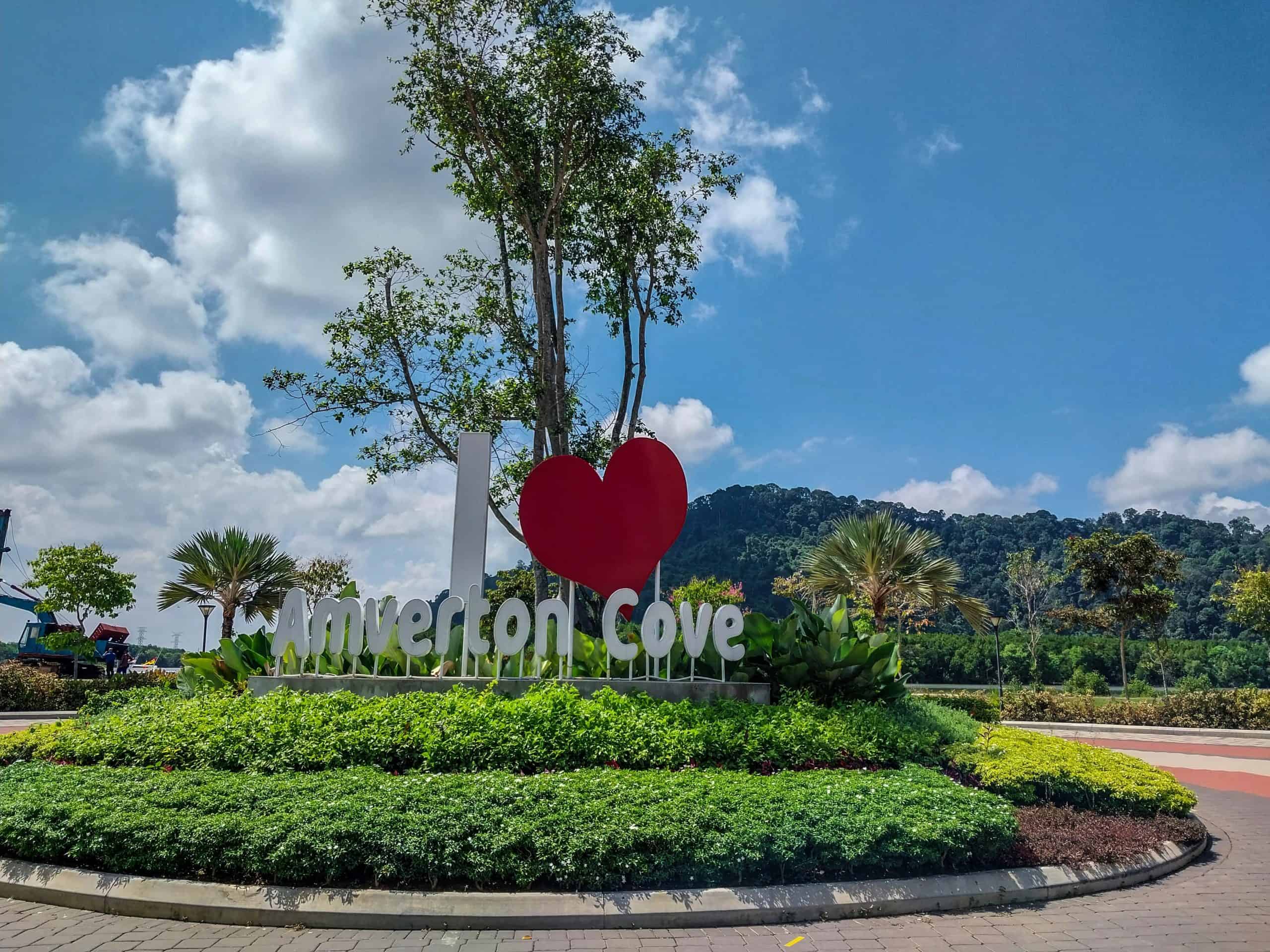 Riverine Hotel & Suites as well as Riverine Splash, Riverine Survival Park and Riverine Action Park are under the Amverton Cove Golf & Island Resort umbrella, offering non-golfers (as well as golf-enthusiasts) another reason to venture out to Pulau Carey. The Riverine hotel, waterpark, survival and action parks are conveniently located next door to each other and offer loads of activity options for guests.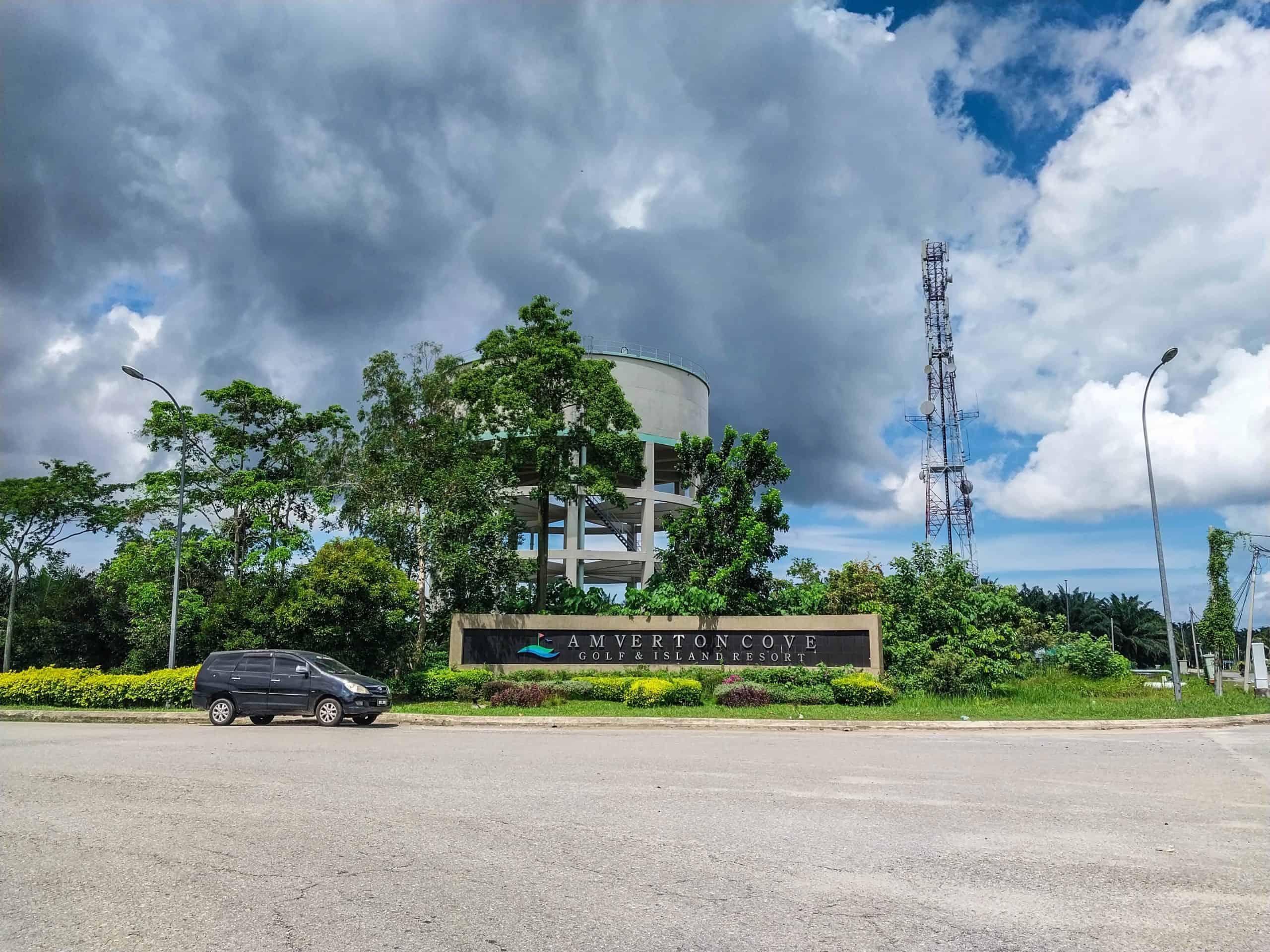 Checking in at Riverine Hotel & Suites
I stayed in a Riverine Studio King, but the Riverine has 7 room styles to choose from; Riverine Deluxe Suite, Riverine Double Twin Suite, Riverine Jumbo Family Suite (Tatami), Riverine Studio Twin, Riverine Family Suite (Tatami), and Riverine Studio Double Queen.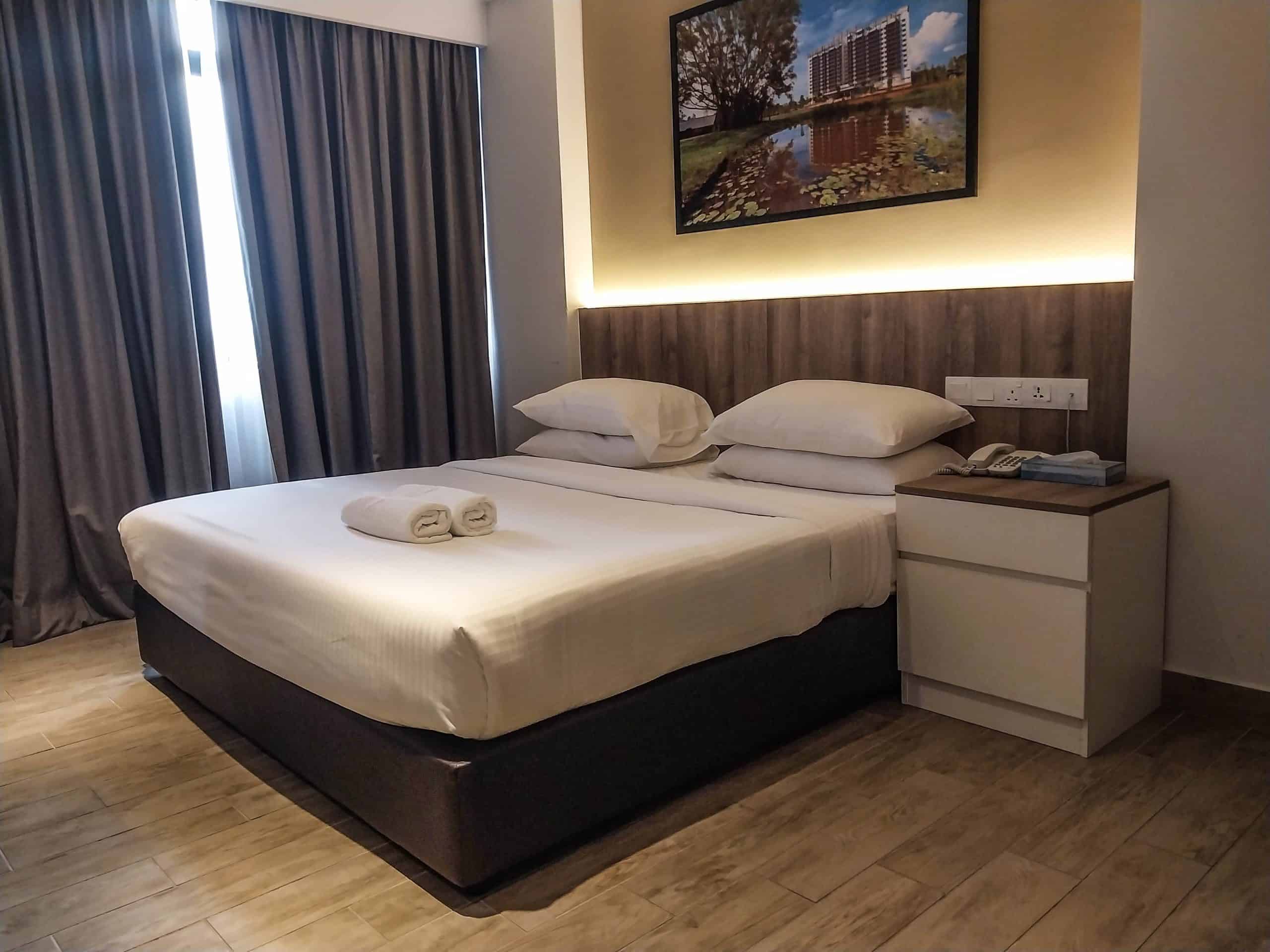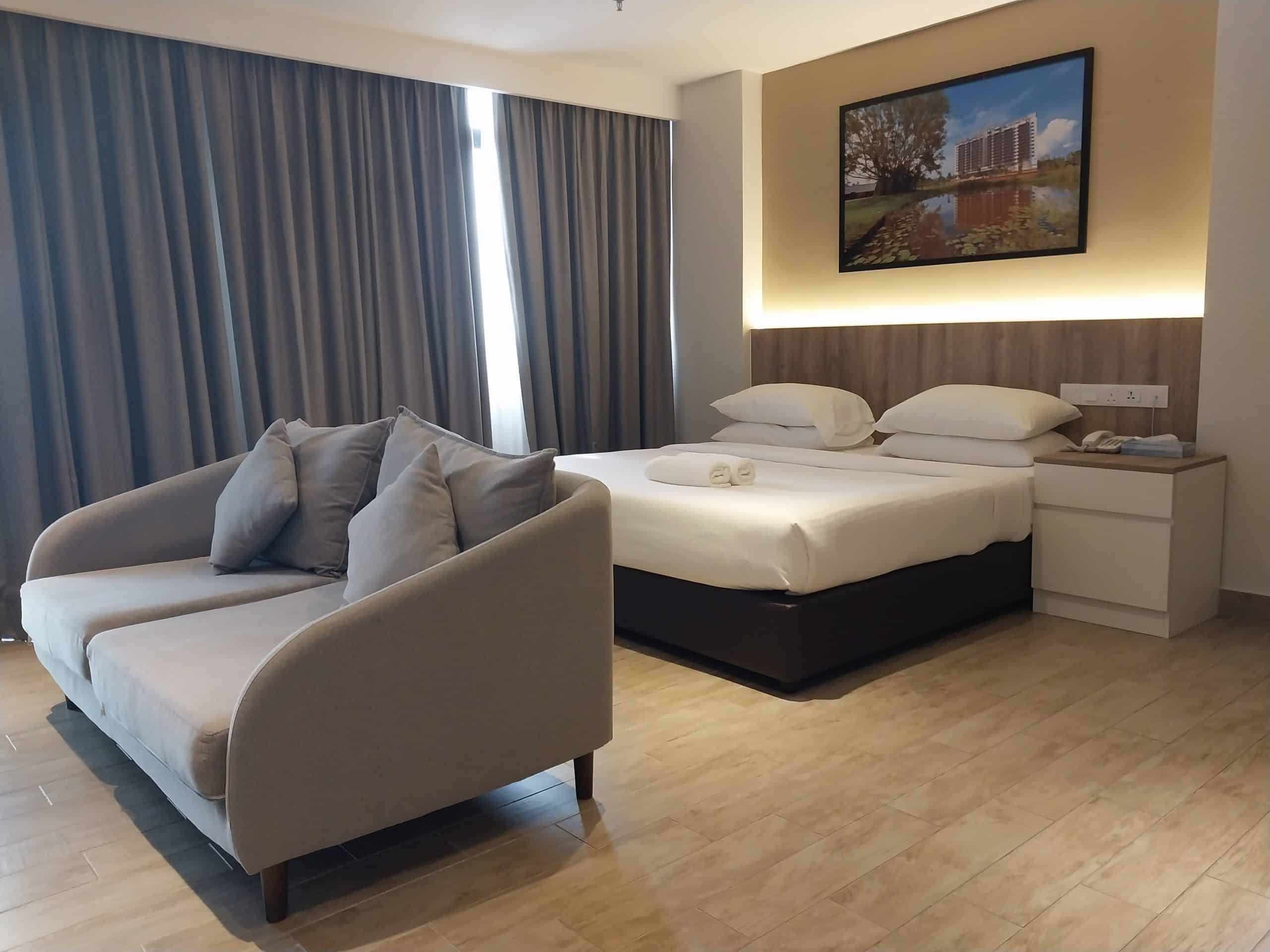 The Riverine Studio King was perfect for me, but would have comfortably allowed for at least two more to join me because the room was huge. The Studio King floorplan includes a small kitchenette, living room with flat screen tv, luxuriously comfortable bed with plenty of walking room and overall great lighting. The bathroom also has a divine rain shower (which I totally love). The 'kitchen' table was also excellent as a workspace/ desk and the internet was super-fast.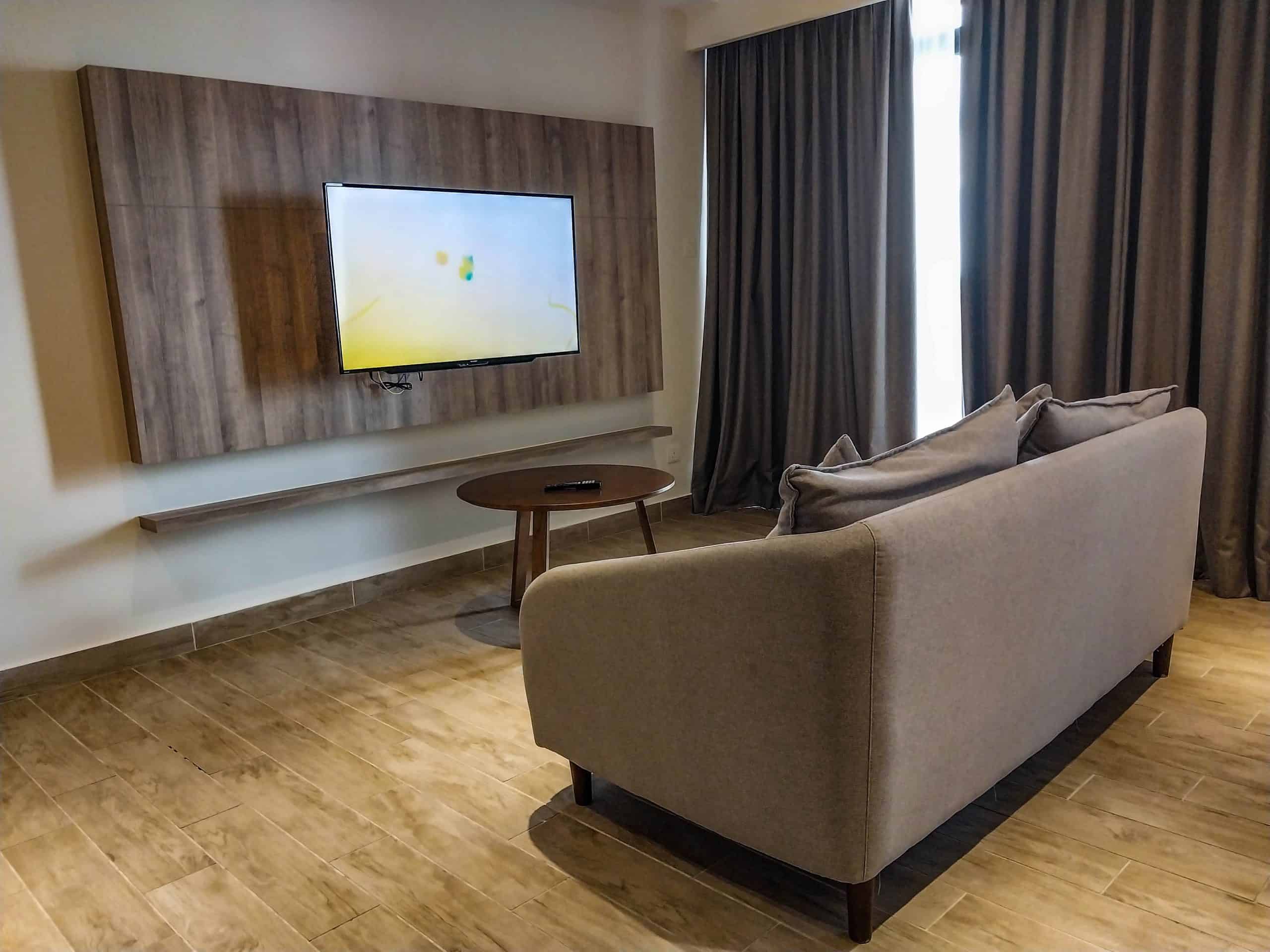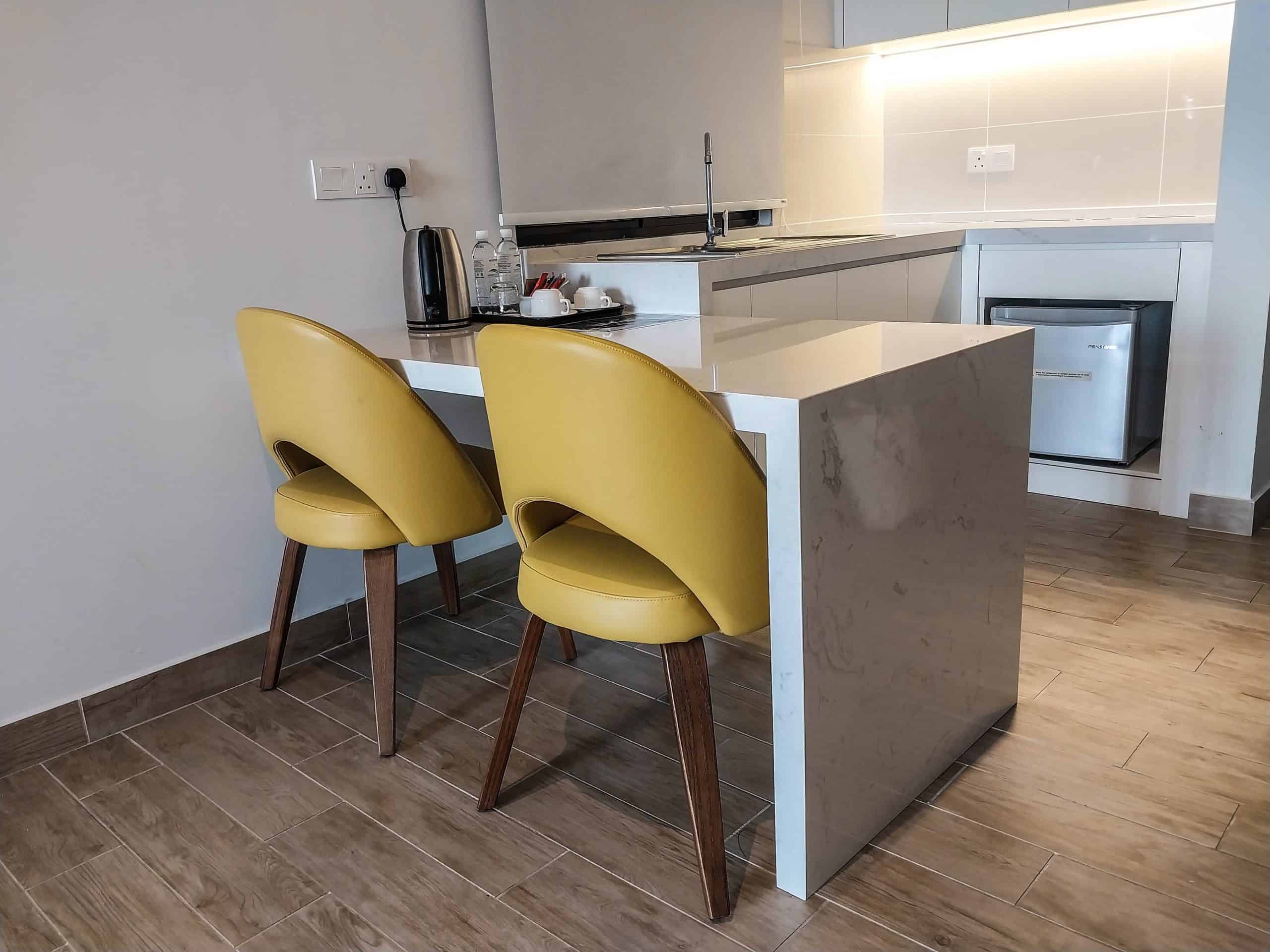 And the icing on the cake was a private balcony overlooking the expansive surrounding property and the adjacent river. It's a lovely spot to catch the sunrise from as well.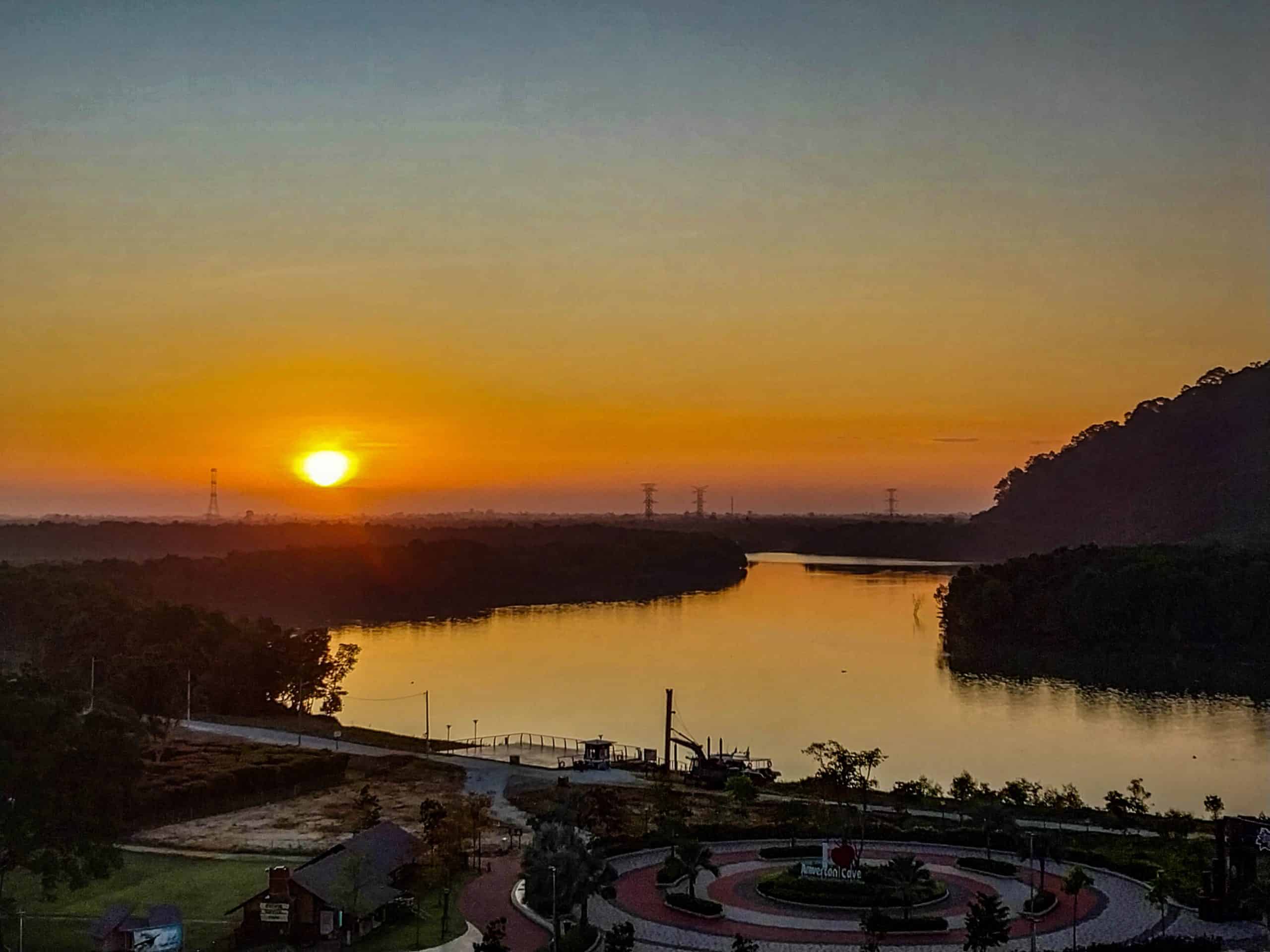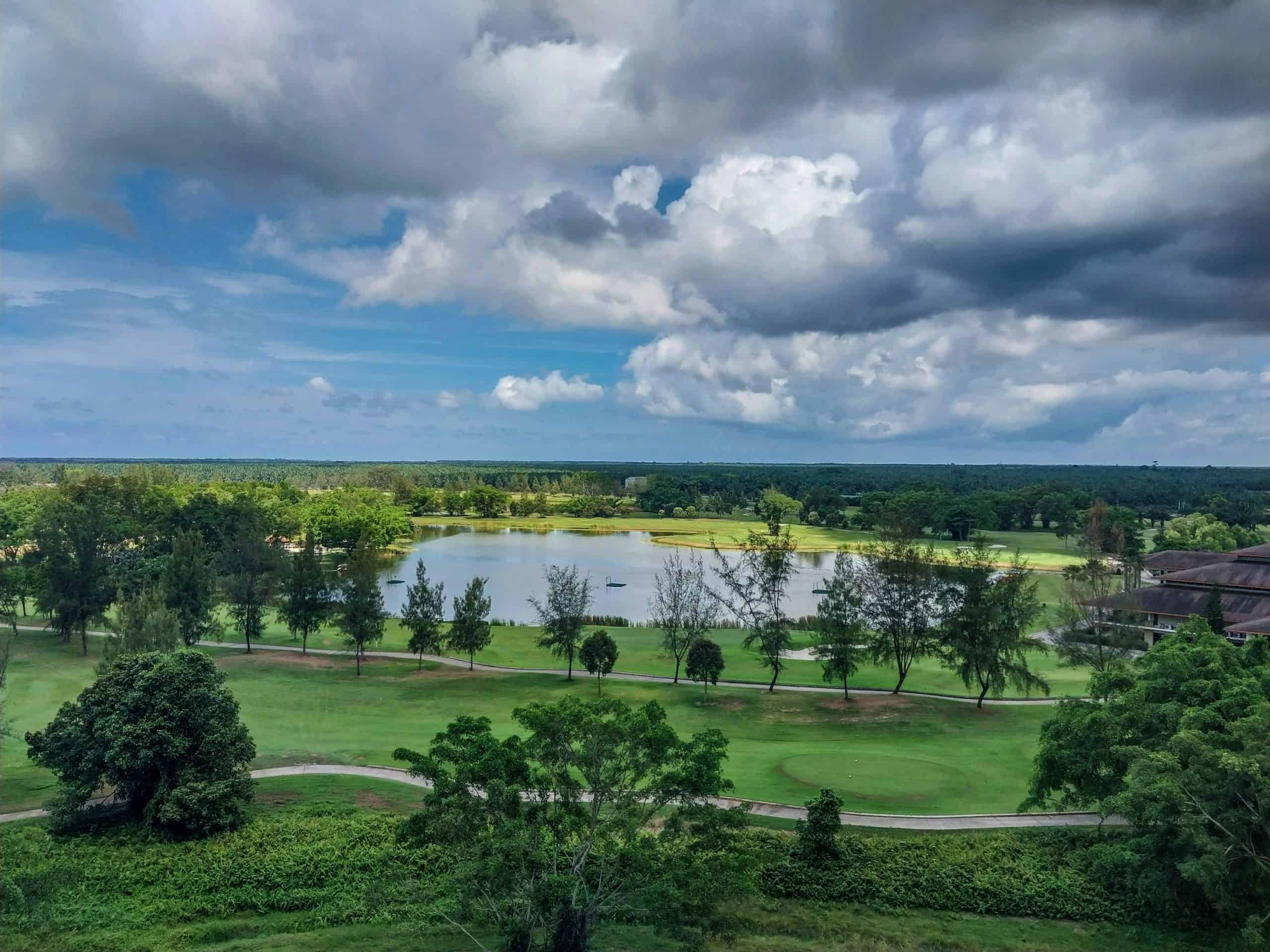 Amazingly enough, despite the fact that the Riverine Splash Waterpark is right next door to the hotel, my room was quiet. Even from my balcony the sounds of family fun were just a non-distracting murmur. Space, privacy, peace and quiet, as well as a gorgeous view is accommodation perfection in my book. The Riverine Hotel & Suites is a definite keeper.
Riverine Activity Perks
In addition to being an incredibly comfortable hotel to stay at, the Riverine Hotel & Suites has many things to do just a stone's throw away; the Riverine Splash Waterpark, the Riverine Survival Park, the Riverine Action Park and more. These activities are also open to the public, so even if you aren't staying at the hotel you are welcome to come out to Amverton Cove and enjoy a day of fun.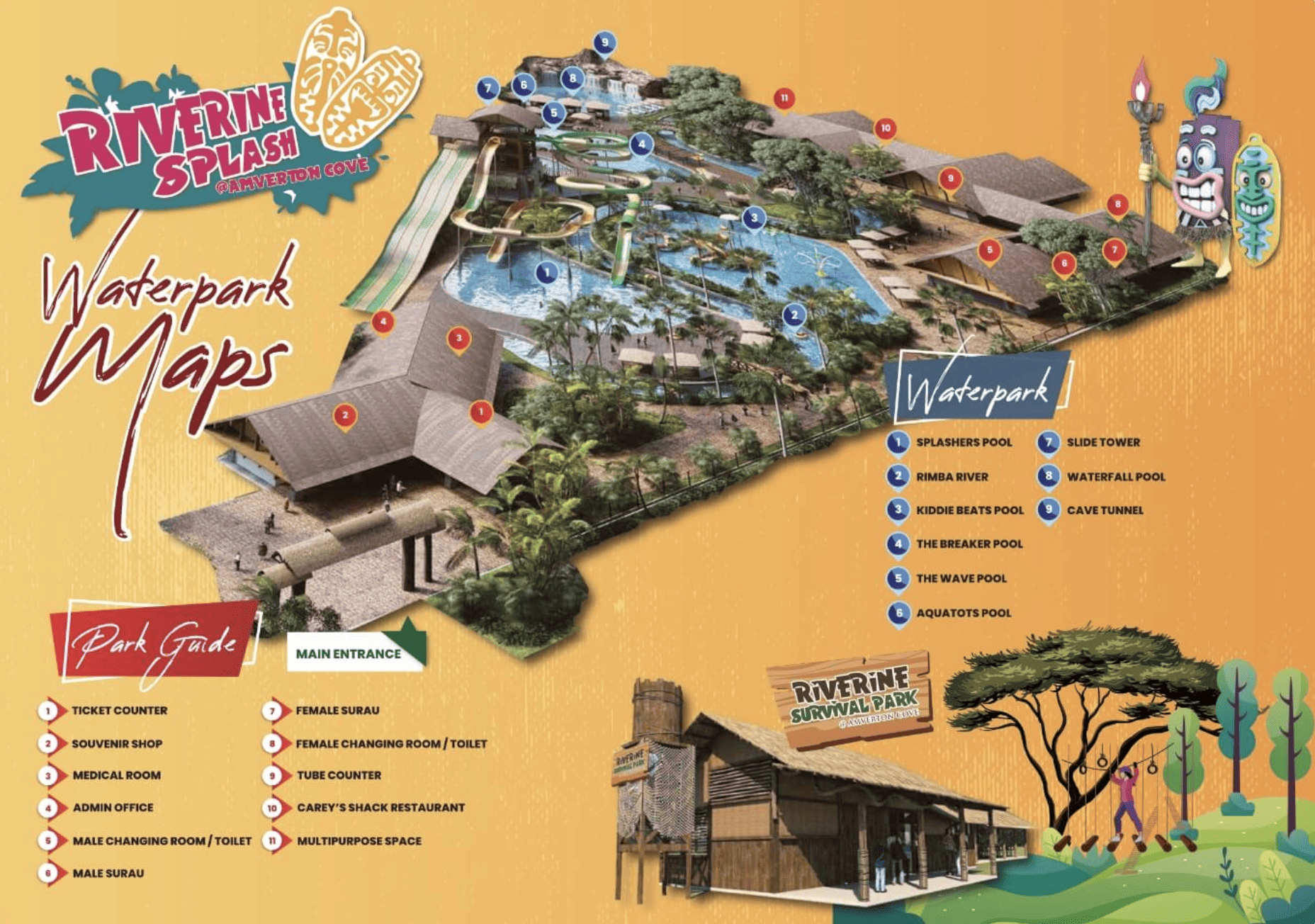 Riverine Splash Waterpark
With its clever 'tribe' theme, the Riverine Splash Waterpark offers a subtle acknowledgement to the local Mah Meri tribe culture in a fun, respectful way. The island-style, tropical ambience includes cute, colorful tiki statues standing sentry around the waterpark; just begging to be included in your selfies. Additionally, the park's walkways are lined with beautiful tropical foliage, making it quite the picturesque little waterpark.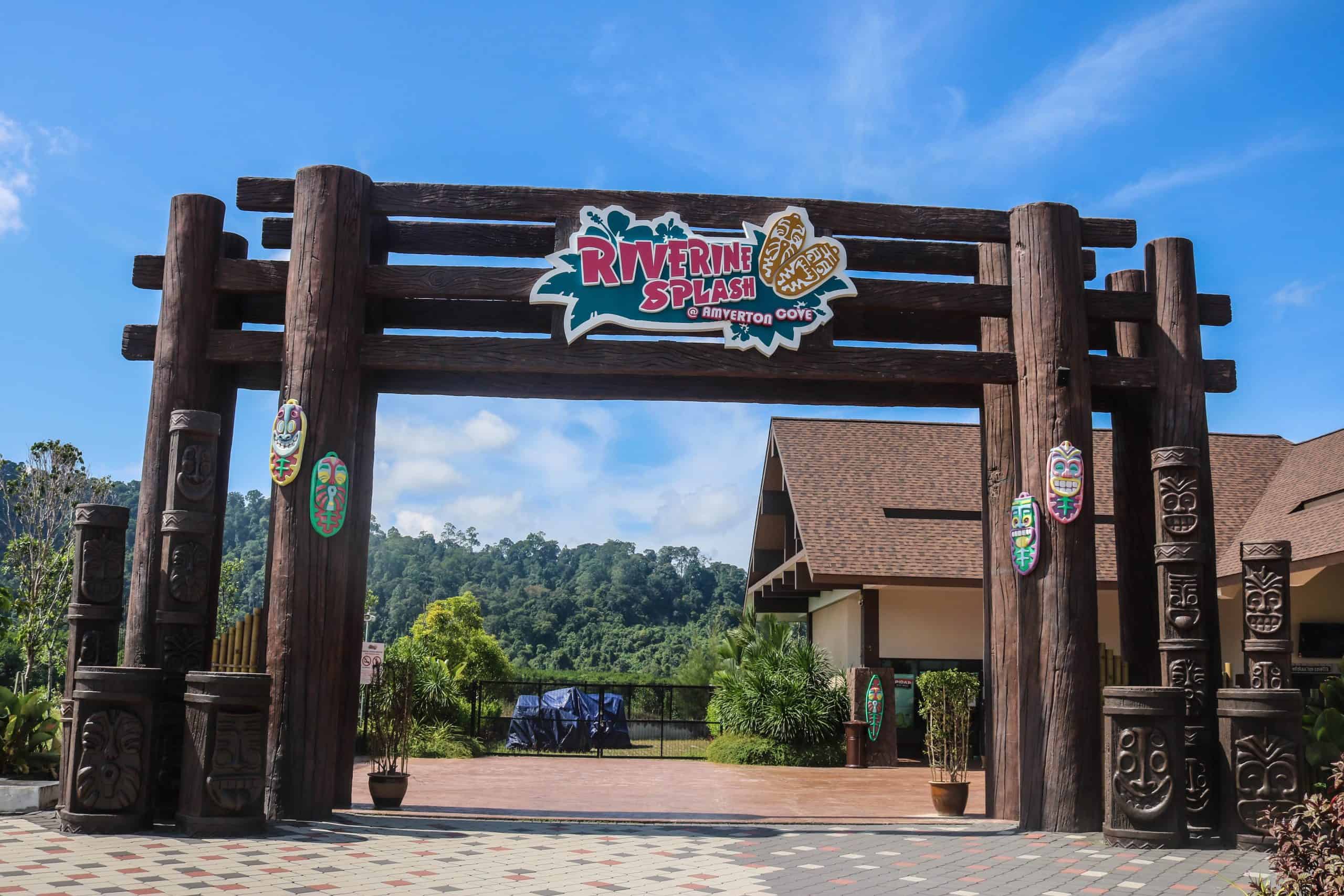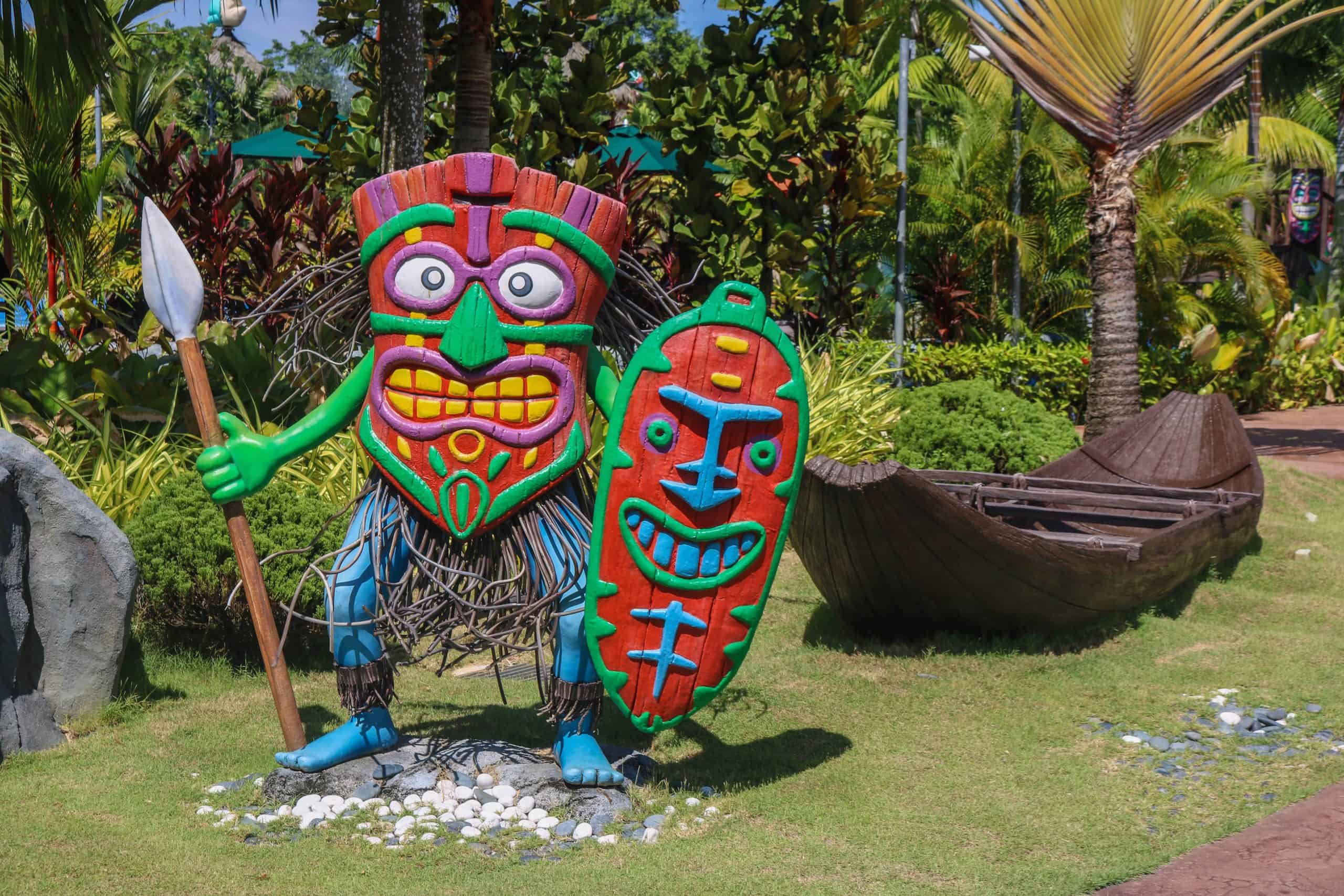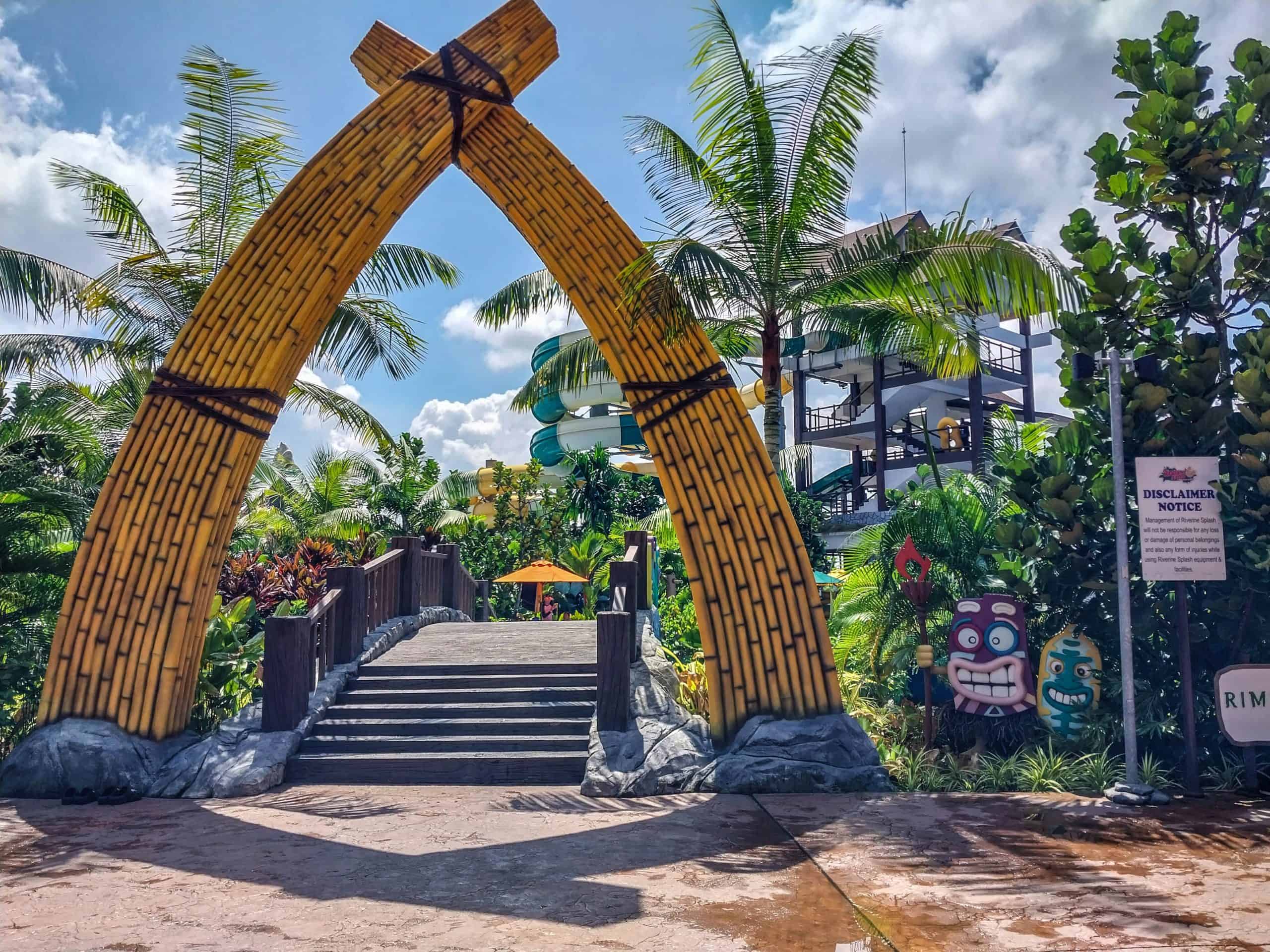 The Riverine Splash has just enough 'rides' to keep things interesting, yet not so many to be an overwhelming experience. I recognized some of my favorite types from previous waterpark experiences elsewhere, especially the Rimba River cruise and the tube slides; Boa and Anaconda. There is no 'age' limit at Riverine Splash, but there are minimal height charts for certain rides, for safety purposes.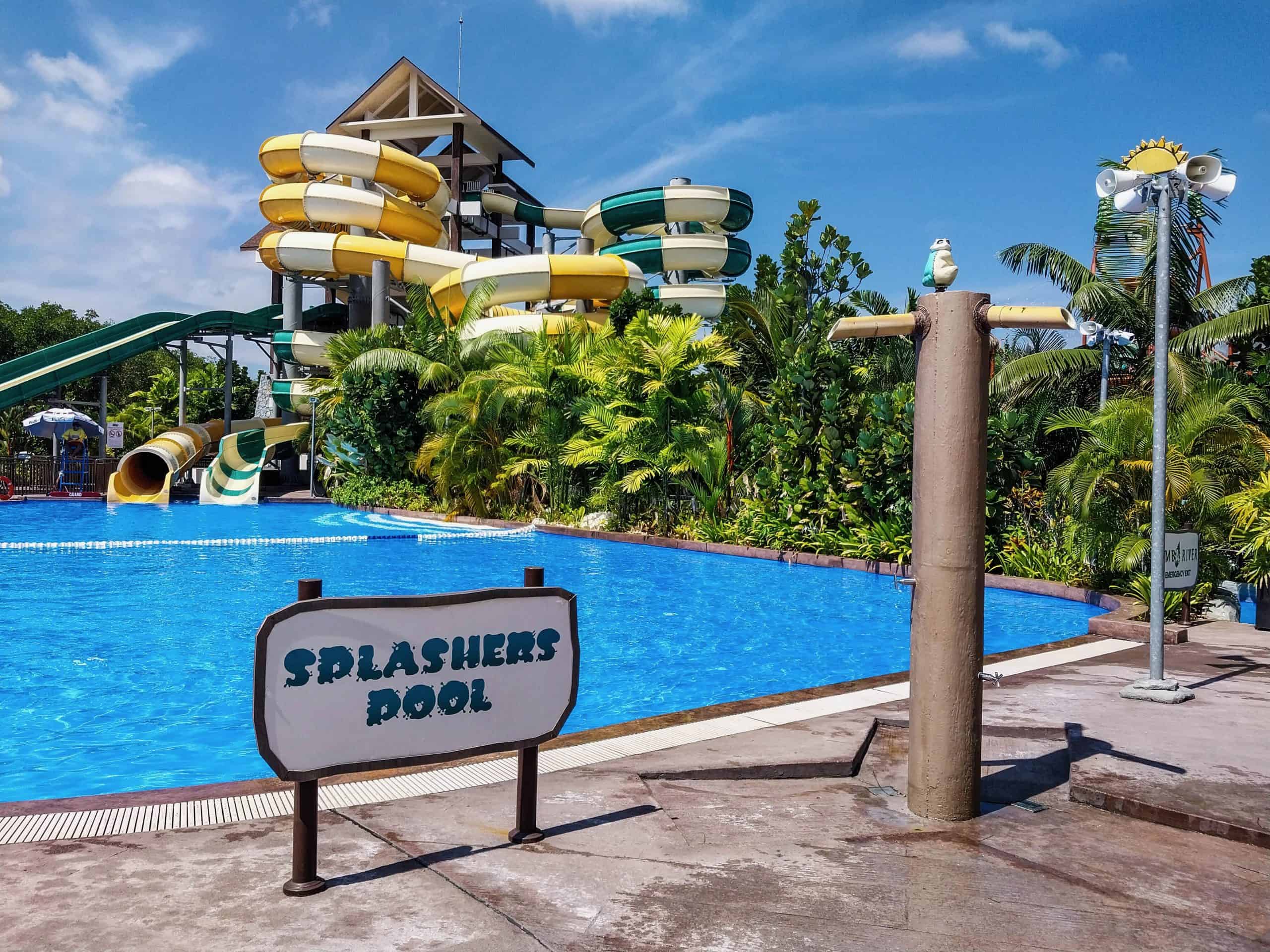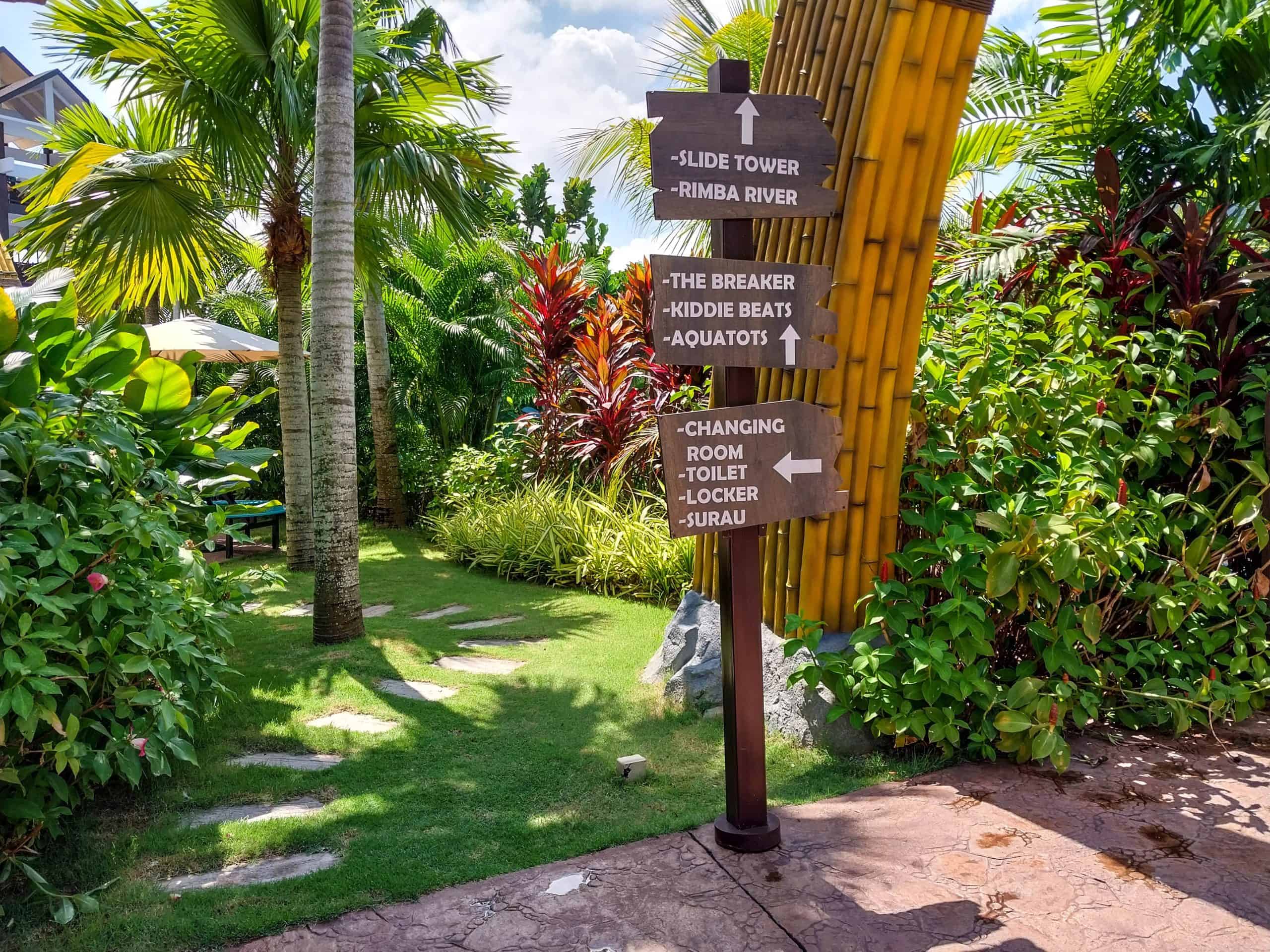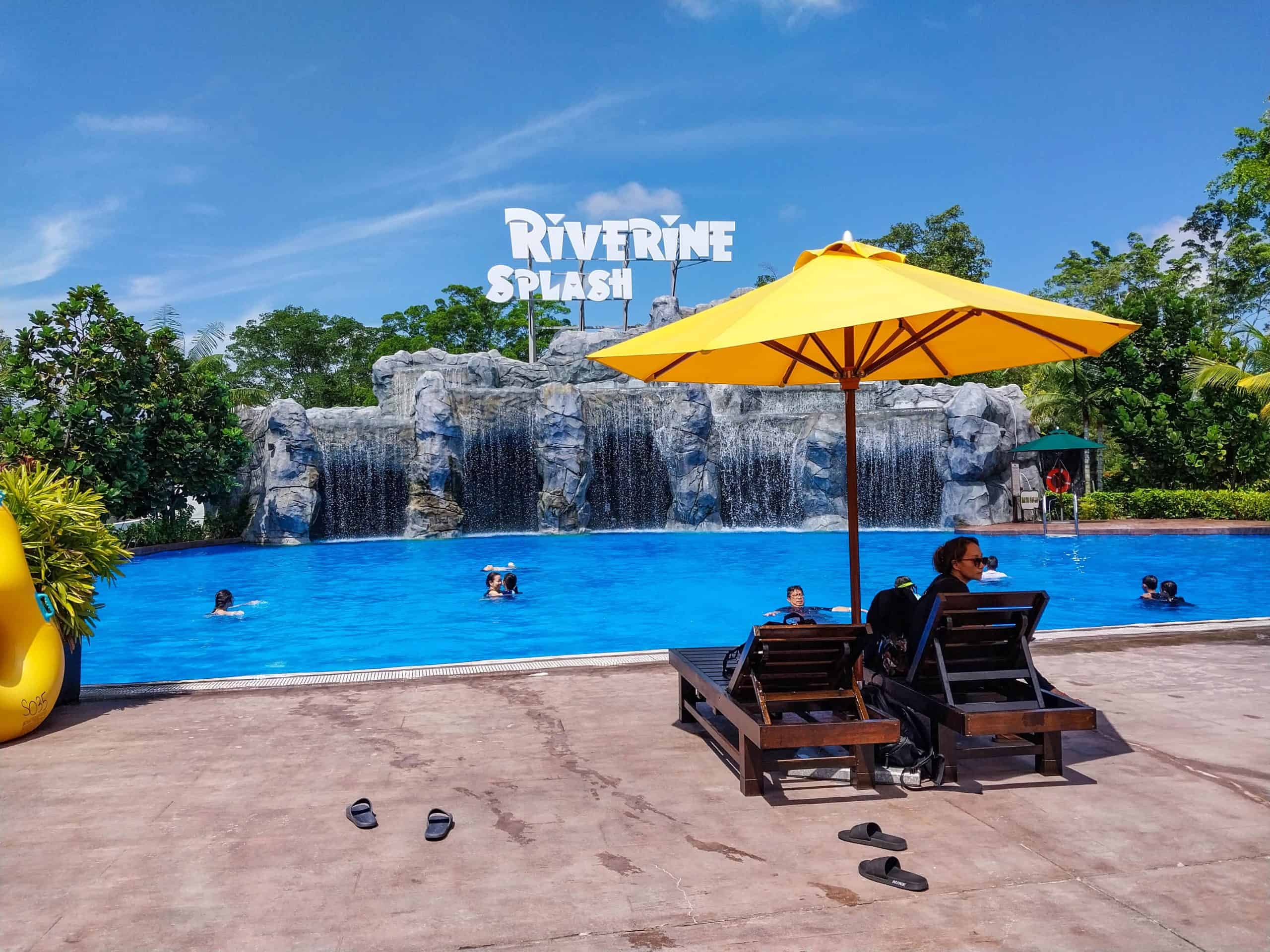 Word is definitely out on the Riverine Splash Waterpark, because quite a few families had already staked out their turf by the time I sauntered over midday. You will want to come early and packed for the day if you want to have the most fun, but the lines are short and the waterpark is well-organized for an excellent day of family fun.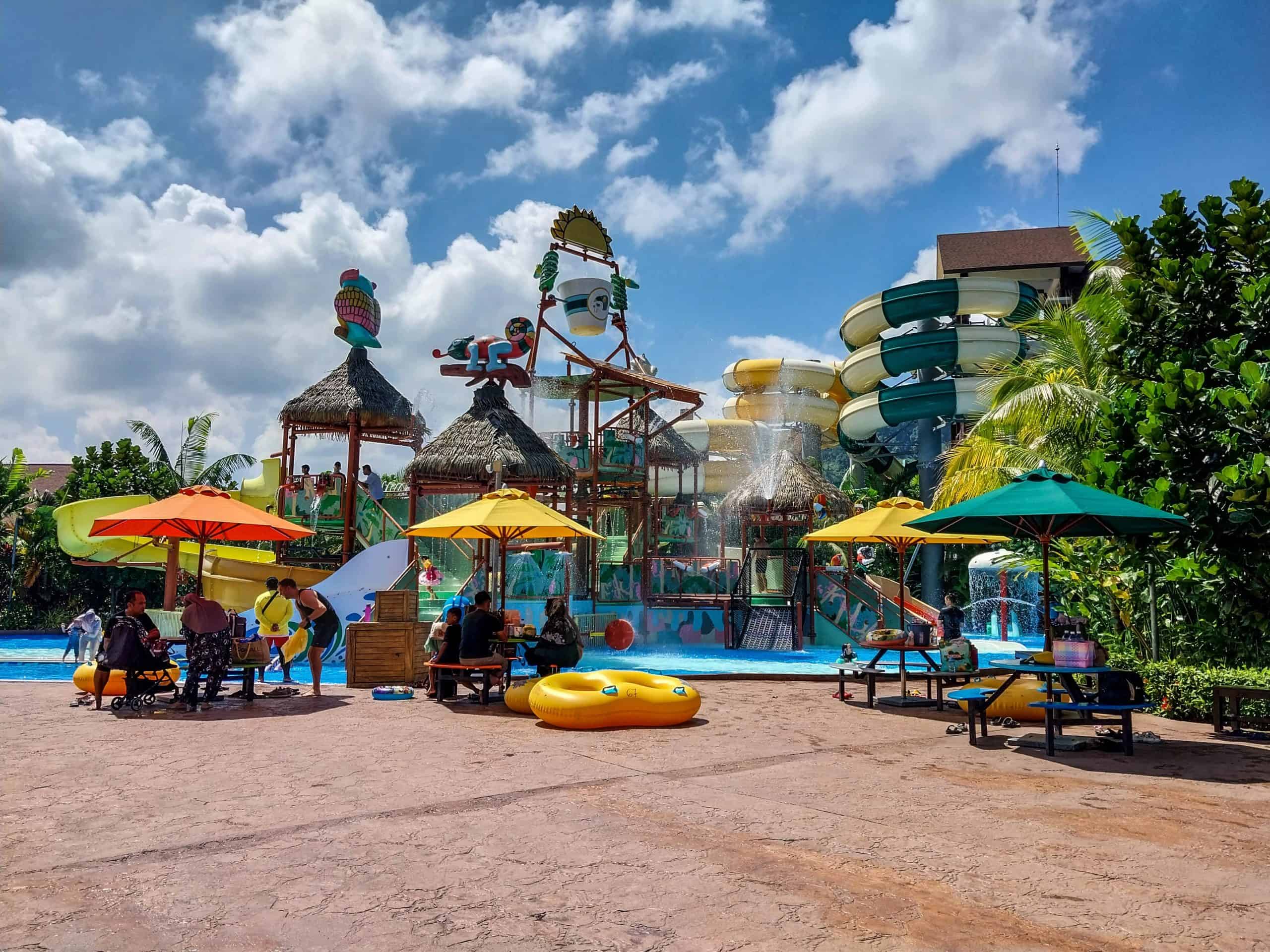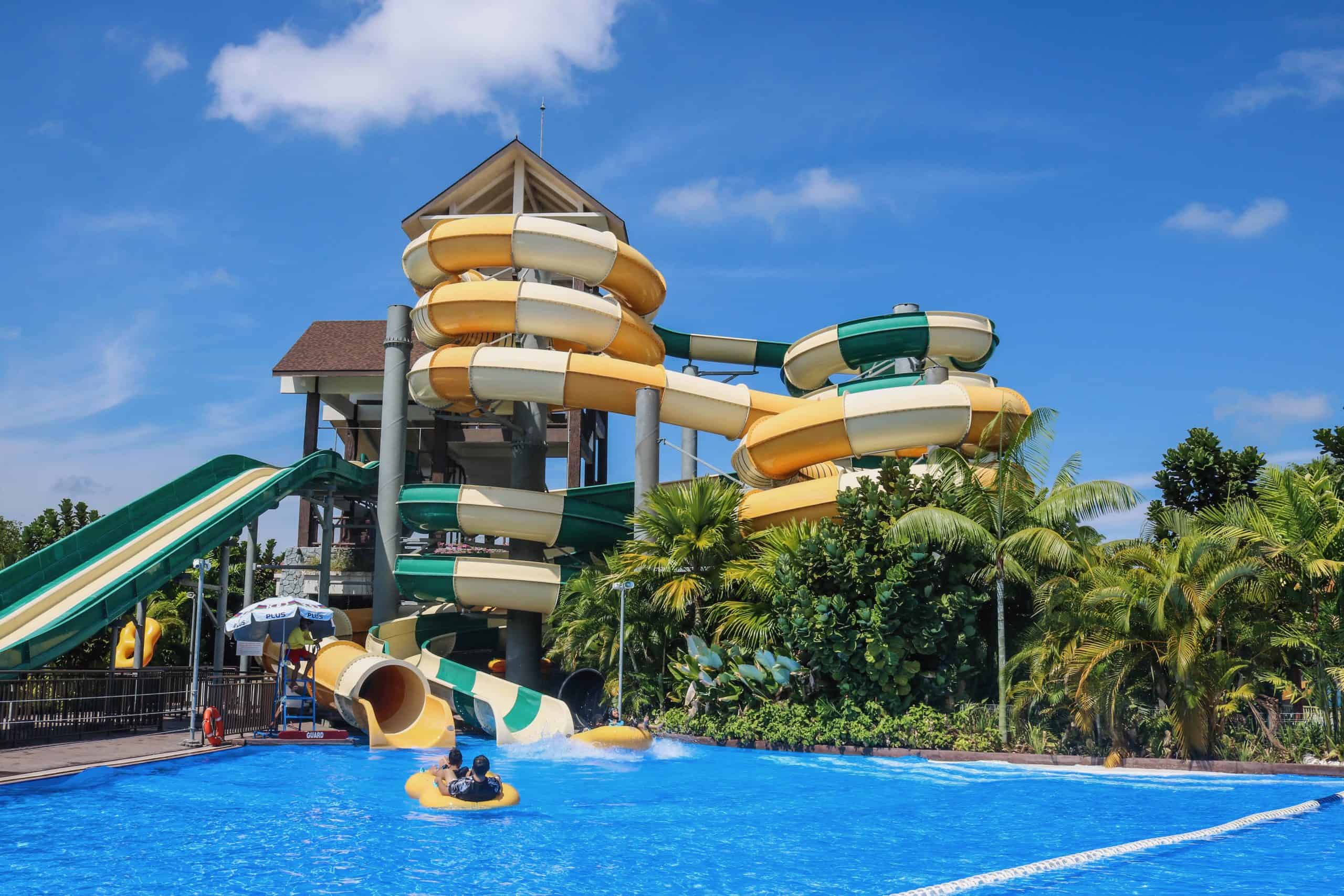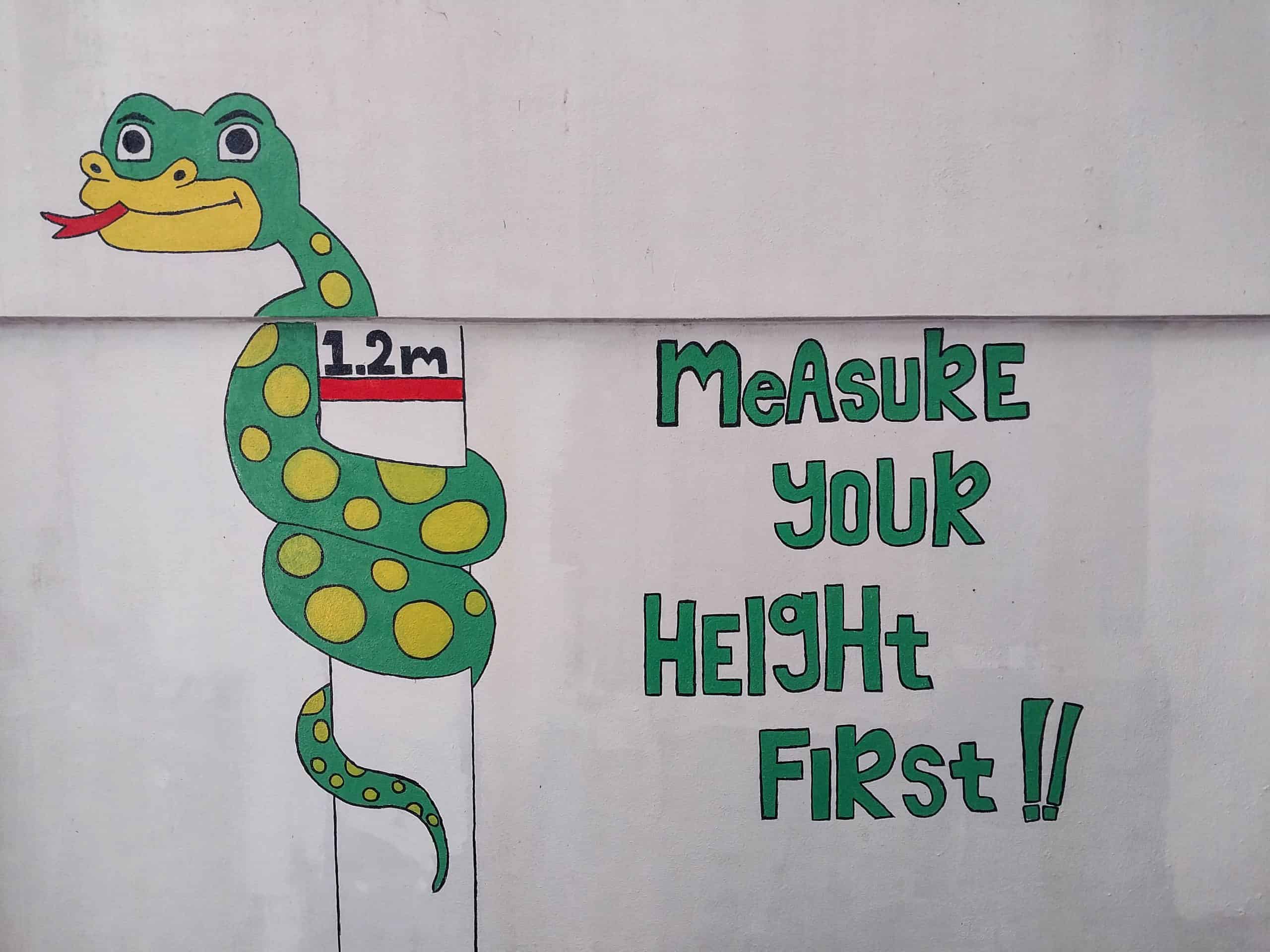 *There is also a well-stocked mini mart at the Riverine Splash Waterpark, that you can pop into even if you aren't going to the waterpark. They have food, drinks, and anything else a vacationer might need. Open daily until 6:00pm.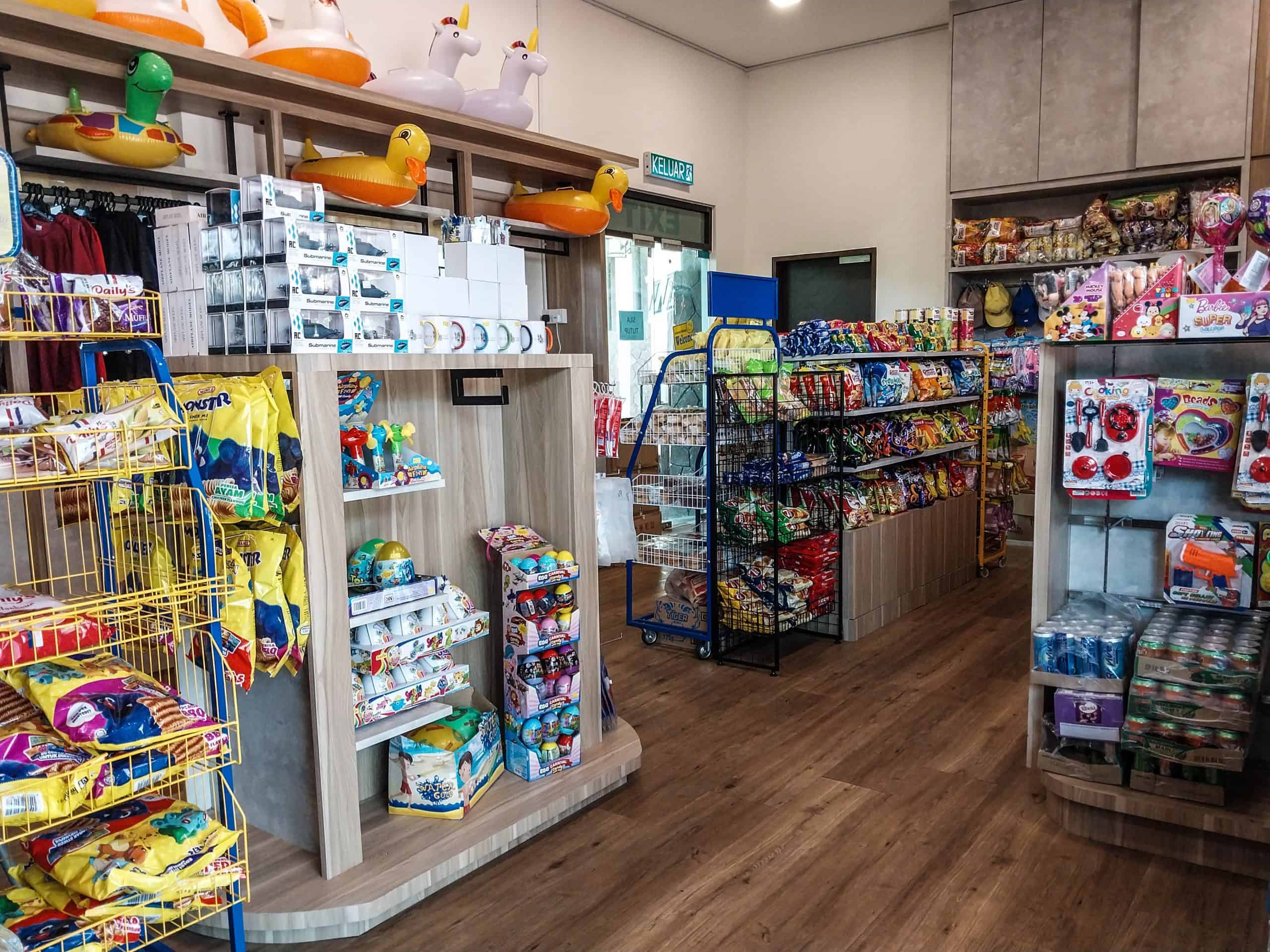 Riverine Survival Park
The Riverine Survival Park is a lovely grassy park with a variety of kid friendly (aka short people) obstacles. It was likely initially designed for Team Building programs, but I found it to be incredibly relaxing just to hang out in. Sure, I climbed a few obstacles, but it was the serene beauty of the place that I really liked. Try out the swing and you'll see what I mean.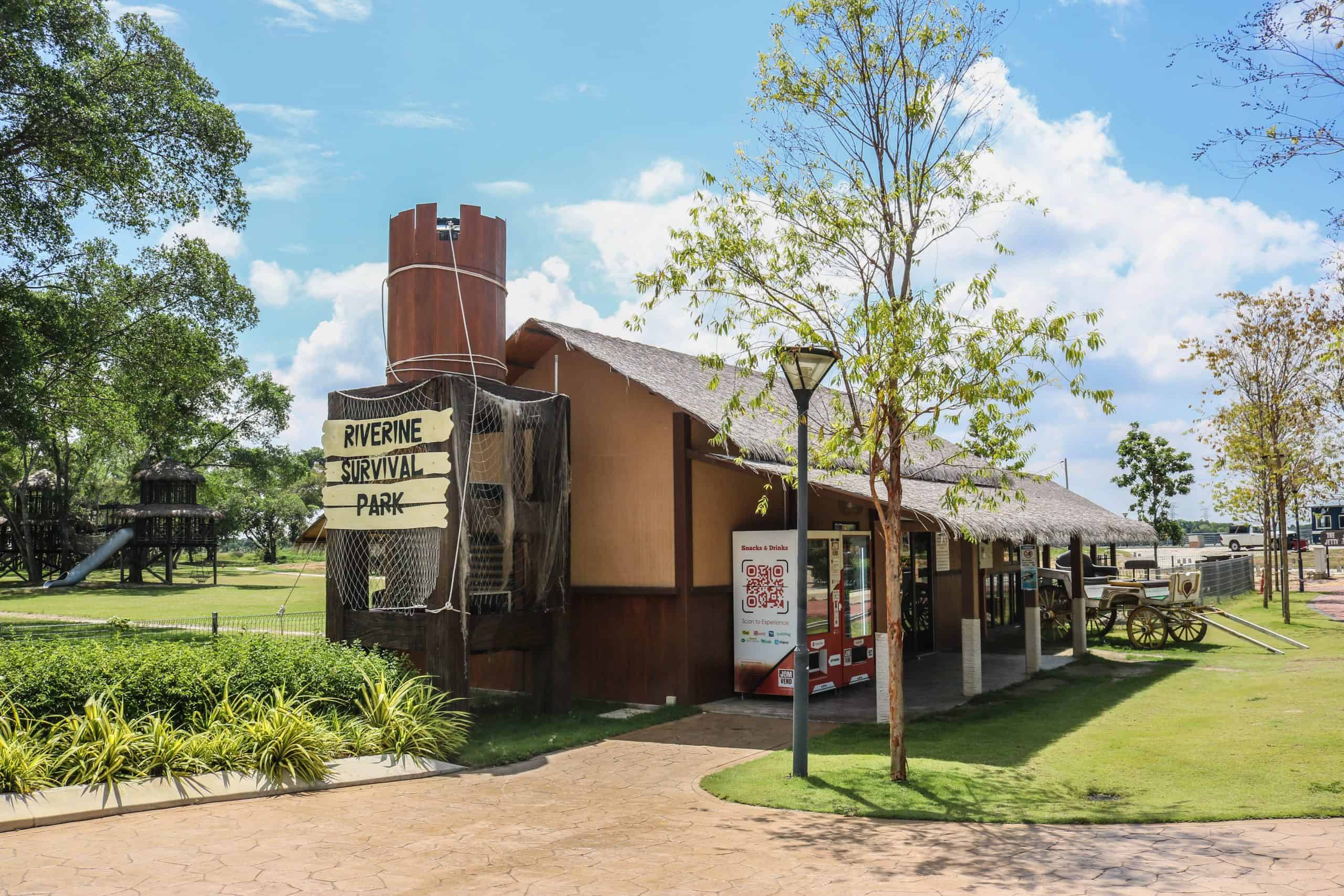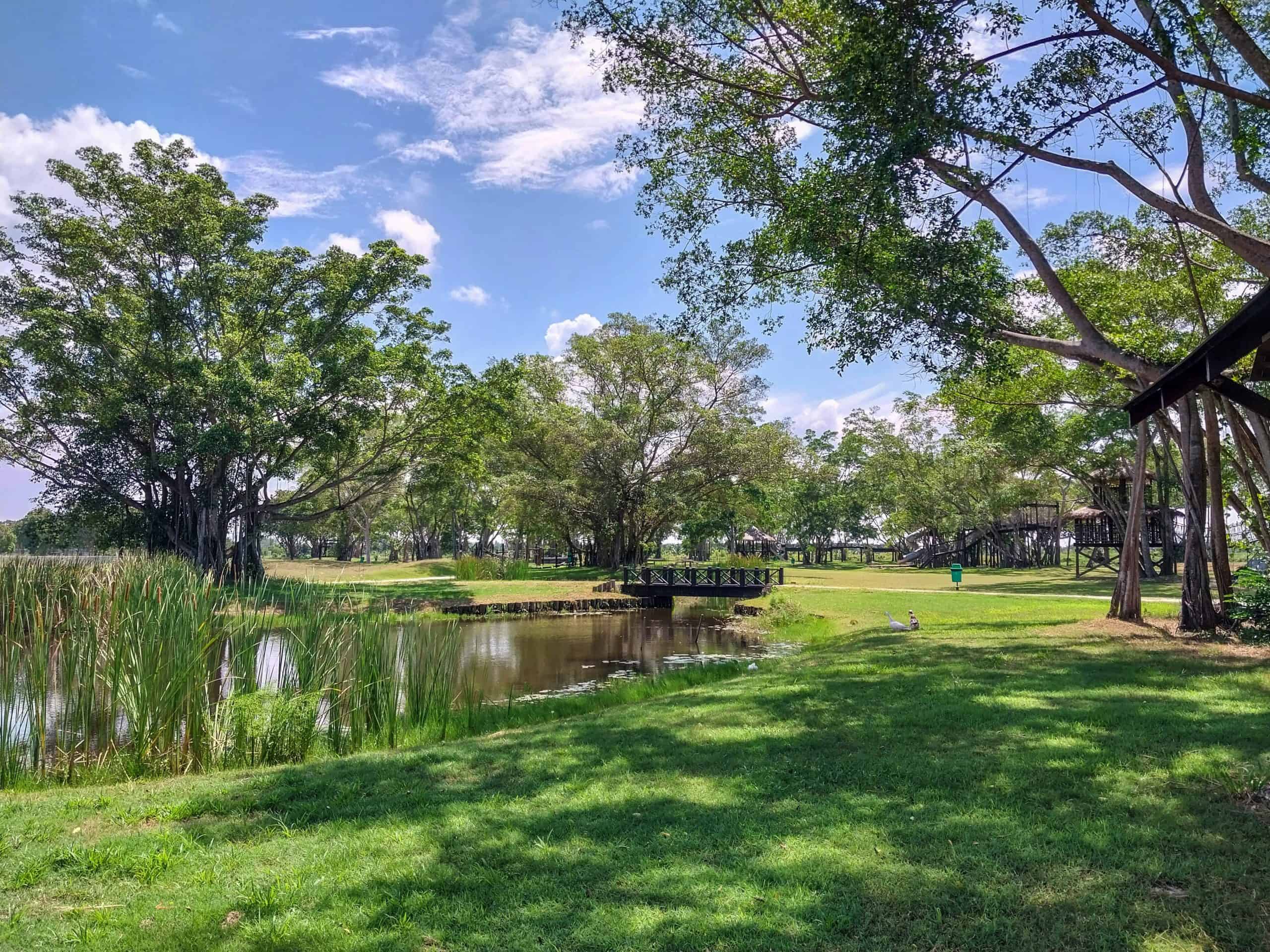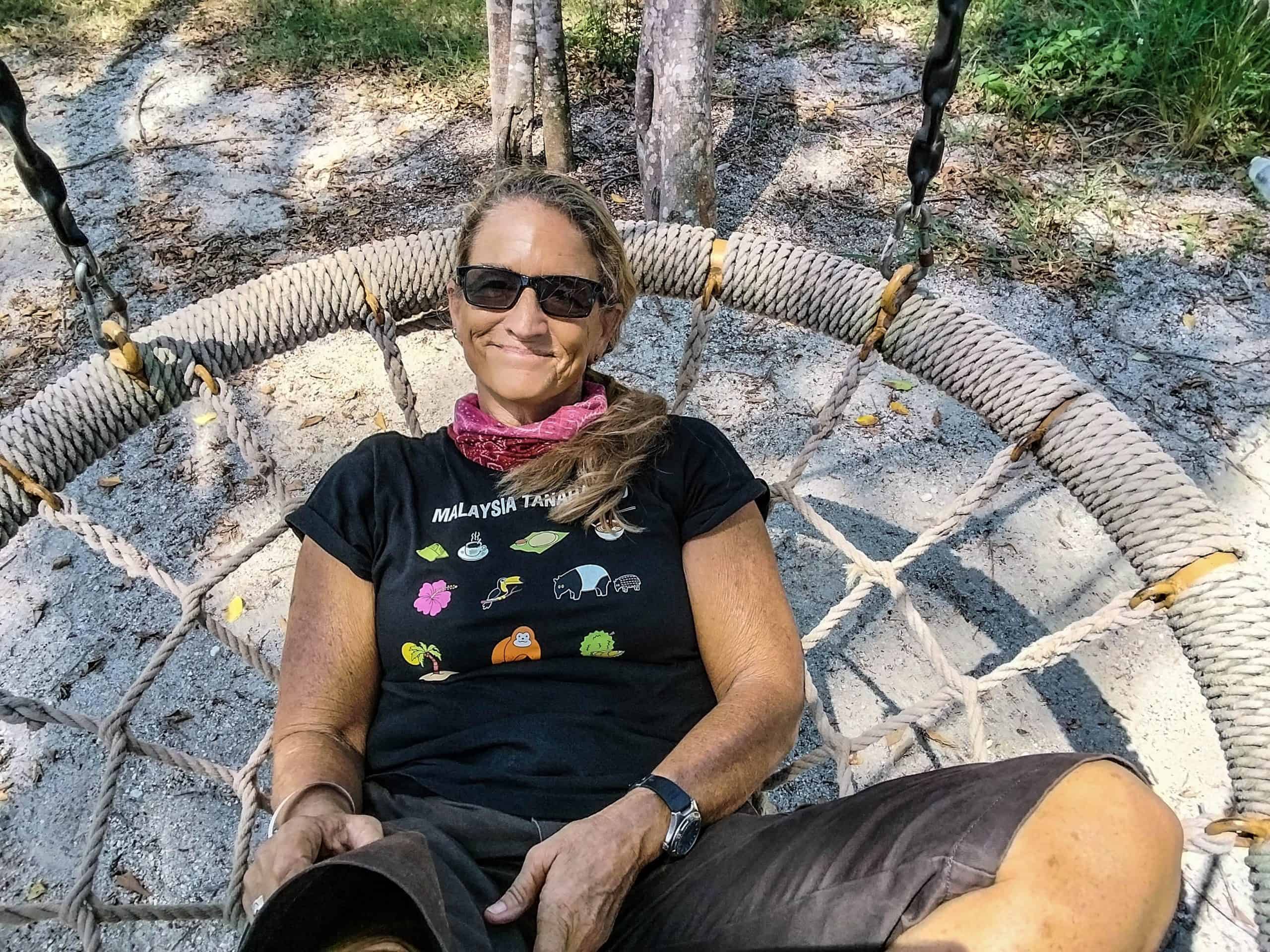 The swings and obstacle courses are very well-made, sturdy and feel safe (for all ages). Little kids as well as big folks will get a kick out of testing their 'survival' skills. Be sure to check out the Alice in Wonderland style maze too, because it may be more challenging than you expect (it was for me).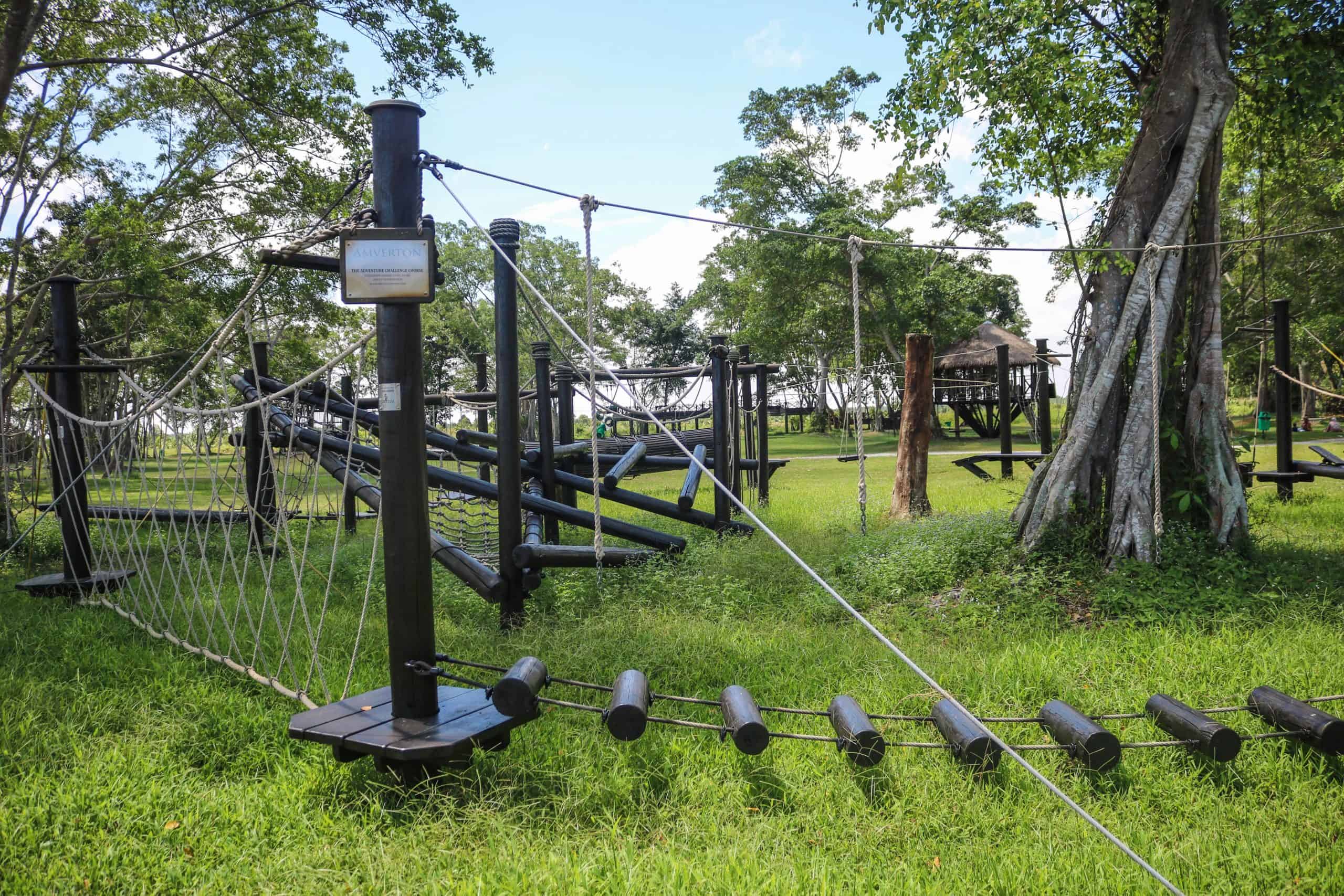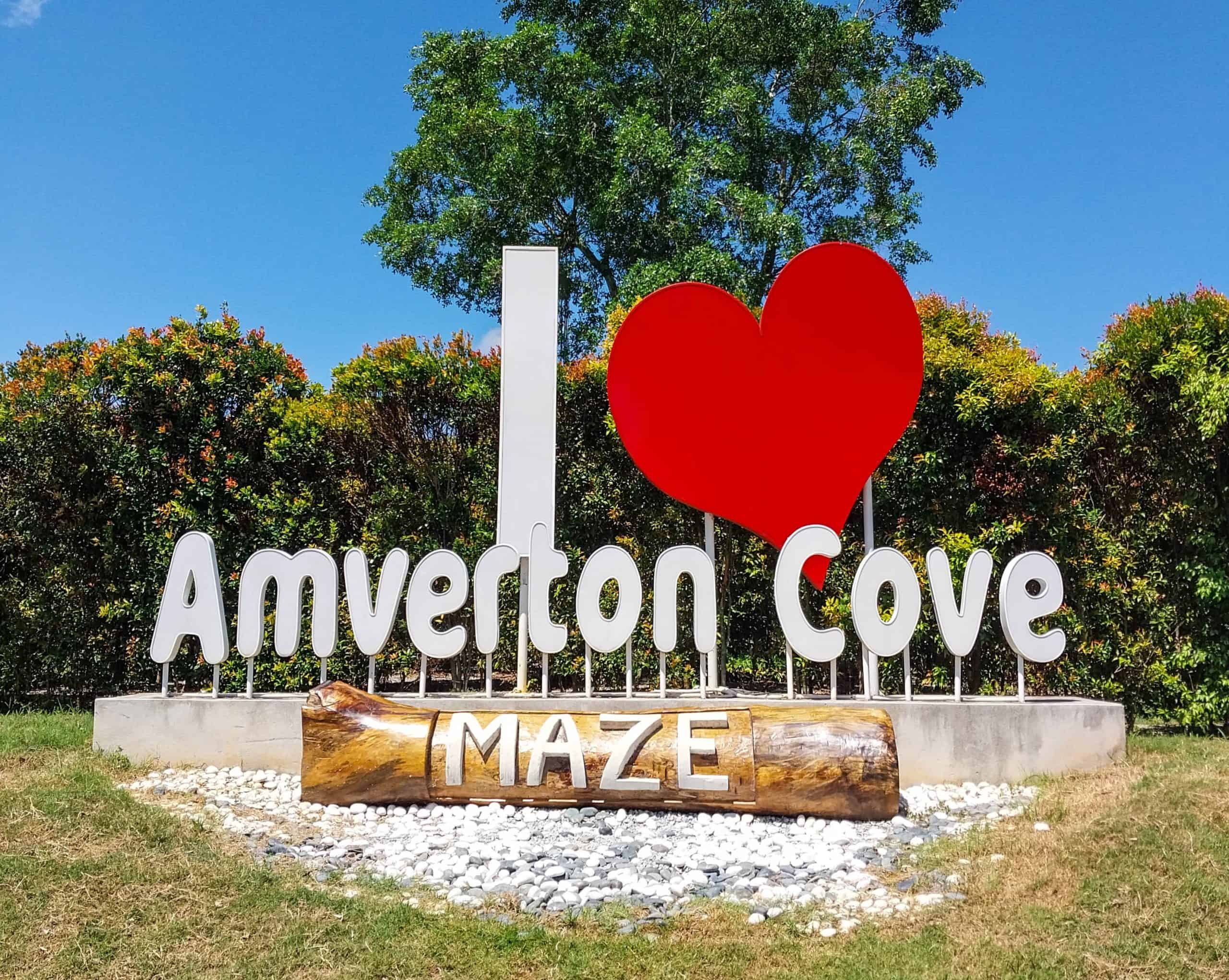 Riverine Action Park
Although I have tried paintball, archery and ATV riding before, during my visit to the Riverine Action Park I got to try Go Karting for the first time in my life. Go Karting was something I was not allowed to do as a kid, thus the reason I had zero experience at it. For me it was a real bucket list moment and way more challenging than I had expected.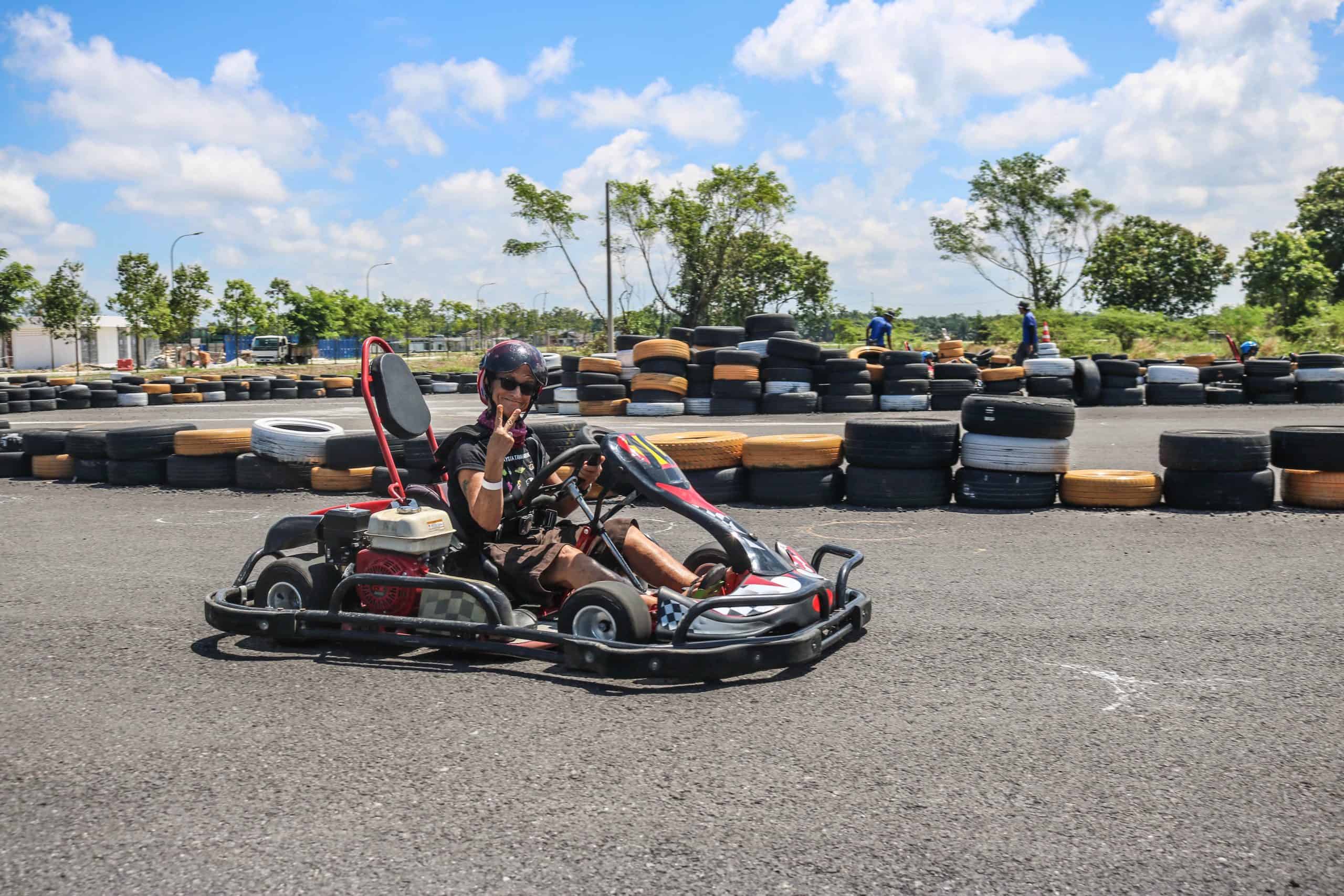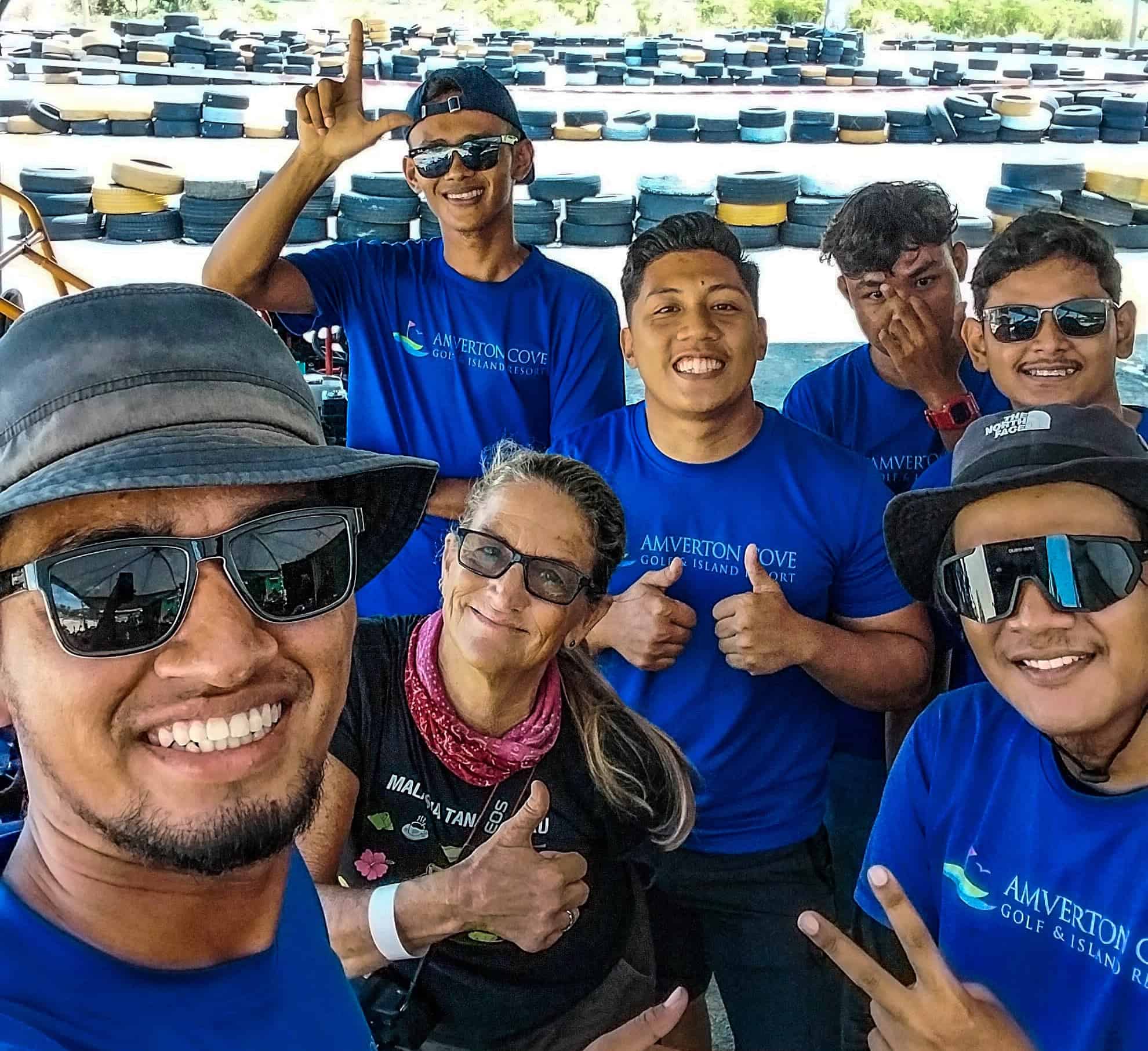 For newbies to Go Karts, there is a smaller track to learn on, or you can just dive on in and get in people's way (like I did). Kudos to the Amverton recreation staff for their assistance as well as enthusiasm.
Sompoton Spa
Worn out from all the vacation relaxing? The Riverine has an inhouse spa located just off the lobby. The Sompoton Spa was unfortunately closed the day I noticed their existence (the day I checked out), but there's always next time! Their 1 hour Signature Massage was listed at a mere RM148 and looked pretty darn great. They are open Tuesday through Sunday for future reference.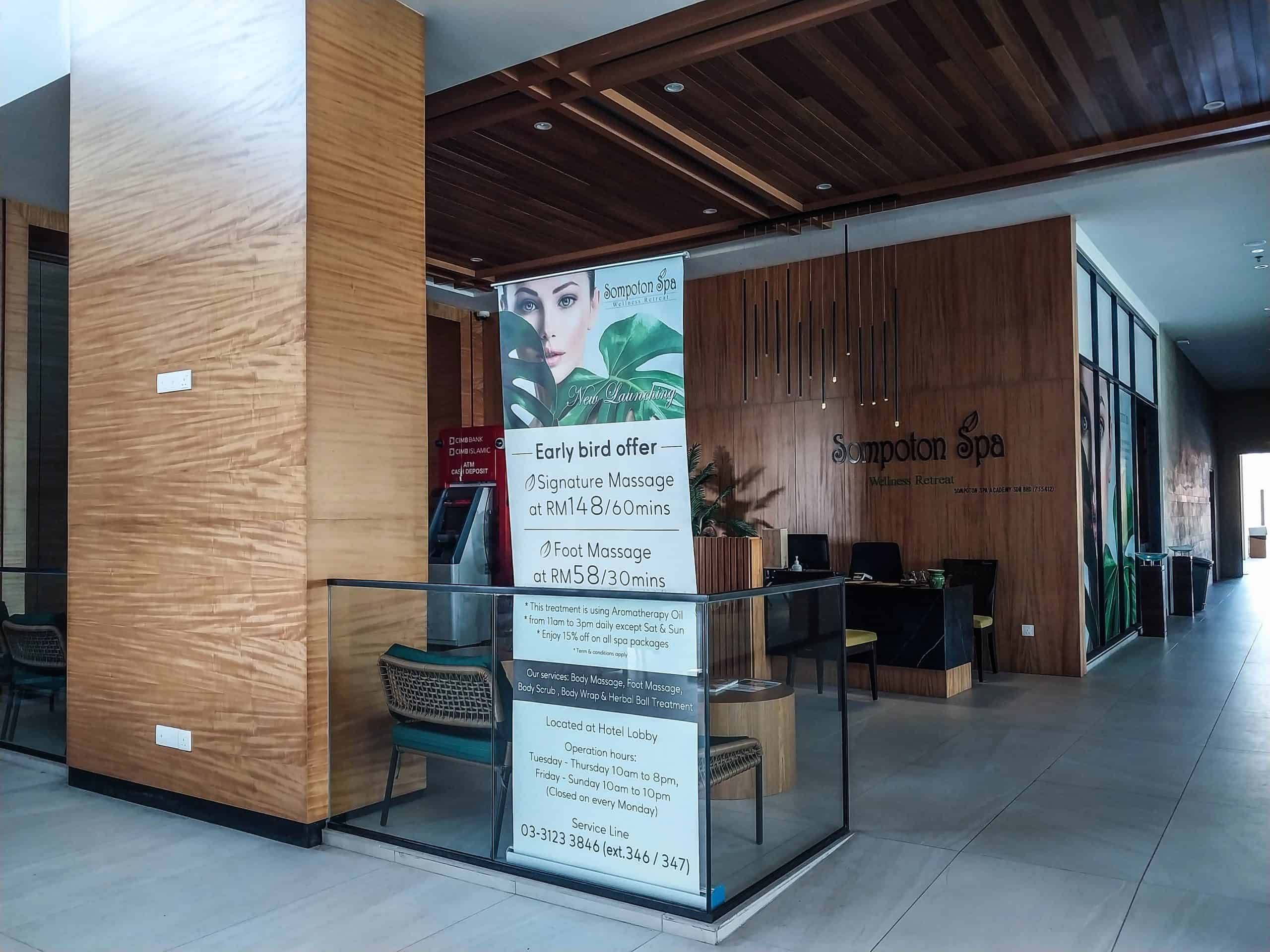 Wining and Dining at Riverine Hotel & Suites
Lets talk about food! The Riverine Hotel has two onsite dining options; the Carey Café and the Carey Diner. Both serve superb food, but the Carey Diner especially impressed me with the most incredible Curry Laksa I've had in years. Really! I also ventured to order room service from them and even that was over the top fantastic, and it was 'just' a simple Kampung Fried Rice. But it tasted amazing to me.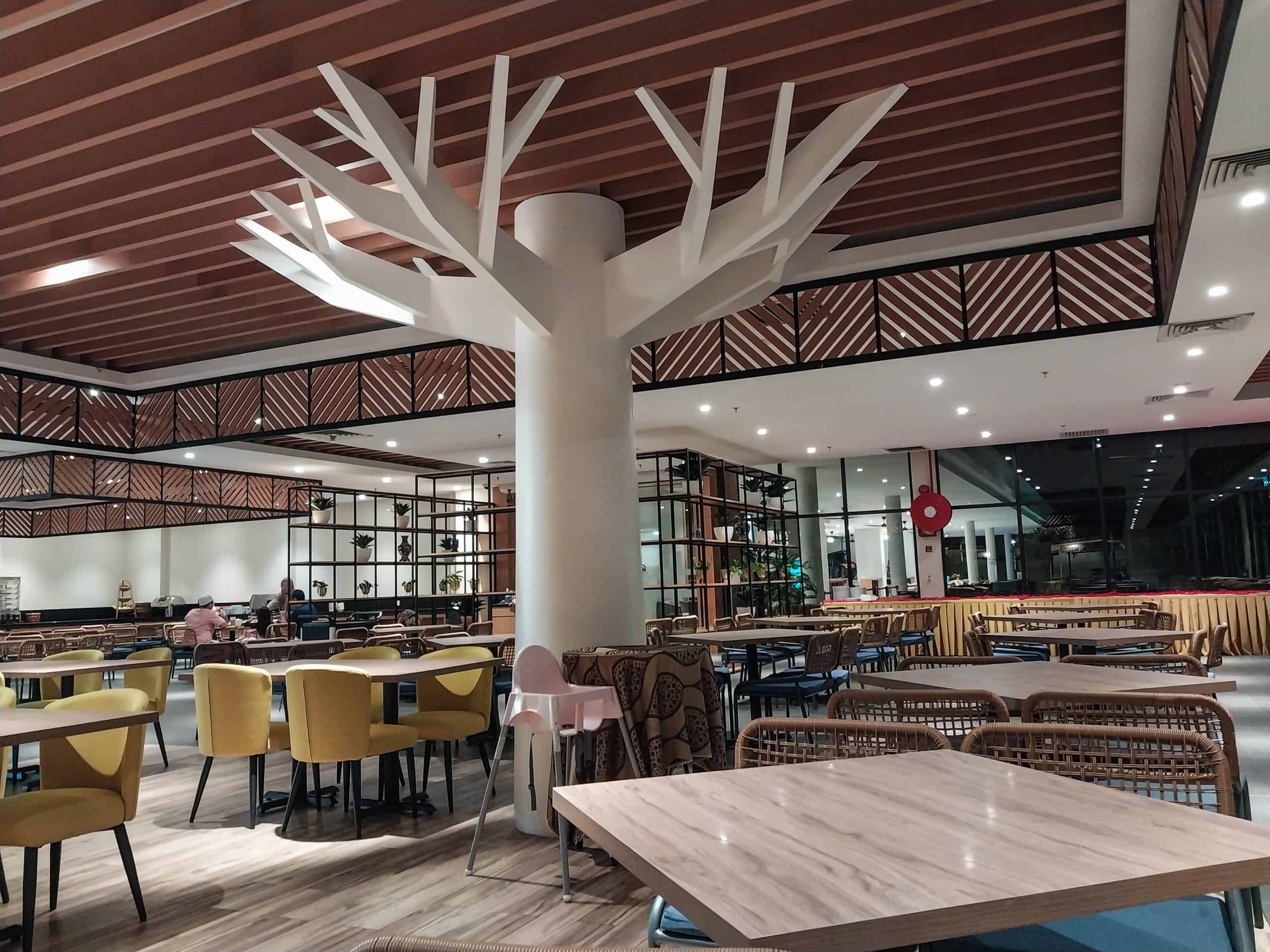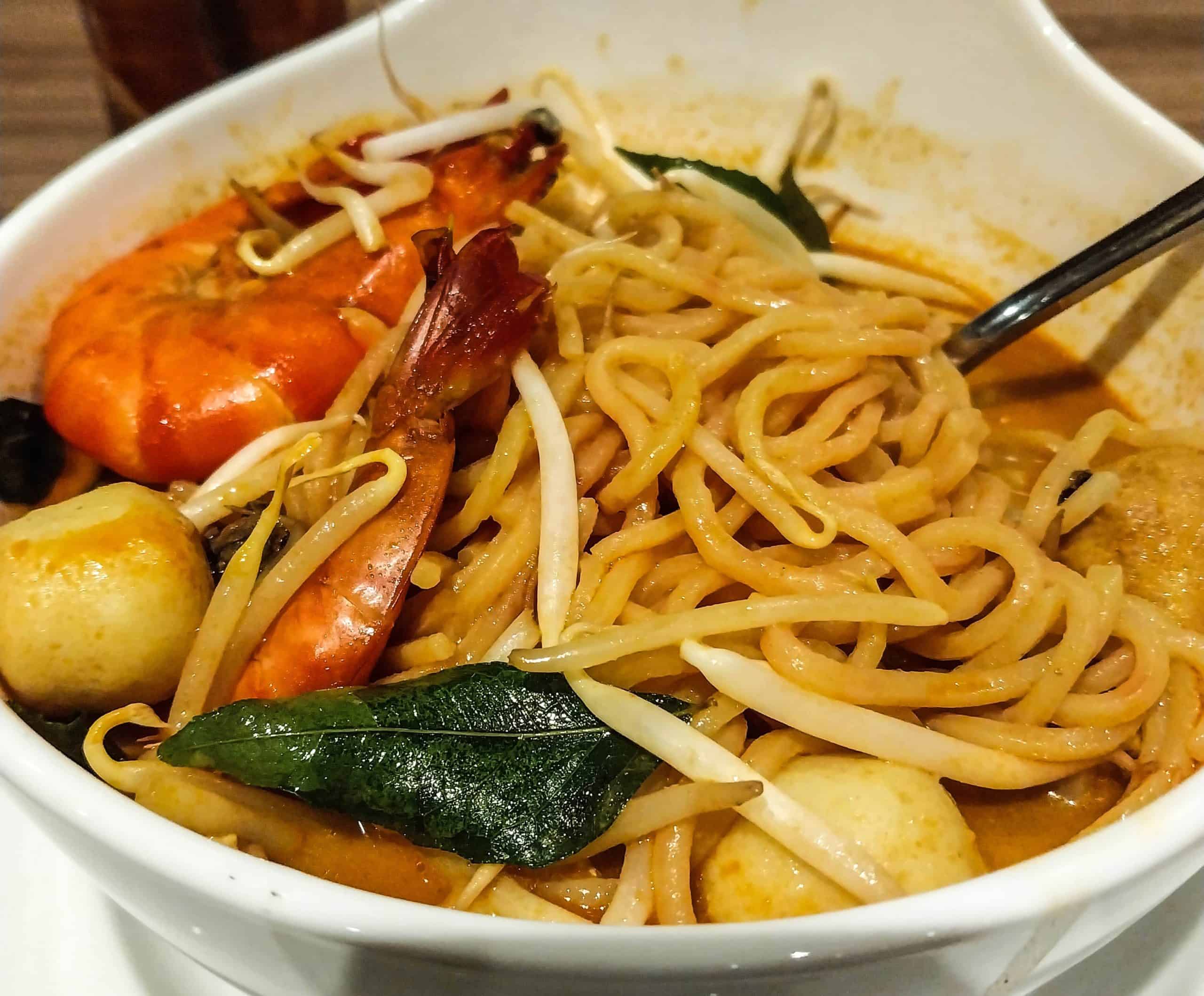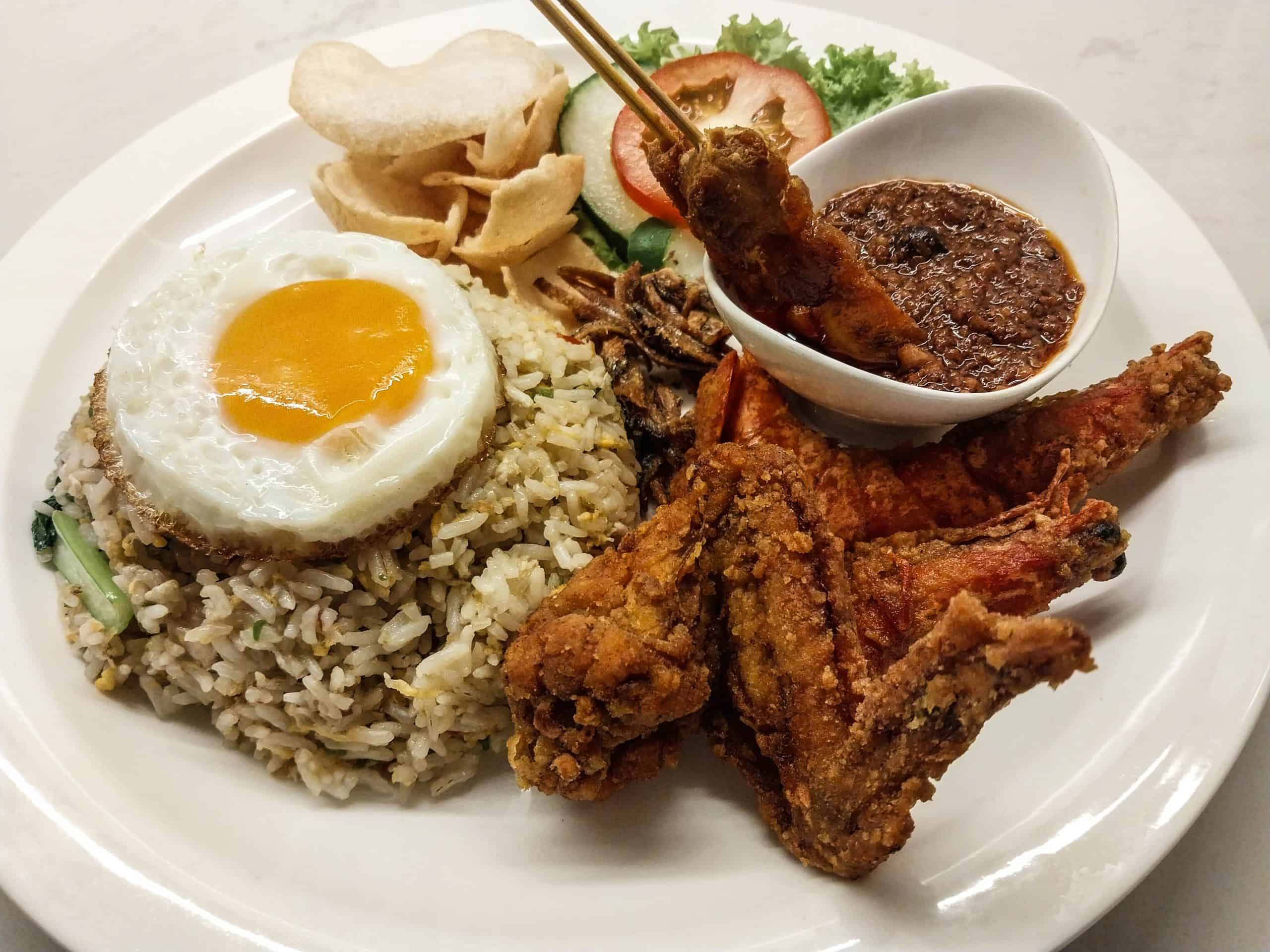 I had two occasions to eat at the Carey Café, which is a delightful open-air café adjacent to the hotel's swimming pool. Perfect for families with little ones who need a bit more water time after a day at the waterpark. In addition to cold beverages and ice cream, the café offers tasty quick bites like Chicken Teri Yaki Pizza and Chicken Mushroom Pies. Both tasty and satisfying.
Getting to the Riverine Hotel & Suites
Pulau Carey is a bit off the beaten path, but that's the beauty of it, right? There is no public transportation that will get you to Pulau Carey and the beautiful Amverton Cove Golf & Island Resort, but for those with a car a two-lane bridge and the SKVE at Teluk Panglima Garang connects the island to the mainland. From the Kuala Lumpur city center, the best route is to Teluk Panglima Garang via the Klang-Banting road. The drive takes about an hour.
*If you are flying into Subang Airport, the Riverine Hotel & Suites can arrange a pick up for you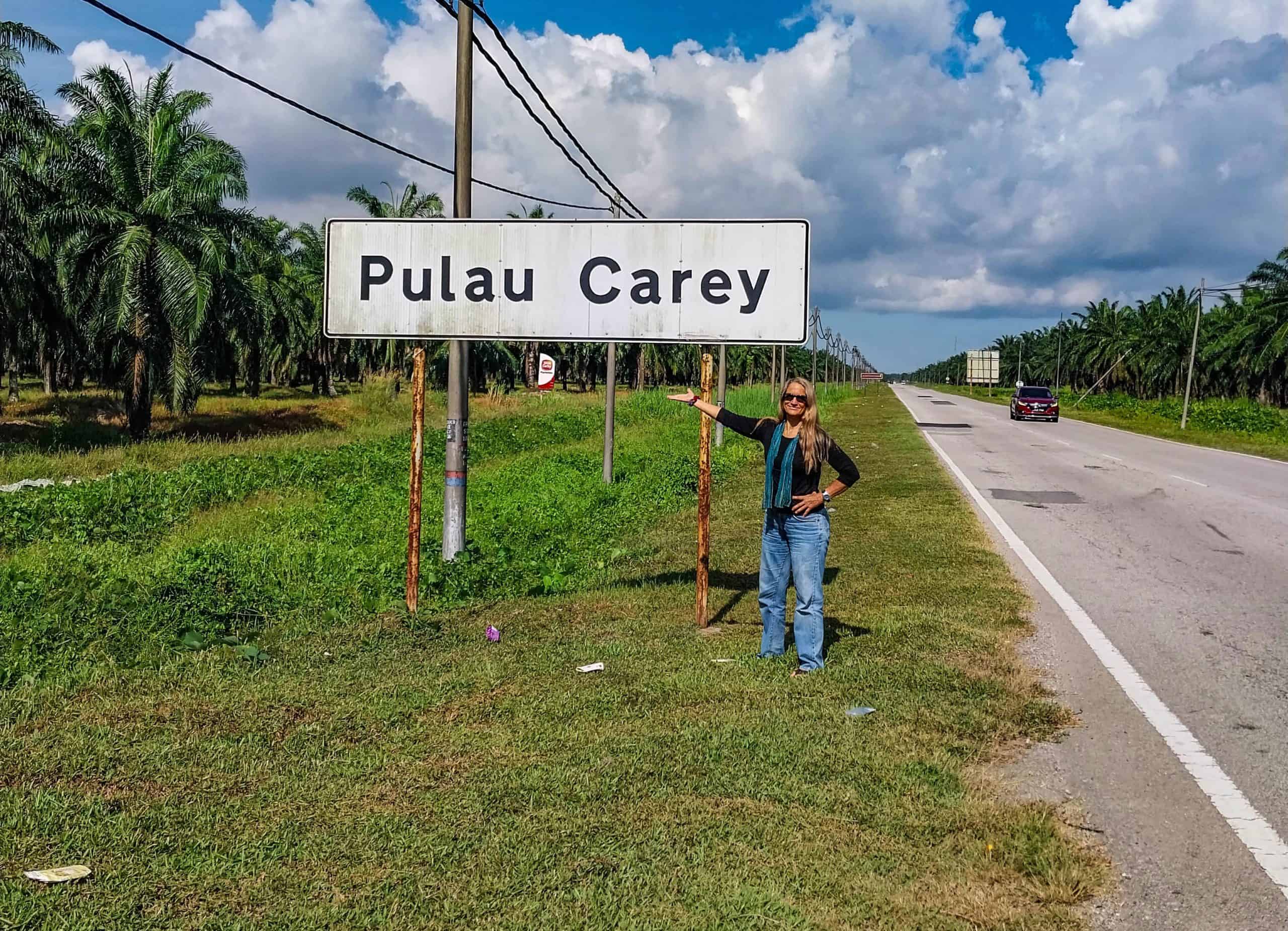 No car? No problem. Take the KTM Komuter to Klang Station (Not Port Klang). The slow train ride will get you there in about an hour. From the Klang station a GRAB taxi can get you to Amverton Cove for about RM35 (and visa versa). There may, however, be some challenges in getting a GRAB pick up from the Amverton Cove area, but be patient. The resort can also assist in arranging transportation back to the train station or other areas with public transportation access.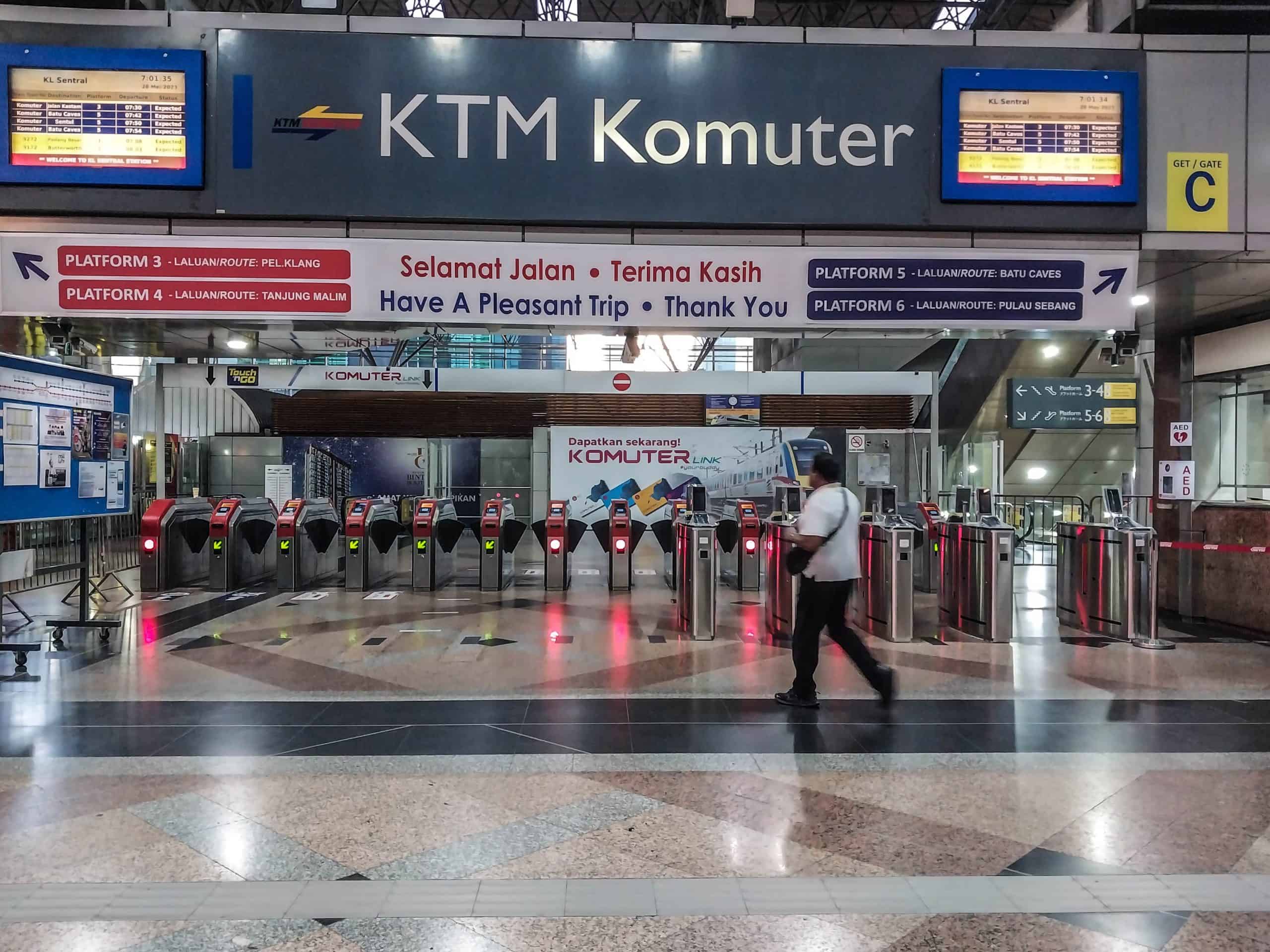 The Riverine Hotel & Suites is an excellent get away for families as well as lone travelers. It also has many romantic aspects. But most of all it's all about choices; so much to do (or not do). I thoroughly enjoyed my three-day stay there and will definitely be back. If you need a city break, Amverton Cove will not disappoint. I would however recommend bringing a bicycle if you like cycling, because there are many back roads to explore. Also, be sure to check out the Mah Meri Cultural Village which is less than 1 mile down the road from the Amverton Cove Golf & Island Resort main entry. Hope you have a great time, because I sure did!
For more information on room rates and packages contact www.amvertoncove.com
or check Booking.com for special rates
Riverine Hotel & Suites
@Amverton Cove, Pulau Carey
+603-3123 3888
[email protected]