When I first heard about 'Doctor Fish', a couple of years ago, the thought was a bit disgusting to me. But last year a friend of mine was taking her sister to Langkawi Anjung Spa (in Oriental Village) and raved about it. There's safety in numbers so I went along. What can I say?  I have since told quite a few people about this interesting  fish spa, because it is indeed a great experience and not available in all countries including the United States.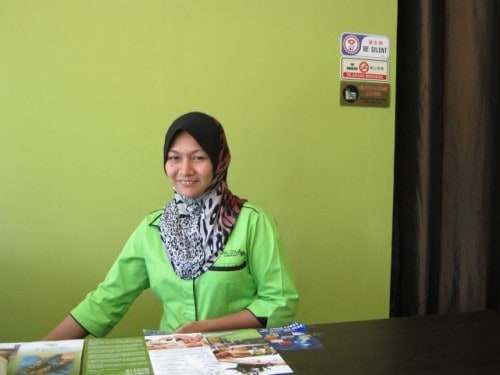 The Doctor Fish (which is my favorite name for them) is actually the name given to two species of fish: (Garra rufa) obtusa and Cyprinion macrostomus (Kangal Fish). The Garra rufa apparently slough your skin, while foraging for food via nibbling. The Kangal Fish  actually  eat the dead or damaged areas leaving the skin, quite smooth.  They will not however, carry on to eat live healthy skin, so fear not! I tried to do a bit of research on this 'new' health treatment and found it wasn't so new after all.
The Doctor fish was 'discovered' in Kangal,Turkey in 1917, when a local shepherd injured his foot and soaked it in the local hot spring. It quickly healed, and the story of the healing waters spread. By the 1960's psoriasis patients and others with chronic skin ailments were traveling to Kangal in abundance. And the first Fish Spa emerged, where it retains its popularity today.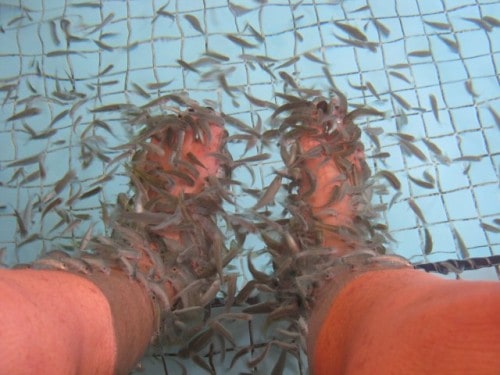 As a rough and tumble kind of gal, I tend to have dry skin and lots of scrapes. I am a Doctor Fish feast! It's fascinating to watch fearless tiny fish cover your legs and feet. It tickles at first, but quickly becomes  relaxing.  In addition to the 'feeding' frenzy, the nibbling actually activates nerve endings which helps circulation!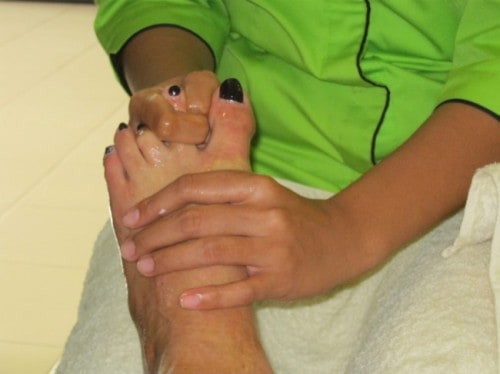 Although they specialize in 'Fish Therapy', Langkawi  Anjung Spa also has a variety of massage treatments, manicures/pedicures, facials and my other favorite, reflexology! They also have quite an array of natural beauty and health products available as well as nicely arraigned 'gift' packs.  All very reasonably priced.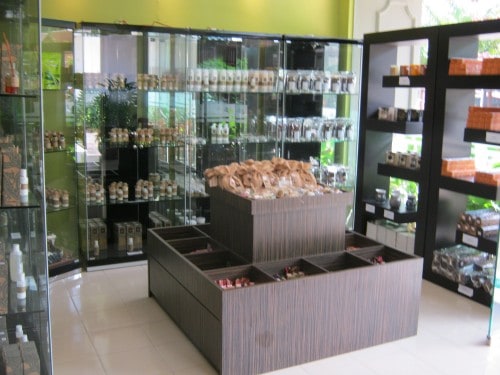 In my experience, some spas  tend to have odd 'non-relaxing' music which always perplexes me. Anjung Spa is quiet with light relaxing background music and a soothing green interior. In the middle of your busy day, whether you're a tourist or local, this is the perfect respite. I highly recommend!

Langkawi Anjung Spa
Block G-01, Oriental Village, Jalan Teluk Baru
Pantai Kok, Langkawi
Tel: 604-959 2929
Fax: 604-959 2929
>Open Daily From 10.00am to 7.00pm
E-mail: [email protected]