Two Vietnamese foods that I learned to love on my first trip to Vietnam were Beef Pho and Spring Rolls (gỏi cuốn). That was about it for my culinary expertise. But for years I exclaimed, "I love Vietnamese food!" Seriously, right? As if I even had a clue beyond those two dishes I had eaten. But guess what? Now I actually do have a clue, because I have finally taken a Vietnamese food tour in Hanoi. Now I can even put an actual name to my palate's favorites and have a Vietnamese food guide blog to prove it.
One of the things I observed on my Vietnamese food tour were that many local shops and cafes often cook their particular specialty dishes near the front entrance, rather than in an out-of-sight kitchen in the back. And although there may be more extensive selections offered on the menu, the main culinary stars are what you want to focus on and order accordingly!
Here's a quick video of my Vietnamese Food Tour
as well as a glimpse of local Hanoi culture!
Here are nine tasty Vietnamese food and beverage selections that I was introduced to in Hanoi's Old Quarter in addition to a few I discovered on my own. There are of course plenty more dishes available in Hanoi, but this basic guide will get you started (and keep you out of the 7-11). These local favorites are sure to win over the pickiest of eaters and for Hanoi travel newbies you will also be able to exclaim, "I love Vietnamese food!" (and know what you're talking about).
Phở
Although Pho is considered a 'breakfast' soup that has never stopped me from ordering it any chance I get. I love it! The light beef or chicken broth usually has hearty flat noodles with plenty of slices of tender beef (chicken or pork) and flavored with ginger, coriander and spring onions. In fact, a bowl of Pho from anywhere in the world instantly transports me to the exotic lands of Vietnam. I have yet to taste a 'bad' bowl of Pho. It is especially easy on the digestive system too, so it makes for an excellent comfort food as well.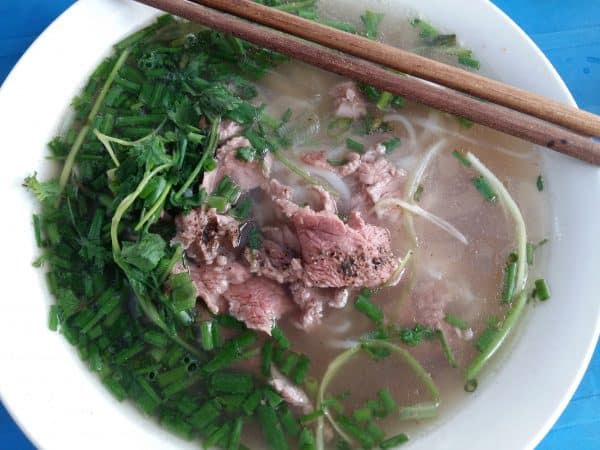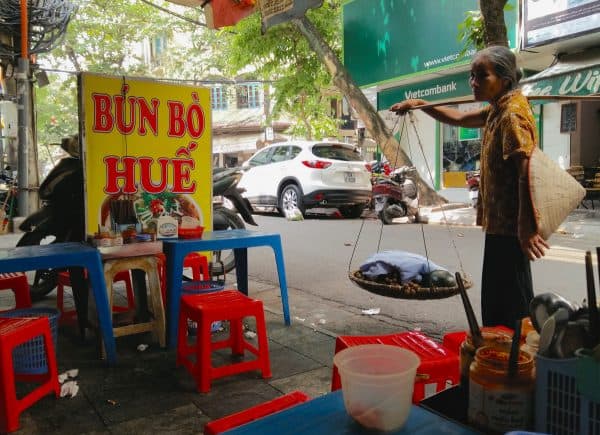 Cà Phê Trứng (egg coffee)
I had thought that this particular beverage was some scary (but effective) hangover cure. But I was way off there! Coffee was actually introduced to Vietnam by the French colonialists in the late 19th century and of course it was a big hit throughout the country. But with the limitations of fresh milk at the time coffee drinkers used condensed sweetened 'canned' milk. So what about the egg you ask? Well the sweetened dessert-y Ca Phe Trung is coffee taken one step further by the Vietnamese with the addition of frothy merengue style egg yolks mixed in. No need to chug this concoction down, because you will want to savor every delicious sip!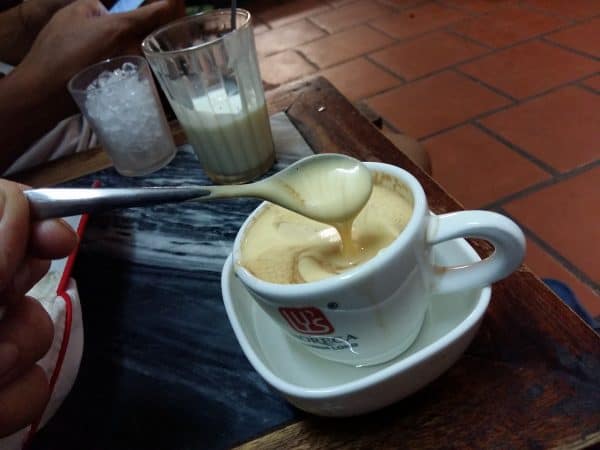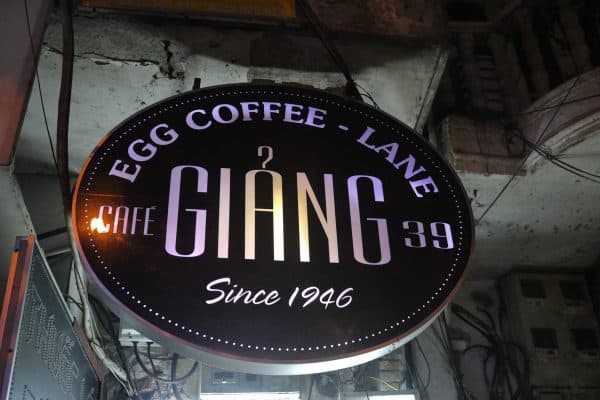 Xôi Xéo (savory sticky rice )
This sticky rice dish packs a punch for satisfying hungry stomachs! The savory specialty consists of a generous serving of sticky rice topped with mung beans and fried onions. Variations include the addition of steamed chicken, pork, eggs and shrimp. Xoi Xeo is so filling that if you happen to be on a food tasting excursion, I highly recommend going easy on this dish. One delicious serving goes a long way!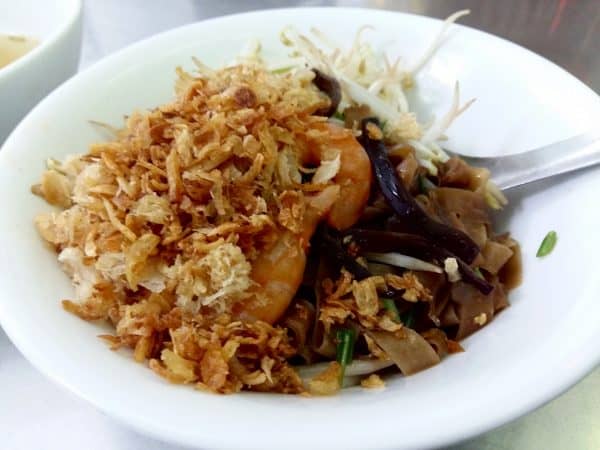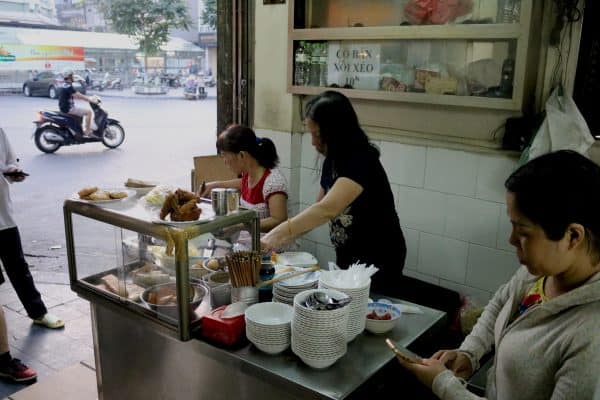 Bánh Cuốn (steamed stuffed crepes)
Watching Banh Cuon created is pure magic. I stood fascinated to observe the vendor expertly pour her milky batter solution with one hand while removing another crepe from a nearby pan in quick succession. All the while the hot steam rising up around her. The rolled up crepes are filled with minced pork, finely chopped mushrooms and seasonings, then folded over. The final product looks like fat translucent noodles. They taste mighty fine with a nuoc mam dipping sauce. It's a healthy food choice as well.

 Bánh Cuốn photo courtesy of  Mum on the Move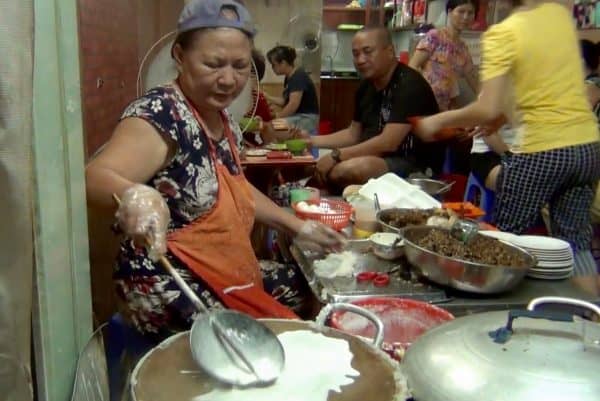 Bún Chả (pork soup)
Bun Cha didn't present itself too well to me, with a few bubbles floating on top it looked a bit dirty. However, I tried this soup at two different locations and the bubble addition was the same. Perhaps a secret ingredient! The soup itself has a dark tinted fish broth base with chunks of grilled pork belly. It tastes much better than it looks for sure. Bun Cha is served with a side of rice noodles and a bouquet of fresh herbs, which you add yourself per personal preferences. Along side this soup a plate of deep fried pork meat 'rolls' are served. I wasn't sure if they were a version of 'spring rolls' (or winter rolls), but they are good and hearty. Be forewarned that the meat is rich and slightly greasy, in case you have a sensitive stomach.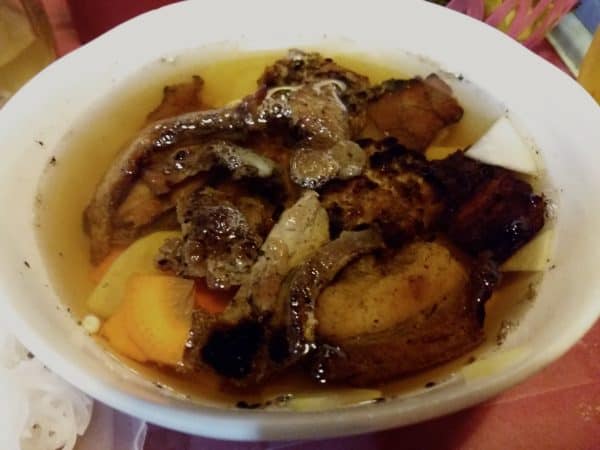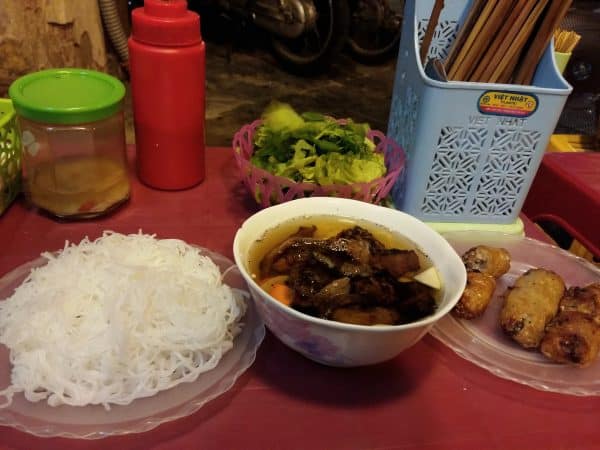 Bánh Mì (Vietnamese sandwich/ satay)
I had grown so accustomed to seeing the Banh Mi sign next to grilled meat on sticks that I assumed that was the name of Vietnamese 'satay'. But Banh Mi refers to the bread or 'baguette' if you will. Introduced of course by the French colonialists. The popular Banh Mi has now become somewhat of a generic name for Vietnamese sandwiches, which can also be referred to as 'Vietnamese Subs'. Roadside vendors in Hanoi keep the ingredients to a minimal and may even ask if you want bread with it. At this point try not to look confused and just nod your head yes. Slap your skewered meat between your baguette and you will be a Banh Mi expert in no time (and probably a big fan as well). It's a great on-the-go snack option too.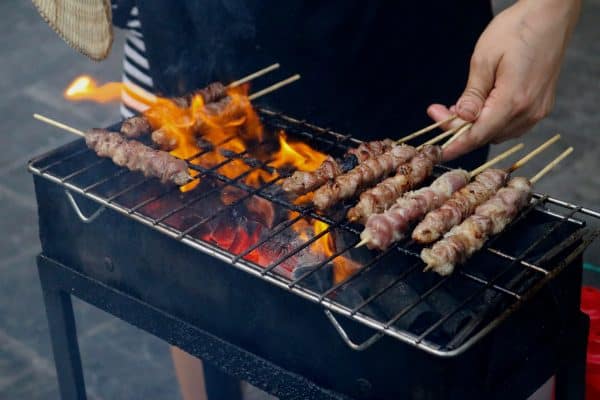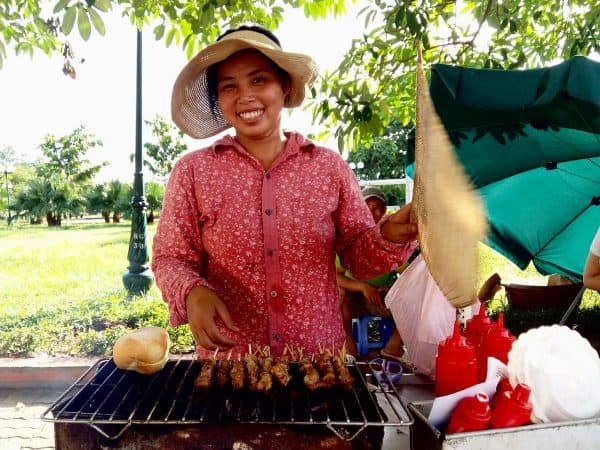 Bún Thang (Chinese medicine noodle soup)
 As much as I love Pho, Bun Thang has the potential to be another addictive any-time-of-the-day favorite. Originating in Hanoi, this 'chicken soup' is a cure for what ails you, whether it be hunger or a touch of the 'flu'. The light chicken broth comes with a delicious mix of herbs (some of which can also be considered medicinal), green onions, sliced egg, chicken and pork. The word 'bun' refers to a variety of soup dishes, but I'll put Bun Thang at the top of my favorites list. It's not only pretty to look at it tastes delicious!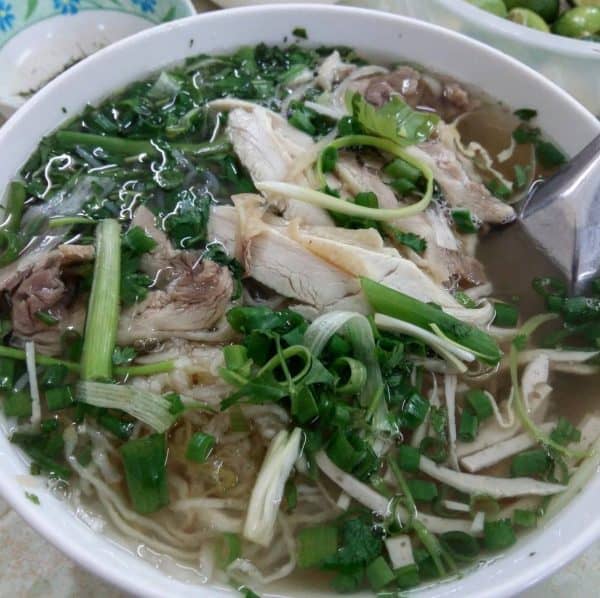 Gỏi Cuốn (spring rolls)
When I think of Vietnamese Spring Rolls I think of those delicious translucent rice paper burrito-shaped packages of goodness. Stuffed with shrimp, pork, spring onions, cilantro and lettuce. There are variations of Goi Cuon all over Southeast Asia, with Malaysia's Popiah Basah being the closest thing I've personally seen outside of Vietnam. But the spring roll has several identities in Vietnam, especially the fried versions. Some are stuffed so full of meat you may not recognize it beyond its spring roll shape. Others are light and crispy version. Either way the fried version seems more readily available at the open-air roadside cafes, so be sure to get your fill while visiting Vietnam!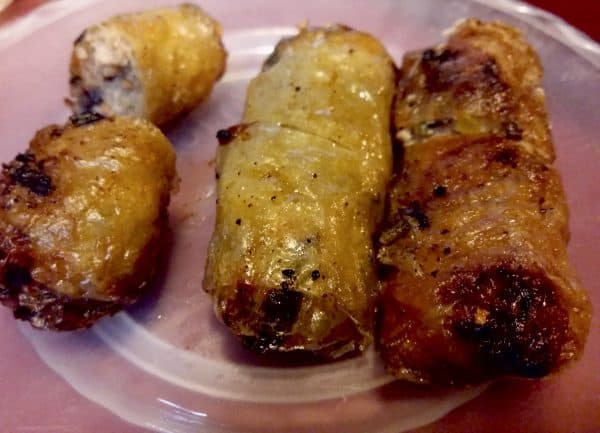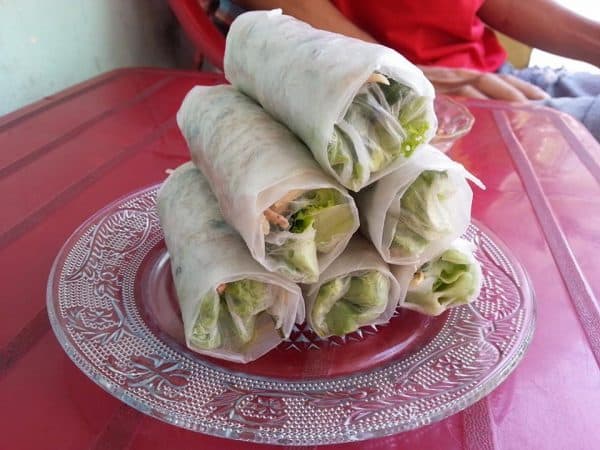 Gỏi Cuốn photo courtesy of The World & His Tuk Tuk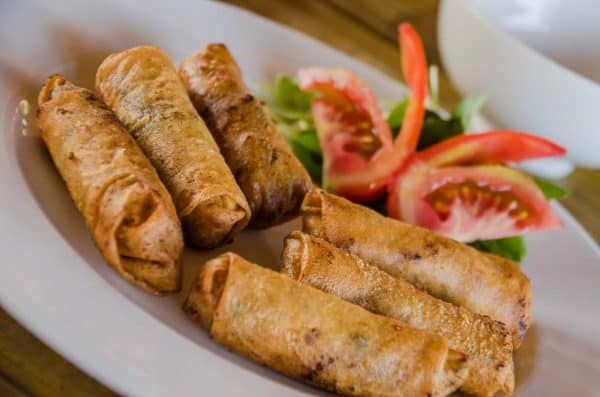 Bánh Lọt (Vietnamese Cendol/Four Seasons Frozen Fruit)
I love this version of Cendol. Four Seasons Frozen Fruit is probably a more fitting moniker as it's basically a bowl of exotic fruit mixed with shaved ice and condensed milk. It's easy to make too! There is no worm-like rice flour jelly in this Vietnamese version, just tasty fruits such as dragon fruit, watermelon, mangoes, jackfruit and even avocado can add some spunk to this refreshing creation. Cendol is said to have originated in Indonesia and the word itself possibly derived from the Indonesian word for bulge (jendol); referring to the 'rice worm' flour jelly that is usually served with true Cendol.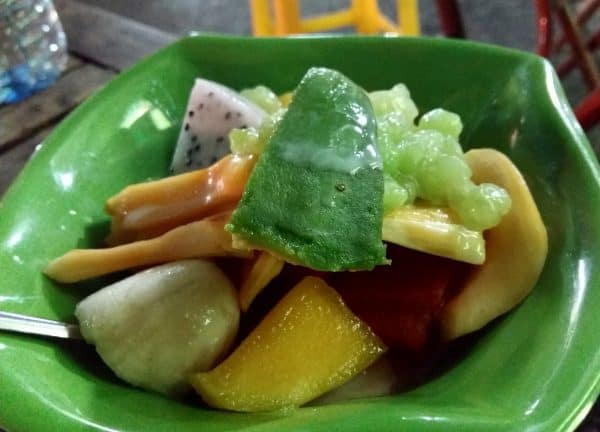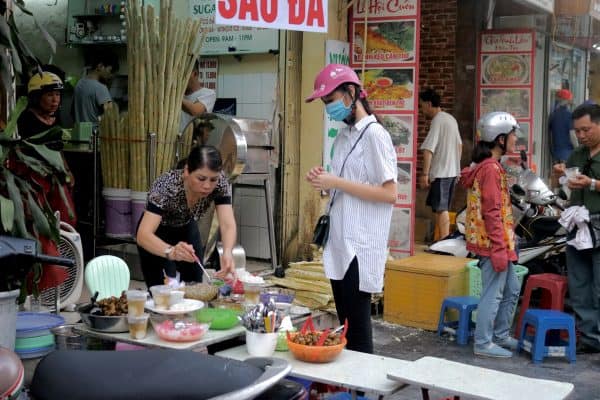 Here's how to make Four Seasons Frozen Fruit Hanoi style!
To get your own basic introduction to local Hanoi food, you can book a 2-3 hour Vietnamese Food Tour with local tour guide Tony Sang by emailing: [email protected], whatssap +8497 198 55 88  or contact Tony Tourist / Tony Sang on Facebook. Have a particular food you really want to try? Just let Tony know! 
Have you been to Hanoi or other Vietnam destinations?
What are your favorite foods?