There are quite a few things to see and do in Langkawi.  Something for everyone! This is a list for 'sightseeing' and although some information occasionally changes, such as hours of operation,
entry fees and contact numbers… we hope you find this information current and informative.
Located at the foot of Gunung (Malay for mountain)  Mat Cincang, and the entry to the Cable Car. Oriental Village has many activities and shops, including souvenirs, clothing, galleries, and even a
fish spa! Also plenty of places to eat or simply relax and enjoy the scenery. No entrance fee. Can read more (HERE) DIRECTIONS
On the top (literally) of every visitors list is the Langkawi Cable Car and Sky Bridge. The Cable Car takes you to the top of Gunung  Mat Cincang, the second highest mountain in Langkawi at 700 meters above sea level. A birds eye view of Langkawi and on a clear day you can even see Thailand! The view is truly spectacular. There is a set of stairs that lead to an observatory deck and a Sky Bridge that leads you to another mountain. There is food and beverages available at both platforms and it can get a bit cool up there, perfect for a hot sunny day. Can read more (HERE)  DIRECTIONS


Elephants were a more common sight in Malaysia before World War II. Used on farms and for transporting logs from dense jungles. There are now fewer than seven Malaysian States that have elephants and elephant riding programs are not so common. But! in Langkawi, you can take an elephant adventure at Oriental Village. Through the mountain foothills, the jungle or a river crossing from an elephant's point of view. DIRECTIONS
The Agro Technology Park was developed in 1990 as an information center for the agriculture industry. It is also considered an eco-tourism spot. Lots of information on local agriculture and tropical fruits. You can even pick your own fruit right at the source!  DIRECTIONS
Air Hangat (Hot Springs)

The origin of the hot springs is traced to the base of  Gunung Raya and a volcanic erruption, some million years ago. The water being rich in minerals and sulpher is believed by some to have medicinal qualities. Can read more ( HERE )  DIRECTIONS
Get close to the amazing mangroves with a comfortable boat ride of 4-5 hours. See limestone outcrops, caves, a former cottage industry based on charcoal from mangrove wood, a fossil location and a lot of amazing plants.
Al-Hana Mosque in Langkawi
 Al-Hana Mosque is one of the largest and most popular mosque in Langkawi. Built in 1959, it blends Islamic motifs with Malay-style architecture and following conventional mosque design.  DIRECTIONS
Island Horses is a superb equestrian center located in a beautiful spot in Langkawi. Their location is perfect for beach or jungle riding and they have horses suitable for all riding levels as well as lessons. Can read more (HERE) DIRECTIONS
Dataran Lang (EAGLE SQUARE)
The reddish-brown 'eagle' (or Brahminy Kite) at Dataran Lang was built as an emblem of the island. According to folklore, Langkawi's name came from two Malay words : eagle (helang) and reddish (kawi) 'Langkawi'  DIRECTIONS
BUFFALO PARK

The Buffalo Park  is surrounded by paddy field,rubber and tropical rain forest. The park is home to Murrah and Water Buffaloes.
The buffaloes are mainly used for milk production. The milk is
then processed to make yogurt, cheeses and delicious ice-cream.
In addition to the on-site dairy creations, there is buffalo feeding
and riding and even 'milking'. Can read more (HERE) Can see a
great video (HERE)  DIRECTIONS
DURIAN PERANGIN WATERFALL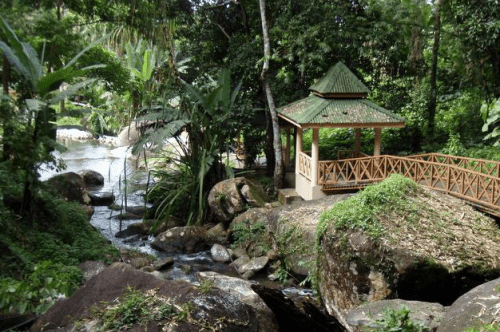 Durian Pergangin Waterfall is located on the northern side of Gunung Raya, the highest mountain of Langkawi. It is a beautiful spot for a picnic! No entrance fee.  DIRECTIONS
The Galeria Perdana has over 2,500 items exhibited and an
amazing hand painted ceiling! The 'gifts' on display were given to former Prime Minister Tun Dr. Mahathir , from other world leaders during his years as Prime Minister. Items range from hand-carved Malaysian architecture to motor vehicles and exotic plants.    DIRECTIONS
 LAKE OF PREGNANT MAIDEN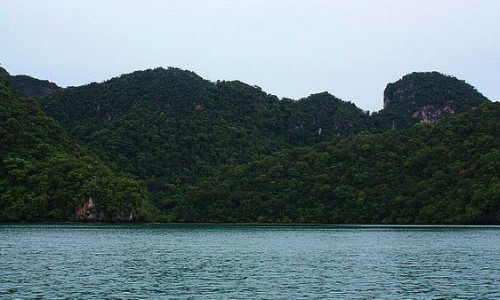 Tasik Dayang Bunting (The Lake of the Pregnant Maiden)  is the largest lake in Langkawi. Located on the island of Pulau Dayang Bunting (next to Pulau Tuba) Tasik Dayang Bunting is said to be guarded by a white crocodile that brings good luck , but there is also more interesting folklore surrounding the area. It is also believed that drinking the waters from the magical lake can help childless women procreate. Small ferry boat passage from Pekan Rabu 5RM DIRECTIONS 
 Lagenda Langkawi Dalam Taman

This recreational park has a  landmarks depicting Langkawi folklore and legends. There are also 4 man-made lakes and landscaped gardens. No entrance fee.  DIRECTIONS
 Langkawi National Observatory is open to the public. So if you are scientifically inclined or simply enjoy star gazing. Give them a call. DIRECTIONS
Langkawi Bird Paradise And Wildlife Park 
The Langkawi Bird Park is home to over 150 species of exotic birds, including Hornbills, Peacocks and Flamingos. There is quite a variety of monkeys and various reptiles as well. Some of these animals were 'rescued' from previous exotic 'pet' owners, so being returned to the wild is not an option. Park owner John  is an animal advocate and ensures that these animals are well fed and well cared for. Can see a video (HERE)  DIRECTIONS
 Mahsuri's Tomb

 Mahsuri's Tomb is  the shrine of a Malay princess who was unjustly accused of adultery and sentenced to death. With her dying breath she cursed Langkawi with seven generations of bad luck. Officially this  'curse' is now over.  DIRECTIONS
Underwater World is has more than 100 specially designed tanks
and over 500 species of animals and sea creatures. The aquarium is divided into three sections – Tropical Rainforest, Temperate and Sub-Antarctic (where the penguins live). There is also a walk-through underwater tunnel tank that is home to sharks, giant stingrays and green turtles. Can read more ( HERE )  DIRECTIONS
HINDU WAT TEMPLE

One of the most respected monks from Thailand traveled to Langkawi in June 2006, attracting a huge following of Buddhists
for ceremonial blessing. This cave temple not only houses his remains, it is also an amazing structure full of an eclectic array
of spiritual articles.
*Recommend this experience with Dev's Adventure Tours
Untold Stories .

Atma Alam Batik Art Village is a wonderful place that showcases the fine art of batik. The owners Aza Osman, a painter and Roshadah Yusof , a batik artist/designer, not only exhibit their own works of art but the artwork of some very talented  local artists. They also have an amazing assortment of fabrics for sale as well as classes available. DIRECTIONS

 Telaga Tujuh Waterfalls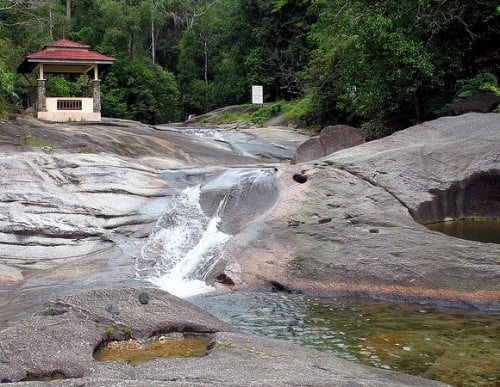 Telaga Tujuh (7 wells) has seven connecting natural pools and waterfalls flowing from Gunung Mat Cinang. It is very picturesque and a great place for a picnic. But, please don't feed the monkeys!
No entrance fee. DIRECTIONS
Field of Burnt Rice

The 'Field' of Burnt Rice is the actually the historic site of a  rice field. In 1821, local villagers burned their crops and poisoned their wells to stave off the advances of Siamese invaders. DIRECTIONS
Gunung Raya

The highest peak  in Langkawi is 850 meters above sea level.
The 'jungle' trekking here is fantastic for the foliage as well as birdwatching and other wildlife. It is recommended to go with
a local guide who knows the area well. No entrance fee.
DIRECTIONS
Departing Saturday-Thursday , from Marble Jetty (Kuah)
This 6 hour day tour is an interesting look at life on Tuba!
2 person minimal   10am-4pm-ish  Can read more (HERE)
*You'll get more out of an initial 'tour' than attempting 'solo'
due to the well established relationship between the guides and
the Tuba Island community. Highly recommended.
Laman Padi

Laman Padi  opened in 1999 as an exhibition center for local  artifacts, charts, photographs and rice planting tools. Every year
the Laman Padi Festival and other events are held at this festive location. A big hit with locals and visitors.
Can read more ( HERE ) Can see a video (HERE)
No entrance fee.  DIRECTIONS
Full of Malaysian handi-crafts as well as examples of native
designs, Langkawi Kraft Komplex is informative as well as visually stimulating. There are also demonstrations on glass blowing, weaving and batik (which you are encouraged to participate in).
Can read more (HERE)  No entrance fee. DIRECTIONS
CAVES OF LEGEND

Langkawi is full of  geological formations as well as hosting numerous natural caves. Each cave has its own unique name
and legend, which is an insight into the lives of the original
Island people. Two of the popular caves is the Cave of Legends
and the Bat Cave.
*Gua Cerita, The Cave of Legends, consists of two limestone caves, one above the other.These caves are linked with numerous legends. DIRECTIONS
*Gua Kelawar, Bat Cave, was named after its first inhabitants, the Malaysian Fruit Bat. Located along the Kilim River, the cave is only accessible by boat.  DIRECTIONS

 Langkawi Crocodile Farm

The Crocodile Farm  has crocodiles from several well-known species.  There are daily 'shows' where trainers 'wrestle' the crocodiles and even inspect their dental work!  The souvenir shop has some unique items including leather products and genuine crocodile teeth. DIRECTIONS
Pulau Payar Marine Park

Pulau Payar Marine Park  is 19 nautical miles from Langkawi.    
The coral reefs here are made up of soft and hard corals with an abundance of tropical fish. Great for SCUBA, snorkeling or just a relaxing day at the beach.
NUSANTARA MAJU
The history of gamat in Langkawi goes back for generations and
you will see shops selling it everywhere. But, Nusantara Maju has detailed information and displays, in addition to every gamat
product you could possible want. It is actually quite interesting!
Can read more (HERE) DIRECTIONS
The white washed stone buildings overlooking the compact Telaga Harbor filled with yachts from large to small could be a small harbor on the Mediterranean Coast. The numerous restaurants along the boardwalk at 'Perdana Quay' reinforce that ambiance with the aroma drifting from the many and varied kitchens. Can read more (HERE) DIRECTIONS
KAMPUNG BUKA MALAYSIA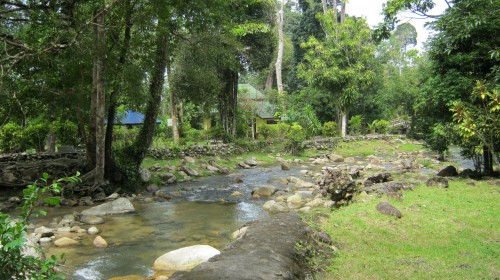 'Book Village' is located in Lubok Semilang. It is the only book village in the whole South East Asia region. The Village is part of the International Book Villages and Book Towns Movement. Located just about 10 minutes from the Langkawi International Airport, the book village buildings seem to be currently closed to the public. The adjacent park area is beautiful with a series of pools and waterfalls that are popular with the locals on weekends and holidays. The access to the stairs to the top of Gunung Raya are located through this park. Can read more ( HERE ) DIRECTION
As you can see, there is plenty to see and do in Langkawi.
The Island Drum also recommends Day & Sunset Cruises, Nature/Adventure Tours , as well as Special Tours.
Have fun!